posts tagged with 'snow'
We don't usually get good snow in December, so we were extra excited when, on the first of the month, wintery weather arrived ahead of schedule. The forecast for Sunday into Monday was uncertain, with the rain-snow line wavering back and forth somewhere over Lexington; as it happened it was well to the east of Lexington Center, and our precipitation was all snow. Then on Tuesday we had a second storm; it was predicted to be over by noon but kept going strong until late afternoon. There was a lot of snow. And we enjoyed it! On Monday the boys sledded with Grandma (in the sleety Lexington snow). On Tuesday they romped and wrestled and snowball fought with schooled friends who were enjoying a second straight snow day. And on Wednesday I got to join in with the sledding, as we traveled to enjoy some beautiful powder on a Chelmsford golf course.
The winter weather was so beautiful that over the week I took almost a hundred and fifty pictures—more than I took in the whole month of November! (always a low month for photography, I find). Admittedly, 50 or 60 of them were burst mode pictures of the kids going off jumps on their sleds, but I also did my best to capture the winter's own artistry.
Sadly, today was warm and rainy and the considerable snowpack is melting away almost faster than it accumulated just a week ago. Oh, I hope more falls soon. As lovely as our yard and our town are all the time, they're even better under a blanket of white!
It snowed last night, which felt right for the beginning of December. It started late afternoon, leaving Harvey and me with a pretty slippery drive home from Pokemon League, and kept on through the night; in the morning we were greeted with about 10 inches of heavy wet snow. The boys were excited to get out in it—especially Lijah, who hopped right into his new-to-him snowsuit and was first out the door by quite a while.
Not that everything was joy. While there was enough snow to cancel school here in town, it was mostly rain closer to the ocean so I had to go to work. The boys were torn between going to my parents' house, as they usually do on Mondays, and staying home to play with friends (with Mama, who was working from home for the morning). I ended up deciding for them, and nobody was happy. Yes, Harvey got to play with Jack; but he ended up in a neighborhood snowball fight and as I understand it both gave and received some unkind blows. And Zion was bitterly angry to see, as we drove towards Lexington, the snow changing to rain, and he showed his displeasure with some unkind blows on the back of my seat with his feet. Actually, I shouldn't say nobody was happy; Lijah was completely content.
When Harvey arrived Grandma took the boys sledding. She says their impressions were mixed, but judging by their level of tiredness this evening they must have had a least a couple good runs. The only exercise I got was shoveling—the snow better stick around long enough for me to have some fun in it!
The first part of the winter has been pretty disappointing from a weather perspective, so we were delighted to finally get some real snow Saturday night. Well, almost real snow; there was enough warm air involved somewhere that the precipitation that fell all day Sunday was really more like sleet. Never mind, it accumulated to a sufficient depth and piled almost like normal snow. The boys spent a good amount of time outside in it both Sunday and today, even though the conditions weren't perfect for outdoor entertainment: Sunday (when church was cancelled to give us more playing time) was so wet they needed to change their mittens every 15 minutes, and I don't think today's temperature broke 10°F. Never mind. First snow!
It's amazing to think of it, but this was the first time this year Lijah put on his snow gear (Harveya and Zion spent some time out in the significant but short-lived snow we had back in mid-November). I was glad to be able to find him snowpants and boots that fit, since I hadn't thought about it at all before Sunday morning. Good thing he has two older brothers! To be honest, he's not totally enthused about the cold weather. I heard him saying he wished it was summer. Oh well, can't please everybody. Harvey and Zion will sleep well after their hard playing outside this afternoon, and even Lijah survived the arctic blast for couple minutes. All of them certainly earned their hot chocolate.
November 15 is a fine day to have the first snowfall of the winter, but we still weren't ready. It wasn't possible for me to be ready. We did some things, sure; I worked the day before yesterday afternoon getting the leaf pile off the lawn and picking up garden stakes, and yesterday morning I sent the kids out to pick up at least some of the toys scattered all over the yard. And we found at least some cold-weather gear for everyone; we had to, since the middle of the day we needed to go out to the last homeschool coop park day of the year (the first one to take place in solidly below-freezing weather!). But then when we got back from running and playing in the park we ran out of steam for serious preparations. Instead we did some reading and some deck-building and some napping, and then hosted Harvey's friend for a couple hours. Good winter activities. But nothing to make be feel ready for three inches of snow on the ground before 10:00 last night!
Well, that's not totally true; in one respect we were fully prepared. Seeing the snow in the forecast, yesterday morning we busted out the white paper and scissors and made snowflakes. They're up on the windows now. And all the scraps on the kitchen floor made a pretty convincing facsimile of fallen snow. Although they were a whole lot lighter to sweep up than the actual snow was to shovel this morning: the snow changed to rain early in the morning so clearing the front walk was like trying to move wet cement. The rain didn't slow down the kids any, though! There was a two-hour school delay here in town, so Harvey's friend Jack rang the doorbell a little after eight and, after we invited him in for a couple pancakes, the kids spent a delightful couple hours romping in the sodden snow. Now it's getting colder again, and the rain has changed back to light snow. It looks like things'll be white for a little while yet. I'm OK with that.
As of a few days ago the garlic and rhubarb were up in the garden, and the daffodils and crocuses growing fast in the beds; I assume they're still growing, but it's hard to tell because yesterday we got like two feet of snow.
I measure it at 18 inches, actually, but I hear from neighbors with reliable information that we actually got over 20; either way, it was enough to close school for two days. So our schedule—never particularly rigorous to begin with—was thrown out the window so our kids could entertain their friends who were suddenly deprived of their usual weekday framework. I missed school today too: I'm taking part in a class at work, and it was cancelled today. It's interesting and engaging material, to be sure, but I don't think I'll even get too old to appreciate a snow day.
Especially one like today, with some sun and reasonably mild temperatures. Just the thing for spending a few hours shoveling! I still fully trust that March will go out with a lamb, but it has plenty of time yet—and we have another 8-12 inch storm forecast for next week. Flowers or snow-forts, we'll enjoy whatever we get.
The weather continues to be wild. After a summer-like warm spell it's hard to feel ready for a blizzard, but it's still winter and we're in New England, so. It could have been worse; the front half of the storm, all day Wednesday, was all rain. But overnight Wednesday to Thursday brought plenty of snow—heavy, wet, solid snow, just right for epic snowmen. And for bringing trees down too, as it happens.
About a third of Bedford was still without electricity yesterday evening, and there are limbs and trees down all over our neighborhood. We didn't lose anything important; the neighbors' lilac breaking onto Leah's car wasn't really a problem.
We had friends over for most of the day, in order to help their parents out with school being cancelled. After they left Harvey and I enjoyed some relaxing outside time. Even with dry wood from our newly-built woodpile shelter our fire wasn't totally successful—too much snow in the fireplace—but it made a nice smell and some cheery smoke. And nothing could be more successful than Harvey's snowmen. We can still enjoy winter!
After two solid weeks of below freezing (often below zero!) temperatures, and a couple of blizzards (well, almost blizzards) it was nice to feel a little warmth again the past couple days. Monday it almost hit freezing, and yesterday it blew past the freezing mark to reach the high 30s for a few hours. Positively tropical. We celebrated by getting the bikes out for the first time in quite a while.
Past time, too: our destination was the library, where we had many overdue books to return. But never mind the fines, it was lovely to be out and about under our own power again. It would have been lovely had the sidewalks been better cleared; going uphill we needed to be in the roadway or we wouldn't have been able to make any progress at all in the slush (at least the sidewalks are now plowed at all, five days after the storm). Even in our sleepy little town some drivers didn't appreciate sharing the road in the middle of the afternoon, which made me a little grumpy. I don't like being honked at. But we made it, and returned our books and got new ones, and I got to take a little nap in the children's room while the kids looked at books. Fresh air is tiring!
Most times the first snowfall of the year is exciting just for being first, but it doesn't amount to much on its own. Not so this year. After a warm summery beginning to fall we were only just getting used to cold weather, so a legitimately snowy day today was kind of a shock. Exciting though! Mostly for the kids—some of the adults I talked with yesterday evening weren't looking forward to the forecast accumulation—but even some grown-ups got caught up in the spirit. Our street saw a pretty vigorous kids-vs-parents snowball fight for a little while this afternoon; especially nice since the parents forced to team up aren't always on the best terms otherwise.
The only bad part about the snow is, as always, the yard wasn't ready for it. It's not very likely that this snow will stick around til spring, but it's possible—and as it started to fall I was very aware that in that case a lot of things would be lost and/or ruined. It's always bad—I'm not a particularly organized gardener (or anything)—but it's even worse this year because of my current construction project. I'm putting up a playhouse for the kids, and it's kind of a significant endeavor. I spent the first part of the morning racing to finish framing and sheathing the roof, to keep at least some of the snow from the interior (there's still mostly no walls, so it won't be bone dry—but roofs do help). Then I had to put away the remaining lumber, so it wouldn't be buried forever under its tarp. By that time the tools I'd left lying around were beneath at least an inch of snow... I hope I found them all.
All in all, though, I count the snow as a total positive. We had a super fun day, and we're looking forward to more snowy fun tomorrow. Zion was very disappointed when he heard the forecast calls for sunshine; I told him the winter would bring lots more snow. Just maybe after the playhouse has walls.
Yeah, we had another storm yesterday. Winter holds us in its grip. And its grip feels particularly strong and fierce this evening, with all the snow that fell yesterday compressed into maybe five inches of icy cement, and giant solid snowballs lining the street. We're kind of over it; the boys declined to go sledding today. In their defense, they did play outside for a fair bit yesterday, despite the driving wind and icy snow-rain mix that fell all afternoon. Zion even helped shovel.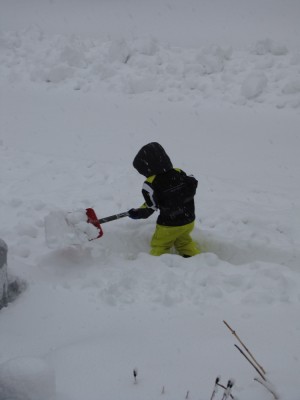 But we don't even care about that, because we're enjoying the time change. Yes, you heard correctly; I've complained about losing our morning light before, vociferously in person and a little more mildly in these pages, but actually this year it's gone pretty well. We've managed to adjust bedtime to the new time almost instantly, and mornings are later but still relaxed. Most importantly for me, I'm getting up before the hens again! (long may it last).
This evening saw the boys outside to play after dinner for the first time this year. "Feel like" 15°F, but there was still sunlight so they they were. I think going out late put Zion in summer mode; his friends were wearing snow suits but all he managed was a sweatshirt. (Or maybe he just couldn't find his coat. That happens a lot these days.)
Judging by the forecast winter is going to stick around for a little while yet—that groundhog knew what she was talking about. But we know it can't last for ever, and all that hot sunlight coming through the skylight will be just the thing for starting seeds in a couple days.
So it's too bad that everyone else is finally starting to come around to my formerly grumpy view of time changes. We've had two great ones in a row, so now I'm happy enough to stick with the current system. But we're flexible; if you want to change it, that's cool too.
The groundhog was right! Over the last week it finally started looking like winter around here, and we've been enjoying it to the fullest—or at least, as full as we can manage in between bouts of illness.
It started last Tuesday with a brief but intense fall of wet snow that caught us as we biked home from a mid-morning outing (to pick up some hot bar bacon from Whole Foods, if you must know). By the time we finished our lunch of bacon sandwiches the snow had changed to light rain—light enough that we didn't think twice about heading out to play in it. Even Lijah! The snow was amazingly sticky, and it was no work at all to put together a good-size snowman. He came out looking pretty cheerful despite the damp.
I told the boys about a snow chair I made last time I'd experienced such great packing snow—long before any of them were born. Of course then we had to make one for ourselves. Because Lijah was getting tired of eating snow cakes we limited ourselves to a Zion-sized model.
As I put Lijah down for his nap the other boys spent some time using the snowman as a swordfighting dummy. I was pretty grumpy with them when I noticed—that was my snowman too!—so when they took their rest I rebuilt him out in the front yard. Those balls were so big I couldn't get them on straight, and when the temperature shot up the next day I was sure he wasn't long for this world. But he managed to hold on, and it turns out his lean was just the thing to prepare him for Thursday's blizzard.
Folks talk about how summer is the best time for getting to know your neighbors, but I find snow storms are fine too. Tuesday evening Harvey helped the neighbors with their snowman, and on Thursday, with everyone home for the storm, parents and kids alike enjoyed playing together in the bitter blast. We shoveled with the neighbors on one side (then tossed a football around for longer than you'd expect given the conditions) then took a lovely adventurous walk with the family on the other. In a blizzard construction sites become magical wonderlands.
On our way back from that walk we stopped in at another neighbor's house to say hello—they were surprised and charmed to see us, and it was just too bad we were too wet and exhausted for a proper visit. Too bad too that Zion and Lijah were to sick to venture outside at all... though on the other hand, snow days are also great for cuddling on the couch and watching shows!
The next day was Friday, and all the school kids had to go back to school; so it was a perfect day for us to go sledding. The wind was whipping the fine snow all over the hill and the trails were far from broken, so we were glad of our new-to-us giant snow tube, which glided wonderfully over all the powder. It was also a great place for Zion to rest when his post-illness tiredness caught up to him.
His fatigue and the biting wind meant we didn't stay too long out on the big hill, but on the way back to Grandma's house we found that the path in the woods offered some promising terrain for the toboggan, so we spent half and hour or so there. Harvey worked hard to get the plastic sled down, but it was our five-foot wooden toboggan that was best for the job: we managed a couple runs with all three of us of a hundred feet or so, around two big sweeping turns. It was great!
Saturday Harvey and Zion got to play with the neighbor we visited Thursday—a small investment in relationship building pays off big! They had a great time until Zion bumped his head and had to be brought home, then he and Harvey had a great time. Harvey was gone from 10:00 until 4:00—now that's a playdate!
With more snow in the forecast for Sunday we were a little nervous about getting to church—and more importantly getting home. The snow in Cambridge was wet and not really accumulating so we thought we were fine when we started towards home at 2:00, but as soon as we headed up the hill away from Cambridge things took on a more dramatic aspect.
It was pretty scary, and we were glad to get home and cuddle up for the rest of the day. Monday was another snow day, but the sun was out by mid morning so despite the whipping wind we could have had yet more snow fun... but there's only so much of that you can do in a row! Instead we visited a library.
The last couple days have been warmer again. I meant to write all this Monday, but Harvey finally came down with the stomach bug that got us all in sequence: Lijah and Zion Thursday, Leah Friday and Saturday, me Sunday night, and Harvey Monday night. So now we've all had it, and it's done. Quick, let me have some time to write before the next sickness strikes us! Zion had a fever at bedtime so we might not have long to wait...