posts tagged with 'adventure'
I am up in the middle of the night berating myself for not completing a marathon yesterday Well, that's not entirely true. I am up in the middle of the night because Zion came into my bed and woke up Elijah, and then Elijah woke up Zion, and then back and forth for an hour until I asked Zion to go back to his bed, and then Dan had a disciplinary moment with Zion over using the potty and me and Dan had a little argument about it, and then I put the baby back to sleep after that, and NOW I am berating myself about not finishing a marathon yesterday.
Because when your life is a series of sisyphusian struggles, night in and night out, completing small goals becomes arbitrarily important.
Anyway, I thought I would run this marathon yesterday.
I had a good running season 2014. I logged two 20 mile runs and at least a dozen half marathons. A tight marathon would have felt like a nice little cap on my accomplishments. More than that, a timed event that would have rendered "official" the work that's been heretofore private, shared only between me and the trail and my gps watch. Okay and also on Strava and Wellcoin. I'm not very good at the private thing. But STILL. I wanted someone to hand me a medal and say, "Well done, Leah, You've FINISHED something. At least today, at least in this very inconsequential area of your life." (They don't really say that when they hand out medals, I just in my mind imagine that they do.) So I looked up all the fall marathons in New England and narrowed the list to events on a Saturday within a 3 hour drive. There were two options. Both were trail races.
What's a trail race? I thought. That doesn't sound too hard.
"Rolling hills over foot trails in the beautiful Pittsfield state forest." Based on the website description it sounded positively relaxing! I'd be out and running first thing in the morning and back by the afternoon to help the kids get ready for dinner.
Or so I thought. This is what the Pittsfield state forest looks like.
The rolling hills mentioned in the website are up and down a 2700 foot mountain. To this lookout.
The path down follows a rocky riverbed.
It was a beautiful place to hike but a mother effing IMPOSSIBLE place to run.
By mile five my legs felt like they had gone ten miles. My back hurt, even though I can usually run three hours normal without feeling my back. By mile six I realized everyone was walking up the hill. In fact the name of the game seemed to be walking up hill. I kept looking at my watch and it kept telling me incredibly depressing things. Like: "15 MINUTE MILE!" and "You were crazy to tell your family you'd be done in four hours! You aren't going to finish this marathon EVER!!!!!"
Sometimes my watch went into auto-pause mode. While I was moving. Like as a little extra bonus fuck you.
By mile eight I had some hard questions to ask myself. Like, what do you do when you are right in the middle of a self inflicted disaster? What is important for decision making here? How much do I weigh my longing to complete something against my responsibilities to my family and/or the health of my knees?
I was not physically trained for the race I was in. I was a little nauseous and I had a stomach cramp which made me think I was not processing the lactic acid coming from my legs. Which meant I was working anaerobically. Which meant, for a distance event, I was DOING IT WRONG.
I had told everyone I would be running a four hour marathon. I had completely misjudged the course. And also my ability to jump into any physical challenge and come out swinging. My dad was planning to pick me up for lunch. My kids were expecting me home for dinner. No one, not least myself, wanted me out on that mountain I didn't know was a mountain for six fucking hours.
Strava says the elevation gain for the part of the race I completed was 2900ft. 2900 feet! I should have looked that up before I gave ultramarathon.com my credit card number.
I called my dad at three hours in and told him I was almost at the halfway point of the marathon. He had gone to an art museum nearby and was already on his way back to pick me up for the finish. He said something to the effect of, "What???" Which I took to mean, "What the honest to goodness fuck, child, you are always getting it wrong and disappointing me." I said, with as much emotional coolness as I could muster, that the race was too hard for me, that I should drop out at the half, that we should call it a day and go out for lunch.
It seemed like the smart move. It seemed like something a rational person would do. But when I came down the hill and the guys at the aid station were cheering I just waved them away and shook my head like, "No, you guys, you dont' get it. I didn't sign up for the half marathon, I'm actually just a quitter."
What if I had pushed through the second loop? Would I have fallen and destroyed an ankle? Would I be running through a different set of questions in my head? "Why do you hate your body so much, Leah? Do you want to be able to walk into your 50s? Is endurance athletics a redirection of a secret death wish?"
Instead I have these questions to torment me. "Why are you a perpetual failure, Leah? Why are you so quick to jump on any excuse out?" And just for misery sake, the kicker: "How can you justify eating so much, you disgusting fat pig, if you don't even finish your stupid marathon?"
On Friday the boys and I took a walk in the woods and marshes across the street.
The cranberry bogs we slid on last winter are all dried out now—for the summer or forever remains to be seen—so we thought we'd have an easy time of it, and maybe even be able to cross the brook for the first time ever. There were certainly some pretty sights along the way.
But there was also hot sun and bugs and, worst of all, vast stands of grass with tiny barbs all over its leaves. It's growing everywhere that in another summer would be wet, and pushing through it with the day camp group on Thursday we ended up with cuts all over our legs. Friday we had long pants, but Zion and sometimes even Harvey had to watch out for wounds to the arms. So when we reached the brook we called a halt for a snack and headed back, defeated.
Still, it was a beautiful hike and we all enjoyed most of it.
Saturday we ventured into downtown Boston, against Leah's much better judgement, to take in a little bit of very loud music at the Copley Arts Festival.
Despite the crowds we were able to meet up with some friends who, settling in for the long haul towards the start of the day-long proceedings, had texted us where they were hanging out (sadly, we missed a different group of friends who were there at the same time). Being country mice, we didn't spend much time in front of the stage, instead seeking out some slightly quieter spaces with a little more room to play.
And of course, we also took in the sights of the big city.
Half of the reason I wanted to go was to give the boys another trip on the train, the first since our adventure back in November. They were appropriately appreciative, even when tired out at the end of the day.
Lijah turns out to be a big fan as well: he was shining with excitement and delight all the way there. That the same excitement kept him from falling asleep on the way home—despite a great and obvious need—until just before our last stop was unfortunate but maybe predictable. We'll give him another chance in a couple months.
One of the families we invited for our Patriots Day picnic was so invested in the bike ride part of the proceedings that they got a new trail-a-bike for the purpose. When the cycling part of the day was canceled we naturally scheduled a make-up ride at the first available opportunity. It turned out that some other families wanted to come too.
We ended up with seven adults and ten kids, five of whom were under five. Four of the kids were on their own bikes, two on trail-a-bikes, two in Leah's blue bike, and two in copilot seats. The ride up to Lexington was marred slightly by a flat and some uncertainty about our ability to make it the whole way, so when we got there everyone was delighted!
Besides running around by Buckman Tavern we also stopped into the visitor center to see the Battle of Lexington Diorama, and also the bathrooms. But before too long we were back in the saddle for the trip home. It was much more relaxing that the outward journey, since everyone was flush with confidence and snacks, and it was mostly downhill. Harvey and Ollie enjoyed chatting as they rode.
Zion and Clara took in the sights.
And Lijah fell asleep, eventually.
When we got home we—I mean, Luke—fired up the grill to feed the hungry crowd a well-deserved dinner. Then it was my job to convert the charcoal fire to wood for the marshmallow toasting.
Since marshmallows are more an experience than a desert, we also had ice cream. Lijah very much enjoyed his first Bedford Farms of the season.
It was good. We'll do it again.
A week from today is Patriots Day, and we plan to bike up to the parade. Today we took a practice run to make sure Harvey could do it on his own bike (it's around an 8-mile round-trip), and to check how long it would take. Of course, just like we plan to on Patriots Day we had to bring some food!
After the running and lunching we visited the Lexington library for a while—far more rich and rare than our own local library—and then climbed to the top of the belfry hill to read some of our books. On the way home we stopped, as is so often the case, to see some water.
I wanted to get more work done in the garden this beautiful summery day, but I confess it's awful hard to resist a bike ride, stories, and a pond.
The Patriots Day ride and picnic is on for the morning of Monday the 20th... let us know if you want to join us!
The one upside of this cold snowless winter is that ice everywhere is in good shape. Harvey and Zion love ice when they can find it, and I've been telling them that there are some nice big ponds hiding in the marsh back through our woods. An expedition a little over a week ago failed to find them, but as the picture above—and the one I posted yesterday—show, we had better luck this week!
The woods just around the corner from our house back onto a considerable area of wetland: wetland that is pretty much impassible most of the year. I can't believe it took me this long to think of exploring it when most of the water was safely solidified!
The areas of open water are actually the remains of old cranberry bogs, and though they're gradually silting up—they seemed much smaller than the last time I visited, oh, seven years ago (yikes!)—you can still see how there was once a series of long parallel ponds with dikes in between them. We found a passageway through one of the dikes.
Another sign of the artificial nature of the environment is the dead-straight course of Hartwell Brook, which for this portion of its run is really more in the nature of a drainage ditch. It flows straight from the airport, and when we found it almost completely free of ice I really hoped that was due to the speed of the current rather than any questionable chemicals washing downstream.
Whatever the reason, the flowing stream kept us from crossing over, so we turned north along the bank. I was hoping to hit a path back into the woods from the other side to complete a loop, but the boys didn't know that; as we left the brook to push through the tall, maze-like reeds Harvey eventually paused to say, "I'm a little scared." What, doesn't he trust me to keep my head and sense of direction? Plus, if anything goes wrong there's always the GPS on the phone. Which I mentioned to him and asked if he wanted to cheat; he declined.
Eventually we pushed our way through to higher ground and found a faint trace of a path, but we still didn't have any idea where we were until we found footprints, and a hole in the ice where our friend Bruce broke through on the previous expedition. We were saved! The rest of the trip was easy and uneventful, except that I had to carry Zion and his hands got quite cold once he didn't have the exertion of keeping up with us to warm him. When we got home we had hot chocolate.
There's still more to explore back there; we'd like to make another expedition soon. Want to come with us?
Living where we do we have a wide range of possible adventures close at hand. Last week, a friend invited us out to Great Brook State Park in Carlisle. Leah and I had been before, but not since Harvey was born, so we weren't really aware of the range of kid-friendly farm-visiting opportunities there were available there. But first we had a picnic.
While the big kids and grownups ate lunch and ran around, Lijah enjoyed some quiet time on his own pulling up grass and biting on leaves and sticks. He can get himself around just enough that if he sees something interesting close at hand he has the means to obtain it for himself!
After a bit we headed over to see the animals. There were cows.
Also present were sheep, goats, chickens, a duck, and many many pigeons (the pigeons were of the "wild" variety). There were horses around too; we saw several people riding, which was a much more exotic sight for the boys than the other livestock. There are farm tours at Great Brook sometimes, but not on November Tuesdays, so we had to stay outside the fence.
When we finally managed to tear ourselves away from the animals we took to the trails for a hike. You never know what you're going to get hiking with two- and three-year-olds (we had one of each in the party), but since it was so nice we launched ourselves on a pretty ambitious loop and didn't actually do too badly. It helped that there were lots of dramatic rock features for the kids to observe and climb: climbing energy is different than walking energy, and a couple minutes of strenuous climbing will restore your typical child for at least an equal period of boring walking. Harvey brought his new notebook along so he record his observations.
Then yesterday we took off in the entirely opposite direction. On a day with steady rain that looked like it wasn't going to stop, I figured I could take the boys on a train ride: exciting and under cover! Leah dropped us off at Alewife and we took the Red Line to Park Street, where we changed to real(er) train and chugged up out of the tunnels on our way towards Newton.
When we felt like we'd seen all there was to see of the D line we hopped out, dashed across the tracks, and jumped on an inbound train not two minutes later. I did have enough time to snap a memento of our visit, a shot of the station at Newton Center... excuse me, Centre. A charmingly old-world structure to be sure.
Back downtown we emerged from the subway tunnels to discover that the rain had tapered off to a fine falling mist, leaving us free to explore the city aboveground. At the Library Main Branch we saw lots of tourists visiting but weren't able to locate the kids area or even any books, so we gave the place up for a bad deal (though it's just the place to go if you want marble walls; and we did also find a restroom, which was handy). Then across the street we were confronted with a real live skyscraper.
Harvey's theory was that a town as big as Boston ought to have a toy store somewhere, so I led the party in the direction of FAO Schwartz, only to remember along the way that the Boston location closed five or ten years ago. We looked in to the Marshalls that's now in about the same place, but it's toy selection was smaller than the boys are used to at our local store (have we written about our dealings with Marshalls? we should!) so we pushed on. No toy stores, but a tour of Boylston and Newbury Streets landed us at the Public Garden, where we fed pancakes to the ducks and then had to fend of their increasingly aggressive attempts to get seconds. Zion was seriously nervous; we were all much happier viewing the avian life of the garden from the safety of the bridge.
There were lots of pigeons there too—very pleasant uniting theme to the two adventures!
When the rain started up again we ate lunch in the bandstand on the Common (sharing the mostly-dry space with some homeless folks) and then walked over to Park Street to take the Red Line back towards home.
Both outings were tiring but rewarding; both are worth doing again soon!
The boys, Rascal, and I took a hike yesterday a little farther afield: a town forest area that isn't just across the street. Last time we biked there, but with the dog today we had to drive. Which meant a different entrance place, so it was totally new for the boys! Experienced hikers as they are, they were well-prepared.
Many of paths through this particular woods are up and down steep sandy slopes, and they were fun both up and down and kept anyone from getting bored. It was wonderful to be able to have both the boys and Rascal with me on a walk and not have to worry about the pace either way: even Zion's developing into a fine hiker and moved along at a reasonable speed, and as Rascal approaches his second decade he's willing, if not to walk along with us, to wait up and check in with us from time to time. As happy as we all were with the walking, though, we were even more delighted to come upon a body of water.
Rascal jumped right in and the boys wasted no time in taking off their boots to paddle, but all three of them decided that the water was actually pretty chilly; Harvey stood in the water for no more than a second and Zion barely dipped a toe, while Rascal refused to go in very far after sticks and hauled himself out between each one to shake dry (including once all over Zion's coat; good thing it was warming up nicely!).
After the pond it was a just a little ways back to the car, since we were starting to tire a little bit. The only complaining of the trip came from Zion towards the end of this segment, but as we reached the road and he could see an end to the walking he rallied and finished in good spirits.
Then we were home in time for lunch and an afternoon of further adventures: the advantage of hiking close to home!
We took a quick trip yesterday to the Old North Bridge.
Even though the weather was in the process of turning colder, the water was an irresistible attraction for the boys. Sadly it was a little too deep to wade all the way under the bridge. While we big boys played, Mama and Lijah got some much-needed resting in, in recovery from a night of disputing nursing frequencies (and in preparation for another such).
There was some disagreeable behavior leaving home, and more as we headed back to the car, but the hour we were at the riverbank was an entirely pleasant time: just what we needed!
This past Sunday we headed into the urban jungle for another year's edition of the Honk! parade. We got there plenty early—by design, because for the boys the wonderful playground on Cambridge Common is as much of a draw as the music and anarchy. And they made the most of it, playing so independently that I didn't even manage to take a good picture: they were too far away! Of course, the parade was awesome too.
Besides the bands there were puppets, protest groups, adults and kids on stilts, and of course tall bikes. It was everything a parade should be, and totally unlike the Bedford Day parade, which is also everything a parade should be. (That statement could stand to be examined further in another blog post.) Actually, there were a couple commonalities: both parades have a big kid component, and new this year Honk had a unit throwing out candy. Just a bit, but it was enough to cement the boys' understanding that all parades everywhere should give them candy.
After the parade we headed into Harvard Square, where we had lunch with some friends sitting on the thin end of the traffic island splitting the two lanes of Mass Ave in front of Harvard Yard. Car-free streets are great! Of course, while they were car-free the streets were totally and all-encompassingly choked with people, so Leah was quickly overwhelmed; and, truth be told, it was even a little bit much for me. But I wanted to take more music, and so, surprisingly, did Zion. And since he could go on my shoulders he was the only one of us who could actually see the musicians the first couple bands we found.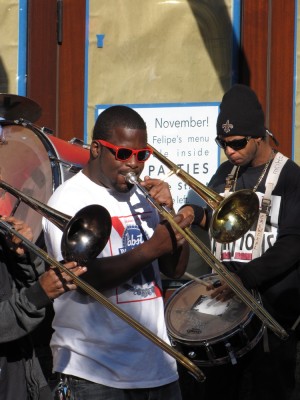 There are a lot of fun and interesting bands involved in the festival, but I wanted to hear some real good music so I was happy to find the New Creation band playing an un-advertized set on the sidewalk. The boys and I were even able to find a spot where we could see, and we happily enjoyed a couple great examples of modern New Orleans brass band music. Leah indulged us and waited patiently. I could have sat there listing for as long as the band kept playing, but let no one say I lack consideration entirely! I also found a back way out of the festival throng so we didn't have to struggle through the crowd again, and a quiet bathroom in a Harvard library (though Zion preferred to pee outside, on the library's bushes), so I'm not totally useless as a provider either.
All in all it was an experience, and we're already looking forward to doing it again next year! Just maybe slightly differently.
We went to our state fair this week, the first time I've ever been. I thought we should do some comparative literature as home school prep work, so I read accounts of state fairs in some of our favorite old-timey books: Charlotte's Web and Farmer Boy. Then I asked H&Z to wonder how our modern fair would be similar or different. If nothing else, the prep served to make them EXTREMELY EXCITED as we drove down to Topsfield on Friday morning. The excitement carried over as they navigated the petting zoo and saw a REAL LIVE ELEPHANT!, but it waned a bit as we fought against large school groups to sneak a peak at the prize winning vegetables. After an intense hour of trying to see things in the crowded barns we took a break between the fried food stands to eat our bagged lunch. I asked Harvey if this fair was at all similar to the books. He considered a moment while he munched his sandwich, then noting EB White's description he said, "Lot of food for rats here."
After a heartening lunch at 10:30am (the crowds made us all want to stress eat) we enjoyed seeing the sheep sheering demonstration and a lazy parade of horses. Unfortunately, the general admission part of the fair was crowded as crowded could be, and the rest of the entertainment was designed to un-self-consciously strip us of as much cash as possible. I told the boys they could choose one ride and one game, because I am not a terrible moster of a mother. They chose the carousel (only if I rode with them, of course) and for $7.50 I hope they enjoyed the living shit out of that thing.
Unfortunately we had a little family melt-down over the midway game choices. Overstimulation lead to poor communication, and it came out later that Harvey really wanted to play the water shooting game but he was afraid to ask how to shoot the gun. That might have been more fun for everyone, and cost $6 for both children to play. Instead Harvey threw a ball at a cup for $5 (!!!), there was a miscommunication with the Carney over how many balls he would get to throw, and the whole thing was over in a second in exchange for a 25 cent stuffed snake.
Neither mama or Harvey was very pleased with the fair at that moment.
Look, none of us want to throw away our money. There are so many useful things a mama could do with $5. But I share a dirty secret with those rare people whose love language is gift giving (all 8 of us in the world - hang in there sisters!) I actually LOVE spending money on my children. The more frivolous the better. I don't know why - it doesn't quite make sense. It's the easiness of saying yes, the rush of handing over my cash, the joy of looking at their smiling faces and thinking, "I love you more than financial reason."
Of course we're poor, and I'm trying to teach them values, so I don't do it as often as I'd like. Still, considering how much I adore those boys, I could fantasize about being MORE frivolous. My love for them is something that can never be budgeted. Symbolically speaking, a $5 ball throw does not even come close.
Still, this kind of spending is not fiscally responsible, and once we left the fair grounds I transformed that wasted $5 into a veritable homeschool unit. First we discussed the amount of enjoyment that came from playing the game and getting the prize (minimal, because as Harvey noted "it was over so quickly.") Then we stopped by our local real farm and noted the things you could buy for the same $5. TWO whole bottles of chocolate milk (not counting the glass bottle deposit because of trying to keep things simple.) Zion also noted that feeding the goats scraps there doesn't cost any money. And for good measure I took some pictures amidst the pumpkins - a free photo opp with precious lack of interlopers in the background.
I don't know what Harvey will internalize about money growing up in this family. I cannot present him with a unified theory, as I don't have one myself. I try to do a lot for free, but sometimes act like I've suddenly entered a duty free zone. I try not to stress about money, but truthfully I stress about it a lot. I don't know what Harvey will make of all of this. I'd like him to have both a sense of thrift and a feeling of abundance. Maybe the state fair is the wrong place to teach this. Or maybe it's the perfect place.