posts tagged with 'adventure'
On Friday we left our school group gathering a little earlier than we would have otherwise, to keep a date to ride bikes in the woods with people we didn't know as well. In theory, anyway: I issued an invitation to all the homeschoolers I know how to contact en-masse in the Greater Boston and Greater Lowell areas to take a ride with us at Great Brook Farm State Park, in the interest of maybe finding some other people to ride with on weekdays. As it happened, while we had a fine group of four adults and seven kids, all but one adult and one kid were people we already knew very well indeed—including the folks whose house we'd just been at. Oh well, that's good too.
Since our party included two adults without bikes and one three-year-old on a balance bike we weren't exactly chewing up the miles. Instead, we proceded around the wide and smooth Pine Point Loop at a reasonable pace, with the older cyclists zipping ahead and then stopping to ride steep slopes to the side of the trail or climb big rocks or leap over horse jumps as the spirit took them. At some point a few of us did one actual mountain-bike trail, which was a chance for the old MTB hands Harvey, Zion, and Elijah to show off, and for a couple kids newer to the enterprise to experience how much fun it could be.
But as delightful as it is to be on a bike, it was the rocks and streams that were the real fun of the day. A couple of non-Archibald kids and I had a great time climbing the biggest of the rocks we came across, and then playing on a gigantic seesaw formed by a 40-foot (maybe? I didn't have a tape measure) white pine trunk that had fallen on a waist-high rock just right. While we were doing that Zion, Elijah, and a friend got very muddy playing around the edge of the pond, and then decided that the only thing to do to get clean was to submerge themselves up to mid-chest in the spillway.
Which they've probably always wanted to do anyways, so I guess it was fine. But Zion at least wasn't totally happy—or warm—for the rest of the ride. Did he learn his lesson? I'm sure he did not. Water is too hard to resist.
So is bicycling. We'll be out again soon!
Between covid exposure and forecast rain, the prospective turnout for Park Day on Wednesday was looking pretty low. So we were happy enough when the few folks ready to get together suggested we go for a hike instead. Only they live far away, so we had to go hiking all the way out in Groton. Which isn't something we would ever have done otherwise! And Zion might have still preferred we hadn't, he felt that sick in the car. But then we would have missed out on an entirely new woods filled with water!
The main draw of this particular piece of woods was "Forest Bells", an art installation of six giant chimes up on top of a little hill. They were super fun to play with, and we enjoyed trying to create compositions for them (and trying to swing on them, which I discouraged). But the natural features around them—rocks and slopes and streams—were just as interesting. There was some good climbing and lots of water.
It wasn't what you'd call warm out, but in spring any chance for a wade is always interesting.
Then today we took a quick trip around the corner to Page Woods, less than two miles away. We've been there literally hundreds of times before, but it was still delightful to walk and run on those familiar paths—and especially because of the brook.
Yesterday we ventured in an unusual direction for us, lately: towards the big city. Not very far towards, since we're very much country mice these days! But a little bit. And Beaver Brook North Reservation in Waltham felt like a very urban woods compared to our usual haunts.
The outing was prompted by our desire to visit Play Time in Arlington Center, but we also needed to be out of the house for a solid chunk of time so Leah could do an important meeting, so I hopped on Openstreetmap to find somewhere we could explore. There aren't any woods in Arlington big enough to absorb our attention for long, but Beaver Brook looked like it might be just the place. And it was! The graffiti, though beautifully photogenic, wasn't the main contrast with what we're used to. There was only that one bit, on a water tower we climbed up to. No, what was really different was the sheer number of trails crisscrossing the woods every which way.
Which was actually perfect for our mood, because we went in not having any idea what we were going to see or do and were all happy to have lots of intersections to make random choices at. Well, mostly happy... after over an hour of walking and playing certain of us started to feel worried about getting lost. As if that were even possible in the smart phone era! But any nervousness didn't last long, since there were lots of steep hills to run on and surprises to explore: a cemetery, an MTB jump track, a causeway with fascinating pipes carrying water to its lower side... and the water tower, of course! Plus some beautiful vistas that showed us that urban woods are just as cool as what we're used to in deep suburbia.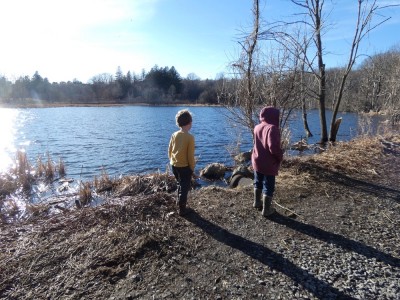 It was all so entrancing, in fact, that we only made it to Play Time 13 minutes before they closed. So that part of the trip was sort of a bust (though we did pick up a good pencil sharpener, absolutely essential if we wanted to keep writing or drawing at our house). So we'll have to go back again soon. Anyone have any suggestions for other urban woods we can explore on the way?
We ended February with 52 hours outside for the month, which is a little bit under the two hours per day we were hoping for. But still respectable! And we had some lovely outings the past few days, very much enjoying the winter that still has us in its grip.
After the snow on Friday we took a walk Saturday morning at Great Hill in Acton. The parking lot wasn't plowed and as I drove in anyway I was worried we would never be able to get out again. Luckily the snow was light and fluffy so it wasn't a problem, but the same lightness made the walking very tiring indeed. Even though folks had broken trail, we still sank and slid with every step, like walking in deep sand. Also, Great Hill is kind of a big hill. So our walk wasn't long, but it was invigorating... and beautiful.
Monday we got out for some sledding with friends. I sledded, at least; the boys, not loving the characteristics of the snow, took a walk instead with their crew and discovered that the ice was actually—surprisingly—in fine shape, neither melted nor snow-covered. So of course they had to get the skates out (luckily we always keep them in the car!). The younger kids engaged in some spirited short-track races while the older set lay around on the ice and talked about how to monetize a Youtube channel.
Tuesday's outing was to Estabrook Woods in Concord. We had never been there in full winter, so I was interested in possibly taking the sleds on the "ski slope" that those woods feature—but just like our airport hill the slope looked a little too bramble-covered to make it worth dragging the sleds all the way in. Plus getting up to the top of that hill is no joke! So that will remain an unfilled dream for now. Despite that disappointment the rest of the walk was great—the going was much easier than on Saturday, with most of the trails well-trodden and packed down. And there was some ice to play on. And we got to have a picnic lunch!
Then yesterday, of course, was park day: three and a half hours of sledding and hanging out with friends. Five hours in the first two days of March... not bad.
Besides planting, feeling the ground under my feet again has got me thinking about biking. So on Saturday the boys and I headed out on an expedition to Fawn Lake, where we met some friends, had a picnic, played tag and hide-and-seek, floated boats in a stream, and generally had a lovely spring-like time of it. While enduring bitter cold and, from halfway through the outing, some kind-of serious snow. I guess you could call late February a transitional period.
Fawn Lake is a pretty cool place. There are rocks and cliffs to climb and eat lunch on top of, a field for running games, and plenty of signs of beaver activity to admire. At first we were disappointed that we couldn't get onto ice—it was clearly thick enough over most of the pond, but less than cat ice close to the shore—but eventually we made our way to a cove where it was solid right up to the banks, and got our sliding time in (Zion was heard to remark that he wished he brought his skates).
That would have been enough for the kids. But what I wanted on an outing after a giant thaw was to see some running water, so before heading home we took a little side trip to Wilderness Park, where the outflow from Fawn Lake forms a delightful stream rushing over rocks. Even though my stick boat didn't win the race, being by running water was a balm to my soul.
Of course, going to the stream extended the outing a bit, and as the kids pushed their bikes back up the icy hill out of Wilderness Park in a driving snow squall they were kind of questioning my leadership. Luckily they're strong cyclists, and the fact that the bike path home is mostly downhill made the mud and the snow a little less of an issue. Suffice it to say that we all made it home. Being on bikes again was a mixed experience: as we started out Elijah told me how excited he was to be riding again, and he wondered why we hadn't been cycling more over the past month. A few hours later he was ready to never see a bicycle again. And of course, no matter your energy level winter riding has its challenges.
The younger boys and I were out for four and a half hours (Harvey went home a little earlier because he had an online engagement with a friend). Imagine what we'll be able to do when it's actually spring!
There are lots of parks and woodlands around eastern Massachusetts; we're really blessed. But maybe none of them have as much concentrated fun as Menotomy Rocks Park, where we spent Saturday morning. We were there because I was co-hosting a playtime gathering for church families, since we hadn't met in person for over a month. It was a tough sell with the chilly weather and there were only a few kids, but that was fine because we had an amazing time anyways!
What makes the park so great is that, in a tiny area compared to some of the woods we frequent, it has a pond, a couple of fields, a playground, and steep hills with lots of paths and lots of rocks. And I think our group made good use of all of them! Sledding was the main attraction: there was just one narrow slope, but it was fast and steep and plenty of fun to keep kids coming back for lots of runs (and without serious injury too, though there were definitely some scary and tearful moments!). The snow surface was amazing over the weekend: compacted frozen snow with a dusting of sleet and then powder on top of it, which left the world looking like a winter wonderland, but one you could walk on top of without sinking in. The best of all worlds! And so great for sledding that you almost didn't need a sled.
We really put that to the test, too, when towards the end of the morning we ventured into the woods a bit to climb some rocks. After we summited successfully I suggested, kind of as a joke, that we slide down a snowy chute between the rocks and see what happened... and then of course I had to actually try it! Then so did the kids. At that point I kind of wished I wasn't, technically, leading a church group, since what we were doing wasn't what you'd call safe. Luckily I was the only one to get badly hurt!
Besides all that sliding, there was also playing on the playground and by the creek, some bold crossings of the frozen pond, and lots of good adult conversation. No snowmen or snowball fights though: you couldn't pick up that snow without a jackhammer! I can see why the homeschool coop that met there a few years ago was a great success. I only wish it were closer to home!
We went back to the cranberry bogs yesterday, from the other direction. They're so easy to get to, going the direct route: just a couple minutes walk through the woods from the road. Then once we got out there we spent an hour or so just playing. We cleared a rink with the shovel we brought, slid, explored, and made snowmen—little snowmen, since there was maybe an inch of snow on the ice. It was so much fun, I couldn't imagine how the woods weren't crowded with everybody in the neighborhood and beyond... it was like the best playground ever!
Of course, that's not to say it was all fun and games. Elijah and Harvey had a disagreement about who was responsible for creating the first snowman's face, and Elijah got pretty upset and stomped off to make his own snowman. He was mad at me too, so when I told him to watch out for some thin ice he showed me what he thought of my advice by stomping on it until he broke through and found himself up to his knee in muddy water. That surely improved the situation!
Even with one boot off, though, he was determined to finish his work, so we didn't rush off. And despite that bit of grumpiness I think it's safe to say we were all glad for the trip. Hooray for winter wonderlands, right near home!
This afternoon after our school friends left the boys and I headed out to walk the dogs. We weren't planning anything big—just a quick loop in the nearby woods and then back home to do all the home things we had to do. But at the furthest point in the loop Zion asked if we could check the ice on the swamp—the swamp that's so fun and so hard to explore most of the year, the ice of which has been stubbornly refusing to get really solid—so of course I said yes. To our great pleasure, the giant puddle on the path that's featured on so many of my pictures was frozen over, and so was all the flooded swamp right up to Hartwell Brook. Even more amazing, the brook itself was almost completely frozen over, and it was easy enough for us to use its course as a path heading upstream towards the cranberry bogs and the airport, over territory we'd never been able to really explore before. As new vistas opened up before us, my delight was tempered by only one thing: I didn't have a camera with me! Not even my phone.
So sad. And yet, it's really only sad for you, the reader, because we got to experience the horizon opening up as we left the tall grass, the frozen dams where we stepped up six inches to higher levels of brook, and the cranberry bogs themselves where we slid on the ice and wished, like another time long ago, that we had a shovel to scrape off the little bit of snow that fell last night. We also experienced being a little bit lost, and I had the joy—once we were off the actual ice surface and just crossing puddles in the woods—of breaking through and submerging one foot completely. Never mind; we weren't more than 15 minutes from home at that point and it was totally worth it anyway.
We're thinking about going back tomorrow to slide some more, or even try skating. The bogs are a much better surface than they have been for years; I guess that's what happens when it rains all fall and then freezes suddenly with very little snowfall. It's my theory that the high water is also responsible for the brook freezing: years ago we determined that it could be running even when everything else is completely solid, and that's been true every winter since then. But this year the water level was so high the brook didn't really exist—not that we ever could have determined that before the freeze! But now we see that the ice in the swamp extends straight and flat over the brook's course, which may have slowed its flow down enough to freeze over. The brook is certainly still running under the ice, and there were a few spots of open water we had to detour around (and lots of sticks and dead trees to maneuver past) but overall it was as good an exploration route as you ever could want.
Yes, the kids and I were excited, the dogs were thrilled at the extended outing, we added to our outdoor time... it would have been the perfect afternoon if only I had had my camera! Almost perfect will have to be good enough.
As part of our bedtime routine I ask each of the boys what was their favorite thing about the day, and last night Zion said that his was skating. And, in fact, that it would be skating every time we were able to go. We went again yesterday, back to Fawn Lake, and with Harvey this time. On Sunday the pond was bumpy and busy with lots of other skaters; yesterday, after Monday morning's rain, it was empty, and smooth and mottled with frozen puddles that reflected the trees and sky like glass.
Or like water: we thought they were water when we arrived, and were worried about getting soaked when we inevitably fell. No, it was easily below freezing and that was all beautiful ice. The only water was at the edge of the pond, which made getting out on to the ice a little tricky, but once we were there it was smooth sailing. Zion and Elijah picked up right where they left off and made great progress (though Elijah didn't fall any less and Zion actually fell more—that's because were going much faster and trying harder things). Harvey tends to be cautious but he worked hard at getting moving and actually learned faster than his brothers had yesterday. Nobody was gliding smoothly around the pond—nobody but me, that is—but the younger boys were definitely able to get where they wanted to go and Harvey was moving forward with ever-increasing confidence. We all kept at it until we just about couldn't stand up on the skates any more, which is a sign of a good outing.
Combined with our walk to the library in the morning the skating netted us three hours outside on the day, which isn't bad. If it's not going to snow, I'm sure glad we're skating to give us something else to do with the winter!
I know I talked about our ice expertise the other day, but I should probably have noted that it was not complete, because the boys had never actually been ice skating. Well, almost never—there had been a few attempts, including one birthday party, when Harvey was seven or eight, but they were not successful. Skating wasn't at all Harvey's thing at the time, and his distress put Zion off the sport completely (Lijah was too young to even know what was going on). But yesterday afternoon we started to remedy that oversight.
Zion and Elijah have been asking about skating since last Wednesday, when Zion's best friend brought his skates and demonstrated some skill on the pond. On Saturday we spent a delightful (and extraordinarily cold) hour on the frozen Old Reservoir, and while sliding and biking (!) on the that ice was plenty of satisfying fun, they wondered still more about how much better it would be with metal blades on their feet. So yesterday after we spent the first 45 minutes of our budgeted outside time on some farm work—improvements to the chicken coop—I dug up the bag of skates to see what we could do.
Not too badly, as it turns out! The skates Harvey wore last time we tried this now fit Elijah, and Zion found that he was able to use Leah's. We have two pairs my size—which means Harvey's size too—so all of us boys would have been accommodated, but after reflection Harvey decided he'd rather take a walk with a friend. Also great! So the younger boys and I set off for Fawn Lake, which is maybe not as exciting and private as the Old Reservoir but a little more accessible by car, carrying skates.
Because energy and attitude is all, both boys did amazing on their first attempts. Different styles—Lijah threw himself into it and fell down oh so many times, while Zion was more cautious and mostly stayed upright—but both of them made great progress. After the initial learning steps we made it more than half way across the pond before they started to look tired and I told them, over protests, that we had to turn back.
Our feet and ankles hurt and Elijah's backside was pretty wet, but enthusiasm for future skating outings was high as we made our way back to the car. Going to bed last night Lijah asked if we were going skating again today; when I told him the weather didn't look the best he said that, in that case, we should have stayed longer our first time. I've promised them lots more chances... I just hope the ice holds out!