posts tagged with 'outing'
Yesterday we spent some time with friends and as we adults sat around talking we did some reminiscing about how much we used to enjoy little outings with our little kids. Expectations were so reasonable! Everything was so delightful to experience! Well, the boys may have been listening and feeling the same way, because when Harvey, Elijah and I took a walk in the afternoon we found ourselves bushwhacking along Elm Brook where, I recalled, there used to be a path many years ago. Only a short bushwhack, though, and before long we reached the bridge where the bike path crosses the brook, a spot where Harvey at least had spent many delightful hours exploring and playing when he was well younger than Elijah is now.
What do you do at a stream? Throw sticks, climb on the retaining walls, test how cold the water is, see if you can wade all the way across (no), find secret homes on the bank... Besides the water, there was also some ice on the bridge that Elijah and I enjoyed sliding on. Then we walked a little further—but not too far! We climbed on some stumps and loading docks, visited the Budd Rail Diesel Car, and pushed the tiny rail cart thing up and down the narrow gauge tracks. Then we headed for home since it was time for Harvey to play Minecraft. We were out for an hour and a quarter, and we didn't get farther than half a mile from home. And it was a highlight of the day! Not bad for entertaining an almost-teenager.
We fully embraced the solstice today. We talked about it, and read about it, and later this evening we're having a big solstice party—the fire is already laid and the backyard decorated with boughs of spruce and holly. But our first big solstice moment was a lantern walk at sunset.
It was organized by the moderator of the Greater Lowell Homeschoolers Facebook group, who also brought supplies to make paper bag lanterns. Some of our good friends were there, and also some folks we hadn't met before. It was a short walk—it was already getting dark when we started and most of the group wasn't hardy outdoorsmen like us—but still delightful.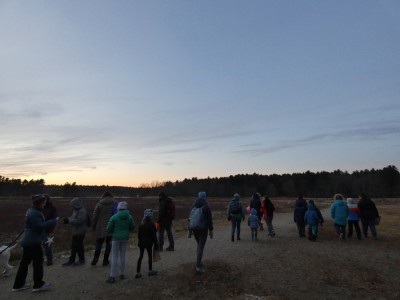 Best of all was that the ice on the pond was about an inch thick, even after barely 24 hours of good freezing weather. Parents were nervous, but the brave kids had a grand time slipping and sliding close to the shore, and nobody got any worse than wet hands and feet. Much fun; and I consider the Yule to have been properly Welcomed. Now let's party!
This morning we took a walk by the airport, where we haven't been for months because it gets so wet. It's still wet, but somehow it seems a little easier to deal with when it's winter. The mud was challenging at times, but there were lots of dry spots and it was wonderful to see the boys getting to run and play. One of the hardest parts about homeschooling is that they don't get a recess to play tag or whatever with a bunch of other energetic kids; their tired old dad isn't nearly as much fun. So we like to get together with other families with the hope that the kids can encourage each other. Sometimes that works! Today though, they didn't even need it. They were running right out of the car, being pets along with the dogs, and then when we reached the field where the high grass was irresistible they spent half an hour as tigers and hunters. Then the last part of the walk they slowed down and got back to talking about Minecraft, but that's fine too. It's still fresh air!
We took a bike ride in the woods yesterday, and I turned on the Strava because it's actually the best way to navigate on trails where you're not sure where you're going or where you want to go. And because I like recording things! When we finished up after a couple hours of fun exploring I was maybe a little disappointed to see that our ride came in at under four and a half miles. Is that all we could manage?! But then I thought about it a little more and started to wonder if it wasn't actually reasonable. After all, some kids don't even regularly do five miles on roads! And this ride wasn't on roads.
Well, not paved roads at least. We were in the Estabrook Woods in Concord, and one of the cool things there is the old Colonial-era roadways that still run through the woods: Estabrook Road and Two-Rod Road, straight between the stone walls at either side. As we rode along we tried to imagine what the landscaped looked like when instead of trees it was all fields and pastures, but we couldn't really. It's a big woods, and though we've been there before there are still lots of parts we haven't explored. The big find this time was an old limestone quarry: a gorge eight or ten feet deep and not much wider, with a cave at one end and a cool Pride Rock outcropping overhanging in the middle. Just right for a little chorus of "Nants ingonyama".
We also stopped a few times so the boys could climb glacial erratics, and to have snacks and water, and to consider the world from the heights of Hubbard Hill. And of course in Estabrook woods there are lots of streams and ponds to check out. Sure it was too cold to want to fall in but not cold enough for ice, but that doesn't stop us being fascinated by the water.
No, they're good riders and hikers, and I'm lucky to have them as company for such delightful jaunts in the woods. Not every kid would go for it! And if I want someone to do a ten-mile ride with me, there's always Harvey. And probably Zion next year. And Lijah not far behind? We'll keep practicing!
Tuesday is our outing day. So yesterday, after some work time and recorder practice, we packed up and headed out for a big one to Rockport, where we hadn't been since August. And our main goal was somewhere we've never been before: Halibut Point State Park, which came highly recommended by a good friend in our Friday evening group. While we're usually pretty smooth at getting out the door, there were some hiccups in the planning process. Zion made his lunch and packed it up in his backpack, but when we arrived (after a drive of close to an hour) he found that he never managed to get his backpack into the car. Also, the clothes he had chosen to wear weren't quite up to the rigors of the weather, which was pretty cold and windy. As it was already past noon when we got there, we ate lunch at the first semi-suitable spot we found, which was only... semi-suitable. It was pretty cold. On the other hand, we had a great view over the deep cliffs of the quarry pond!
It turns out Halibut Point is a pretty cool spot. It's the site of a former granite quarry, which means there's the big pond that would be the best place ever to swim if there weren't 400 "no swimming" signs (ah, the sadness of living in 21st century Massachusetts), and also an immense looming headland which seems to have been made made by piling up mined-out gravel boulders and filling the spaces in between with dirt and gravel. But before we went up there we had to go make our acquaintance with the ocean, and play on some naturally occurring rock features.
The ocean was as fascinating as it always is, and the rocks near it as fun to explore. Zion took the camera for a while, but the only disappointing thing about rocky shores is how hard it is to capture photographically the power of the waves. Still, he did his best!
Moving on after a bit we found a spot where, on a giant flat rock just like a table, people had built up dozens of piles of rocks large and small. As I looked at it I saw a crazy walled city, ancient or cyberpunk, and I told the boys about it. They totally agreed and we spent the next ten minutes adding to the city. Especially bridges. Finally turning our back on the epic creation we headed back up the hill to the headland, where besides a dizzying view over the edge of a cliff we found another stone table with a hole in it just right for recreating that scene from The Lion, the Witch, and the Wardrobe.
By that point we were running out of State Park energy, but we had enough left to finish our loop around the quarry pond (stopping at a couple amazing "no swimming" swimming spots) and find the way to the visitor center building, which was closed. The whole place was very accessible—I bet it's mobbed in the summer.
Back in the car we decided that we actually weren't done with the adventure: we needed to visit the playground by Front Beach that we missed out on last time we were there. And the beach too, of course. The water there wasn't too cold for wading, and, even more exciting, there was actual sea-glass to find! Only very small pieces, but still thrilling. And then we had all the time we wanted to play on the playground and explore the rest of the park. By then we weren't even so cold any more! It was a fine day.
It's interesting being a parent. As soon as you think you're starting to have things figured out, they change. Not that I in any way feel like I've got anything figured out! But this past Saturday I did have notice how much the experience of going on outings has changed with big kids, as I got the boys—well, some of them—out the door for a bike ride to the Old North Bridge.
On the one hand, they're all much more capable than they used to be. It's a little under five miles along the unpaved bike path to get out to the river, a distance that used to feel like a major expedition. Saturday we took it at a pretty relaxed pace and made some stops to see the sights—especially the bird sanctuary tower again—and we still did the whole trail in well under an hour. That surprised both boys, who remembered it as being much more arduous.
Wait, "both boys"?! Yes, there were only two. Zion declined to join us, which points to the other difference: going out and doing things doesn't have the appeal it used to. It's easy to get preschoolers psyched up for an adventure—they trust you that it'll be fun, and they don't have the competing pull of preteen activities like sitting on the couch reading books or playing Minecraft.
Oh well, hopefully we had a fun enough time that he'll feel better about coming along on future outings! Certainly it seemed plenty fun to me. We floated bark boats in the river, which is flowing much higher and faster than is typical for fall; Elijah and I rode some stairs; and we enjoyed an early snacky lunch (slanch) at a table on the pavilion above the river. Then, best of all, we explored and played hide-and-seek among the crazy overgrown ornamental trees that cover the bank below the visitor center house.
Then we zipped home in plenty of time for Harvey to play Minecraft with his friends. See, it's possible to adventure AND be a preteen!
Sometimes the outings are little ones. Today after lunch we hopped in the car and headed out to the Great Meadows bird sanctuary in Concord. It's only a 25-minute bike ride away at an easy pace, but some days even that is more than we can handle. Plus we wanted all the time to explore the meadows! Well, maybe explore isn't the word: most of the preserve is water, so even if they were willing to disobey the signs and disturb the birds visitors are pretty much limited by topography to the paths. But, after an obligatory trip up the observation tower, we at least felt like we had time to choose the longest path.
It was lovely to be out in the warm sun, at least at first; pretty soon it actually got a little TOO warm! But in November we'll take it, and we strolled along happily talking and pretending to be in a video game. At least the water, when we were able to get into it, was cold! (at least this time all of us were able to successfully adjust to ambient temperatures, which hasn't always been the case). It was a good time; it's always nice to get out and about, even in a small way.
We're doing lots of learning with friends this fall, but we don't have as much time to adventure as I'd like. "School" with friends is Monday, Wednesday morning, and Friday. Wednesday afternoon we have our park day. Thursday is Grandma's house day. Saturday is full of playing with friends, and Sunday the same plus church. So it's pretty much only Tuesday that we can just take off into the wide world. And even then other pressures and commitments call us. So our trip to the river this past Tuesday morning was a short one. But no less delightful for it!
It felt wintery as we put the boat in the water. As I buckled my life jacket over layers of sweatshirts I was very aware that I really didn't want to fall in. And once we were on the river every tip of the boat as anyone adjusted their position just about sent us into a panic. For a little while. Then we got used to it, and even started to enjoy the downdrafts and gusts ruffling the water as they sped towards us.
We paddled far enough upstream to see the hill at October Farm Riverfront in the distance and wish we had time to go there, then turned around. On the way back downstream we stopped at what we call Mosquito Island, figuring it would be safer at this time of year. It was, and we had a pleasant time exploring with only imaginary coyotes and mountain lions to run from. The boys found some pottery scraps that we brought home to puzzle together (they were a crock jug), and Harvey spotted a mailbox that we left there.
When we got back to the boat launch after about an hour the old men fishing were surprised to see us again so soon and asked if we had gotten cold. Nope, I said, that was just all the time we had for the morning. How has life come to this?!
It's been super fun having two boats this summer—when we actually got out on the water, at least. In actual fact though, we managed that way fewer times than we might have wanted to. That's mainly because it's more than twice as hard to get the two boats on the car, but also because Harvey's is wet enough that he wasn't excited about taking it on the river for a long paddle. We were thinking about all that this past weekend, and I proposed a river trip for Tuesday to make up for it, in one boat or two: get out in the clear fall air, see the leaves (which are changing faster along the river than anywhere), get some exercise... Only, after some mid day work in the garden we felt so hot and summery that we just had to head to Walden instead.
It wasn't really swimming weather; there were lots of people there, but most of them were sitting on the beach, boating in sweatshirts, or walking around the pond. Plus a fair number of open-water swimmers doing their regular all-weather thing. But no other casual, play-in-the-water folks like us. The rest of the world didn't know what they were missing! Sure, the water was chilly, but the sun was hot and drying so it totally balanced out! The boys swam and practiced martial arts using their life jackets as dummies and tried to ram each other with the canoe, and I alternately lay on the rocks and dipped myself in the beautifully refreshing water. Elijah and I did a little exploring by boat, and he and Zion got out there too. I still want to do the river before the leaves all fall, but I absolutely can't complain about an afternoon at the pond.
Cooler weather rekindled our enthusiasm for adventure last week, so on Friday we loaded up the bikes for a trip to Fairhaven Bay. I was interested in seeing how high the water was after the recent flooding, but mostly I just wanted to get out and moving! The boys were amenable.
We've been there plenty of times now, but but it's a big place and there are still paths we've never explored, so we were able to try something of a different route. Elijah is constantly improving as a cyclist, and I was very impressed at how easily he handled the hills—sure, he had to walk up a few of the steepest spots, but he did it with a will and without hardly any complaining at all! Of course, the other boys are awesome as well. It's a great place to ride if you don't mind hills: the ups and downs are exciting, and the paths are mostly smooth and free of rocks and roots.
The river was a little disappointing: it was high, but less so than last time we visited. Never mind, there are other exiting things to visit—like Walden Pond, up on the other side of the woods. Some of us were a little nervous about crossing the train tracks to get there, but we all did it and were rewarded by getting to put our feet in the water. We didn't stay long though, because staying still we started to get cold, if you can believe it. Crossing the tracks again I opined confidently that trains came by very infrequently, so of course less than a minute later, as we were still putting on our shoes, there one was. They're always exciting to watch up close, especially when you're on the same side of the tracks as all your stuff.
Of course, the best part of adventuring is the snacks—and especially getting to eat them in all kinds of fun spots. Elijah enjoyed half of his on the cliffside perch pictured in yesterday's post and saved the other half until we found this shelter.
All that, and we made it home in time for lunch!