Moments from the past week, just as icy as the last.
It's not all skating and outdoor adventures over here. In fact, in January we've been refocusing on academic time—the ever swinging pendulum of my home education desires has moved away from unschooling towards a desire for some organization. And so far everyone is surviving! Surviving, and even some of the time enjoying themselves. Besides the regular things, the older two boys are working on learning all the states and capitals and are having a fine time looking them up in our giant atlas (it doesn't matter that it features the Soviet Union and two Germanies, though I guess we'll have to think about alternatives if we want to learn about current European geography...).
We're also working on writing, which is probably the area where all three boys are the farthest off where the expectation would be if they were in school. Not that that's particularly concerning; they're all fine storytellers and they're all enthusiastic consumers of all kinds of different writing, so I have no doubt that when they find something they want to write about they'll do fine at it. Still, I do want to give them the opportunity to do that sooner rather than later if they want to, so we're doing some practicing. This being homeschooling, though, we do try and keep the writing time cozy!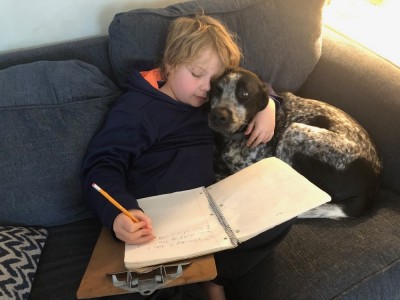 As part of our bedtime routine I ask each of the boys what was their favorite thing about the day, and last night Zion said that his was skating. And, in fact, that it would be skating every time we were able to go. We went again yesterday, back to Fawn Lake, and with Harvey this time. On Sunday the pond was bumpy and busy with lots of other skaters; yesterday, after Monday morning's rain, it was empty, and smooth and mottled with frozen puddles that reflected the trees and sky like glass.
Or like water: we thought they were water when we arrived, and were worried about getting soaked when we inevitably fell. No, it was easily below freezing and that was all beautiful ice. The only water was at the edge of the pond, which made getting out on to the ice a little tricky, but once we were there it was smooth sailing. Zion and Elijah picked up right where they left off and made great progress (though Elijah didn't fall any less and Zion actually fell more—that's because were going much faster and trying harder things). Harvey tends to be cautious but he worked hard at getting moving and actually learned faster than his brothers had yesterday. Nobody was gliding smoothly around the pond—nobody but me, that is—but the younger boys were definitely able to get where they wanted to go and Harvey was moving forward with ever-increasing confidence. We all kept at it until we just about couldn't stand up on the skates any more, which is a sign of a good outing.
Combined with our walk to the library in the morning the skating netted us three hours outside on the day, which isn't bad. If it's not going to snow, I'm sure glad we're skating to give us something else to do with the winter!
I had an unusually wet morning yesterday. There was the weather: wind-whipped wild rain going every which way, including into the cellar when a downspout fell off (and all over me when I went out to fix it). With the ground frozen our yard turned into a bit of a pond, but nobody went out to experience it because just opening the door got us pretty wet with the rain blowing in. Then there was the frozen spinach I was thawing on the counter overnight that leaked green water everywhere. But worst of all was when I reached for the clock in the morning and knocked over the glass of water Elijah had left on my bedside table when he came into the bed with us at 4:00, and spilled it all over my pillow and my clothes that I'd put at the head of the bed to be warm. My face too, but that dries easily. Then by mid-afternoon it was sunny and beautiful, so I don't mean to complain... it just all felt so thematic I thought it was worthy of comment!
I know I talked about our ice expertise the other day, but I should probably have noted that it was not complete, because the boys had never actually been ice skating. Well, almost never—there had been a few attempts, including one birthday party, when Harvey was seven or eight, but they were not successful. Skating wasn't at all Harvey's thing at the time, and his distress put Zion off the sport completely (Lijah was too young to even know what was going on). But yesterday afternoon we started to remedy that oversight.
Zion and Elijah have been asking about skating since last Wednesday, when Zion's best friend brought his skates and demonstrated some skill on the pond. On Saturday we spent a delightful (and extraordinarily cold) hour on the frozen Old Reservoir, and while sliding and biking (!) on the that ice was plenty of satisfying fun, they wondered still more about how much better it would be with metal blades on their feet. So yesterday after we spent the first 45 minutes of our budgeted outside time on some farm work—improvements to the chicken coop—I dug up the bag of skates to see what we could do.
Not too badly, as it turns out! The skates Harvey wore last time we tried this now fit Elijah, and Zion found that he was able to use Leah's. We have two pairs my size—which means Harvey's size too—so all of us boys would have been accommodated, but after reflection Harvey decided he'd rather take a walk with a friend. Also great! So the younger boys and I set off for Fawn Lake, which is maybe not as exciting and private as the Old Reservoir but a little more accessible by car, carrying skates.
Because energy and attitude is all, both boys did amazing on their first attempts. Different styles—Lijah threw himself into it and fell down oh so many times, while Zion was more cautious and mostly stayed upright—but both of them made great progress. After the initial learning steps we made it more than half way across the pond before they started to look tired and I told them, over protests, that we had to turn back.
Our feet and ankles hurt and Elijah's backside was pretty wet, but enthusiasm for future skating outings was high as we made our way back to the car. Going to bed last night Lijah asked if we were going skating again today; when I told him the weather didn't look the best he said that, in that case, we should have stayed longer our first time. I've promised them lots more chances... I just hope the ice holds out!