Theoretically we one day want Harvey to sleep in his own room, in his crib, like a big boy with parents who aren't walking zombies. But it's just so hard. He needs me for feeding every few hours. And petting his back. And watching him sleep. Which is why if you step foot in the baby room this week, this is what you'll see: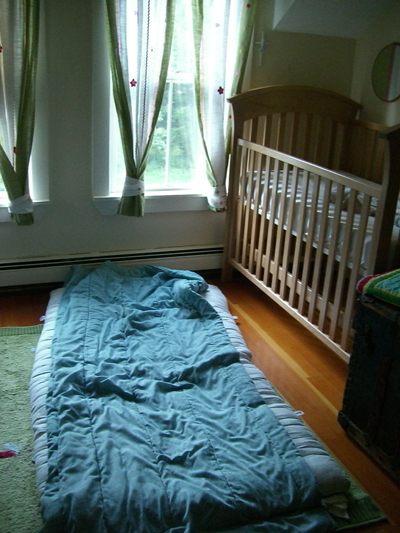 So yeah, mommy may have some issues around boundaries... Another blogger summed it up better in her recent post about how parenting is "totally f***ed"
Nature hard wires you to want them close and worry about them for their whole lives, and then demands that if you're doing it right that they then really boldly walk away into their own destinies and leave you standing there, still feeling like you're totally in charge of whether or not they live or die or get a sandwich.
Read the whole thing here. Her daughter is moving to Australia. Our son is only trying to move across the hall, between the hours of 3 and 7 am.
comments closed for this entry