Remember the other day when I said that my kids are so wonderful they just play together and don't need me much at all? HAHAHA. That was a day-long phase. Which is good, I guess. At least my worldview isn't completely shaken.
Zion's been sick the past few days, so it was back to holding him near 100% of the time. Though, if Harvey was big enough to hold him we might be in competition. Zion loves that kid. He wakes up in the morning crying "Haaaaaavey." If Harvey happens not to be awake it's a challenge distracting him for a half hour. The other day I took him out with me to help with the chickens, and that seemed to be a stroke of genius because suddenly he was at home.
Reminds me of anther picture we have on file of a toddler in pajamas and boots.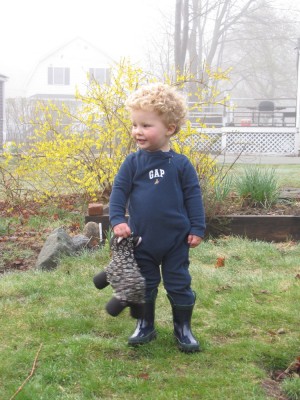 Zion ran around after the chickens trying to pet one, but for some reason they kept running away.
He felt more in charge when I let him help get the new feed. Then they came right over to him!
I usually prefer to feed and water the chickens by myself, since it's a lot of walking back and forth carrying heavy things - not the sort of thing that could easily give a sense of prideful gratification to a small child. Also I've got into the habit of being rushed — I used to have to finish all the chicken chores before Dan left for work because after he left I couldn't put down the baby for ONE SECOND. But that's not really true these days - Zion is 18 months today, after all - and if necessary I can leave him and Harvey in the house for five minutes while I get the water and they will not scream until they vomit, they will play legos nicely.
So, I guess I could let them help me once in a while. For the sake of good parenting, if not adorable pictures.