Today was the opening day of the Lexington Farmers Market, and we were all happy to be there!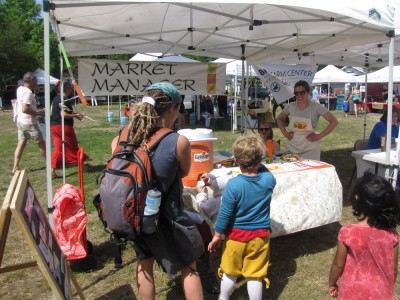 Especially happy after a long hot bike ride (the boys were wearing their designed-in-winter Tintin and Snowy costumes on the bikes so they were especially hot), and happy despite the absence, this year, of lemonade for the boys and ice coffee for Mama. There's not a lot coming from local farms this time of year, but we picked up some greens, a couple greenhouse tomatoes, and a pound of bacon—and, more importantly, a chocolate croissant and some apple cider donuts.
The boys were happier still after that. Hey, no pictures!
Going by it's origins, Memorial Day ought to be a pretty somber occasion; or at least serious and contemplative. Happily, there aren't many Americans these days with live memories of losing a loved one in a war, so the holiday can safely be repurposed for celebrating the beginning of summer. Which we're doing.
After going to a big cookout in Arlington on Saturday, we hosted a smaller one here yesterday evening. Saturday night I did not feel well at all, thanks to six or seven straight hours of eating, and I vowed that I'd fast the next day—or at least limit myself to vegetables and dry bread. Miracle of miracles, I was hungry again as soon as I woke up. Good thing, because we had some food!
Our friends brought most of it, which was lovely; all we supplied was canned baked beans, canned brown bread (which is worth a post all it's own), Leah's baconaise waldorf salad (ditto), and another rhubarb pie. Oh, and some potato skins. As delicious as it all was, the best thing about the evening was the company.
Thanks for coming by, guys!
Today we had to get some work done so it was less celebratory, but we enjoyed our supper (mac-and-cheese with hot dogs!) out on the front lawn, and the boys and I topped the evening off with ice cream and playground. Good times. I hope your weekend was equally lovely.
It's no secret I love perennial crops. Rhubarb is another early season favorite, and after adding some new plantings of it last year we have plenty to go around.
I picked the first few stalks maybe ten days ago, and cooked them into syrup that I mixed with sparkling water to make a refreshing rhubarb soda; yesterday's harvest went into some muffins. Not till this morning, though, did this year's crop reach it's true purpose and perfection.
This particular pie came with us to a lovely cookout, where we spent about six and a half enjoyable hours chatting with old and new friends and eating lots of food, but not much rhubarb pie—I had to taste it of course, but I limited myself to a thin slice to make sure there was enough for the rest of the crowd. But as I said, there's plenty of rhubarb in the garden to go round; there'll be lots more pies to come!
A moment from the week.
Gardening is all about waiting for the reward, and some things make you wait longer than others. Like asparagus. Or, even more so, wisteria. It took ours ages to get established (slower because I didn't give it anything to climb for years) and, of course, it only blooms for a couple weeks of the year—the rest of the time it tries to get in the windows and tear the siding off the house. But the flowers are nice.
And not only for the visual impact: they smell wonderful too. It's been warm enough to have the fans on most nights lately, and their perfume blowing in through the windows is just the thing to fall asleep to.
And when they're done in a few days there will be something else to enjoy.