Leah isn't doing quite as much crafting lately as she has at other times, and almost all of her efforts are going towards making the house more beautiful, with new paint and custom switch plates and outlet covers for every room. I don't blog those—just like I don't blog all the furniture I've been making—because I want to wait until it's "done" to show anything off. And home improvement is never "done". But last week she took a little time off from the switch plate work (and her day job) to learn needle-felting, and in true Leah fashion climbed right up the learning curve in no time. Since she's not writing here these days, it falls to me to present you with her latest creation.
It's for her brother, as a late Hanukah/birthday/housewarming present. He's into meditating, plus he's in LA now so it will help him fit in with the natives. He appreciated it.
Sadly, I missed the needle-felting homeschool day, so I'm not qualified to explain the details of this particular project. But even seeing it take shape I was delighted and astounded by the final product, and I couldn't let it go unblogged. And it's nice to remember that, as much as our time is taken up by encouraging creativity in our kids and putting food on the table, we still have time to be creative ourselves.
There was some debate in the neighborhood as to when spring officially begins, but it's got to be around here somewhere. Yesterday was a lovely early springish day: bitter cold at sunrise and barefoot-worthy by mid afternoon. So we spent some time outside.
We did some running and some scootering—Lijah working on his new birthday scooter for the first time!—and some wagon hay-rides, all together with a great crowd of friends. And then when the kids all got tired of running they brought ten thousand legos out onto the front porch to play with them in the sunshine. I should have taken a picture, but I was too busy talking about great picture books and home improvements with other homeschooling parents who Know What It's Like.
You know, it's funny. Lijah didn't get nearly as much exercise as the bigger guys—he can't keep up the scootering for long, and he was in the stroller for our walk rather than running back and forth like a spring-mad puppy—but he was the only one to actually fall asleep outside. I guess growing up so fast is hard work!
Happy Spring, everyone.
On Friday morning the boys and I set out on a walk to Whole Foods and the play space. The younger two asked why we weren't bicycling—easy for them to say, they don't have to do any peddling!—and I told them I wanted to be able to go slow, look around, and observe the signs of spring. The ones visible under all the snow. So we hit the road.
The sidewalks were plowed (finally), but there was still plenty of lumpy ice and snow that made it tough for Lijah so, contra the evidence of the picture above, I mostly carried him. There were moments that I wished I had the backpack for him, or at least the Ergo carrier; but then I realized that we weren't actually in any hurry, and I wanted him to be able to go down whenever anything caught his interest. Because even over the mile distance to the Great Road Shopping Plaza there's lots to see—like our local storm drain retention basin
Or the big pile of plowed-up snow in front of Leary Auto.
Or the tree that fell across the Narrow Gauge bike path.
We stopped at those places and many others—Harvey and Zion were completing a series of challenges. It was nice to take the time. Usually when we're walking we have the dog, who—quite rightly—imposes his own priorities. Nice, but also kind of tough for me: I had to work hard not to hurry everyone along, since I'm so used to hurrying. But no, this was totally a trip on which the journey itself was the destination. Lijah (who doesn't do ice or piles or trees) could have all the time he wanted to stomp snow.
Eventually we did make it to our actual destination, and had a lovely time for several hours. Then we had to walk back home, which was... less delightful. But that's another story! (spoiler alert: we made it).
Moments from the past busy week.
Yeah, we had another storm yesterday. Winter holds us in its grip. And its grip feels particularly strong and fierce this evening, with all the snow that fell yesterday compressed into maybe five inches of icy cement, and giant solid snowballs lining the street. We're kind of over it; the boys declined to go sledding today. In their defense, they did play outside for a fair bit yesterday, despite the driving wind and icy snow-rain mix that fell all afternoon. Zion even helped shovel.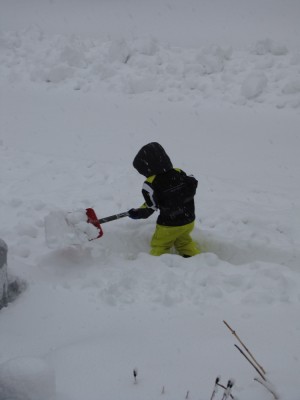 But we don't even care about that, because we're enjoying the time change. Yes, you heard correctly; I've complained about losing our morning light before, vociferously in person and a little more mildly in these pages, but actually this year it's gone pretty well. We've managed to adjust bedtime to the new time almost instantly, and mornings are later but still relaxed. Most importantly for me, I'm getting up before the hens again! (long may it last).
This evening saw the boys outside to play after dinner for the first time this year. "Feel like" 15°F, but there was still sunlight so they they were. I think going out late put Zion in summer mode; his friends were wearing snow suits but all he managed was a sweatshirt. (Or maybe he just couldn't find his coat. That happens a lot these days.)
Judging by the forecast winter is going to stick around for a little while yet—that groundhog knew what she was talking about. But we know it can't last for ever, and all that hot sunlight coming through the skylight will be just the thing for starting seeds in a couple days.
So it's too bad that everyone else is finally starting to come around to my formerly grumpy view of time changes. We've had two great ones in a row, so now I'm happy enough to stick with the current system. But we're flexible; if you want to change it, that's cool too.