While we're starting to think about fall and school around here, we aren't ready to let go of summer yet—and the last couple days we've been working on enjoying it to the fullest! On Thursday we took a picnic up to the playground and relished in the cool evening breeze after a hot humid day. Then at the library we were delighted to stumble upon a party celebrating the end of the summer reading season, and got to enjoy a popsicle dessert—several popsicles!—and some loud crazy family entertainment from the Toe Jam Puppet Band.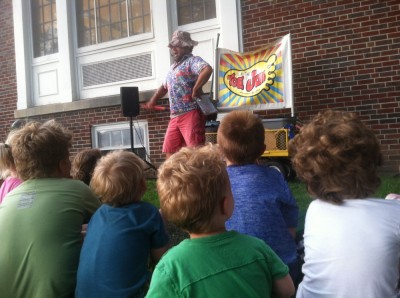 I was impressed with Harvey, who raised his hand at almost all of the (many) volunteer opportunities but never got picked; with Lijah, who despite the volume and zaniness gradually moved off my lap into the second row with his brothers; and with myself when I volunteered to go up front and try hula-hooping. At least I had Lijah there to help me. Zion was cool too.
It was a beautiful cool evening, and besides the music it was super fun to hang out with lots of friends, neighbors, and acquaintances. After the show lots of the families drifted over to the playground, and Harvey continued to show off his confidence as he jumped right into the game the other kids were playing. It was dark and we were tired as we biked home, but I couldn't imagine a sweeter evening.
Then yesterday we got to be part of the last day of summer camp for the year: the traditional group ride to an ice cream place. Despite the staggering humidity it was fun to ride on an urban bike path through Cambridge and Somerville, and we enjoyed delightful stops at a grassy embankment and a playground, where we had lunch.
Of course, the best stop was the last one, at JP Licks in Davis Square for ice cream. They boys said it wasn't as good as Bedford Farms, but it was still nice to share the moment with friends.
Then after a long rest time to recover we closed out the day with a lovely pizza picnic dinner with friends here on our lawn. We took the opportunity to make some farm-school co-op plans for the coming year, because there's no mistaking but that fall's around the corner; but we're loving summer while it lasts!