Last Thursday was the first of four summer concerts here in town. When they published the schedule I was pretty underwhelmed, but when Thursday afternoon rolled around we headed up anyway... it's hard to pass up a party! And I'm glad we did, because it ended up being a fantastic time.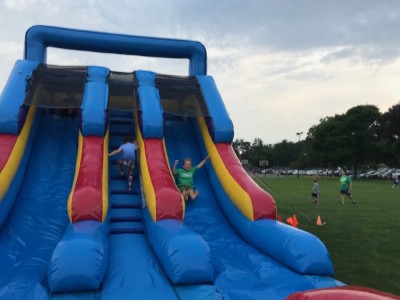 Besides the big slide and another bounce house (well, bounce obstacle course really) there were big Connect Four games and corn hole, and lots folks to hang out with: it seemed like almost everyone we know in town was there! And then of course there was the music too, which was surprisingly better than I had expected. I don't always trust the quality of "Caribbean music", but The Kolors Band had enough bass in the mix and plenty of energy to make things fun. I wanted to dance, of course, and the band wanted everyone up and dancing... sadly, in Bedford people don't, generally. But you can always count on kids, and once the band realized that nobody else but the kids was actually going to interact with the music they gave up on the rest of the crowd and had a little dance party for under-tens (and me). Here's Lijah getting down; you can also see us for a couple seconds in this video!
The show closed with a full 15 minutes of limbo madness, as pictured here. Amazing! There's no way tomorrow's show can possibly be as good. We'll probably still go anyways. Yay for summer music.
Harvey's actual birthday was a long time ago, it feels like. Time stretches in the summer. But now, a full 23 days after he turned ten, we brought his birthday season to a close by finally throwing him a party.
It wasn't just disorganization or laziness that led to the delay—the reason we held off on doing something in June was that his friend Jack would be away then, but back in July. Jack usually travels all summer, so I don't know that he's ever been to one of Harvey's parties... so naturally it seemed worthwhile to schedule the celebration on a day he'd actually be around. Of course, after we'd made that decision disorganization and laziness played their part in keeping me from actually inviting anyone until it was very nearly too late. Happily our friends are flexible and were all able to make it to a party at lunchtime on a Saturday with five and a half days advance notice. Good thing, because they would have been sad to miss it!
Harvey chose a board game theme—well, board and card game. He wanted a chessboard cake, but since I didn't know if I had the technology to make that happen I proposed something a little simpler. He was fine with the idea; I think it came out pretty elegant.
The party started at 11, and nobody was too concerned about board gaming. Harvey was mostly just delighted to have his three favorite friends together in one place. Since naturally we invited families, Zion and Lijah had people to play with too, leaving the adults to relax and chat. Harvey wanted hot dogs and coleslaw for lunch; I grilled 28 hot dogs, which was just barely enough. After lunch the play started to get a little violent—the ten- and eleven-year-old boys we know are partial to sword-play—so we redirected the kids towards the games inside. With the food and the adults outside, there was plenty of room in the house for games of Ticket to Ride, Zingo, Pokemon, and Yu-Gi-Oh to all happen simultaneously. Only one of those led to violence, so that was good.
It was all so much fun it was almost time to go before we remembered cake and presents! Luckily, after we did that half of our guests were still able to stick around for another hour or more. That's what we like to see. Thanks for turning ten, Harvey... Happy Birthday!
Moments from the past week.
We started off July with a trip to Grandma and Grandpa's beach house. It's a pretty sweet deal; this is the third season they've owned it, and we're starting to get used to visiting. It's nice to know what to expect on a vacation (check out the similarities between the picture above and this one from last year). Of course, we also try and work in some novelty. This trip we stopped for dinner on the way at Friendly's in Plymouth.
I promised the boys I'd take them to Friendly's when I got word that the last one around here would be closing; then we didn't make it before they actually did close. Happily they're still hanging on in a few locations, one of which was just moments out of our way off the highway. My turkey club supermelt and Reeces sundae tasted exactly the same as when I had the same meal the last time I ate at Friendly's, ten years ago. Consistency is a selling point. We reached the house just in time to walk down to the beach for the sunset.
We spent most of the next day on that same beach—splashing in the water, lazing in the shade of the umbrella, and paddling the inflatable. The sun was super hot, and I was a little nervous after getting a sunburn at the pond a couple days previous, so I didn't have quite as much fun as I might have otherwise. Just enough to get a little sunburn.
The next day Harvey and I started the morning by cycling into Welfleet to get some bread so we could make a picnic lunch. We tried to take an off-road path, but within a dozen feet of the entrance we were swarmed by masses of deer flies. The road it was. I enjoy the riding in Truro and Welfleet: the roads over the rolling dunes feel like downhill both ways. To me, at least. To Harvey the way home felt pretty uphill. He didn't die, though!
Picnic in hand, we loaded three bikes in the car and headed to the other side of the Cape to see some ocean waves. Coast Guard Beach is the best place for free beach parking; Harvey, Zion, and I could bike from the visitor center, and Mama and Lijah took the bus (which Lijah enjoyed for its own sake!). The waves were pretty small when we hit the beach at around 10:30, but as we swam and played they gradually ramped up. Never huge, but definitely big enough to play in!
One was so big it knocked Lijah over, so he retreated to the blanket, where he promptly fell asleep. Vacationing is hard work!
On the way back to the house we stopped for ice cream, then managed to stay awake to enjoy a lovely cookout and a peaceful evening drive home. We got in the door at around ten; I think I'm still tired from all that fun. I should have taken a nap too.
Once again we're taking part in the summer reading program at the library. Last year the boys signed up and then didn't do anything else with the program, because all the rewards were for doing reading-adjacent activities like writing letters to authors or attending presentations at the library. We don't have time for that. This year, though, it's all about the reading: there are necklaces, and each child gets to add a bead to their necklace for every 15 minutes read. That, we can do!
It's actually slightly more complex than that: kids can also trade up the 15 minute beads for ever-prettier beads representing more time. An hour gets you a metallic bead, glow-in-the-dark beads are for two hour, and at four hours the prize is a bead that changes color in UV light. And then there's the coveted star-shaped 8-hour bead.
The last time we were at the library the kids stepped up to the counter from youngest to oldest. Lijah was read to a reasonable amount; Zion impressed with his nine or so hours of reading over two week. Then it was Harvey's turn. When the computer showed that he had recorded 24 hours of reading the librarian was a little shocked, and she wondered if maybe someone had missed checking off his time for previous weeks. "No," I said, "I don't think so. It's been 12 days since we've been in... how much is that per day? Yup, I'm actually surprised it isn't more."
Harvey reads enough; or, too much. I've mentioned it before. I was the same way I think. It's easy to see how TV or video games can keep kids sedentary and hamper their imaginative play—I'm sure that in some circumstances books do the same thing. Not to say I'm against reading! But as someone who, given a quiet moments this afternoon, picked up a book rather than getting back to work cleaning the basement, I know it can have its downsides. Certainly in my family I don't see anything to justify the fetishization of reading—positioning as an absolute good—that we see from schools and libraries. But then, we'd read anyway! So I guess it's nice that we get beads for it... oh, and coupons for free used books too! The boys have racked up seven of those between them already. Not that they're interested: who needs to buy books when you have a whole library full of them?