posts tagged with 'day camp'
This past Thursday we continued our summer camp adventuring. We had one additional taker for our outing, Zion's friend Nathan, who signed on despite not having any advance notice about what he would be doing. Because we didn't know either! But by 8:00 Thursday morning I had a plan: to finally explore ACROSS Lexington trail system. Lexington has some good trails, and over the last ten years they've been stringing them together into walking loops of four to six miles each, connecting stretches of conservation land hiking and bike paths with well-signed routes along mostly back streets. We don't walk much, so we planned to bike the whole way. And there was some good cycling!
Since it was our first trip on the system, we aimed to follow Trail A (so far they go up to H). But first we had to get there; conveniently, Trail A includes a little section of the bike path that starts right by our house. Of course, we're not so single-minded that the ACROSS trail was the only thing on our minds: I was happy to stop on the way up to explore other interesting bits of Lexington.
The trail itself took us 5.4 miles on walking trails through woods and by streams and ponds; along a paved walking path along a narrow strip of wooded land along Lower Vine Brook; and through leafy suburban streets and one sterile new subdivision of McMansions—a subdivision that preserved one tiny memory of the farm-turned-nursery that preceded it.
There were also two little flights of stairs... and one big hill, on a soft path through the woods, that about finished Zion. We were probably about five miles in—plus the three and a half on the bike path to get to the trail—and he was cooked. Pushing his little bike up the hill with bugs buzzing all around him he yelled up to me, "I hate Trail A!" But when he made it to the top of the hill it was just one long downhill into Lexington Center; as soon as he recognized where he was, all was forgiven and he and Trail A were reconciled once again. Lunch on the Buckman Tavern lawn helped too.
I lived in Lexington for over 20 years, but lots of what we rode was surprising to me—delightfully so. There's lots more of the town to explore; even Zion, by lunch, was wondering when we could take a shot at Trail B...
In past years we've done this summer camp thing. When I asked the boys if they wanted to try it again this year they were all for it, and at least one family who participated in the past told me they were interested, so I emailed a few other folks to invite them. But so far, nobody has wanted to join us. Never mind, last Thursday the boys and I went on an adventure all by ourselves, and gosh-darnit, we had a great time!
We didn't go anywhere new; just old Fawn Lake, where we've been lots of times before. It was Zion's first time biking there, at least! There was some grumpiness here and there as we walked around the pond, but nobody can be in a bad mood for long in the presence of such lovely natural beauty, and by the time we made it to the lunch cliff spirits were high. Zion made his higher still by climbing up the hardest way.
After lunch we played hide-and-seek and tag in the field for about an hour, then we took to the streets for the ride home. I was a little nervous about Zion experiencing 45 mph traffic beside him for the first time, but he did great. The reason for our detour away from the lovely bike path that would have led us straight back to our house was that the bike path doesn't have an ice cream shop. And we needed ice cream.
And even that wasn't the end of the fun; next we stopped at the library for an hour of relaxing reading. Then we finally went home, to have dinner.
After dinner we went on another adventure, to outdoor concert back up by the library, where Harvey and Lijah got stung by several wasps each. But that's another story, and friends did join us for that outing, so we didn't feel as much like brave and solitary explorers.
We're doing some more exploring tomorrow. We'll see if anyone feels like coming along.
Last Monday we went on another day camp excursion. With a clear hot day forecast, I wanted a trip that would be cool and comfortable. So we started out with a lovely 3-mile bike ride through the shady woods.
Our destination was Concord's Great Meadows bird sanctuary, which is mostly water. I'd never been before, and assumed all the wetness would make it feel cool and refreshing. Not so much, as it turns out, since the main thing we noticed was the lack of shade.
Still, there were lots of cool things to see, and not just birds: we also spotted a young snapping turtle, a frog, and lots of interesting plants. And there was water here and there to play in, like the pair of concrete fords someone built back when cars were traveling those paths.
My co-counselor this time was Elizabeth, and she'd visited the sanctuary lots of times before. She guided us to a lovely spot by the Concord River where we could have lunch—and we never would have made it that far without her promise of good things ahead! Then the post lunch walk back to the bikes was entirely manageable.
As was the ride home, once again in the shade. After all our sweating and exertion Harvey and I thought it would be fair if we detoured slightly for a stop at Chip-In Farm to look at the animals and pick up some emergency sugar rations, in the shape of 25¢ of penny candy per camper. That's why we have that big camp budget.
Zion ran all day, Harvey walked and talked, and Lijah survived in long pants and long-sleeve shirt (I carried him a fair amount, to keep him from dying). They all felt very summery.
With so many kids around us on a school schedule, it makes sense for us to follow suit. And summer does seem special, anyway. But just not doing school doesn't make it special enough—we spend lots of time not doing school! No, to truly mark summer as distinct we need to do... summer camp.
Last time we ran a summer day camp program, back in 2015, it was fun but a little overwhelming. So this time I'm operating on kind of an invitation-only basis. That means it's only my fault if I get carried away and invite a whole lot of kids.
For our first outing, back on the last Monday in June, we biked a couple miles to Bedford's biggest pond, Fawn Lake, and hiked around it. Pausing of course to have lunch!
With Leah at work I was a little worried about how Lijah would cope with the crowd—and with my divided attention—but he did fine. With plenty of good models around he sees himself at a pretty capable adventurer.
All the kids felt capable; it was great to see them running and exploring and taking risks and communicating. My co-counselor Bridget and I did our best to give them free rein, even when they started negotiating street crossings on their own on the ride home.
That's just what summer camp is for: confidence. That, and spending four hours outside on an outing and then running to play outside some more when you get home. Check and check.
While we're starting to think about fall and school around here, we aren't ready to let go of summer yet—and the last couple days we've been working on enjoying it to the fullest! On Thursday we took a picnic up to the playground and relished in the cool evening breeze after a hot humid day. Then at the library we were delighted to stumble upon a party celebrating the end of the summer reading season, and got to enjoy a popsicle dessert—several popsicles!—and some loud crazy family entertainment from the Toe Jam Puppet Band.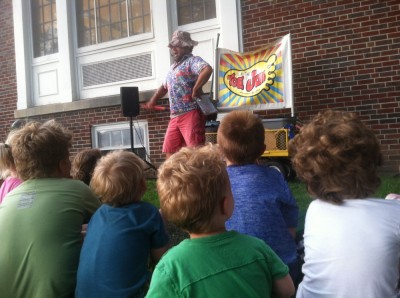 I was impressed with Harvey, who raised his hand at almost all of the (many) volunteer opportunities but never got picked; with Lijah, who despite the volume and zaniness gradually moved off my lap into the second row with his brothers; and with myself when I volunteered to go up front and try hula-hooping. At least I had Lijah there to help me. Zion was cool too.
It was a beautiful cool evening, and besides the music it was super fun to hang out with lots of friends, neighbors, and acquaintances. After the show lots of the families drifted over to the playground, and Harvey continued to show off his confidence as he jumped right into the game the other kids were playing. It was dark and we were tired as we biked home, but I couldn't imagine a sweeter evening.
Then yesterday we got to be part of the last day of summer camp for the year: the traditional group ride to an ice cream place. Despite the staggering humidity it was fun to ride on an urban bike path through Cambridge and Somerville, and we enjoyed delightful stops at a grassy embankment and a playground, where we had lunch.
Of course, the best stop was the last one, at JP Licks in Davis Square for ice cream. They boys said it wasn't as good as Bedford Farms, but it was still nice to share the moment with friends.
Then after a long rest time to recover we closed out the day with a lovely pizza picnic dinner with friends here on our lawn. We took the opportunity to make some farm-school co-op plans for the coming year, because there's no mistaking but that fall's around the corner; but we're loving summer while it lasts!
We're not running day camp this year, but friends of ours are taking up some of the slack and putting on a once-a-week camp out of their house in North Cambridge. We missed the first session last week, but we were happy and excited to be there this morning!
It was a biking day, and while I was disappointed not to have a way to bring the blue bike in the car Zion and Lijah were happy enough with the trailer and seat. And of course Harvey was raring to go. The group rode well together, though there were lots of stops—for repairs, drinks, and just to take in some of the beauties of the natural world.
It was a fairly short ride (by our recent standards), and it didn't take us long to get to Spy Pond, where the kids could have played for two or three days. Especially once they found a tree they could all climb at the same time, "even Zion!".
Of course, Lijah was a little left out (though I did help him up it and leave him there for almost three seconds) so he was happy a couple minutes later to find his own tree to climb... sort of.
It was all lovely, and we look forward to another adventure next Friday... after we get back from "real" camping, that is!
We're not doing our day camp this year, which is both a relief and a disappointment to all concerned. Since we miss a lot about the things we did the last two summers, it was nice to get together last week to reprise the fun with a slightly more manageable crowd.
Well, I say reprise; but with fewer kids—and each of them a year older—we actually blew any of our previous camp adventures out of the water with a cycling trip down the Reformatory Branch Trail to Concord to visit some of the historic sights. I figured it would be a tough ride for the kids (though I knew it was possible, since Harvey rode it a couple weeks ago)—but as it happened they just about rode away from Bridget, Leah, and I! We were plenty hot and winded by the end... though in our defense, we were all carrying the weight of at least one other human. Zion very much enjoyed the ride.
The Old North Bridge is always a nice stop on an outing—there's the history and the water and lots of space to run around.
And room to chill and relax with friends too.
Actually, we didn't plan for the day to be like a summer camp adventure; we barely planned it at all. Nathan was the first one to point out how much it felt like "Camp Archibald", and then we all went with it.
Since the kids rode so well on the way out we took a longer route home, with stops to check out an old cemetery (oldest grave we found, 1726) and Louisa May Alcott's childhood home (where we worked really hard to learn the maypole dance). They weren't unstoppable though—when I offered the choice between yet more distant adventures and a shorter way home, most of them definitively chose the latter. Zion and Eliot's votes to the contrary didn't count. The revised route—for 11 1/2 miles in total—led through some agriculture.
To be as much like camp as possible, we ended our adventure by turning on the sprinkler (also because it was super hot). But there were only two takers among the kids—without twice a week camp they don't get to see each other enough, so they wanted to use all the time they did have at home doing important things like building with legos! The adults went in the sprinkler, though; we can cool down and talk at the same time.
It was fun; we'll have to do it again soon!
I need to pause from my series on our recent camping vacation to acknowledge another kind of camp: our day camp just finished up for the summer, with a bike ride up to the ice cream store to celebrate.
We did a lot of cycling over the course of the summer—more than most of the kids had ever done before. Sometimes they didn't like it and wished that it was over, but I made sure that in the end it always felt fun and worthwhile (that's what careful route planning will do: I put all the hard parts first!). And as the kids were stretched, so were the parents: some of them were nervous about sending their kids out on the roads (or at least the sidewalks) but everyone did great—I'm happy to report that we didn't lose a single one all summer. And at the end, I think both kids and parents ended camp today with an expanded view of what they and their kids could do on bikes—and maybe in general!
The kids also ended it covered in ice cream...
... and happy to be cycling together!
It was fun; maybe we'll do it again next year!
With all the other kids at our house Mondays and Thursdays for day camp, life can feel kind of squeezed and stressful for our own boys. So we try and make sure they have quiet time to decompress, and also that we have time to do fun things together just as a family. On Monday evenings, that often means Springs Brook Park.
We're members there now (and without Leah even having to sell an organ!) so we feel like we can stop by whenever. Leah swam laps while the boys and I played in the pond and the spray park; only the latter is pictured since I was having too much fun with them in the pond for photography.
We brought a picnic supper to have on the grass, but no desert—so we were forced to treat ourselves to popsicles from the concession stand. Happy summer everyone!
Besides Lijah hanging out in the wheelbarrow, this week saw a few more moments worthy of note. Harvey's been very aware of his teeth.
He had two that were a little bit loose, and when he fell on a rock he knocked one out and loosened the other a whole lot more. He's praying every night that it doesn't fall out when he's asleep.
On Tuesday we celebrated cousin Nisia's birthday. The boys have a great time whenever they see her... about once a year. We took a picture of all the Archibalds together to commemorate this year's meeting, and demonstrate that we're all equally awkward in posed photographs.
Camp continues apace.
It's all great fun but a lot of work, and we're not at our best all the time. We're working on getting what rest we can, where ever we can find it.
Yay for summer.