posts tagged with 'elijah'
There was so much else to report when I was writing about Bedford Day that I wasn't able to give Elijah's face paint the attention that it deserved. I need to remedy that because, just like every time, he went all in with it and looked amazing.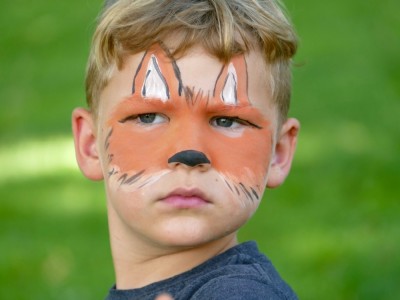 I can't remember either of the other boys being so into face paint at seven, or any other age. I think they lack his commitment to personal ornamentation, and also his willingness to communicate with strangers. Which you need to do if you want someone to give you that kind of attention! He's also really patient: there wasn't much of a line for the face-painting booth, but he still needed to wait at least ten minutes before he got his turn, and then the painting itself took close to that.
Totally worth it though! I only wish the paint job itelf lasted a little longer... it was already smudged by the time we headed home an hour or two later, and after 24 hours all that was left was the white triangles above his eyes and a lingering spray-tan looking orange cast to his cheeks. He tells me we have our own face paint set somewhere in the basement though, and he's already planning his next look.
School started today in Bedford for the public school kids, but not for us: we've got a vacation trip planned next week so we're in summer mode for a little while yet. But that doesn't mean we're not learning! In advance of our geology study this September I checked out a book of experiments for kids, and the photos of crystals were deeply attractive to Elijah. For days he asked me if I'd help him make one, but I put him off: my feeling is that those things never work. You do all that prep work and imagine a beautiful crystal growing before your eyes, only to have nothing happen at all for days, and then only a vague scattering of grains. I wanted to spare him the disappointment. But he persisted, so a couple days ago we followed the instructions for experiment one: we boiled a cup of water, added three-plus cups of sugar—slowly, stirring the whole time—and some food coloring. Then we poured it all in a jar, let it cool a little, and put in sticks coated with sugar (seed crystals) for the thing to grow on.
As I expected, it didn't work. But the failure mode was the opposite of what I though would happen. Rather than nothing happening at all, within 12 hours nine-tenths of the solution in the jar had crystalized solidly to the point where we couldn't even pull the sticks out. Maybe we used too much sugar? Boiled it too long? The recipe doesn't say anything about what might possibly go wrong, so I guess more experimentation is required. Which is really the point of science, I suppose! It's going to be a good year.
We signed up for the summer reading program at the library this morning. Well, the boys signed up; there's a thing for adults too, but I have enough trouble helping them keep track of their reading to try and record my own too. I guess the purpose of the program is to keep kids reading over the non-school months, like reading is something that otherwise you'd only do if a teacher was making you. That's not the case at our house! All I had to do today to get the boys to spend hours engrossed in books was to let them pick up some new ones at the library. Although in our case it's not even something I wanted them to be doing: after we read for over an hour in the library and then another hour-plus at home after lunch, I thought everybody would do better to go outside and exercise brains and imagination. I did! And they tried, but the allure of the books—and of the couch—was too strong. It's too bad that the library program this summer is based on days that the kids read, rather than hours as was the case last time. So their five solid reading hours today isn't going to serve them any better in the race for badges than someone else's 15 minutes!
Unrelated to that program, Elijah asked towards the end of the school year if he could work on leaning to read. So we've been doing that. He did awesome with phonics, and fairly well with sight word flash cards. So I got him started on a real book: Go Dog Go, my absolute favorite early reader. What I love about it is that it starts super simple and introduces words with picture and context clues to begin with, so that by the end there's a little bit of story and like half of the kindergarten sight word list. As the back of the book says, it's great for self-directed reading learning. Well, Elijah may be motivated to read, but the way his brain works Go Dog Go wasn't the winner I hoped it would be. Reading it with him I had a hard time containing my frustration when he painstakingly sounded out "dogs" for like the fifteenth time in five minutes. He's also been having some trouble with "the". Maybe it's my fault for starting with phonics! Or for trying to teach him at all... the other two boys learned to read pretty much on their own. But Lijah is his own kind of person, and he's needed someone to teach him things in the past: riding a bike, sitting up (that one was a long time ago)... He's a hard worker, though, and if he wants to read he'll get it. In the meantime, while he did spend some of the afternoon with his nose in a book—a series of books—he had no trouble getting his body and brain moving too. So that's fine.
On Saturday morning, Elijah was heard to ask, "how long is my birthday?" Three wonderful days, my son! At least, that's how long his birthday banners were up, and how long he got to say things like, "I get to have that because it's my birthday." I think all things considered—the main thing being, as always, coronavirus—he had a pretty good one. On Saturday, which was his actual birthday, he had his Zoom party with his socially-distanced friends. The birthday boxes I delivered along with the cupcakes had little animal erasers that were the centerpiece of an animal trivia game Leah led the kids through. It was a great success, and I learned that kangaroos can't fart! Sadly there's not that much for six-year-olds—and one brand-new seven-year-old—to do on Zoom, so after the game, watching each other eat cupcakes, and a little shared drawing, they wrapped up after about 50 minutes. The shortest party we've ever thrown! But since one Zoom minute is like eight minutes in real life, it was actually a little over our usual time.
Then today we got to celebrate in person in real life with our bubble school friends. Which basically looked like a regular day of playing and learning together—which is so wonderful it's like a birthday party every day we do it! Treats are also pretty usual in our school day, but today one had a candle in it, so that was different. More to the point, the friends came with presents! Lijah was delighted to open gifts containing stuffed animals, notebooks, and a playdough candy factory, plus a lego set sent over by one of the Zoom party attendees. And those were on top of the amazing things he got from his parents and grandparents on Saturday: a new bike, a new helmet, and a matching stuffed bunny and fur cloak handmade by Mama! It was a hard birthday in some ways—in our house it marked one full year of pandemic life, as Lijah's 6th birthday was the last open social event we held before the world shut down just a couple days after. But I think even with that we did a fine job, and our little boy feels properly celebrated.
One way I did under-perform, though, was in the picture-taking department. I was too busy having fun. But here's an image of him riding his new bike wearing his new cloak early Saturday morning. Isn't it delightful!
We picked up Zion's new bike yesterday, and I told him I'd we waking him up early today to take him for his first ride on it. He wasn't sure about that, but when the time came he got up promptly enough and we got going in time to hit the trails by 6:30. He got into it right away; how could you not?!
In our excitement to get going we forgot both masks and helmets, so we took things a little easier that we might have otherwise. But that was fine, since Zion's new ride is like twice as big as the one he was on before, so that took some getting used to. Also the brake levers are on the very edge of too far away for his little hands. There were no disasters, though, and the only time he fell he very cleverly landed on his belly and chin, so no brain damage. We stayed out for about an hour, then came back to a breakfast of pancakes: as Harvey described it, "if I can't ride with you than at least I want to cook!" I think I'm doing something right as a parent...
Harvey was rewarded for his generous nature by the arrival of his own new bike this evening. He and I drove to Newton to pick it up at dinner time, and then he and Zion were both so excited they rode for about an hour in the gathering dusk, including a 20-minute loop around our local woods (I think lights will need to be our next purchase...). Not to be left out, Elijah got his own bike out and rode with me as I walked the dogs through the woods after supper. He's been hesitant to ride off-road in the past with his little wheels, but with the motivation of trying to keep up with big brothers he did great! Both of them getting new bikes within the space of two days has been a little tough for him: while we were picking up Zion's yesterday and looking around at the other things at the store he was heard to remark, "I want something new!"
Now tomorrow we have a date to meet friends at Russell Mill Pond to really take the new bikes through their paces—pump track and trails both (Lijah will have to be left behind, sadly; but his time will come!). Expect to hear more on the subject of mountain bicycling in coming weeks.
We were reading a Calvin and Hobbes comic and Lijah got interested in the size of the galaxy. I let him know that I could look it up and tell him, but it wouldn't be a meaningful number. He still wanted to know. So I started typing into my phone, and read out the Google suggestions as they came up. "Size of..." gave "size of queen bed", "size of king bed", and "size of twin bed". "Size of the..." predicted us to be wondering about the sun, the moon, or the earth. "Size of the g..." gave us "great lakes", "grand canyon", and, finally, "galaxy." Reading the wikipedia page we learned that the Milky Way galaxy is between 170,000 and 200,000 light years across; a light year is 5.88 trillion miles; so in units we can comprehend, the diameter of the galaxy is somewhere in the neighborhood of one quintillion miles.
"So," said Lijah, who never misses a trick, "it's bigger than a twin bed?"
Last night I would have loved to have have gone to bed at 7:30—I was in bed, in fact, just finishing up reading to the boys. But I couldn't, because there were still things going on in my household. In school terms Harvey is a sixth grader now; that doesn't mean much for most things, but on Sunday he does go to Kids Church. Yesterday was his last day as a member of Elementary Kids Church, and while he won't be officially starting Youth Group until September all the sixth graders were invited to join the gathering yesterday evening for some get-to-know-you games... beginning at 8:00. Before too long, I'm sure that when Harvey chooses to stay up I don't need to play any part in his late-night plans. But for now he still appreciates having someone available to put him to bed. So I stayed up. At least I didn't have to drive him anywhere!
Elijah also showed signs of surprising maturity yesterday, at least in one small area. Apropos of nothing he told me, "sixty plus sixty is one hundred twenty," and then asked what 120 + 120 would be.
"Well," I said, "What's a hundred plus a hundred?"
"Oh," he said. "It's... two hundred and forty. And two hundred and forty plus two hundred and forty is four hundred and eighty. Four hundred and eighty plus four hundred and eighty is eight hundred and... no, it's nine hundred something."
Well! I'd included a lot about place value and adding tens and ones in my plans for his math work this school year, but I guess we won't need to work too hard on that! I can tell you that we didn't do anything more than add one-digit number last year, and not too much of that (I did work to build the foundation for understanding place value... but I didn't know how well he was listening). We'll just add it to the folder labeled "unschooling works." And maybe think about introducing some algebra this fall?
Elijah learned to ride a two-wheeler back in April. One problem with being a third child is that your accomplishments are less marked. When Harvey first succeeded on two wheels he got many words and a video; Lijah had to make do with a three-word caption on a weekly pictures post. But his achievement is no less impressive! Unlike Harvey, he had to work for a while to learn to ride, but he did the work with determination for a good solid week (with some kind and helpful coaching from Harvey's friend Jack). For his first couple months on two wheels he was prevented from taking any long rides by the fact that, you know, we hardly go anywhere—and when we do it's off-road, which is hard when you're riding on 12-inch wheels. So that was my fault. Monday I finally got his 16-inch bike up and running, and he celebrated yesterday by taking a nine-mile ride to the Farmers Market and back.
I admit I had some trepidation going into the outing, but I didn't say anything to Elijah! I just asked him if he wanted to ride this time, and when he said yes I just kept things moving in that direction. I fully expected that I'd be putting him and his bike into the cargo bike after a couple miles—there's plenty of room, so that would be no problem—but he kept going: two miles on the flat, then another couple on the gentle rail-trail grade up to Lexington Center. He got there with plenty of energy left to play hide-and-seek around the Old Belfry and buy a baguette for himself at the market, and then to ride the whole way back with nary a complaint, but for a few mentions that his butt hurt. I was very impressed, and I let him know it! His brothers also remarked on how natural he was on the bigger bike. It turns out all his problems with going in a straight line over the past couple months were just because his knees were practically hitting his handlebars.
There's some kind of a lesson in there, I think. I mean, besides the lesson for me that I should have worked harder to get him an appropriately-sized bicycle in a timely manner. Here's this kid who had never ridden more than a mile, who had run off the sidewalk and crashed into a telephone pole the last time he biked off our street, and who was just for the second day riding a bike where he couldn't put both feet on the ground at the same time... and I had him ride on the street and the busy bike path? Am I crazy?! Possibly. But my thinking was that Elijah really wants to keep up with his brothers, and while he also values being the baby a lot of the time he has some real skills and capacity. By just assuming he could do this thing, I showed him that I trusted him to do the work, and he did! And as it happened, his first big ride was significantly bigger than Harvey's. I guess now we need to get him a mountain bike!
(And I promise you that, in that picture above, I was just out of the frame ahead of Lijah. Leah took it. I'm not totally irresponsible!)
Lijah doesn't eat very many different things. He's not picky in a traditional sense—he'll eat sweet potato, for example, or pickled garlic—but he knows what he likes and doesn't like foods that aren't on his list. Not that the list is static; that would be too easy. A couple years ago he liked his hot dogs without buns; the year after that he only wanted the bun. This week we saw a change in his diet happen.
Yesterday morning I made scrambled eggs for myself, Harvey, and Zion. When he saw them Lijah asked to try some, approved, and asked for more. Well, I wasn't going to cook more eggs so I told him he'd have to wait. Could he have some for lunch, he wanted to know? Remember, this is the child who needed separate breakfast food every time I cooked eggs for the past 18 months.
Well, you can guess what was on the breakfast menu this morning! I admit I felt some pressure as I scrambled today's eggs: what if he didn't like them this time? Would I be doomed to another year of short-order breakfast complexity? Happily, he once again approved. Of course, he also turned down the toast I made him, but I suppose you can't win em all.
As I mentioned, we cleverly scheduled Lijah's birthday party before society closed down. He invited six friends—appropriate for a sixth birthday!—and those friends brought along enough family members to bring the total number of folks in the house, including Archibalds, to 26. Pretty good! The party had a dragon theme, officially, though as the day got closer the birthday boy decided he wanted to give unicorns equal billing. The short notice didn't bother me since I didn't have any particular dragon-based activities or decorations in mind anyway; he wanted a chocolate cake with chocolate frosting so options were limited in that direction, and I was too overwhelmed with other life to think too much about activities. (I did make a fantastic rainbow unicorn card that I gave him on his actual birthday on Friday.)
Of course, with all those kids in the house we needed to do something! As the kids arrived we had material out for them to make puppets—or any other project they cared to attempt with construction paper and lunch bags. I had prepared a dragon puppet as an encouraging example. Lijah made a unicorn puppet (with terrifying sharp teeth); there were also a couple other dragons, a knight, a dog, and two penguins. The more active kids played outside on an obstacle course that Zion and I had set up. Then we had lunch—plain pasta and chicken nuggets for the littles, home-made pizza and African food for those with more discerning palettes (who am I kidding, the kids ate most of the pizza too). After lunch I sent them out on a treasure hunt to find a dragon's hoard hidden in the yard (totally not a pirate treasure: that was last year). They couldn't figure out one of the clues but it didn't matter: they brute-forced it by blindly searching the whole property and finding the clues out of order. I knew I should have buried them! The prize was a bag of candy for each kid.
Which hopefully they didn't eat right away because next we had cake. No ice cream, but there were also chocolate chip cookies... does that count? After the cake Lijah opened his presents, and besides the musket and knife from his parents he got so many beautiful and thoughtful dragon-related gifts. A Dragonite doll, a dragon puppet, an amazing homemade costume, an embossed leather journal... He was delighted.
It was a three-hour event; the morning of I was actually worried I scheduled it to be so long, and I wasn't sure what everybody would do. I needn't have been. The folks who absolutely had to be somewhere else tore themselves away after three and a quarter hours, and everybody else stayed for four. Maybe we had an inkling we wouldn't be partying together again for a while?