posts tagged with 'friends'
One thing that helped us survive a week without our bubble school friends was a chance to hang out with different friends for the first time in over a year. While we see lots of them over Zoom—the kids do things together online three or four times a week!—they have an immunocompromised family member so they've been quarantining hard since February 2020. But now the vaccine has opened their horizons a little bit and we were able to take an expedition with them on Thursday afternoon. We drove to their house and then biked all together to Great Brook Farm: a short ride for the sake of the youngest cyclist, new to her own two wheels, but one that gave us a new sort of challenge as we navigated the high speed auto traffic of Concord Road in Chelmsford. We survived! And then we were glad to take to the trails at Great Brook.
It wasn't all cycling though. We spent lots of time watching and chasing the bullfrog tadpoles in the pond and comparing notes with another aspiring zoologist, a boy who approached the kids looking to play—and who turned out to be a long-ago member of our church community group. That was like six or seven years ago and he's only eight, so it didn't really matter to their interaction, but it was still a fun coincidence. We also jumped onto and over some horse jumps for a surprisingly long time; and, most importantly, the nine-year-olds had time to wrestle a little bit. You can't do that over Zoom! We were masked up of course, but it was still a wonderful opportunity for connection that we were missing. The only problem was that it was so much fun I didn't take any pictures of the kids playing together! Oh well, we'll have to do it again soon.
I don't know how the school kids felt about going back this January, whether to their classrooms or their remote terminals. Given what Christmas looked like this year, maybe they were fine with it; even excited. But there's no way they were as happy as we were, because our return to "school" this week has been absolutely delightful. We started off on Monday with a joyful reunion with our bubble group, who came over for the day. Certain of the children were looking forward to doing some math work, but that didn't happen; instead, we talked (and wrote and drew) about what we're looking forward to in 2021, listened to some stories, ate lots of dessert together, then took a long walk in the woods. After school time ended, the kids who got to stick around a little longer did woodworking in the basement and made some swords, which they of course proceeded to battle with.
On Tuesday Harvey's online classes started back up. He enjoyed playing his banjo with his grandpa and cousin in his music class, and had an even better time hanging out with the boys of the ancient history class. The younger boys did Zoom yoga with Grandma, which activity has replaced their read-aloud now that they've finished Tuck Everlasting (and received yoga mats and blocks for Hanukah!). And Wednesday was the online book group party celebrating the completion of Where the Mountain Meets the Moon. Elijah was super excited to wear his monkey costume and bring a peach, and the other boys were interested enough to come up with costumes of their own. In the event peaches were not available, it being not at all the season, but Lijah was contented with a jar of canned peaches from the basement. The best part of the party, though—the best part of this whole book group—was the tea: herbal tea has a fairly important part in the story, so one of the things all the kids enjoy is having some as they listen. I'm working during book group time so the boys have to make theirs themselves... which I think makes it even more fun.
I thought today might be a bit of a letdown, with nothing on the schedule, but that was actually perfect for Harvey. He's been after me for a couple weeks to teach him programing, and today we finally had time to get started. Not that I know too much about the subject, but more than him—and certainly enough to pique his interest. Today we wrote some pseudo-code to talk about functions and loops and things, and then did some actual programing in Apple Basic (which, delightfully, is implemented in Javascript here). And we also took a good exploring walk. All in all, I think our first week back is going pretty well.
We took most of December off from bubble school for our pre-Christmas quarantine. Totally worth it, but boy did we miss those folks! School doesn't start up again until the new year, but we couldn't wait that long to hang out again, if only for a little bit. So yesterday our friends invited us to join them for a fire, dinner, and a walk under the full moon. Never mind the cold, we were excited to go an happy to bundle up. Not that the kids needed all those layers once they got going with their friends—they were soon out of their hats and coats, despite the entreaties of their shivering parents. We played and talked until the moon was well up, then headed out for a moonlight hike. We had headlamps for the short portion along the road, but then once we went into the woods we shut them off and relied on the light of the moon—and, even with the snow all melted, it was plenty.
The original plan was to walk for an hour, all the way to a field on the banks of Nashoba Brook, but one family couldn't stay out that late so we only walked for half an hour, out around a cemetery and back. With so many happy friends it didn't feel spooky at all, only beautiful (though the gravestones with a few dim red Christmas lights on them were a little bit creepy). Before the walk we had listened to the wonderful book Owl Moon, by Jane Yolen; there was a little disappointment that we didn't see or hear any owls ourselves, but then again the book makes it very clear that, "when you go owling, you have to be quiet." We were not quiet: it was too much fun being with friends! It was a great night.
Monday was an exciting day at our house. After a couple weeks of thinking and planning and feeling each other out, we had the first full day of our in-person school bubble. It was so great. With two other families, we gathered on the back deck to talk about Indigenous Peoples' Day, do some math and literacy work together, and process acorns in water boiling on the fire. And play and talk, of course. And when the rain got a little heavy for the group working on paper, we even went inside! The first time anyone but us has sat on our couches in almost seven months was a big moment... and it's not a coincidence that it was some of the same people who were here the last time back in March.
We're part of a co-op, but it's having trouble getting going this fall. That may be my fault—I refuse to admit to any particular leadership, but I'm certainly one of the main organizers. In any case, between everyone's different schedules and risk profiles, nobody's really wanted to commit to in-person events; and most of the kids aren't that big on video-conferencing (we're trying to stay away from it ourselves, at least while the weather stays warmish). So a couple weeks ago I reached out to two families who we see socially who were also willing to consider getting together, and we agreed that we could try bubbling up to do some school work.
The bubble part is, of course, new and exciting—we spent five hours together yesterday, easily the longest stretch of time we've shared space with anyone since the pandemic started. But the school part is new too! For the last few years our co-op activities have been limited to fun outings, enrichment activities (awesome ones, to be fair!) and book groups. This fall we're going to be trying to do a little more consistent work together on things like math and writing, and giving our kids a chance to work with age peers rather than their siblings all the time. It's still a work in progress, but it was encouraging yesterday to observe the attention span the kids showed for working together. We're planning to gather every Monday and Friday, and we'll see how it goes... we have high hopes!
As "Zoom Through a Book" wrapped up last week, the hosts let us know that they weren't going to be joining us for the Friday evening meeting that we usually have together because they needed a break from Zoom. Good, I said, because we weren't hosting it—we need a break too! Videoconferencing has been a lifeline for us over the past five months, but it's also been draining to be spending so much time on screens. Hopefully pausing it for a week or two will give us some room to stretch and do some other things before we have to get back on the Zoom for the fall.
We did kind of break our Zoom fast yesterday evening though. While we cancelled nearly all of our regularly scheduled gatherings this week we didn't talk with our Bible Study friends, and we didn't want to just not show up. Happily, one of those friends lives in our neighborhood and invited us over to their backyard where they set up the Zoom meeting on a big TV. Zion and Elijah were able to run and play with friends, while Harvey joined the adults for a hybrid virtual/real-world conversation. We brought some dessert over to share, too—just like when we got together back in the old days! I'm really looking forward to the day we can do that without masks and careful distancing; til then I guess it's Zoom. But not this week!
Even though it got us all sick our outing a week ago was pretty fantastic, so I wanted to note some its positive aspects. Because there's not much better than boating with friends!
Even though there was no forward planning—I just thought of the outing that morning and invited our friends at around 7:00—we were able to throw things together in time to meet at the pond at 8:30 (we had to make sure to get in before it closed!). We took a leisurely paddle across, and all around, the pond, then set up camp at a nice spot to swim. Of course, when there are boats pulled up on the shore they exert a powerful pull, and before too long the swimming was well-mixed with boating. Left on shore without a boat I could only hope they would come back! (Of course they would: I had the lunches!)
As the morning wore on our beachy spot got a little crowded, so we re-loaded the boats and headed to another cove which, besides being less occupied, gave us a chance to swim in the shade! It was also right by the rail line, and we were lucky enough to be by the tracks right as a train went by. I should have shot a video!
Soon afterwards our friends needed to head home. We saw them off, stopped by the bathroom, then re-embarked to find a quiet spot to have lunch. People definitely spread out more at Walden now than they did pre-Covid, so it took us a while to find a private space—we never would have managed it without a boat! After lunch I tried to nap while the boys swam, then I joined them for some water play. Then finally it was time to leave—not to go home, but to visit the Farmers Market in Lexington. What a full day!
I've been feeling pretty lonely lately. My family is wonderful and I'm super grateful to get to spend so much time with them, but they've got their own stuff going on and and it's not fair to ask them to fulfill all my emotional needs. So while I admit it does make me a little nervous, I'm happy that we're starting to be able to get out and do things with other people. Yesterday we took a hike with some homeschool co-op friends who we'd missed so much over the past three months, and it was delightful!
We walked in the Nashoba Brook Conservation Area; we'd never been there before but will definitely be going back. The river itself is the best part, with bridges and rocky pools and marshy segments making the walk along it endlessly interesting. But it had some competition in a man-made cave. I would have guessed it was a root cellar, except it was a little more complicated than you would really need for that; I understand that it has a mysterious reputation in local lore. In any case we had fun exploring it.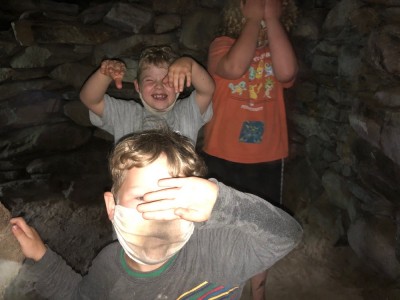 The whole family came along—a pandemic bonus! Leah enjoyed talking with Kelley, but not as much as Scout and Blue liked playing with our friends' dog. We walked two miles; the three dogs must have covered five or six.
The kids got plenty of exercise too: when he has friends to run with, even Lijah can cover some distance without complaining! And I exercised my socialization muscles. A great morning all around.
You know I have my struggles to write in this blog as much as I'd like to. In the morning my brain is working well but there are many distractions; in the late evening it's quiet but it takes me fifteen minutes to write a sentence. As hard as that is, it's been even harder for me to keep in touch with my friends. Why on earth is that?! Shouldn't I be able to dash off a quick message—"hey, thinking of you... how are things going?" But then I sit down to write and I get stuck. What if they wonder why I haven't talked to them in so long? What if they've got something serious going on, and my tone is too lighthearted? Why haven't they written to me: did I do something wrong? It's maddening. And as bad as that is, for work I'm meant to be writing to the families I work with and my volunteers, and that's ten thousand times harder! I want to write, I really do. I care about all of those people and would love to be in contact with them. So what's my problem?!
All that is to say, if we're friends and I haven't written to you, I really want to and wish I had. I'll try again tomorrow!
We tend to do our fair share of socializing. Before the end of the world we had dinner with friends two evenings a week (not counting weekly dinner with my parents), took part in homeschool gatherings twice a week, and hosted Harvey's friend Jack every Thursday... and that's just the scheduled things! Last weekend it all lurched to a stop and we found ourselves with more private time at home than we've had in years. It was... kind of nice! But we did miss our friends, so we've been enjoying the gradual transition of all those meetings to the digital realm. Today we might have gone a bit overboard, though.
We kicked things off at 10:00 with homeschool Book Club party. We just finished reading The Rise and Fall of Mount Majestic—we heard the epilogue this morning—and while we couldn't stick to our pattern of making food from the book we were definitely able to dress up like characters from the book. Zion was King Lucas the Loftier and Lijah was Theodore, the potter. Harvey didn't dress up but he did memorize a 16-line poem from the last chapter (this morning!) which is probably more impressive. We also played a rousing game of Mount Majestic Jeopardy. We finished up at 11:30.
Then we were off until 2:00, when we joined the Jacksons' read-aloud to hear more of Adventures With Waffles. That lasted for an hour, then as soon as it finished up the boys had a date for a video call and pokemon battle with our closest Pokemon-card-playing friends. I had to cut them off at 4:00 before they were quite finished because I was hosting my very first Zoom meeting, for the parents in our homeschool coop. It was supposed to just be a half hour but went almost until 5:00 (happily, the bonus time in the oven made the squash that was going into the squash soup even better!).
As we finished up dinner I had just a few minutes to set up a second computer with Zoom so that the boys could join the Kids meeting of our church-related community group, as Leah and I hosted the Adult portion upstairs from the other machine. The adults had a civilized conversation for an hour and a half while the digital native young people discovered that you can draw on Zoom and had a great time doodling, as well as—apparently—playing hide and seek. Well, most of them had a great time: Lijah suffered a complete breakdown and says he never wants to use Zoom again. To be honest, I get where he's coming from. Maybe a screen-free day tomorrow?
Wednesdays are usually home days for us, but we can never say no to a walk in the woods, so when the invitation came yesterday we headed off to Carlisle for a hike with members of the Greater Lowell Homeschoolers facebook group (including a significant overlap with our own co-op). That we'd never been to the Towle Land town forest made it even more enticing! Because we're getting good at this we were the first ones there, but it wasn't long before everyone gathered—a pretty good group, with six or seven adults and uncountable numbers of kids. It was good there wasn't much of a wait, because it was hard to hold the kids back from the trail.
Towle Land is a lovely woods: there are plenty of ups and downs on the trail, but nothing too steep, a generously-flowing stream, and plenty of vernal pool hollows still filled with water and ice this strange wet winter. Plus some awesome rocks to climb on!
With all the fun terrain we didn't just hike on through. In fact, I don't think we ever went farther than a couple hundred yards before we stopped to play on something or other. That's the way to make a mile-long hike take two hours! Two hours for us, at least; the group had varied levels of woods experience, so other people were done sooner. Especially the ones who didn't bring any food (you know we never make that mistake!). Also the ones who fell in puddles playing on the ice.
I enjoyed interacting with the (slightly) wider homeschool community, and meeting some new people. The boys were fine with it, but they were happiest when everyone else had headed home and they were free to play with their good friends from co-op. They can never get enough time with them. "Why can't they come over to our house after?!" is the constant refrain. Because everybody has lives to live! But don't worry: we've got full days of co-op fun with them today and tomorrow. Living the homeschooling dream!