posts tagged with 'friends'
I've been feeling pretty lonely lately. My family is wonderful and I'm super grateful to get to spend so much time with them, but they've got their own stuff going on and and it's not fair to ask them to fulfill all my emotional needs. So while I admit it does make me a little nervous, I'm happy that we're starting to be able to get out and do things with other people. Yesterday we took a hike with some homeschool co-op friends who we'd missed so much over the past three months, and it was delightful!
We walked in the Nashoba Brook Conservation Area; we'd never been there before but will definitely be going back. The river itself is the best part, with bridges and rocky pools and marshy segments making the walk along it endlessly interesting. But it had some competition in a man-made cave. I would have guessed it was a root cellar, except it was a little more complicated than you would really need for that; I understand that it has a mysterious reputation in local lore. In any case we had fun exploring it.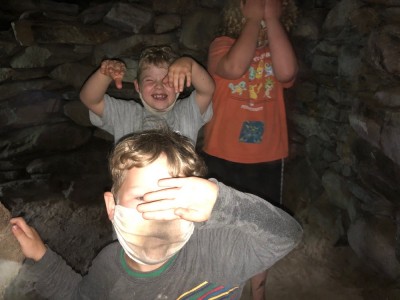 The whole family came along—a pandemic bonus! Leah enjoyed talking with Kelley, but not as much as Scout and Blue liked playing with our friends' dog. We walked two miles; the three dogs must have covered five or six.
The kids got plenty of exercise too: when he has friends to run with, even Lijah can cover some distance without complaining! And I exercised my socialization muscles. A great morning all around.
You know I have my struggles to write in this blog as much as I'd like to. In the morning my brain is working well but there are many distractions; in the late evening it's quiet but it takes me fifteen minutes to write a sentence. As hard as that is, it's been even harder for me to keep in touch with my friends. Why on earth is that?! Shouldn't I be able to dash off a quick message—"hey, thinking of you... how are things going?" But then I sit down to write and I get stuck. What if they wonder why I haven't talked to them in so long? What if they've got something serious going on, and my tone is too lighthearted? Why haven't they written to me: did I do something wrong? It's maddening. And as bad as that is, for work I'm meant to be writing to the families I work with and my volunteers, and that's ten thousand times harder! I want to write, I really do. I care about all of those people and would love to be in contact with them. So what's my problem?!
All that is to say, if we're friends and I haven't written to you, I really want to and wish I had. I'll try again tomorrow!
We tend to do our fair share of socializing. Before the end of the world we had dinner with friends two evenings a week (not counting weekly dinner with my parents), took part in homeschool gatherings twice a week, and hosted Harvey's friend Jack every Thursday... and that's just the scheduled things! Last weekend it all lurched to a stop and we found ourselves with more private time at home than we've had in years. It was... kind of nice! But we did miss our friends, so we've been enjoying the gradual transition of all those meetings to the digital realm. Today we might have gone a bit overboard, though.
We kicked things off at 10:00 with homeschool Book Club party. We just finished reading The Rise and Fall of Mount Majestic—we heard the epilogue this morning—and while we couldn't stick to our pattern of making food from the book we were definitely able to dress up like characters from the book. Zion was King Lucas the Loftier and Lijah was Theodore, the potter. Harvey didn't dress up but he did memorize a 16-line poem from the last chapter (this morning!) which is probably more impressive. We also played a rousing game of Mount Majestic Jeopardy. We finished up at 11:30.
Then we were off until 2:00, when we joined the Jacksons' read-aloud to hear more of Adventures With Waffles. That lasted for an hour, then as soon as it finished up the boys had a date for a video call and pokemon battle with our closest Pokemon-card-playing friends. I had to cut them off at 4:00 before they were quite finished because I was hosting my very first Zoom meeting, for the parents in our homeschool coop. It was supposed to just be a half hour but went almost until 5:00 (happily, the bonus time in the oven made the squash that was going into the squash soup even better!).
As we finished up dinner I had just a few minutes to set up a second computer with Zoom so that the boys could join the Kids meeting of our church-related community group, as Leah and I hosted the Adult portion upstairs from the other machine. The adults had a civilized conversation for an hour and a half while the digital native young people discovered that you can draw on Zoom and had a great time doodling, as well as—apparently—playing hide and seek. Well, most of them had a great time: Lijah suffered a complete breakdown and says he never wants to use Zoom again. To be honest, I get where he's coming from. Maybe a screen-free day tomorrow?
Wednesdays are usually home days for us, but we can never say no to a walk in the woods, so when the invitation came yesterday we headed off to Carlisle for a hike with members of the Greater Lowell Homeschoolers facebook group (including a significant overlap with our own co-op). That we'd never been to the Towle Land town forest made it even more enticing! Because we're getting good at this we were the first ones there, but it wasn't long before everyone gathered—a pretty good group, with six or seven adults and uncountable numbers of kids. It was good there wasn't much of a wait, because it was hard to hold the kids back from the trail.
Towle Land is a lovely woods: there are plenty of ups and downs on the trail, but nothing too steep, a generously-flowing stream, and plenty of vernal pool hollows still filled with water and ice this strange wet winter. Plus some awesome rocks to climb on!
With all the fun terrain we didn't just hike on through. In fact, I don't think we ever went farther than a couple hundred yards before we stopped to play on something or other. That's the way to make a mile-long hike take two hours! Two hours for us, at least; the group had varied levels of woods experience, so other people were done sooner. Especially the ones who didn't bring any food (you know we never make that mistake!). Also the ones who fell in puddles playing on the ice.
I enjoyed interacting with the (slightly) wider homeschool community, and meeting some new people. The boys were fine with it, but they were happiest when everyone else had headed home and they were free to play with their good friends from co-op. They can never get enough time with them. "Why can't they come over to our house after?!" is the constant refrain. Because everybody has lives to live! But don't worry: we've got full days of co-op fun with them today and tomorrow. Living the homeschooling dream!
I thought we were impressive with our 22 people for wreath-making last week, but today our second co-op event just blew that out of the water with 35 people at our friends' house for a hot cocoa bar and board games. It was a little chaotic at times, but our hosts showed a perfect combination of elegant preparation and obliging equanimity as their house was being overrun, and everyone had a great time. How could we not, with this spread to greet us when we arrived?!
Zion and Lijah very briefly played some of a board game, played with their friends' toys, and romped in the snow outside. Harvey was convinced to join a Monopoly game and did that for three hours, questioning his life choices towards the end. At least he was winning when they had to stop! (naturally, they weren't able to finish the game). And we all drank lots of hot chocolate—even better, hot chocolate covered in whipped cream and other chocolate—and ate cookies. There was even something called "liquid truffle", which is basically hot chocolate but more so. Since the chocolate was basically the purpose of the gathering we jumped right into that at 10:30, so needless to say the kids weren't super enthusiastic about their lunches. Hopefully I restored them to health with soup for supper.
It was awesome to have so many people come out for the event. I now have 11 families on the co-op email list, and there was one other family there today who's not on the list yet. So I've got to feel that our efforts to build a learning community are going pretty well! Now all we need to do is find out how we can afford to rent a space that'll fit all of us...
Every Tuesday we share a meal with the friends who make up what we still call "Bible Study" despite not having opened a Bible together since Zion was born. Call it eight years. But we still get together, and once there are no kids under five in the group we might be able to get back to the studying (that'll be three years from now, unless someone pops out another kid). Unlike our regular Friday evening gathering, which is always at our house and a pot luck, the Tuesday dinner rotates among four families (well, 4.25 counting 5th Tuesdays) who make up the group. So we get three free dinners out per month—but when it's at our house we have to do some work. Well, let me tell you, today I did extra.
Yesterday evening Leah asked me what I was planning to cook, since she was going to Whole Foods and cook pick up what was necessary. When I said I had no idea she read me the sale items for inspiration, and we settled on a pork loin. What is a pork loin? I wasn't entirely sure, but it sounded like something that could feed a crowd. (It may surprise you to know that I have never cooked pork; lots of bacon and ham, but no pork.) After some confusion over recipes—it turns out pork loin and pork tenderloin are not at all the same thing!—I figured out basically what I should be doing; and despite my not having a meat thermometer, which was strongly recommended by most sources, it seemed easy enough.
Of course, making a roast seemed fancy enough that I needed some top quality sides to go with it! Mashed potatoes, sure (and I had to do them with the food mill since Lijah didn't care for the lumps last time). Roasted broccoli so we'd have something green. Then in my searching for pork recipes I came across one for butternut squash with maple syrup and sriracha; I'd been wanting a new way to do squash! So I thought I'd try that as well. And then, since I forgot to feed the sourdough starter yesterday, I had to make yeast rolls too.
I have to say, while I'm not sure about pork—my ethical considerations are particularly strong when it comes to pigs—the meal came out so good I might have to shell out real money more often to repeat the experience. Certainly, it was worth all the afternoon's work and stress. Too often I get into a rut, just cooking the things I know how to and buying the same ingredients again and again. Rice and beans mostly. Which would have been fine with one of the young visitors: that's what he asked for when he saw what we had on the table. You can't please everyone all the time. But the evening's meal sure pleased me!
Harvey's friend Jack came over today before nine in the morning, and he didn't leave to go home until 8:30pm. Well, he did stop by his own house briefly in order to pick up his bike and pack a picnic lunch, so he could join us on the day's summer camp outing. We just went up to the center of town today, where we played on the playground and the skate park and visited the library. And ate lunch. Besides that outing, the kids also played Pokemon and baseball, jumped on the neighbors' trampoline, and created a role-playing game based on the Percy Jackson series. Oh, and ran around in the dark (that game is called "shadow ninjas" around here). We're really enjoying the last little bit of summer vacation!
School starts September 3rd here, for those folks that go to school. Jack is going into 6th grade, so he'll have more freedom after he gets out in the afternoon. We hope to see him around lots more!
Today was a hot one—though not as hot as forecast—so we did our best to spend as much of it as we could in the water. We started the day off with a visit with our friends in Lowell... we expected to be luxuriating in air-conditioned comfort, but in the event we spent the whole visit outside in or around their lovely new inflatable pool (luckily there were spare swimsuits for the boys, since we were not at all prepared!). Even just a foot-and-a-half of water was plenty for hours of fun.
I didn't go in that pool—though I got splashed plenty! Then when we got home Harvey and Zion ran next door for an hour of swimming in the neighbors' beautiful new above-ground pool. I didn't go in that one either; I was taking a nap. Getting splashed is tiring!
To continue the theme of ever-bigger swimming opportunities, I dragged the boys away from the pool in the late afternoon to head to Walden Pond, where we planned to meet yet more friends (and also Mama). We brought a picnic supper, and while we waited to be hungry enough to eat it we all—me too finally—had a delightful time in the water.
Unfortunately, when Mama showed up it made Lijah remember how tired he was from all that outside time, and he became not the most relaxing beach companion. So the two of them headed out early, but as it turns out they didn't miss much—just moments after they left lightning and thunder had us scurrying out of the water and running for home ahead of the rain. It's not that I minded too much getting wet; just that there was no rain in the forecast, and everything—bikes, tools, laundry on the line—was out at home.
We made it back just in time—or almost just in time. The bigger boys and I got wet one more time as we raced to bring everything in. We didn't make it to the ocean—our thought for what would be the next step up from the pond—but the thunderstorm was plenty big. And just as wet!
Saturday was Bedford Day, and we celebrated it with more friends than ever before! The allure of our wonderful town is hard to resist; people we already know and love keep moving here. So naturally we got together to celebrate all Bedford has to offer.
Which turns out to be mostly lots of candy and kids desperate to get their hands on it. Last year I recall being a little calmer, but on Saturday everyone was full of energy and ready to charge into the scrum.
It was a little overwhelming, actually; there were some tears. I'm afraid it didn't show the town in its best light: no one could see the little ball players for all the chaos around them. At least no one got run over, though there were nervous moments in front of us. And with all the competition our candy haul was disappointing to at least two members of the family (I'm inclined to see that as one small silver lining).
Of course, the parade wasn't all bad. The trucks were as loud as ever you could want, and Lijah's friend Henry seemed to be completely satisfied. For his part, Lijah endured the little bit of gunfire from the Bedford Minutemen with greater-than-usual stoicism (though he didn't like it). And the Party Band was there to give us a few moments of good music.
Then after the parade we spent a delightful three or four hours at the fair. We watched the karate demonstrations—Zion is ready to sign up right now, especially after he broke three boards at the recruitment booth—and the fitness dancing. We bought books at the book sale and got balloons and bubbles for free. We ate our lunch from home, then supplemented it with brownies and cupcakes from the Episcopal bake sale. And the boys got to go in the fire truck. Zion enjoyed one special reward of fair-going with friends: another dad took pity on the middle-sized children's desperate need to play mini golf at $2/person, and funded them one round. Now that's generous!
We all had a great time. Even the great heat didn't deter us a bit (most of us; Lijah may have been slightly deterred in his fleece pajamas). We were so content that it wasn't even very upsetting to lose Harvey on the way out and spend ten minutes looking for him, only to hear from Leah that he made his way home on his own. All's well that ends well!
Since I'm technically a minister, it was only natural when one of the few unmarried couples among our friends asked if I could be the celebrant at their wedding. And since they asked more than a year ago, I said yes. The wedding was this past weekend.
The bride's family has a lavish farm estate in New Hampshire, so conveniently they didn't have to rent a place to hold the festivities.
The ceremony itself was on an island, one which is also an Episcopal Church. What a fine idea that is! There was plenty of room for the wedding party to stand around while we waited for things to get started.
Of course, the best part of an island wedding is the boat trip. There were pontoon boats to get us all out there the day of the ceremony, but for the rehearsal the day before I got to ride on one of the family's two Chris-Craft runabouts. Naturally for the wedding they were reserved for more important passengers!
The weather was beautiful throughout, but as the sun dipped behind the mountains temperatures at the cutting garden cocktail party dipped into the 40s, and we were glad to head into the barn for dinner. Sadly I had imbibed a little too much to give a truly memorable grace, but they let me eat anyways.
Besides the amazing food and interesting company at the rehearsal dinner (and its cocktails and appetizers) and the reception, I also enjoyed an early morning swim—including one trip down the wooden water slide running from the peak of the boathouse—and a delightful four-mile hike on the property. Oh, and a smores party on Friday evening! Of course, being a minister I had to work Sunday, so I missed dessert and dancing Saturday night—to say nothing of the farewell brunch on Sunday. Also, as lovely as it all was I would have enjoyed it ever so much more if my family could have been there with me. We'll have to get ourselves invited up there again one day.
There was only one unalloyed negative: the shoes I needed to buy Thursday evening when I remembered that I don't even own any sneakers without holes, to say nothing of respectable wedding shoes, were supremely uncomfortable. I was bleeding from one heel after just a quarter mile of walking. Thankfully, at a summer farmhouse wedding no one can complain about bare feet!
Congratulations Kyle and Margaret; here's to many years of wedded bliss! I don't know if I'll ever do another marriage, so I hope you enjoy this one.