posts tagged with 'homeschool'
Years ago, as I looked forward towards a time when I had older children—children who could read and divide and make responsible choices for themselves at least some of the time—I imagined that managing this project of home education would get easier. Wasn't that stupid! As it turns out, even though Harvey and Zion can do all those things, it's actually kind of a challenge to manage learning plans for boys who, were they in school, would be in 7th and 5th grade. It takes up a fair amount of my time. Not that I mean to complain: it's all pretty good fun. I like coming up with word problems and art projects and trying to get the boys to care about writing (well, that last one is a little stressful). But when it comes down to it, what has seemed the most important this winter has been music and spending time outside.
You've heard plenty about the outside part, so here's a music update. Zion has started trumpet; he's in the early stages of his study, so he's making noises that only a brass player trained in early education could enjoy (hey, that's me!). I wrote out a few exercises for him, then remembered I hated writing music and bought an elementary method book. Since the fall he's been doing great at learning to read music on recorder, so he was able to jump right into learning fingerings and building up his face muscles and breath control. He's having fun with it, too; long may it last.
Harvey, for his part, is a multi-instrumentalist. He hasn't picked up reading music as quickly as Zion (or maybe he's working on it at a higher level), but he's great at playing by ear and remembering the songs he's figured out. He's using the recorder as his melody instrument, and has advanced to being able to play in both octaves in several keys. He plays banjo with my guitar for fun, and is reading chord sheets and expanding the range of chords he can play. And on bass he's moving beyond memorizing songs to reading chords and tabs. Up next, learning to read bass clef! (well, maybe in a couple months). All that and he also composes tunes electronically on Garage Band! While he still gets frustrated sometimes when things are hard—because that's his personality—he's starting to reach the point where, instead of just learning his instruments, he can actually play music. That's where the fun is! And it's super fun for me too, so I wholeheartedly approve.
It's Black History Month. Black history is American history, so we talk about it all year round (those times when we're talking about history, anyways). But it's still nice to have a moment to focus on it even more specifically. I did always wonder why February, though. This year I found out! Here's the story I wrote for the boys this morning:
———
Black History month began as Negro History Week in 1926. It was promoted by Black historian Carter G. Woodson, who was one of the first people to study the history of Black Americans and the wider African Diaspora (people taken from Africa as slaves, and their descendants). Dr. Woodson wanted more people to think about Black history, and he wanted to counter the romantic stories that white people were writing about how charming life was in the South before the Civil War. He picked the second week in February for Negro History Week because that week has the birthdays of Abraham Lincoln and Frederick Douglass. Abraham Lincoln wasn't Black, but he was celebrated in Black communities for issuing the Emancipation Proclamation which ended slavery in the South. Frederick Douglass was the first nationally known Black anti-slavery advocate in the 1800s. By 1929 Negro History Week was being taught across the country.
In 1969 Black educators and students at Kent State University proposed expanding Negro History Week to a whole month called Black History Month. The first one was observed in 1970. In 1976, as part of the celebration of 200 years of United States history, President Gerald Ford encouraged all Americans to honor Black History Month and the contributions of Black Americans their country.
Dr. Woodson himself is someone who needs to be recognized as an amazing Black American. He was only the second Black man to get a PhD from Harvard, and is the only person whose parents were slaves to ever get a doctorate there. His achievements were even more amazing because his family was very poor and before he could go to school he needed to work in a coal mine to make money.
———
After I read it to the boys Elijah asked, "you can make money in a coal mine?" Last week he learned about Mother Jones so he thinks of coal mines as purely exploitative. I think that means Dr. Woodson's story is even more amazing! I look forward to learning, and teaching, more all this month.
It's not all skating and outdoor adventures over here. In fact, in January we've been refocusing on academic time—the ever swinging pendulum of my home education desires has moved away from unschooling towards a desire for some organization. And so far everyone is surviving! Surviving, and even some of the time enjoying themselves. Besides the regular things, the older two boys are working on learning all the states and capitals and are having a fine time looking them up in our giant atlas (it doesn't matter that it features the Soviet Union and two Germanies, though I guess we'll have to think about alternatives if we want to learn about current European geography...).
We're also working on writing, which is probably the area where all three boys are the farthest off where the expectation would be if they were in school. Not that that's particularly concerning; they're all fine storytellers and they're all enthusiastic consumers of all kinds of different writing, so I have no doubt that when they find something they want to write about they'll do fine at it. Still, I do want to give them the opportunity to do that sooner rather than later if they want to, so we're doing some practicing. This being homeschooling, though, we do try and keep the writing time cozy!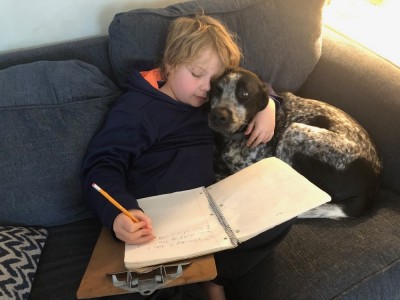 When I conceptualized this park day thing I scheduled four meetings, thinking that was a sweet spot for encouraging people to commit: they would know the meetup was something that would definitely happen for a period of time, and they knew that they had an automatic out after that period. I don't know if that was the key factor, or if there was just a big demand for connection among homeschoolers in the greater Lowell area, but Varney Park Day has a been a huge success. So much so that it's still going strong into November. There's always a good-sized, diverse group of folks, and there's always something different going on. Last week it was "hammock town," with one real hammock and a bunch of other ones improvised out of big pieces of fabric one of the parents was genius enough to bring along; this week we were trying to catch falling leaves. Best of all, as the weeks pass we can see kids starting to play in more different groupings and arrangements—not just by who they knew coming in and played with before, but by age and interest as they get to know each other. That's something that happens in a good community. I think we can call this experiment a success!
Yesterday was the first Indigenous Peoples' Day celebration in Bedford history, and we had school anyway. It's not like the kids would have been engaged in respectful contemplation in any case—judging by the activity in the neighborhood they weren't thinking about the fact that they were playing on land stolen from the Massachusett any more than any other year they would have been contemplating Christopher Columbus. But I would have felt better about myself if I'd remembered to do the land acknowledgment I had planned first thing in the morning instead of just before our friends left. Also school was a little challenging with public school friends coming to the door in search of playmates from time to time. They were all very polite and understanding, but it was a little distracting for the scholars indoors! Sorry guys; we only have two and a half days of school a week; we need to get them when we can!
Our park day offering is going well. Yesterday was the third meeting of the four I committed us too, and it was the biggest one yet, with at least 14 families. The playground certainly felt filled up! Besides lots of free play and climbing, there was also some dodge ball, races, tug-of-war, and jump-roping. And for the most part, it was all kid-organized, with the parents free to relax and chat (and mind the babies, as applicable). I did step in a little bit to organize the tug-of-war and also joined in with a small group who were wishing their pirate game could have more participants. I only had to walk the plank three or four times before some of the big kids saw the appeal of the idea and joined in (and I could make my escape!). Parks Days are good. To quote an email from Advocates for Homeschool Education in Massachusetts (AHEM):
Park days are a melting pot. Homeschooling in Massachusetts attracts a pretty diverse group of people, and the families at our local park day have come from all different backgrounds and perspectives. I have seen the same scene countless times — kids of different genders and ages running around together. And not just running but playing organized games without any adult input. If you have doubts that homeschoolers can be properly "socialized," this is the place to go to put those doubts to rest.
One of my favorite things about learning at home is how much time we get to spend outside. Tons of playing, of course, and educational play opportunities like when the kids spent an hour last week picking wild grapes and then made grape lemonade. But also the chance to do more traditional schooling stuff out of doors amidst the beauty and decay of the early fall garden. All the fresh air makes those math brains work better! The only problem with outdoor learning in the suburbs is that you have a good chance it's going to be hard to hear each other. Because pretty much, as long as it's nice out someone's going to be busy with loud gas-powered lawn care.
I don't keep records, but it seems to me that the same thing happened last week at the same time. At least the lawn-service guys know their business and get in and out pretty quickly so we only had to deal with the obnoxious drone of the mowers, trimmers, and blowers for about 20 minutes—and it was only too loud to hear each other talk for about half that time. Then they left, and we were able to converse easily again... at least when there weren't airplanes buzzing overhead on their way to land at the airport a mile away.
As for our own lawn care, I'm proud to report I haven't contributed one bit to the noise pollution of the neighborhood in the past couple months. I'm so impressive, using the push reel mower exclusively ever since my gas mower stopped working!
We had to cancel school today because of illness. Our Friday school group is three families: last night one family's kids were feeling sick with sore throat and runny nose so they decided they'd stay home today; then the other family decided that it'd be safer to stay away too; and that turns out to have been a wise plan because in the middle of the night Zion woke up with a little fever and sore throat. Now, in pre-pandemic days none of these symptoms would have stopped us from doing anything—with such a fun day ahead of us we would have needed to be dying to call it off—but the coronavirus is a whole nother thing. Never mind not wanting to get it: that goes without saying. But almost as bad would be having to tell your friends that you had it and exposed them. How embarrassing!
It's probably nothing. Everybody will probably be all better tomorrow. But I don't mind missing a day. In the old days we probably used to all get each other sick all the time! At least today we spared giving one other family a cold, and that seems worthwhile. And just in case, we have Covid tests to take before church on Sunday!
I don't think of myself as a particularly organized person, much less one who can organize groups of other people. And yet that's what I find myself doing this week. This past Sunday I had to lead a workshop at church for folks who wanted to learn more about the elementary kids program and possibly—hopefully!—volunteer, and with admirable forethought (if I do say so myself) I prepared a sign-in sheet so I could remember who was there and track em down later. In the event only two people came—two people who I already know well—so it wasn't needed. But I would have been ready! Then on Wednesday we ran a Park Day at Varney Playground in Chelmsford, which I advertised on a homeschooling group on Facebook. We're planning to meet weekly through the first part of the fall at least, and since I don't like Facebook I wanted to get people's email and phone numbers. So another sign-up sheet! And this time it was well worth it, since of the eight families who showed up I only knew three ahead of time. Plus getting the kids' names written down helped me learn them all instantly, unlike the last couple homeschool gatherings we've attended where I wasn't even sure at the end who all had come for park day and who just happened to be at the playground. The afternoon was fun for all, and we're looking forward to doing it again next week! Unless it's pouring rain, in which case I'll be able to email folks to cancel. Organization!
We had kind of a soft launch to school this year: On Wednesday Zion took an hour and a half out of his vacation to participate in the first meeting of his Zoom historical fiction book group, then on Friday we went to our friends' house so that Harvey could kick off his book group and while we were there we did a few other things together. But today was the real launch of our two-family, three-days-a-week school group, and we had a grand old time. Unfortunately I had to spend a good two and a half hours away from the learning excitement at an in-person work meeting; but no worries, my co-instructor had things well in hand for the morning! The kids talked about learning, and about apples. Then in the afternoon we started a construction project rehabilitating the collapsing sandbox roof. Now that's educational! The only thing missing from the day was the formerly-traditional first day of school pictures, with signs. Oh well. This post will have to go unillustrated, and I don't think we'll do the pictures this year. It's too late: school is well and truly launched!