Going by it's origins, Memorial Day ought to be a pretty somber occasion; or at least serious and contemplative. Happily, there aren't many Americans these days with live memories of losing a loved one in a war, so the holiday can safely be repurposed for celebrating the beginning of summer. Which we're doing.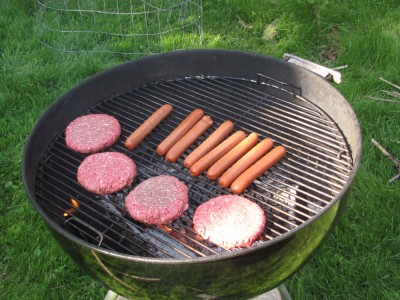 After going to a big cookout in Arlington on Saturday, we hosted a smaller one here yesterday evening. Saturday night I did not feel well at all, thanks to six or seven straight hours of eating, and I vowed that I'd fast the next day—or at least limit myself to vegetables and dry bread. Miracle of miracles, I was hungry again as soon as I woke up. Good thing, because we had some food!
Our friends brought most of it, which was lovely; all we supplied was canned baked beans, canned brown bread (which is worth a post all it's own), Leah's baconaise waldorf salad (ditto), and another rhubarb pie. Oh, and some potato skins. As delicious as it all was, the best thing about the evening was the company.
Thanks for coming by, guys!
Today we had to get some work done so it was less celebratory, but we enjoyed our supper (mac-and-cheese with hot dogs!) out on the front lawn, and the boys and I topped the evening off with ice cream and playground. Good times. I hope your weekend was equally lovely.