posts tagged with 'holiday'
We're still not back to our regular schedule—snow delayed Nelly and Nisia's flight out for a couple days, so we abandoned school work to go sledding with them. But the holidays are undeniably over, so it's past time to say a few words about how they went. For future reference.
We were a little distracted and scattered around the present preparation this year—most of us, anyways. After we got home from church at 10:00—from cleaning up and locking up, at a service where we also opened the doors and set up—I got to work on presents, as seems to be my tradition. New this year, Harvey joined me! The ship he was making for Zion wasn't done, so he wanted to put in some time to show he really does care.
Never mind how many things were unfinished, Christmas morning saw delight all around.
Of course, no one could be as delighted as Lijah after he got a gun and a giant candy cane in his stocking.
There were also lots of legos, the first batch of which had to be put together before breakfast.
After we ran out of presents for Lijah to open we packed up what we had left and headed over to Lexington. They had a few more there.
We spent a lovely relaxing day leisurely opening presents—the kids needed to pause and play with each new one extensively—and eating constantly. (We did take a little walk in the middle to keep from dying.) It was nice to get to spend Christmas with the Africa Archibalds for the first time in a few years.
The day after Christmas we celebrated Hanukah with the Bernsteins. It was also charmingly relaxed, as pictured previously. There were more legos, and more weapons for Lijah, so it was a success. Harvey handled the dreidel work with aplomb.
We hadn't planned anything for New Years Eve, but when friends asked us about it we told them they should just come over. Then we said the same thing to more friends, and some relatives. So we ended up with quite a few people and had a very festive evening—one which ended before 10:00, which was great. And some of the guests even helped to clean up, which meant we started the new year well-rested in a clean house. Expect great things from us in 2017!
Clean as it was on 1/1, we (which is to say Leah) put in some more serious cleaning time in advance of 1/2, when we threw a brunch party for relatives who had never visited us before—and one of whom cleans other people's houses as a hobby. There was some tension leading up to the event, but in the event it was fun and easy, and seeing nine Archibald cousins (well, second cousins... and some of them are DiBellas) running around was a great way to spend the bonus federal holiday day.
Then we just had a week of hanging out with Nisia and Nelly, which was super fun. And now it's now!
There's a lot of food in our house. Between the leftovers we brought home from Christmas dinner and the bounty from pot-luck parties yesterday and New Years Eve our range of options is wide. Maybe not quite as bountiful as the week after Lijah's birth, but not so far off from that! The difference is that this time we made at least some of the cornucopia, but with the work of cooking long done that doesn't make any difference now: we can still open the fridge and choose between turkey, ham, two kinds of mac-and-cheese, and tortellini, to saynothing of a variety of appetizers and the sides that go with all those main dishes. Also pancakes, waffles, muffins, sausages, and donuts, one of the pot-lucks having been a brunch. There are some cookies too.
The bounty seems like just another marker of vacation. We haven't needed to plan meals for the past several days, just like we've been off the rest of our regular schedule. But it'll soon all be gone—we'll either eat it or it will go bad!—and we'll be shopping and cooking again. Just as well; today marks the end of vacation in all the other ways (though we're still enjoying one more week with cousin Nisia!). The great thing about vacations is how great they are both coming and going!
We survived an epic Thanksgiving week. Who knew sitting and eating could be so tiring?! After a warm-up dinner with friends on Tuesday we celebrated the real day as part of a party of 21 at my aunt and uncle's place. The boys were delighted to see their second cousins and their second cousins' second cousins, and were delightfully well behaved the whole time.
They did lots of running around together inside and out, miraculously without any damage to the house. Harvey and Zion were huge fans of the other boys at the party; they're sad to hear my feelings about the likelihood of reconnecting with second cousins' second cousins, especially ones who live in New Jersey. Lijah impressed in how much he was able to keep up with the rough play, and when he got tired out there was always the football to watch.
Yesterday we went to Leah's parents' house, where we had a delightful time hanging out with them and her brother, recently moved away to California. It was so nice we didn't realize how late it was getting and didn't leave until after 9:00. So this morning was slow, but by lunch time we were galvanized and ready for our last party, with the Archibald grandparents and friends. It was another bigish gathering, but a very relaxed one.
With all that fine dining, the only thing we made ourselves was a loaf of bread and a couple of pies. True, without a dinner here at home we miss out on the best of the leftovers (though both grandmas were kind enough to send home doggie bags), but we have plenty of desert to go around!
I took pictures of each of my four turkey-dinner plates this week. Here they are, presented without comment (those are just the first helpings—in all cases I had at least seconds).
Now I don't need to eat for a week.
We're packing up to head down to a giant gathering of relatives for the day, but we took a moment to pause and be thankful as a family. Luckily, given the chaos, we'd done lots of the thankfulness prep earlier this week when the boys and I made posters showing some things we're thankful for. Well, the bigger boys; Lijah made a squash friend like in Sophie's Squash.
Whatever you have going on today I hope it's delightful. May all the travel be safe and easy, all the food delicious and easily digestible, and all the interactions with relatives joyful and life-giving! Happy Thanksgiving!
We observed Halloween last night. The boys were very excited about their costumes, made as per tradition by Mama.
Also about the prospect of lots of candy—especially Lijah. He got into the stash early, and after some considerable negotiation agreed to a dinner of chocolate cake as his "healthy food" before his candy blowout. A few other notes:
1. Candy is terrible. I hate having it in the house. Read a little from Marion Nestle on the subject. We made a batch of cookies to give out, but we also had lots of candy—and we only gave out a little bit of it while the kids brought lots more home.
2. In a blog post about their awesome trick-or-treat experience, Eric and Kelly of Root Simple point out a valuable truth: "the fun that Halloween provides really helps get to know neighbors. We need more festivals in our lives like this, where we take a break from day to day concerns and work together, on the neighborhood level, to create space for joy and unity." I've heard folks talk about lovely Halloween community experiences in Somerville and Cambridge and even Arlington; we have a little of that here in Bedford but not enough to balance out the individualistic pursuit of ever-more candy.
3. In the aftermath today the boys found and collected a plastic diamond, a spider ring, and an adult-sized hot-dog costume. One of those might come in handy one day...
The solstice is a grand thing, and we did it right this year, but it's hard to really celebrate properly when most everyone else is going about their everyday business. But no worries, because we have a big national celebration of summer to share just a couple weeks later. We tend to head over to Concord for their charming festival—it has lots to recommend it, not least the fact that it's in the middle of the day. This year the bigger boys and I biked there; good thing we have a bicycle that can carry plenty of supplies.
And, just as important, a seven-year-old who can confidently ride the five-and-a-half miles there and another back, with plenty of energy left over for enjoying the entertainment on offer.
Like the bounce house, which the boys jumped right into as soon as we arrived. I worked on setting up our tent, which I brought along to liberate us from the narrow band of shade at the side of the field, where most folks listening to the bands have to squeeze together. We really appreciated it on a warm day with blazingly hot sun; we also appreciated our packed food, including peas and raspberries fresh from the garden.
I was a little worried about the tent being in people's way, and made sure to set it up at the far back of the field, but it turns out concern wasn't necessary: about twenty minutes after we arrived a large group showed up and put up this considerable edifice right in front of us.
But that was fine because there was plenty to do all over the place. We played in the spray from a fire hose.
And explored a ladder truck.
The boys rode a "train" all around the field—all by themselves, without making me squish into one of those little seats to go with them (like lots of other parents had to do—or maybe they really enjoy it..).
I was impressed by that, but even more when they decided they wanted to go through the interactive theater / obstacle course experience by themselves. They learned what it was like to be an early immigrant to Massachusetts.
The immigrants had all kinds of adventures, including having to carry swine out of the maize fields.
And of course we listened to music!
Lijah napped and lunched at home, then he and Mama joined us in time for some of the fun—and all of the italian ice!
Then we went back home, where we totally meant to lie down in the dark house for the rest of the evening—but then our neighbors invited us over to play and eat pie, so we did that instead. They had red-white-and-blue glow bracelets to share too, which was perfect: we didn't get to see any fireworks this year, but staying up until after dark to throw the glow things around was a fine substitute, and a great end to a fine celebratory day.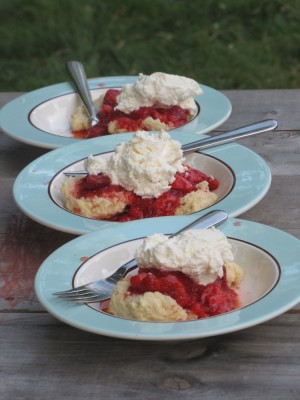 We've been very celebratory over the last couple days, and as I sit here listening to the grand finale of someone's fireworks display somewhere I wanted to wish you all a very happy Independence Day. I hope yours was fully as fun and delightful as ours, but with less dangerous sun exposure!
We had a great time at Concord's "Picnic at the Park", and I took lots of pictures. I hope to be able to find time to put them in a post soon, but given that I still don't think I've managed to put up anything about Harvey's birthday two weeks ago I'm not making any promises. Suffice it to say that the two bigger boys at least did great, and demonstrated their own independence it lots of exciting ways! (Lijah was fine too. He's a two-year-old.)
It's been two years since we got to attend a Patriots Day parade, so we were determined to enjoy this one to the fullest—those of us who didn't have more important concerns to take care of, at least. In Leah and Lijah's absence we made sure to invite lots of friends along.
I came up with the idea of inviting friends to park at our house and bike up to Lexington for the festivities last year, but in the event rain forced a change of plans. This year the scheme was back bigger and better than even, so we had five families all together at the parade route—six if you count Grandma and Grandpa as distinct from us Bedford Archibalds. Having so many friends to talk to was interesting, since it served to abstract me a little from the direct experience of the parade... in the best of all possible ways. Harvey and Zion were insulated by their friends too, and additionally their focus on ingesting as much parade-grade sugar as possible.
The biking part of the trip—with the best part of three families—was lovely; the four kids on their own bikes did a fantastic job, and I had fun hauling a couple more in the blue bike. Having it makes packing for an outing a lot easier. Bring a soccer ball? Why not?!
We managed the 4.5 mile trip up in about 40 minutes, plenty of time for a relaxing lunch—and a little soccer!—before the parade.
Other folks joined us by auto and foot, including some little guys, who weren't sure what to make of all the excitement. But parents knew how to enter into the spirit of it all!
For their part Harvey and Zion are parade pros, and even distracted by friends and food they enjoyed it all to the fullest.
So that was that—then those of us with bikes went back to our house and kept the party going with beer and Indian food—and mac and cheese for the kids—for another three hours, but that's another story. Let's do it again next year!
After being disappointed in our Patriots Day celebrations last year, Harvey, Zion, and I very much enjoyed the reenactment at Tower Park yesterday: a full hour of non-stop volley firing and maneuvering! And we're very much looking forward to the parade tomorrow. Patriots Day is great!
I hadn't been to Tower Park for the show since back in 2003—my photo library proves it, even if we weren't blogging back then. It's a great event: much more involved than the more famous Monday morning affair on Lexington Green, it has marching and counter-marching, skirmishing and outflanking, galloping horses, and even cannons! And it's nowhere near as crowded, so we were able to find a good spot near where the action began (and even save places for our friends), then move to another spot with great visibility for the ending part of the battle. Plus, it was at 4:00 pm rather than 5:00 am! A win all around, and the kids getting to collect spent paper cartridges afterwards was just a bonus.
Here are some more pictures of the affair:
We had an exciting Easter day Sunday; so exciting I've only managed to summon the energy to describe it now. And I'm still not sure how much I have to spare! Of course, the boys started the day in brand-new suits.
Leah is a wonderful seamstress and produced a trio of lovely suits—the first time either Zion or Lijah have had jackets as part of their Easter finery. Harvey and Lijah both were very well behaved and sat still for their fittings, which is why their jackets hang properly. Leaving Leah behind for a few minutes to ready the house for a party later, the boys and I headed off to church to set everything up. That done, they got to work enjoying the craft tables.
Some of them, anyways; Zion wasn't so sure about the Easter-sized crowds, and he wasn't happy until he connected with his friend Eliot and they found a spot better suited to their energy level.
Harvey didn't seem to mind the hustle and bustle.
There was a service in there somewhere, but we didn't manage to pay much attention to it. There was too much going on, including special food.
And the Elementary Kids Church Holy Week art show, featuring Harvey's sculpture "Despair".
And, of course, anticipation of the egg hunt! Lijah was so excited he didn't think he could wait for it to start. The eggs were in there!
He had a delightful time and easily found his five eggs, but then things took a turn for the disastrous when he tripped and fell headlong into a mud-puddle. He was not happy.
He was also tired. So Leah took him home, while the other boys and I hung out through another service and then helped clean up. Leah was cleaning up at home and setting up a fantastic inviting party—and also hiding lots of eggs in the yard. We got home in time for me to hide a few more, then our guests started to arrive, ready to find them all. We held them off for a few minutes, then it was go time.
Due to their age and upbringing, some of the kids weren't sure what to do at an egg hunt, but they were all thrilled to be there.
We'd set up the party inside, but as we watched the kids run around after eggs it occurred to us that it was actually pretty nice out all of a sudden, so out came the food and chairs. It was delightfully spring-like.
The party went on for maybe four more hours, inside and out, and by the end we were filled to the brim with joy, friendship, and delicious food. We didn't take in much theology over Easter 2016, but at the end of the day it was pretty easy to feel that Jesus is alive!