posts tagged with 'holiday'
Saturday was Bedford Day, and we celebrated it with more friends than ever before! The allure of our wonderful town is hard to resist; people we already know and love keep moving here. So naturally we got together to celebrate all Bedford has to offer.
Which turns out to be mostly lots of candy and kids desperate to get their hands on it. Last year I recall being a little calmer, but on Saturday everyone was full of energy and ready to charge into the scrum.
It was a little overwhelming, actually; there were some tears. I'm afraid it didn't show the town in its best light: no one could see the little ball players for all the chaos around them. At least no one got run over, though there were nervous moments in front of us. And with all the competition our candy haul was disappointing to at least two members of the family (I'm inclined to see that as one small silver lining).
Of course, the parade wasn't all bad. The trucks were as loud as ever you could want, and Lijah's friend Henry seemed to be completely satisfied. For his part, Lijah endured the little bit of gunfire from the Bedford Minutemen with greater-than-usual stoicism (though he didn't like it). And the Party Band was there to give us a few moments of good music.
Then after the parade we spent a delightful three or four hours at the fair. We watched the karate demonstrations—Zion is ready to sign up right now, especially after he broke three boards at the recruitment booth—and the fitness dancing. We bought books at the book sale and got balloons and bubbles for free. We ate our lunch from home, then supplemented it with brownies and cupcakes from the Episcopal bake sale. And the boys got to go in the fire truck. Zion enjoyed one special reward of fair-going with friends: another dad took pity on the middle-sized children's desperate need to play mini golf at $2/person, and funded them one round. Now that's generous!
We all had a great time. Even the great heat didn't deter us a bit (most of us; Lijah may have been slightly deterred in his fleece pajamas). We were so content that it wasn't even very upsetting to lose Harvey on the way out and spend ten minutes looking for him, only to hear from Leah that he made his way home on his own. All's well that ends well!
Like we do, we celebrated Independence Day at Concord's "Picnic in the Park". Our descriptions of it over the years are so glowing that we enticed several other families out to experience it themselves, and it was nice hanging out with them a bit—but we also had some lovely family time.
Once again we biked in, all together this time, and once again we brought our tent. It's so nice both as a source of shade in the big baking field and as a home base to dump all our stuff. When we're hanging out at a picnic for five hours we need to really set up camp!
None of our experience was particularly patriotic, in any explicit way (which is fine by me!). But it was, as always, wonderfully small-town American. We did a sack race and a three-legged race.
We listened to music, enjoyed boughten popcorn and Italian ice, and jumped in the bouncy house (well, Zion and Harvey jumped; Lijah wasn't feeling it and they wouldn't let me in). Harvey decorated a little wooden train with paint and stickers. Zion and Lijah played with Julen on the playground. But the most fun of all was the fire truck and its hose. Last year I think the kids just ran in the spray; this year they were much more intimately involved.
We approached the firemen as they came back after a break, so there weren't many kids around. That meant Zion, Julen, and Lijah each got to take maybe a dozen turns with the hose; Harvey got five or six when he showed up too. They had a great time. Getting sprayed was plenty fun too.
As we were cycling home it occurred to me that we hadn't talked at all with the boys about the meaning of the 4th of July. Did they even notice that this fair was connected to a particular holiday? Maybe not—definitely not, in Lijah's case. But how much could he understand about the Declaration of Independence, anyway? I don't think it matters. The important thing is, we're free to have a good party. Happy summer, and happy fourth day of July!
Hot on the heels of Easter, Monday was Patriots Day. We hardly had time to recover—didn't have time, in fact, but we couldn't stop and rest: there was a parade to go to! Unlike last year we didn't make a big thing of inviting lots of folks to join us in biking and picnicking and watching, but we did mention it in passing; and such was the success of last years event that we had plenty of company again this year. Including Lijah, enjoying his first Patriots Day parade since his first one!
Our ride up was almost a perfect success, with the children 7 and up leading out at a blistering pace and two new riders—kindergarten and pre-K—making their longest effort to date. Unfortunately one of them (it was Julen) wrecked mere yards from our destination and busted his lip, but his enthusiasm was only dimmed for half an hour or so. It did kind of spoil his appreciation of our picnic lunch though! There was lots of food to delight the rest of us, and he did manage a popsicle.
After some energetic freeze tag—why do I always have to be it?!—we headed over to our traditional viewing spot. I don't think we were ever all there at the same time, but if you total us all up there were 23 people associated with our party, spanning three generations (six of the kids had grandparents present!). Never mind the giant picnic, we needed slush to ease our wait (Nathan needed fried dough).
Then we watched the parade. It's a big one. I've long realized that all my parade photos over the years look pretty much the same, so I eased up considerably on the photography. Still, there are some sights I just had to capture.
Last year's parade friends were more peripherally interested in the proceedings—this year I was sitting next to friends who enjoy parades as much as I do (and who were attending in Lexington for the first time) so we watched and commented with keen attention. It was lovely. And long... we were all sated with excitement and ready to head home when the last tank finally rolled past.
The ride home went just as well as the ride up. Julen, recovered in body but not in spirit, chose to join Zion and Lijah in the blue bike; it made a heavy load, but I could manage it downhill. More serious was the heavy crowd of walkers on the bike path through Lexington Center, but our kids only hit one elderly pedestrian hard enough for anyone to notice. Then the crowds thinned out and we were rolling free.
Leah, who had stayed home working, was ready to greet us on our arrival with veggie straws and ice water. Just the thing—the kids were hungry despite eating constantly for the past four hours, and we were all hot and tired. The weather wasn't actually that warm, but shepherding—not to mention carrying—all those kids is hot and thirsty work!
Then some of the crowd headed home, one additional child joined us for a sleep over with Harvey, and we all had dinner together.
It was a tiring day, on top of another tiring day, capping off a tiring week. No wonder Lijah fell asleep before he could finish his dinner.
I was pretty wiped out too—yesterday I couldn't hold my head up to type by evening, so this story went unwritten. But I couldn't leave it too long. I'm sure there's lots more adventure coming this vacation week, and I don't want to get backlogged!
We're still not back to our regular schedule—snow delayed Nelly and Nisia's flight out for a couple days, so we abandoned school work to go sledding with them. But the holidays are undeniably over, so it's past time to say a few words about how they went. For future reference.
We were a little distracted and scattered around the present preparation this year—most of us, anyways. After we got home from church at 10:00—from cleaning up and locking up, at a service where we also opened the doors and set up—I got to work on presents, as seems to be my tradition. New this year, Harvey joined me! The ship he was making for Zion wasn't done, so he wanted to put in some time to show he really does care.
Never mind how many things were unfinished, Christmas morning saw delight all around.
Of course, no one could be as delighted as Lijah after he got a gun and a giant candy cane in his stocking.
There were also lots of legos, the first batch of which had to be put together before breakfast.
After we ran out of presents for Lijah to open we packed up what we had left and headed over to Lexington. They had a few more there.
We spent a lovely relaxing day leisurely opening presents—the kids needed to pause and play with each new one extensively—and eating constantly. (We did take a little walk in the middle to keep from dying.) It was nice to get to spend Christmas with the Africa Archibalds for the first time in a few years.
The day after Christmas we celebrated Hanukah with the Bernsteins. It was also charmingly relaxed, as pictured previously. There were more legos, and more weapons for Lijah, so it was a success. Harvey handled the dreidel work with aplomb.
We hadn't planned anything for New Years Eve, but when friends asked us about it we told them they should just come over. Then we said the same thing to more friends, and some relatives. So we ended up with quite a few people and had a very festive evening—one which ended before 10:00, which was great. And some of the guests even helped to clean up, which meant we started the new year well-rested in a clean house. Expect great things from us in 2017!
Clean as it was on 1/1, we (which is to say Leah) put in some more serious cleaning time in advance of 1/2, when we threw a brunch party for relatives who had never visited us before—and one of whom cleans other people's houses as a hobby. There was some tension leading up to the event, but in the event it was fun and easy, and seeing nine Archibald cousins (well, second cousins... and some of them are DiBellas) running around was a great way to spend the bonus federal holiday day.
Then we just had a week of hanging out with Nisia and Nelly, which was super fun. And now it's now!
There's a lot of food in our house. Between the leftovers we brought home from Christmas dinner and the bounty from pot-luck parties yesterday and New Years Eve our range of options is wide. Maybe not quite as bountiful as the week after Lijah's birth, but not so far off from that! The difference is that this time we made at least some of the cornucopia, but with the work of cooking long done that doesn't make any difference now: we can still open the fridge and choose between turkey, ham, two kinds of mac-and-cheese, and tortellini, to saynothing of a variety of appetizers and the sides that go with all those main dishes. Also pancakes, waffles, muffins, sausages, and donuts, one of the pot-lucks having been a brunch. There are some cookies too.
The bounty seems like just another marker of vacation. We haven't needed to plan meals for the past several days, just like we've been off the rest of our regular schedule. But it'll soon all be gone—we'll either eat it or it will go bad!—and we'll be shopping and cooking again. Just as well; today marks the end of vacation in all the other ways (though we're still enjoying one more week with cousin Nisia!). The great thing about vacations is how great they are both coming and going!
We survived an epic Thanksgiving week. Who knew sitting and eating could be so tiring?! After a warm-up dinner with friends on Tuesday we celebrated the real day as part of a party of 21 at my aunt and uncle's place. The boys were delighted to see their second cousins and their second cousins' second cousins, and were delightfully well behaved the whole time.
They did lots of running around together inside and out, miraculously without any damage to the house. Harvey and Zion were huge fans of the other boys at the party; they're sad to hear my feelings about the likelihood of reconnecting with second cousins' second cousins, especially ones who live in New Jersey. Lijah impressed in how much he was able to keep up with the rough play, and when he got tired out there was always the football to watch.
Yesterday we went to Leah's parents' house, where we had a delightful time hanging out with them and her brother, recently moved away to California. It was so nice we didn't realize how late it was getting and didn't leave until after 9:00. So this morning was slow, but by lunch time we were galvanized and ready for our last party, with the Archibald grandparents and friends. It was another bigish gathering, but a very relaxed one.
With all that fine dining, the only thing we made ourselves was a loaf of bread and a couple of pies. True, without a dinner here at home we miss out on the best of the leftovers (though both grandmas were kind enough to send home doggie bags), but we have plenty of desert to go around!
I took pictures of each of my four turkey-dinner plates this week. Here they are, presented without comment (those are just the first helpings—in all cases I had at least seconds).
Now I don't need to eat for a week.
We're packing up to head down to a giant gathering of relatives for the day, but we took a moment to pause and be thankful as a family. Luckily, given the chaos, we'd done lots of the thankfulness prep earlier this week when the boys and I made posters showing some things we're thankful for. Well, the bigger boys; Lijah made a squash friend like in Sophie's Squash.
Whatever you have going on today I hope it's delightful. May all the travel be safe and easy, all the food delicious and easily digestible, and all the interactions with relatives joyful and life-giving! Happy Thanksgiving!
We observed Halloween last night. The boys were very excited about their costumes, made as per tradition by Mama.
Also about the prospect of lots of candy—especially Lijah. He got into the stash early, and after some considerable negotiation agreed to a dinner of chocolate cake as his "healthy food" before his candy blowout. A few other notes:
1. Candy is terrible. I hate having it in the house. Read a little from Marion Nestle on the subject. We made a batch of cookies to give out, but we also had lots of candy—and we only gave out a little bit of it while the kids brought lots more home.
2. In a blog post about their awesome trick-or-treat experience, Eric and Kelly of Root Simple point out a valuable truth: "the fun that Halloween provides really helps get to know neighbors. We need more festivals in our lives like this, where we take a break from day to day concerns and work together, on the neighborhood level, to create space for joy and unity." I've heard folks talk about lovely Halloween community experiences in Somerville and Cambridge and even Arlington; we have a little of that here in Bedford but not enough to balance out the individualistic pursuit of ever-more candy.
3. In the aftermath today the boys found and collected a plastic diamond, a spider ring, and an adult-sized hot-dog costume. One of those might come in handy one day...
The solstice is a grand thing, and we did it right this year, but it's hard to really celebrate properly when most everyone else is going about their everyday business. But no worries, because we have a big national celebration of summer to share just a couple weeks later. We tend to head over to Concord for their charming festival—it has lots to recommend it, not least the fact that it's in the middle of the day. This year the bigger boys and I biked there; good thing we have a bicycle that can carry plenty of supplies.
And, just as important, a seven-year-old who can confidently ride the five-and-a-half miles there and another back, with plenty of energy left over for enjoying the entertainment on offer.
Like the bounce house, which the boys jumped right into as soon as we arrived. I worked on setting up our tent, which I brought along to liberate us from the narrow band of shade at the side of the field, where most folks listening to the bands have to squeeze together. We really appreciated it on a warm day with blazingly hot sun; we also appreciated our packed food, including peas and raspberries fresh from the garden.
I was a little worried about the tent being in people's way, and made sure to set it up at the far back of the field, but it turns out concern wasn't necessary: about twenty minutes after we arrived a large group showed up and put up this considerable edifice right in front of us.
But that was fine because there was plenty to do all over the place. We played in the spray from a fire hose.
And explored a ladder truck.
The boys rode a "train" all around the field—all by themselves, without making me squish into one of those little seats to go with them (like lots of other parents had to do—or maybe they really enjoy it..).
I was impressed by that, but even more when they decided they wanted to go through the interactive theater / obstacle course experience by themselves. They learned what it was like to be an early immigrant to Massachusetts.
The immigrants had all kinds of adventures, including having to carry swine out of the maize fields.
And of course we listened to music!
Lijah napped and lunched at home, then he and Mama joined us in time for some of the fun—and all of the italian ice!
Then we went back home, where we totally meant to lie down in the dark house for the rest of the evening—but then our neighbors invited us over to play and eat pie, so we did that instead. They had red-white-and-blue glow bracelets to share too, which was perfect: we didn't get to see any fireworks this year, but staying up until after dark to throw the glow things around was a fine substitute, and a great end to a fine celebratory day.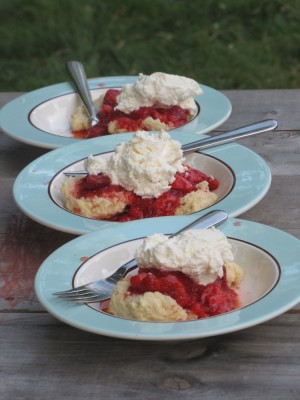 We've been very celebratory over the last couple days, and as I sit here listening to the grand finale of someone's fireworks display somewhere I wanted to wish you all a very happy Independence Day. I hope yours was fully as fun and delightful as ours, but with less dangerous sun exposure!
We had a great time at Concord's "Picnic at the Park", and I took lots of pictures. I hope to be able to find time to put them in a post soon, but given that I still don't think I've managed to put up anything about Harvey's birthday two weeks ago I'm not making any promises. Suffice it to say that the two bigger boys at least did great, and demonstrated their own independence it lots of exciting ways! (Lijah was fine too. He's a two-year-old.)