posts tagged with 'beach'
We celebrated the end of our school year today with a trip to Berry Pond, the gem of Harold Parker State Forest. The plan was to meet our friends there at 10:30, but we were ferociously late getting going. Never mind, so were they! We pulled into the parking lot at 10:50 only a little after them, and after that everything was pure relaxation.
The best part of Berry Pond is that you can be on the beach and in the shade. You can even swim in the shade! Though it wasn't that warm a day, so we parents were happy to stay out of the water completely. Not the kids though: they were in it all day.
Or not quite all day: there were two exceptions. First was for food—befitting our celebratory gathering we had quite a spread, including chips, popcorn, crackers, veggies and dip, strawberries, brownies, cupcakes, and two kinds of lemonade. And then everybody had their own packed lunch, too, not that those lunches got much attention.
The kids also took some time off from swimming to walk halfway around the pond to a beautiful rocky spot opposite the maintained beach. It's a perfect place for getting in the water, except for one thing: it's absolutely covered with "no swimming" signs. That's so unfair that I did have to let the kids go in for a little bit, but couldn't hold out against the pressure of the rules for as long as they wanted to swim. So sad.
But never mind, the beach was good too—good for well over two hours of swimming and relaxing and being together to mark the end of this strangest of school years. Not that too much will change: our same group is getting together next Monday. Call it summer camp?
Basically what we did on vacation was go to the beach. As on past visits, we divided our swimming time between two beaches: one on the Bay side in Truro within easy walking distance of the house, and the other at the National Seashore in Eastham. Each had their appeal!
The Bay side beach is easy to get to: a seven-minute walk away or, new this year, a two-minute bike ride (though none of us dared to stair-ride the giant multiflight wooden staircase down to the sand). It tends to be calm, and pretty empty since the only people who can access it are the ones who have houses in the neighborhoods above the bluff. This year there was actually a little chop the first day we were there, which was fun. When it's calm it's great for swimming, and it's always great for walking in the morning or evening.
Our other favorite, Coast Guard Beach in Eastham, is far away. In fact, there are accessible ocean beaches much nearer to hand, especially in early June before the sticker parking restrictions kick in. But those beaches aren't accessed via the world's most fun bike path, the Nauset Path, that runs over the dunes for a little over a mile from the free parking at the visitors center to the beach. This year, on his geared bike, Lijah was able to ride the whole thing!
The main attraction of the beaches on the ocean side is the waves. This year they weren't particularly big, especially when we arrived a bit after 10:00, but that was alright: we had some intense experiences last year that may have soured one of us on even talking about waves for the past ten months. They were enough to be interesting to the boys! We were also not deterred by the cold water; I overheard someone saying that it was 57°F, but it felt at least 65° and Harvey and Zion at least spent two solid hours mostly submerged. Lijah and I had to take breaks, but we still had lots of fun.
The only bad part about the outing, in fact, was how hard it was to find ice cream afterwards! The first three places we visited were closed (that's not counting Ben & Jerry's, which was too expensive to contemplate). We were saved by PJ's Family Restaurant who had reasonably priced cones and awesome flavors (campfire s'mores!); everything we could want, in fact, except shade. So we ate in the cemetery across the street.
That was an outing. Lots of fun, but also tiring. So that evening we were glad to make another visit to the quieter beach. And then again the next morning, and...
We were only away for three days—two nights—so I have no excuse for ignoring the blog all last week. There's even proof that I'm even able to blog from the road! But vacationing is tiring, and it took me the rest of the week to recover from all that fun. Now we're trying to get back to normal, so here's the tale of what we got up to on our delightful escape.
We left early on Monday morning. Not as early as the boys wanted, but it wasn't so easy to get everything ready and packed as a single parent (Leah was already on the Cape for her conference; we were going to join her). It was especially stressful because I was worried how all the plants would do: the extreme heat that made a trip to the seaside look extra appealing was also a threat to my poor seedlings. But we got everything squared away in time to hit the road before 9, which I think is pretty respectable. And with lunches packed, we had plenty of time to stop along the way!
Our first side trip was just after the bridge over the canal. All the years we've been visiting the Cape we've gone over it—and noticed the bike paths running on each side—but never stopped for a visit. No more! On the spur of the moment I took the exit after the canal and then followed the signs to the Canal Visitor Center. Which, it turns out, was both closed and not contiguous to the bike path, but it did have a parking lot and a gravelly path along the last little bit of canal to a beach, which is probably even better. I didn't let the boys get too wet, since we had a ways to go yet and no way to easily access the dry clothes in the car, but we still managed to have a good bit of beachy fun exploring, skipping rocks, and collecting shells.
At the canal it was still too early for lunch, so we got back on the road aiming to hit the National Seashore visitor center at lunchtime. We pulled in a couple minutes before noon; when the boys objected I reminded them that it *would take a little time to get the lunches out of the car and find a spot to eat and all. After lunch we took a walk on the trails around the salt pond. There's a short guided path stuffed with informative signs telling us about some of the plants and the history of the area, but what I mostly noticed was the proliferation of invasive species that were battling it out for control of the area.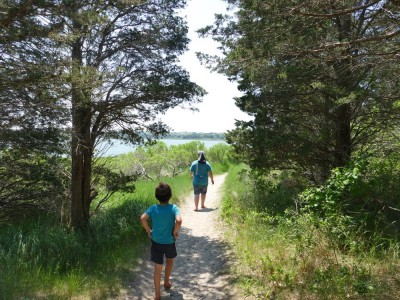 The walk was a little more than a mile, which felt too long for boys who were eager to get to Truro and the beach there. But they endured it, which I appreciated because I was really enjoying the chance to wander and explore. That's the best part of traveling! Well, one of the best parts. The snacks and the audiobook are also pretty nice, and the boys appreciated those unreservedly. There was also an unexpected treat: drinking fountains are open again! We really missed them last summer, and it was thrilling to be able to get a drink on the road again. And necessary in the 90°F heat!
That was just the drive there—after that we actually had a few days of vacation. But it was enough adventure enough for a post of its own. The rest will have to wait... maybe I can milk the trip to fill a whole week of blogging!
I didn't mean to go to the pond this afternoon. But it was hot, and when the boys asked I just couldn't refuse them. So never mind the writing I had to do or the gardening work, off we went at 2:00 for a solid two hours of swimming and lying in the sun. It was actually our second pond trip of the week: on Sunday we made our first visit of the year. It's a delightful time to be there, since the ropes aren't up yet and it's not too crowded. In a few weeks we'll need to bring the boat or walk way around to find a place where we can actually swim, but for now there's always space right at the bottom of the ramp down from the street. And of course, the water itself is always delightful.
Delightful, but also still very cold. As hot as it was this afternoon I didn't want to stay in for longer than a couple minutes at a stretch, and Sunday in the late afternoon it was positively cool out and after one quick dip I was done. Lijah wanted to stay in, but when he started turning blue and shivering uncontrollably we all thought it would be best for him to spend a little time lying in the sun. Harvey and Zion, though, are made of sterner stuff and spent the whole time both days in up to their necks—with no apparent ill effects.
We have our annual pass now, at long last, so you can expect more pond stories—or at least photos—all summer long!
It's been sunny and beautiful for at least parts of the last couple days, so of course when it turned gray and rainy we headed out to visit the ocean!
Actually, the timing wasn't really deliberate like that. It's just that we have a lot on our schedule, actually, and it's been a couple months since we've been any distance from home; so when last weekend I saw that Thursday was free I put a trip out to Cape Ann on the calendar. In my defense, the forecast at that point called for sun! Not that we minded the light drizzle—we're that hardcore, and we'd actually much rather have rain than crowds.
Our first stop of the day was the rocks along Atlantic Ave, where, before we did anything else, we had lunch (we got a late start because there was lots of school work to do first—like I said, busy schedule!). It turns out it's cold at the ocean; at least two of us wished for warmer clothes (not me! nobody dresses warmer that I do). But as soon as we finished lunch, an hour of climbing around the amazing rocks warmed us right up. Nobody died, either. When Elijah fell on his face it wasn't from 25 feet above jagged rocks, which had been my fear.
Then just as we were about done with the rocks, Harvey found a piece of sea glass, and then another one. I don't know if you're aware, but sea glass is rare in New England these days—maybe the only downside of people no longer routinely throwing their garbage into the ocean. So his find touched off a sea glass gold rush, and each of us got at least a dozen pieces. Lijah and I are going to combine our hoards and display them in a jar.
Next we went to Good Harbor beach. The tide was rushing out beautifully under the bridge and it wasn't at all crowded, but the boys were getting a little tired—and it turns out that without a full tank of physical and emotional energy the water's a little too cold mid-January to do much wading. We did find—and walk through—some very interesting sandy mud: it was almost fluffy, with a consistency like slush to a depth of three or four inches. It's lucky there was something harder underneath, or we would have sunk to our deaths!
We ended the outing with a visit to Rockport. We walked around town and out to the tip of Bearskin Neck, admiring all the closed stores and their range of varied and clever please-wear-a-mask signs. Then on the way back to the car we stopped at the candy store where we bought some fudge...eventually. It was actually kind of hard to come to a decision about what to get. It may be that she felt sorry for us or just that she's a wonderful human being, but the woman running the store also gave us—for free, gratis!—a bag of chocolate-covered swedish fish. I had no idea such a thing had ever been even contemplated, but they actually aren't bad! It helps that Tuck's Candy has, as well as wonderful generosity, really good milk chocolate. Tuck's Candy—check em out if you're in the area!
Then we went home. On the drive, both ways, we listened to an audiobook about Martin Luther King Jr. Because, you know us, that's how serious we are about school work!
Oh, I almost forgot the best part of going to the ocean in the winter! Even better than the empty roads and beaches: we found ice among the rocks! It may have been small, but our rink by the water was, for fifteen minutes at least, just about the best thing ever.
On Saturday we celebrated Thanksgiving with my parents by taking a walk on the beach. That hasn't been part of our traditional observances in the past, but you know, this isn't a traditional year. It was my mom's idea, but we picked the beach: Good Harbor. They'd never been; we're somewhat familiar. The boys and I were last there a year ago, and Harvey was first there before he really knew what was going on. As always, it was beautiful beach weather.
Within two minutes of crossing the bridge to the sand, Zion had fallen in. That set the tone for the outing: all the boys got pretty wet, despite having their boots on most of the time. Boots only work when they're taller than the water is deep.
Zion especially had to stop occasionally to bale.
Not that anybody minded wet boots or pants. They were having fun! The dogs, of course, had no trouble at all.
Grandma and Grandpa were very patient with the slow pace of our progress down the beach. It was lovely to see them, and we even talked a little bit about what we'd eaten for Thanksgiving to make it seem like a real holiday thing. I don't know that the beach will be my first choice for Thanksgiving next year, but I'm certainly sold on visiting it in November.
Summer is over—we celebrated the equinox last Tuesday evening with a fire and lights. We did a lot less swimming than we usually do, and visited fewer beaches, but at least we got one solid day of real beach fun in, back at the beginning of the month when we were on the Cape. We love Leah's parents house in Truro and the easy walk to the beach on the bay side, but we do crave adventure now and again, so on the last day of the trip we packed up the bikes and a picnic lunch and headed for the ocean waves. As a kid I loved going to Coast Guard Beach in Eastham, not because the beach itself is anything special—the whole stretch from Eastham to Provincetown is pretty much the same—but because you can get there on a delightful bike path over the dunes. Well worth a bit of a drive from Truro. And this year all three boys could ride it!
Well, almost ride it. Lijah did need to walk up some of the steeper hills; but he pushed on like a trooper, and I guess he thought it was worth it when we reached the end of the path (how is it riding to the ocean ends with a steep uphill?!) and heard the sound of the waves. We've been to the real ocean before, but somehow every year the boys' expectations are reset by the mild waves of Rockport harbor and Cape Cod Bay so they're able to be delighted anew by the real swells of the Atlantic Ocean as they crash into the Outer Cape.
Delighted, and unnerved too—at least at first. The camera can't really capture how big the waves looked that day when you were actually down there in the water, but suffice it to say that you needed to keep an eye on them at all times if you were anywhere near the waterline. Zion was the first one to venture in wholeheartedly.
It was fun challenging ourselves to stand up to the breakers, but before long I needed to get in a little deeper. As steep as the shore is there you can get past the break only ten or fifteen feet out, and then you can float easily if thrillingly over the waves just as they rise. Harvey and Zion were a little unsure at first, but they joined me before too long. All that swimming practice this winter really paid off! Seeing the fun we were having, Lijah wanted to join in, so I held him where I could jump to keep our heads about the water.
Of course, the day wasn't totally without mishaps. We weren't just floating; some of the waves we tried to body-surf, and while it mostly went fine there were times we messed up and got tumbled. And some waves got us even when we weren't trying to ride them! Both me and Zion were bloodied—his was worse—and all of us had water and sand driven into our nose and ears. One wave in particular caused chaos, and not just for us. It was so big that I couldn't jump above it, but with Lijah in my arms I couldn't swim either. So I threw him over the worst of it, and mostly caught him when he came down... but I was also being tumbled head over heels along with everyone else. Then I couldn't rescue him right away because the violence of the wave had pulled my shorts down; that took a moment to fix.
I don't think anyone noticed though, since the whole beach had been pretty smashed: the wave overran lots of chairs and blankets and knocked over kids and old people. One little girl lost her glasses. Lots of people tried to help her find them, but they were gone for good. Her family stayed at the beach for a while, but I don't think she had any more fun. We had an easier time recovering—all of us except for Zion, at least. He held a grudge against the waves for the rest of the afternoon, especially when the drawing he was trying to make in the smooth sand kept getting washed out. Still, he let the other three of us play for a while more.
The problem with the beach is that when you're done having a great time you find yourself filled with sand and encrusted with salt, and changing into clothes and getting onto the bike again doesn't seem like the most fun. Especially since fifty percent of our towels had been soaked by waves. But we made it happen, and some of us even enjoyed the bike ride back. We all enjoyed the post-beach ice cream. That was a summer day.
We spent four days on the Cape last week and, while we didn't do everything we hoped to, we certainly hit the high points! The main things we were looking forward to in a vacation was going to the beach and spending lots of time sitting around reading and playing games, and the weather cooperated perfectly, with two rainy afternoons for curling up and warm enough weather that we could swim any time we wanted to. Including once in the rain!
We left home right on time on Tuesday before lunch, and had a quick and easy drive all the way to Truro. On the way we listened to Diana Wynne Jones' The Year of the Griffin, our current vacation audiobook; it was little hard to remember what was happening since last time we heard the story, on the way home from camping more than a year ago, but we put it together somehow. When we arrived it wasn't long before everyone was in the water!
Well, almost everyone: it took the dogs a little while to get used to the idea of waves, even the little waves on the bay side beach that we could walk to from where we were staying at Leah's parents' house. They had it figured out by the end of the day when we took an evening walk on the beach, as pictured at the end of this post. It was hard for everyone to go to sleep in a new place, but eventually we managed it; one of the boys even fell asleep in the bed assigned to him!
The next day dawned cooler and overcast, and with rain forecast for the afternoon we scheduled some essential outdoor activities for the morning hours. The boys went to play tennis with Leah and Grandpa—he's an skilled player, and provided both slightly-larger kid model tennis balls and mostly patient expert instruction. I took a bike ride.
In the afternoon the rain seemed to be holding off, so everybody except me went out for a walk on the beach. Of course, it started raining mere moments after they left, but that didn't faze them. In fact, Harvey and Zion took the opportunity for a rainy day dip in the ocean, never mind that they were wearing their clothes. One advantage of this sort of vacation over camping is that laundry facilities are easily accessible! When they got back (and put their clothes in the dryer) we settled down to some card-playing and reading.
The next day was warmer but just as overcast, with the addition of fog and possible thunderstorms. Leah and I are limited in our ability to sit still in a place where we don't have chores to do, so soon after breakfast we packed the boys up for a hike. We went to Great Island in Welfleet, which, as the most promising hike within range of Truro, we've attempted before. The last two times we defeated—or at least kept from doing any "hiking"—by hot sun, gnats, and sandy trails that are just about like walking on a beach, so we figured a day where the fog was coming in ever-thicker would be perfect for another try.
We did get farther than we ever have, but once again detoured to the beach before we reached Great Island proper. It's just as well; not only do I learn that dogs aren't allowed on the island, the beach was empty and beautiful. The humans collected lots of rocks and shells, the dogs collected gross dead birds, and the boys and dogs enjoyed the water (one of those groups wished they had brought their swimsuits).
After we had enough (and conveniently just as other people started to fill in) we headed just down the road to Welfleet Harbor. Leah and the dogs took a rest in the car while the boys and I played on the playground, walked on the town beach, and ordered some take-out fried food for lunch, which we brought back to the house. We were disappointed of our thunderstorms, but it did start raining right on time just after noon, so we settled in for another round of games. "Code Names" was very engaging for everyone but Elijah.
We originally planned to stay through Saturday morning, but we missed our house and decided to leave Friday evening. Before we took off, though, the boys and I needed to do the most important adventure of the vacation: the bike ride to the ocean beach with the big waves! They did not disappoint.
After the beach we stopped for ice cream on the way back to the house. Now that's vacation! Grandpa very kindly prepared us a take-out order of hamburgers and hot dogs on the grill, so as we made our weary way home even our dinner on the road was still vacationy. It was all lovely. We'll be ready to do it again in a year or so.
We had a flexible morning yesterday. We woke up thinking we were going to meet friends at Walden Pond at 10, but we learned before breakfast that they weren't actually able to make it. Then a different friend invited us to Berry Pond, only to cancel at the last minute (with justification: she was going into labor!). At that point we were already in the car, so we headed off to the pond by ourselves. It wasn't easy to get there: the storm the day before hit the towns to the north of us pretty hard, and not only did we need to take a detour for a crew clearing a downed tree, there was another detour on our detour! But we got there eventually, to find that we had the place entirely to ourselves.
Because now we weren't meeting a nine-months pregnant mama with a kid in a stroller, we got warmed up for our beach time with a little hike. Berry Pond is in Harold Parker State Forest—tucked up at the edge of the sprawling preserve—and the forest is just packed with trails. We followed one pretty much at random, and while there was some nervousness from some of the party about just how long our loop would be, it ended up being a beautiful hike.
When we got back to the pond it was still empty, and we were hot and sweaty enough to appreciate the chilliness of the water. Berry Pond is smaller than Walden and the water isn't as clear, but despite being in a pretty regular suburban town it feels much more like a backwoods mountain swimming hole. If it weren't for the ropes restricting swimming to just a tiny area around the beach, it would be amazing. Just look at those rocks on the other side! No swimming there, sadly.
As we ate lunch the beach started to fill up—by which I mean three or four other groups arrived. No worries, there was still plenty of space for us to make an epic sand castle city. It was a good warm up for our planned trip to the Cape next week, because there were no waves or tide to threaten our city walls; except when someone splashed too close, that is. We lost the lighthouse on the point that way, but never mind, we quickly rebuilt it.
While we would have loved to spend some quality time swimming with friends, it was also nice to have an quiet outing just with us boys. We're trying to collect our thoughts as we get ready to head into the new "school year" and the way everything played out was just fine for an easy and relaxing outing. We'll take it.
We're not a big beach family generally—that is, you're not usually going to find us heading out to spend a day by the ocean with an umbrella and cooler and frisbee and things like that. But we do love being by the water, and we've hardly even seen the ocean this summer. So now that we have a car that works—more on that later—I thought it was past time to take an adventure to somewhere where we could smell the salt water and feel the ocean breezes blow. Like Rockport!
The boys have some memories of the last couple times we visited the Cape Ann peninsula, and were excited to revisit some of their favorite spots. There was one difference this time though: it was mid August under a heat index warning. So while the town itself was less busy than usual for a summer day, there were plenty of people on the beach. Not what they were expecting! Never mind, we still managed to have a great time, and even found some new favorites spots.
People who go to the beach probably aim to park near it. Not us! One great thing about Rockport is that there is always free parking available. It just meant we got to walk a bit. To the pier in the center of town, where happily the the public bathrooms were open, and down to the end of Bearskin Neck to see the breakwater. But only briefly: the beach was calling! When we got there, though, there was some dismay at the crowd—the crowd, and the presence of a lifeguard. To show you what our usual beach experience is like, we were kind of expecting to be able to change into our swimsuits in an out of the way corner. That was not possible, but no worries, there was another open bathroom. Once changed the boys chose more yet walking in order to try out Back Beach, slightly further away and slightly less sandy. It was a good call, and we were able to get in to the water with no other people within 20 or 30 yards.
Although, "getting into the water" wasn't as easy as all that: it was COLD! Harvey asked if it was colder than the ocean usually is, which of course it wasn't... in retrospect I think it was the contrast with the sweltering air that made it a little shocking. We did get used to it, but it was also nice to take breaks out of the water, making sandcastles to try and hold back the oncoming tide.
The children might never have moved from that spot, but I felt a little nervous about sun exposure and wanted to get us somewhere with some shade for lunch. It wasn't too hard a sell—back in May of last year we'd been frustrated by construction keeping us out of a park behind Front Beach, so when I let them know the park was probably open by now they were happy to give it a try. I don't what the park looked like before the excavators went to work on it, but it's fantastic now: it's a beautiful setting for the little stream that runs from a millpond above it down through a culvert under the road into the ocean. There's a playground there too, but who needs that in a park full of beautifully-landscaped rewilded brook?! After we ate lunch in the shade we played hide-and-seek.
Before we left home Zion had suggested maybe a one-hour stay at the ocean; he had plans for things to do at home. Of course those plans were had to keep in mind in the salt air. Even worries about crowds melted away after lunch, and the boys spent the next hour playing happily in and around the busy waters of Front Beach.
Eventually I dragged them away to do what I wanted to do: climb on the rocks that give Rockport its name! Those were over on the other side of town, back where we parked the car. There was some small unhappiness about the hot walk on the sidewalk, but those stresses of civilization were deemed worth it after we stopped in a candy store for a half-pound of fudge and a couple bottles of cold water (the only way the pandemic affected our trip? all the drinking fountains were closed). And of course the rocks were lovely as always.
And the best part of it all? Nobody got heat exhaustion!