posts tagged with 'weather'
Changing weather is hard—at least, when it comes to knowing what to wear to go outside. Switching gears as the seasons change is always tricky, and all the more so when we have summer days in February followed by near-blizzards in March. The boys pretty much gave up on winter gear the first time it got warm, and besides when it was actually snowing they barely wore their jackets all through the barely-double-digit middle of March. Lijah refused his coat entirely for the entire second half of the winter: when I convinced him to wear it to go out in the rain-snow mix on Friday it was the first time it's been off the hanger since early February (not counting all the times the boys knocked it down, of course).
The last couple of days have been warm enough that Harvey and Zion have been rocking shorts and t-shirts, at least by mid morning—the weather has caught up to their expectations. Still, it's that in-between time where they have trouble, for example, getting in the side door of the house: tucked against the north side it's still snowy far past any other part of the yard, and they're mostly not fans of snow on bare feet. Still, they'll do it, such is their commitment to feeling summery.
Me, I have the opposite problem. Once I start wearing my long underwear and wool cap in November or whenever, I have a hard time giving them up. It's been well established that I love the cold, but that doesn't mean I enjoy being cold—on the contrary, my enjoyment is predicated on being well-equipped to sit around outside without feeling any discomfort. So lots of layers. Now that it's spring it's probably time to pare down a bit, but as I say—it's hard. For one thing, our house is pretty chilly in the morning, and the inside of a pair of jeans isn't what I'd call cozy first thing! And then there's always the haunting notion that I might suffer a chill at any time: better safe than sorry.
Of course, when it hits 55° and I'm playing tag with the boys on the playground in my winter get-up I'm pretty sorry anyway! But at what point does the risk calculation swing conclusively towards worrying about overheating? I don't know... but I will say that, this afternoon, I traded my winter hat in for my High Mowing Seeds ball cap. That feels like a seasonal inflection point...
Yeah, we had another storm yesterday. Winter holds us in its grip. And its grip feels particularly strong and fierce this evening, with all the snow that fell yesterday compressed into maybe five inches of icy cement, and giant solid snowballs lining the street. We're kind of over it; the boys declined to go sledding today. In their defense, they did play outside for a fair bit yesterday, despite the driving wind and icy snow-rain mix that fell all afternoon. Zion even helped shovel.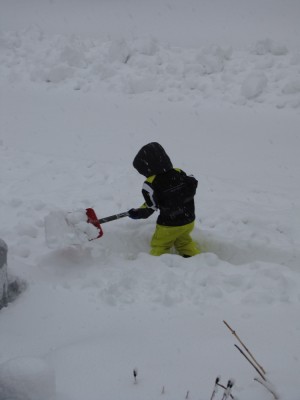 But we don't even care about that, because we're enjoying the time change. Yes, you heard correctly; I've complained about losing our morning light before, vociferously in person and a little more mildly in these pages, but actually this year it's gone pretty well. We've managed to adjust bedtime to the new time almost instantly, and mornings are later but still relaxed. Most importantly for me, I'm getting up before the hens again! (long may it last).
This evening saw the boys outside to play after dinner for the first time this year. "Feel like" 15°F, but there was still sunlight so they they were. I think going out late put Zion in summer mode; his friends were wearing snow suits but all he managed was a sweatshirt. (Or maybe he just couldn't find his coat. That happens a lot these days.)
Judging by the forecast winter is going to stick around for a little while yet—that groundhog knew what she was talking about. But we know it can't last for ever, and all that hot sunlight coming through the skylight will be just the thing for starting seeds in a couple days.
So it's too bad that everyone else is finally starting to come around to my formerly grumpy view of time changes. We've had two great ones in a row, so now I'm happy enough to stick with the current system. But we're flexible; if you want to change it, that's cool too.
It's not every year that the kids can have a snowball fight shirtless and with bare feet, but we witnessed it last week. Wednesday, Thursday, and Friday—each day warmer than the last, melting a foot of snow down to almost nothing (rain Saturday night after a slightly cooler day finished it off). There was lots to enjoy: Leah got to run in shorts, Harvey took a long bike ride with a friend, the kids had the aforementioned snowball fight. We took a hike Friday and Harvey and Zion were in shorts and sandals (though we walked through enough snow that they maybe would have made a different footwear choice if they could do it again). But there's also the nagging sense that it shouldn't really be so warm in February, and that climate change is dooming us all. Kind of spoils the fun.
So, even though I probably have to abandon my plan of direct sowing arugula seeds in the garden this month (I was going to use row covers if it got cold again!), I was glad to see more seasonable weather make a return yesterday. Especially when we got home from church and I could put my hat on again—I forgot that you need to wear more clothes in the winter.
We marked the end of the crazy warm weather with a fire Saturday evening. The boys invited the neighbor kids over and we toasted marshmallows, then they played with fire for a while as the temperature dropped and a light rain started to fall. It was fun. We'll do it again... like, towards the end of April?
Yesterday morning everybody was up around 7:00 and we had our pancake breakfast done with before 8:00, leaving us with plenty of time for cleaning jobs before we went out to the bus stop. It's been a while since the morning has felt so spacious, but the winter's drawing on and that old sun is coming up earlier and earlier. Evenings have felt luxuriously late for a while now; yesterday the boys were out until 5:30 and it was still just dusky when they came in.
The only problem with thinking about spring now is that we've barely had a winter! It hasn't been below freezing for several days, and the boys have completely forgotten about dressing warmly when they go outside. It's nice that they can just head out the door; less so when it does cool down some and we have to listen to them complaining that they're chilly when there isn't anything we can do about it! There's a little cold in the forecast the next couple days, and maybe even some snow. I do hope we get some more: one day of sledding in a winter just isn't enough!
It snowed Sunday night. After we put the boys to bed Leah asked me about the forecast for the day to come; checking the forecast I saw that the "current conditions" said snow. And so it was! (I did check). Not the most romantic way to notice the first snow of the season, but we'll take it. I was sad the boys couldn't see it falling—but on the other hand the surprise only intensified their joy in the morning.
Zion and Lijah made some time to play in it before breakfast. Harvey, being older and more heavily burdened with responsibilities, had to make due with bringing a snowball in along with the eggs as he did his chores. (Don't worry, they all got to have fun in it when we went out to the bus stop—we still do that).
When the sun got going at 11:00 or so the snow melted right away, but not before marking our morning with delight. On the other hand, it was pretty cold in the house all day, which we might have to do something about... but that's a topic for another blog post.
It's been really hot here the last couple days: hot enough to take over our lives—our entire theory of existence. But we put the air conditioner up in the bedroom (to make napping possible) and I figured out how to open most of the stuck windows, so I think we're going to pull through. I got to the windows this morning when I went downstairs to discover it was maybe ten degrees warmer inside the house than outside—too much to fix with the doors open before the sun got up and the outdoor temperature raced back up again. So the house was warmish today, and we didn't know what we were going to do with ourselves all day; until the boys solved our dilemma by coming down with a debilitating fever. Then they were happy to lie on the couch with the fan on them and alternate between sleeping and watching movies!
Two of them, anyways; Lijah has escaped so far, so he spent his time at home jumping on his brothers, messing with the iPad, and putting the vomit bucket on his head as a helmet. To defend them he got to go on errands with Mama and Dada, and enjoy AC and samples at stores as diverse as Whole Foods and Costco (no points for guessing which outing goes with which parent). Here's a picture of Zion sleeping on the floor this morning; he dropped there on the way to the breakfast table for pancakes, and if Lijah hadn't sat on him he probably would have been there all day. As it was he transitioned to the couch where he stayed all day—until maybe 7:00 when he got up to have a pancake at long last.
By that time the heat had broken (after a terrific windstorm with only a little rain). Yesterday it never broke at all: terrible hot well after dark. And we were all healthy, though less raring to go than we would have been in more temperate conditions. Though in retrospect, maybe the early warning signs were there. We certainly took very well to the news that it was, apparently, National Hammock Day.
Just the thing when the heat index is over 100°.
I have no problem with it being hot in the summer. It's to be expected. And I think with the AC and the windows (and the hammock!) we're all set for a couple more days of this craziness—all set, that is, as long as the other three of us don't get sick!
It's been raining here for days, seems like, which is keeping us indoors a little more than we'd like. Not entirely, though! Tuesday was warm enough that when the rain lightened up and the sun threatened to break through the clouds for a moment, we were ready to jump into action. And there are good things about rain, too!
Yes, besides several damp walks we enjoyed some time riding scooters into a giant puddle. Again. Because why wouldn't you?! And when I say we, I mean we; there are plenty of activities that, as a parent, I consider beneath my dignity—but riding a scooter at top speed into a mud puddle is emphatically not one of them. In fact, I can imaging nothing more dignified. Especially since I, unlike both of my older children, managed not to fall completely into the water.
Actually, I think Harvey just sat down in the water on purpose after Zion fell, but the effect was the same. That put an end to the outdoor time, but they were happy enough to jump into the tub—where they stayed for the next hour or so. Water water everywhere; and obviously it continues to appeal!
Remember when it snowed back in March? That was delightful and exciting and it melted quick and we all had a laugh. Then in April we had another snowstorm. Two more, actually.
That's the afternoon of the second storm. The first one was Sunday, when we woke up to heavy snow starting to fall; two inches accumulated in less that two hours, making for a pretty tricky drive to church. But then the sun came out and it all melted before mid afternoon. The second one, yesterday, wasn't as speedy—but it snowed pretty steadily all day and never got warm. So there was still plenty of snow around this morning. Just like winter!
In March the boys were excited for one last chance to romp in the snow, but apparently they meant last chance. We stayed inside all day Monday (we were also all a little sick). Maybe it's just the wrongness of snow in April that put us off.
But today was bright and sunny—though wintery cold—and we managed to venture outside a bit.
Even though it was barely above freezing all day, that April sun is strong. There's still snow hanging around, but nevertheless you don't have to look far to see that spring has some power behind it yet!
Happy first week of April!
I suppose we could have expected that after a winter as strange as the one that just finished spring might have some surprises for us too, and so it proved. We woke up this morning to about four inches of snow, with more falling fast. No dismay here, though: we were all delighted!
Lijah led the charge outside; we could hardly restrain him until after breakfast. I suppose he didn't think he needed breakfast when there was all that snow to eat.
Zion was happy to let Harvey and me go for a walk with Rascal, and after a few minutes playing with Mama and Lijah he settled down to a quiet game with the trucks (picking right up where he left off Saturday playing in the dirt).
And of course, Rascal loves a snowy walk more than just about anything else.
As soon as the snow stopped falling it started melting—or maybe even before. But there was enough that it's taking a little while, and there was still plenty for Lijah to snack on as we strolled through Concord this afternoon.
When wintery weather follows a nice warm stretch you worry some about the plants, but there's no call for alarm this season; this delightful surprise snow was just a momentary treat, but spring is seriously on the way.
Moments from the past week, between and during rain storms.