posts tagged with 'weather'
Time feels like it's zipping by these days. I have no idea how I'm going to write about Easter before something else noteworthy happens, never mind writing about prosaic things like the garden or what books we're reading (worthwhile topics both!). Yesterday I had another experience of moving forward in time (at a greater-than-usual rate) when I biked into work in Cambridge. See, in Bedford our leaves are barely out now, but as I made my way east through Arlington I noticed them getting bigger and bigger. By the time I hit Spy Pond I felt like they were a full three or four days more advanced than our trees at home. So I took a picture.
Microclimates are interesting. We had a hard frost Sunday night, and I wouldn't be surprised if we had more even into May. I feel like here in the valley of the Concord River we can have cold weather two weeks later than, say, my parents' house on the down slope towards the Atlantic Ocean. But I don't know. The only real purpose of this post was so I don't come across the photo above months later and wonder why on earth I took it. In just a couple weeks I suppose leaves will be commonplace! But at the moments they seemed pretty special.
You know, it's actually kind of hard to tell what the weather's doing these days. It was rainy and cold this morning, then by lunchtime we were eating outside on the porch in the bright sunshine. By that point it was warm enough for Harvey to be in shorts and short sleeves, but the rest of us were still wearing our long underwear. At one point Lijah was barefoot but wearing mittens; then he took them off and left them out in the garden, where they must now be blowing around in the wild wind that came up late afternoon. Hooray for spring!
November 15 is a fine day to have the first snowfall of the winter, but we still weren't ready. It wasn't possible for me to be ready. We did some things, sure; I worked the day before yesterday afternoon getting the leaf pile off the lawn and picking up garden stakes, and yesterday morning I sent the kids out to pick up at least some of the toys scattered all over the yard. And we found at least some cold-weather gear for everyone; we had to, since the middle of the day we needed to go out to the last homeschool coop park day of the year (the first one to take place in solidly below-freezing weather!). But then when we got back from running and playing in the park we ran out of steam for serious preparations. Instead we did some reading and some deck-building and some napping, and then hosted Harvey's friend for a couple hours. Good winter activities. But nothing to make be feel ready for three inches of snow on the ground before 10:00 last night!
Well, that's not totally true; in one respect we were fully prepared. Seeing the snow in the forecast, yesterday morning we busted out the white paper and scissors and made snowflakes. They're up on the windows now. And all the scraps on the kitchen floor made a pretty convincing facsimile of fallen snow. Although they were a whole lot lighter to sweep up than the actual snow was to shovel this morning: the snow changed to rain early in the morning so clearing the front walk was like trying to move wet cement. The rain didn't slow down the kids any, though! There was a two-hour school delay here in town, so Harvey's friend Jack rang the doorbell a little after eight and, after we invited him in for a couple pancakes, the kids spent a delightful couple hours romping in the sodden snow. Now it's getting colder again, and the rain has changed back to light snow. It looks like things'll be white for a little while yet. I'm OK with that.
As of a few days ago the garlic and rhubarb were up in the garden, and the daffodils and crocuses growing fast in the beds; I assume they're still growing, but it's hard to tell because yesterday we got like two feet of snow.
I measure it at 18 inches, actually, but I hear from neighbors with reliable information that we actually got over 20; either way, it was enough to close school for two days. So our schedule—never particularly rigorous to begin with—was thrown out the window so our kids could entertain their friends who were suddenly deprived of their usual weekday framework. I missed school today too: I'm taking part in a class at work, and it was cancelled today. It's interesting and engaging material, to be sure, but I don't think I'll even get too old to appreciate a snow day.
Especially one like today, with some sun and reasonably mild temperatures. Just the thing for spending a few hours shoveling! I still fully trust that March will go out with a lamb, but it has plenty of time yet—and we have another 8-12 inch storm forecast for next week. Flowers or snow-forts, we'll enjoy whatever we get.
The weather continues to be wild. After a summer-like warm spell it's hard to feel ready for a blizzard, but it's still winter and we're in New England, so. It could have been worse; the front half of the storm, all day Wednesday, was all rain. But overnight Wednesday to Thursday brought plenty of snow—heavy, wet, solid snow, just right for epic snowmen. And for bringing trees down too, as it happens.
About a third of Bedford was still without electricity yesterday evening, and there are limbs and trees down all over our neighborhood. We didn't lose anything important; the neighbors' lilac breaking onto Leah's car wasn't really a problem.
We had friends over for most of the day, in order to help their parents out with school being cancelled. After they left Harvey and I enjoyed some relaxing outside time. Even with dry wood from our newly-built woodpile shelter our fire wasn't totally successful—too much snow in the fireplace—but it made a nice smell and some cheery smoke. And nothing could be more successful than Harvey's snowmen. We can still enjoy winter!
Just like last year, February vacation week has seen a bizarre warm spell. Tuesday it was mild and springlike in the afternoon, and yesterday, all day, it was downright summery. While it's always strange when the climate behaves oddly, we couldn't help but enjoy the sudden break from winter. It's so lovely to have outside be as easy and accessible as inside! The kids spent hours running and playing, and we even had a picnic dinner, with steak and hot dogs cooked over the fire.
Of course, nothing can ever be perfect, and two small imperfections marred our complete enjoyment of the warmth. For one thing, the mud is crazy. I had to put a plank out to cover the swampy patch outside our side door—I was worried some of the smaller kids would sink entirely! I'm also concerned about grass ever growing again on our lawn; with the mud it wasn't quite ready for the level of use we wanted to put it to. And then there's the injuries. Half an hour after remarking how easy it is to go play outside in the warm, Harvey came in noting how easy it also is to get hurt! All the boys except Lijah got are pretty marked up around the legs.. things hurt more when you're wearing shorts! There are also bugs.
But never mind! Far from taking away from the joy of warm spring weather, those things are all part of the experience and we were happy to dive into them. And now, since it's still February, we're happy to enjoy the snowfall forecast for this afternoon.
Changing weather is hard—at least, when it comes to knowing what to wear to go outside. Switching gears as the seasons change is always tricky, and all the more so when we have summer days in February followed by near-blizzards in March. The boys pretty much gave up on winter gear the first time it got warm, and besides when it was actually snowing they barely wore their jackets all through the barely-double-digit middle of March. Lijah refused his coat entirely for the entire second half of the winter: when I convinced him to wear it to go out in the rain-snow mix on Friday it was the first time it's been off the hanger since early February (not counting all the times the boys knocked it down, of course).
The last couple of days have been warm enough that Harvey and Zion have been rocking shorts and t-shirts, at least by mid morning—the weather has caught up to their expectations. Still, it's that in-between time where they have trouble, for example, getting in the side door of the house: tucked against the north side it's still snowy far past any other part of the yard, and they're mostly not fans of snow on bare feet. Still, they'll do it, such is their commitment to feeling summery.
Me, I have the opposite problem. Once I start wearing my long underwear and wool cap in November or whenever, I have a hard time giving them up. It's been well established that I love the cold, but that doesn't mean I enjoy being cold—on the contrary, my enjoyment is predicated on being well-equipped to sit around outside without feeling any discomfort. So lots of layers. Now that it's spring it's probably time to pare down a bit, but as I say—it's hard. For one thing, our house is pretty chilly in the morning, and the inside of a pair of jeans isn't what I'd call cozy first thing! And then there's always the haunting notion that I might suffer a chill at any time: better safe than sorry.
Of course, when it hits 55° and I'm playing tag with the boys on the playground in my winter get-up I'm pretty sorry anyway! But at what point does the risk calculation swing conclusively towards worrying about overheating? I don't know... but I will say that, this afternoon, I traded my winter hat in for my High Mowing Seeds ball cap. That feels like a seasonal inflection point...
Yeah, we had another storm yesterday. Winter holds us in its grip. And its grip feels particularly strong and fierce this evening, with all the snow that fell yesterday compressed into maybe five inches of icy cement, and giant solid snowballs lining the street. We're kind of over it; the boys declined to go sledding today. In their defense, they did play outside for a fair bit yesterday, despite the driving wind and icy snow-rain mix that fell all afternoon. Zion even helped shovel.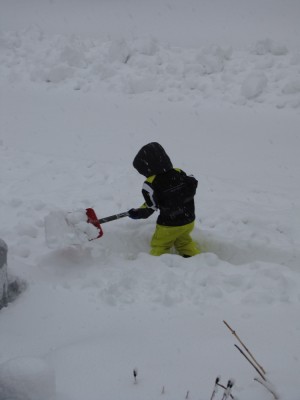 But we don't even care about that, because we're enjoying the time change. Yes, you heard correctly; I've complained about losing our morning light before, vociferously in person and a little more mildly in these pages, but actually this year it's gone pretty well. We've managed to adjust bedtime to the new time almost instantly, and mornings are later but still relaxed. Most importantly for me, I'm getting up before the hens again! (long may it last).
This evening saw the boys outside to play after dinner for the first time this year. "Feel like" 15°F, but there was still sunlight so they they were. I think going out late put Zion in summer mode; his friends were wearing snow suits but all he managed was a sweatshirt. (Or maybe he just couldn't find his coat. That happens a lot these days.)
Judging by the forecast winter is going to stick around for a little while yet—that groundhog knew what she was talking about. But we know it can't last for ever, and all that hot sunlight coming through the skylight will be just the thing for starting seeds in a couple days.
So it's too bad that everyone else is finally starting to come around to my formerly grumpy view of time changes. We've had two great ones in a row, so now I'm happy enough to stick with the current system. But we're flexible; if you want to change it, that's cool too.
It's not every year that the kids can have a snowball fight shirtless and with bare feet, but we witnessed it last week. Wednesday, Thursday, and Friday—each day warmer than the last, melting a foot of snow down to almost nothing (rain Saturday night after a slightly cooler day finished it off). There was lots to enjoy: Leah got to run in shorts, Harvey took a long bike ride with a friend, the kids had the aforementioned snowball fight. We took a hike Friday and Harvey and Zion were in shorts and sandals (though we walked through enough snow that they maybe would have made a different footwear choice if they could do it again). But there's also the nagging sense that it shouldn't really be so warm in February, and that climate change is dooming us all. Kind of spoils the fun.
So, even though I probably have to abandon my plan of direct sowing arugula seeds in the garden this month (I was going to use row covers if it got cold again!), I was glad to see more seasonable weather make a return yesterday. Especially when we got home from church and I could put my hat on again—I forgot that you need to wear more clothes in the winter.
We marked the end of the crazy warm weather with a fire Saturday evening. The boys invited the neighbor kids over and we toasted marshmallows, then they played with fire for a while as the temperature dropped and a light rain started to fall. It was fun. We'll do it again... like, towards the end of April?
Yesterday morning everybody was up around 7:00 and we had our pancake breakfast done with before 8:00, leaving us with plenty of time for cleaning jobs before we went out to the bus stop. It's been a while since the morning has felt so spacious, but the winter's drawing on and that old sun is coming up earlier and earlier. Evenings have felt luxuriously late for a while now; yesterday the boys were out until 5:30 and it was still just dusky when they came in.
The only problem with thinking about spring now is that we've barely had a winter! It hasn't been below freezing for several days, and the boys have completely forgotten about dressing warmly when they go outside. It's nice that they can just head out the door; less so when it does cool down some and we have to listen to them complaining that they're chilly when there isn't anything we can do about it! There's a little cold in the forecast the next couple days, and maybe even some snow. I do hope we get some more: one day of sledding in a winter just isn't enough!