posts tagged with 'ice'
We've had some icy adventures the last few days. Yesterday's park day saw its fair share of sledding, but the snow was really too thin for sustained fun so it was the ice that really held everyone's interest. It was a solid as you could wish for—well, as I could wish for, anyway. Plenty of other parents were a little nervous, so I did my best to reassure them. My line of reasoning was that once a big section of pond is frozen to any depth, to the point that it doesn't move or squish when you step on it, its failure mode becomes much less obvious. Nobody's going to "fall through" at that point, unless they find a weak spot, and I checked before the free-for-all began to make sure there weren't any near the beach. And we weren't totally reckless: I bet we could have ventured pretty far out, but to the disappointment of a couple kids we kept them within 20 yards of the shore. Where, I must say, there was still plenty of fun to be had.
So nobody got wet, like the last two weeks. But don't worry, we had our ice-tastrophe for the week a little earlier, on Tuesday, when on a walk at October Farm Riverfront in the beautiful 12° weather Zion stomped through the ice next to the river and got wet up to his knee. No real harm done, of course, except we had to cut our walk short, which made Elijah very grumpy. Even with the quick retreat to the car Zion's pant leg froze completely solid before we got the heater on it, which was pretty cool!
I think it was actually my stories of all the times that I and the children in my care did fall through the ice that convinced some of the other parents that the park day ice wasn't as dangerous as they thought. Clearly, we've had vast experience and must know what we're talking about! So eventually everyone let their kids venture out and they all slid around on feet, tummies, sleds, a snow skate, and in the case of one prepared family actual ice skates! It could only have been better if we'd had hot chocolate, and if there wasn't a thin layer of sticky snow on the part of the ice we allowed the kids to play on. We did manage to scrape some of it off, though a shovel would have made it easier; but in the absence of anything designed for the purpose the big kids were happy to use Elijah as a sweeping tool!
We all hope it stays cold, and also snows, so we can play on the ice more next week and also sled down the hill behind the beach way out onto the ice. I'm checking the weather forecast a couple times a day now...
We had a party yesterday! It felt like the first in a long time; we've had people over to the back porch lots in this pandemic time, including last winter solstice, but those were all more like relaxed hang-out get-togethers. Last night we know it was a party because I bought beer and chips, made multiple desserts, and had not one but two steaming pots of hot drink available—mulled cider and hot chocolate. And of course a bonfire.
Which was good because we really appreciated the chance to get warm inside and out. It wasn't super cold—and the ground wasn't covered in a foot of snow like last year—but there was a damp chill in the air and it wasn't weather that would typically encourage people to linger outside. But on this night, linger we did!
At least for a little bit. It was still a school night, after all, for those kids who have to go to school; the solstice isn't as important in the public school curriculum as it is among homeschoolers of our vaguely Waldorf-influenced set. But that was ok, because after everyone left and we finished all the cleanup—which took some time!—the fire had died down enough for us to be able to jump over it. Which three of us did! True, it wasn't really a bonfire any longer, but I think it should still count. Now the sun can come back!
We fully embraced the solstice today. We talked about it, and read about it, and later this evening we're having a big solstice party—the fire is already laid and the backyard decorated with boughs of spruce and holly. But our first big solstice moment was a lantern walk at sunset.
It was organized by the moderator of the Greater Lowell Homeschoolers Facebook group, who also brought supplies to make paper bag lanterns. Some of our good friends were there, and also some folks we hadn't met before. It was a short walk—it was already getting dark when we started and most of the group wasn't hardy outdoorsmen like us—but still delightful.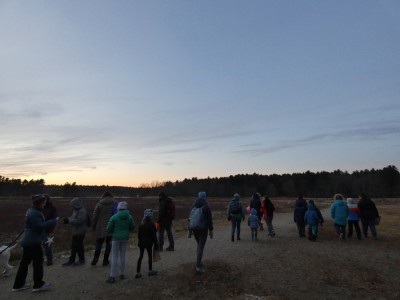 Best of all was that the ice on the pond was about an inch thick, even after barely 24 hours of good freezing weather. Parents were nervous, but the brave kids had a grand time slipping and sliding close to the shore, and nobody got any worse than wet hands and feet. Much fun; and I consider the Yule to have been properly Welcomed. Now let's party!
It's been sunny and beautiful for at least parts of the last couple days, so of course when it turned gray and rainy we headed out to visit the ocean!
Actually, the timing wasn't really deliberate like that. It's just that we have a lot on our schedule, actually, and it's been a couple months since we've been any distance from home; so when last weekend I saw that Thursday was free I put a trip out to Cape Ann on the calendar. In my defense, the forecast at that point called for sun! Not that we minded the light drizzle—we're that hardcore, and we'd actually much rather have rain than crowds.
Our first stop of the day was the rocks along Atlantic Ave, where, before we did anything else, we had lunch (we got a late start because there was lots of school work to do first—like I said, busy schedule!). It turns out it's cold at the ocean; at least two of us wished for warmer clothes (not me! nobody dresses warmer that I do). But as soon as we finished lunch, an hour of climbing around the amazing rocks warmed us right up. Nobody died, either. When Elijah fell on his face it wasn't from 25 feet above jagged rocks, which had been my fear.
Then just as we were about done with the rocks, Harvey found a piece of sea glass, and then another one. I don't know if you're aware, but sea glass is rare in New England these days—maybe the only downside of people no longer routinely throwing their garbage into the ocean. So his find touched off a sea glass gold rush, and each of us got at least a dozen pieces. Lijah and I are going to combine our hoards and display them in a jar.
Next we went to Good Harbor beach. The tide was rushing out beautifully under the bridge and it wasn't at all crowded, but the boys were getting a little tired—and it turns out that without a full tank of physical and emotional energy the water's a little too cold mid-January to do much wading. We did find—and walk through—some very interesting sandy mud: it was almost fluffy, with a consistency like slush to a depth of three or four inches. It's lucky there was something harder underneath, or we would have sunk to our deaths!
We ended the outing with a visit to Rockport. We walked around town and out to the tip of Bearskin Neck, admiring all the closed stores and their range of varied and clever please-wear-a-mask signs. Then on the way back to the car we stopped at the candy store where we bought some fudge...eventually. It was actually kind of hard to come to a decision about what to get. It may be that she felt sorry for us or just that she's a wonderful human being, but the woman running the store also gave us—for free, gratis!—a bag of chocolate-covered swedish fish. I had no idea such a thing had ever been even contemplated, but they actually aren't bad! It helps that Tuck's Candy has, as well as wonderful generosity, really good milk chocolate. Tuck's Candy—check em out if you're in the area!
Then we went home. On the drive, both ways, we listened to an audiobook about Martin Luther King Jr. Because, you know us, that's how serious we are about school work!
Oh, I almost forgot the best part of going to the ocean in the winter! Even better than the empty roads and beaches: we found ice among the rocks! It may have been small, but our rink by the water was, for fifteen minutes at least, just about the best thing ever.
As much as I'm loving the light lately, we do love winter—and it's been a little disappointing lately in the snow and ice department. There's still no snow around now, but it's been cold enough overnight the last few days that the ice is finally solid, on ponds at least. This morning we got to enjoy it on the Old Reservoir.
The dogs have been braver than any of us over the last couple weeks so they've had plenty of ice time already, but today it was firm enough that they felt completely confident and chased each other around without a care. I wish I had a video of the the flailing legs every time they tried to change direction or accelerate suddenly. But with four legs to flail, they never fell down! Unlike the children who fell down constantly. Of course, they loved it!
Even when everything else is overwhelming it's nice to observe the turning points in the year, and none more so than the solstice. And even though we didn't manage to make wreaths this year, if there's one thing I can always handle, it's a fire.
Actually, it took a little more thought than usual, since it's hard to light a fire when the ground is covered with a foot of snow. But I was prepared! The day before the storm I built a cover for our fire pit, and then the day after I shoveled it off so melting snow wouldn't drip in. That meant that this afternoon when the sun touched the horizon we had a dry bed to start what we grandly called our solstice bonfire (just slightly bigger than the fires we would use to cook on). It went up beautifully with just one match; that's a good omen for the year to come, I think.
Some friends came by to share our light in the darkness, and it was fine. The adults (and Harvey) talked, and the littler kids played in the snow (after toasting marshmallows, of course).
Happy solstice, everyone!
There are lots of places near us that are best explored in cold weather. Or only explored! One of our favorites is the abandoned cranberry bogs just around the corner from our house. The terrain back there is so swampy that even though I've gone back there lots of times I don't have a clear idea of how it all links up, so there are still surprises, and last week we discovered a quick way from our usual path into the bogs. Only the ice was terrible so we didn't risk it very far. After two or three real cold days, yesterday we were ready for another shot!
The ice was still a little nerve-racking, especially the stretches where the snow had melted into slush and then sort of refrozen atop the ice, leaving a strange textured surface where you'd be sliding for three steps and then suddenly sink ankle-deep. While we held onto the intellectual belief that there was strong ice under the weird snow, it was still startling to have the surface give way beneath our feet. But out in the middle of the bogs, the strong sun made the ice smooth and slippery and perfect for all sorts of fun.
Today we ventured out on a homeschool co-op hike. Despite some early interest it ended up just being us and the hosts, but that was ok: they were excited to show off their woods and the little group—just five kids and two adults—felt easy and relaxed. And their woods were worth showing off! There was little ice rink, where neighbors had dammed a stream to make a spot where you can skate around paths through the trees, with Christmas lights hung between them (I want to go back at night... it must look so magical!). There was a playground with fun climbing features made out of logs and tires. And there were big hills in between the marshy spots.
But the highlight of the outing was our last stop, on the shore of the Sudbury River. The river was frozen all the way across—and while we didn't venture out of the little cove where the path left us, there was plenty of good ice to play on. Because the river had been higher when it first froze by the bank there was even a pretty good slope of ice that the kids had fun penguin-sliding down, and when they got tired of that we played soccer with chunks of ice for way longer than I would have expected the kids to last (Lijah's breakdown came only after I said it was time to go home). And I managed to slide a piece of ice all the way across to the opposite bank.
And we still haven't fallen through once in the last two years!
It's been strangely warm around here lately. Very pleasant considered out of context, but hard for me to enjoy because of my existential dread around our changing climate. Also, I like cold and snow! And ice too. So before it warmed up last weekend we took a hike somewhere where I knew we could find ice to play on, and so we did.
Not all the ponds were frozen: even before it got warm it wasn't super cold. But the Old Reservoir in Bedford has just tiny inflow and outflow, and it's completely sheltered by hills and trees, so it freezes beautifully. Plus it's in the middle of a delightfully varied and hilly town forest, so getting to the pond is almost as much fun as playing on it. The boys were minutemen, and shot me about 800 times on the hike in (then I snuck around behind their last ambush and gave it to em good!). But when we got to the ice, martial valor was forgotten. We played some stick hockey, we drew in the thin layer of snow, and of course we slid. I prefer my feet for the sliding, but some of us can commit even more fully.
Because we expected that the ice would be going soon we made the most of it, and walked the whole length of the pond. That should hold our winter exploration longing for a little while... but I sure do hope it gets cold again soon!
For our solstice party, and for our family reading in general, I went looking in the library for a good topical picture book. You know, there are tons of books about Christmas—you can read about Christmas from every possible perspective—but not so much the winter solstice. Last year we read The Winter Solstice, by Ellen Jackson, which is a fine book... but not a story particularly. Nor is it particularly poetic, which seems like a shame given the poetry natural to the season. But this year, when I checked in with Ms. Elaine at the Children's desk she was delighted to offer me a brand new book, which hadn't even made it to the shelves yet: The Shortest Day.
It's by Susan Cooper, the author of the "Dark Is Rising" series, and illustrated by Carson Ellis, and it's fantastic. Cooper's poetry doesn't come from careful word choice but from connecting with the power of the season, which is just what I was looking for a ceremonial read-aloud. And Ellis's watercolor illustrations are a great mix of down-to-earth realism and mythic fantasy—they made me think of a modern children's book version of William Blake. (She's also the author of a pair of picture books that I recommend highly: Du Iz Tak? and Home.)
Of course, I'd love it if some other good writers stepped up to tackle solstice stories. I mean, the magic! As it is, though, the people who care enough aren't very good writers and don't have access to real editors—there's a self-published book about the eight quarter and cross-quarter days at the library, but it's cringeingly awful. But at least now there's one winter solstice book. Maybe I'll buy it for next year.
Our holiday season began back on December 19, when we hosted a solstice party for our homeschool coop friends. A little early, sure, but with the month's schedule full of events we needed to get it in when we could. And if you ask me it was a good day to do it since it was the coldest day of the winter so far (and since)—though some of the guests questioned why the first half of the gathering was a walk in the woods. I said that was the way to experience the dying of the year. Plus, it made our fire all the more welcome!
With the fire roaring I read everybody a solstice story, and then most of the kids ran inside as quick as they could and played in the warm house the rest of the time. That's fine, playing inside is also a traditional midwinter activity—moreso that marshmallows, probably, which is the only thing that kept any of the kids outside.
On the solstice proper we attended a wonderful caroling party bursting with Christmastime cheer and lots of good food (I was also bursting by the time we headed home!). We were among the first to arrive and also the first to depart, due to Lijah's tiredness; but that was fine because it left the rest of us, who did not fall asleep in the car, plenty of time to have our real solstice fire, the one in the actual dark. I promised the boys that they could stay up and keep the fire going all night or for fifteen minutes, whichever came first. As much as we all wanted to stay out longer, that was about right.