posts tagged with 'snow'
After two solid weeks of below freezing (often below zero!) temperatures, and a couple of blizzards (well, almost blizzards) it was nice to feel a little warmth again the past couple days. Monday it almost hit freezing, and yesterday it blew past the freezing mark to reach the high 30s for a few hours. Positively tropical. We celebrated by getting the bikes out for the first time in quite a while.
Past time, too: our destination was the library, where we had many overdue books to return. But never mind the fines, it was lovely to be out and about under our own power again. It would have been lovely had the sidewalks been better cleared; going uphill we needed to be in the roadway or we wouldn't have been able to make any progress at all in the slush (at least the sidewalks are now plowed at all, five days after the storm). Even in our sleepy little town some drivers didn't appreciate sharing the road in the middle of the afternoon, which made me a little grumpy. I don't like being honked at. But we made it, and returned our books and got new ones, and I got to take a little nap in the children's room while the kids looked at books. Fresh air is tiring!
Most times the first snowfall of the year is exciting just for being first, but it doesn't amount to much on its own. Not so this year. After a warm summery beginning to fall we were only just getting used to cold weather, so a legitimately snowy day today was kind of a shock. Exciting though! Mostly for the kids—some of the adults I talked with yesterday evening weren't looking forward to the forecast accumulation—but even some grown-ups got caught up in the spirit. Our street saw a pretty vigorous kids-vs-parents snowball fight for a little while this afternoon; especially nice since the parents forced to team up aren't always on the best terms otherwise.
The only bad part about the snow is, as always, the yard wasn't ready for it. It's not very likely that this snow will stick around til spring, but it's possible—and as it started to fall I was very aware that in that case a lot of things would be lost and/or ruined. It's always bad—I'm not a particularly organized gardener (or anything)—but it's even worse this year because of my current construction project. I'm putting up a playhouse for the kids, and it's kind of a significant endeavor. I spent the first part of the morning racing to finish framing and sheathing the roof, to keep at least some of the snow from the interior (there's still mostly no walls, so it won't be bone dry—but roofs do help). Then I had to put away the remaining lumber, so it wouldn't be buried forever under its tarp. By that time the tools I'd left lying around were beneath at least an inch of snow... I hope I found them all.
All in all, though, I count the snow as a total positive. We had a super fun day, and we're looking forward to more snowy fun tomorrow. Zion was very disappointed when he heard the forecast calls for sunshine; I told him the winter would bring lots more snow. Just maybe after the playhouse has walls.
Yeah, we had another storm yesterday. Winter holds us in its grip. And its grip feels particularly strong and fierce this evening, with all the snow that fell yesterday compressed into maybe five inches of icy cement, and giant solid snowballs lining the street. We're kind of over it; the boys declined to go sledding today. In their defense, they did play outside for a fair bit yesterday, despite the driving wind and icy snow-rain mix that fell all afternoon. Zion even helped shovel.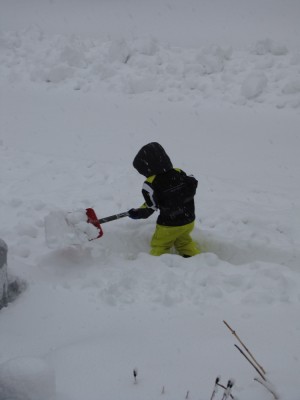 But we don't even care about that, because we're enjoying the time change. Yes, you heard correctly; I've complained about losing our morning light before, vociferously in person and a little more mildly in these pages, but actually this year it's gone pretty well. We've managed to adjust bedtime to the new time almost instantly, and mornings are later but still relaxed. Most importantly for me, I'm getting up before the hens again! (long may it last).
This evening saw the boys outside to play after dinner for the first time this year. "Feel like" 15°F, but there was still sunlight so they they were. I think going out late put Zion in summer mode; his friends were wearing snow suits but all he managed was a sweatshirt. (Or maybe he just couldn't find his coat. That happens a lot these days.)
Judging by the forecast winter is going to stick around for a little while yet—that groundhog knew what she was talking about. But we know it can't last for ever, and all that hot sunlight coming through the skylight will be just the thing for starting seeds in a couple days.
So it's too bad that everyone else is finally starting to come around to my formerly grumpy view of time changes. We've had two great ones in a row, so now I'm happy enough to stick with the current system. But we're flexible; if you want to change it, that's cool too.
The groundhog was right! Over the last week it finally started looking like winter around here, and we've been enjoying it to the fullest—or at least, as full as we can manage in between bouts of illness.
It started last Tuesday with a brief but intense fall of wet snow that caught us as we biked home from a mid-morning outing (to pick up some hot bar bacon from Whole Foods, if you must know). By the time we finished our lunch of bacon sandwiches the snow had changed to light rain—light enough that we didn't think twice about heading out to play in it. Even Lijah! The snow was amazingly sticky, and it was no work at all to put together a good-size snowman. He came out looking pretty cheerful despite the damp.
I told the boys about a snow chair I made last time I'd experienced such great packing snow—long before any of them were born. Of course then we had to make one for ourselves. Because Lijah was getting tired of eating snow cakes we limited ourselves to a Zion-sized model.
As I put Lijah down for his nap the other boys spent some time using the snowman as a swordfighting dummy. I was pretty grumpy with them when I noticed—that was my snowman too!—so when they took their rest I rebuilt him out in the front yard. Those balls were so big I couldn't get them on straight, and when the temperature shot up the next day I was sure he wasn't long for this world. But he managed to hold on, and it turns out his lean was just the thing to prepare him for Thursday's blizzard.
Folks talk about how summer is the best time for getting to know your neighbors, but I find snow storms are fine too. Tuesday evening Harvey helped the neighbors with their snowman, and on Thursday, with everyone home for the storm, parents and kids alike enjoyed playing together in the bitter blast. We shoveled with the neighbors on one side (then tossed a football around for longer than you'd expect given the conditions) then took a lovely adventurous walk with the family on the other. In a blizzard construction sites become magical wonderlands.
On our way back from that walk we stopped in at another neighbor's house to say hello—they were surprised and charmed to see us, and it was just too bad we were too wet and exhausted for a proper visit. Too bad too that Zion and Lijah were to sick to venture outside at all... though on the other hand, snow days are also great for cuddling on the couch and watching shows!
The next day was Friday, and all the school kids had to go back to school; so it was a perfect day for us to go sledding. The wind was whipping the fine snow all over the hill and the trails were far from broken, so we were glad of our new-to-us giant snow tube, which glided wonderfully over all the powder. It was also a great place for Zion to rest when his post-illness tiredness caught up to him.
His fatigue and the biting wind meant we didn't stay too long out on the big hill, but on the way back to Grandma's house we found that the path in the woods offered some promising terrain for the toboggan, so we spent half and hour or so there. Harvey worked hard to get the plastic sled down, but it was our five-foot wooden toboggan that was best for the job: we managed a couple runs with all three of us of a hundred feet or so, around two big sweeping turns. It was great!
Saturday Harvey and Zion got to play with the neighbor we visited Thursday—a small investment in relationship building pays off big! They had a great time until Zion bumped his head and had to be brought home, then he and Harvey had a great time. Harvey was gone from 10:00 until 4:00—now that's a playdate!
With more snow in the forecast for Sunday we were a little nervous about getting to church—and more importantly getting home. The snow in Cambridge was wet and not really accumulating so we thought we were fine when we started towards home at 2:00, but as soon as we headed up the hill away from Cambridge things took on a more dramatic aspect.
It was pretty scary, and we were glad to get home and cuddle up for the rest of the day. Monday was another snow day, but the sun was out by mid morning so despite the whipping wind we could have had yet more snow fun... but there's only so much of that you can do in a row! Instead we visited a library.
The last couple days have been warmer again. I meant to write all this Monday, but Harvey finally came down with the stomach bug that got us all in sequence: Lijah and Zion Thursday, Leah Friday and Saturday, me Sunday night, and Harvey Monday night. So now we've all had it, and it's done. Quick, let me have some time to write before the next sickness strikes us! Zion had a fever at bedtime so we might not have long to wait...
Moments and images from the past week.
I got the notice that my office would be closed today at 10:00 yesterday morning. At 7:15 in the evening they called off school in town. After a crazy icy day yesterday that saw a 55-car pileup on Rt 128 and countless other accidents around town—not to mention a perilous commute for Leah and me!—the powers that be were in no mood to take chances with the snow in the forecast tomorrow. So everyone is hunkered down at home this morning, waiting... Waiting for the first flakes to fall... Waiting for the temperature to drop below freezing... Waiting... for Snowmageddon 2017. I'll update throughout the day to let you know how it's going.
6:50 am: After a night awake with sick and anxious kids it's nice to be awoken by the chickens early enough that I don't miss any of the excitement.
7:30 am: First fine flakes begin to fall. Lijah throws up for the eighth time since 10:00 last night.
8:30 am: Fine snow falling heavily in whipping wind. Unsalted surfaces are covered, and snow is encroaching on the edges of the roadway.
9:00 am: Harvey and I enjoy a breakfast of bacon, eggs, and toast, with tea and apple cider. We don't have any orange juice and only a little milk, but otherwise our supplies look good. Zion throws up.
9:20 am: Harvey finally does his chores. There are six eggs to bring in; he puts some of them in his coat pockets and one smashes in there when he bends down to take off his boots. Zion wishes he could throw up again. Lijah falls asleep in Mama's lap.
11:30 am: The plow comes by for the first time; not much more than a couple inches of snow to move.
12:40 pm: Snow falling much more quickly, accumulating at least an inch an hour. Sick boys watching Daniel Tiger on Amazon Prime.
2:30 pm: Snow continues to fall heavily. Harvey and I join the neighbors in a snowy walk through the woods and local construction site. Maybe 8 inches of snow on the ground, but it's hard to tell with how much it's blowing around everywhere.
5:30 pm: The air is slightly less full of blowing snow, but the wind hasn't let up any. Roads are all white despite near-constant plowing, but it doesn't stop the few people out from driving at their usual speed. Also there are no sidewalks, naturally.
7:00 pm: Just a few misty flakes coming down now. Maybe 9 or 10 inches on the ground, and more in drifty areas. Zion wakes up raring to go, and eats tortilla chips, rice and cheese in a flour tortilla, and a hot dog. Lijah is a little slower but is also revived some by corn chips.
8:30 pm: Calm outside, calming inside as we try and get our boys who slept all day to bed. Harvey doesn't have any problems, of course: he fell asleep instantly.
I'm not sure, but it feels like in past winters the hens pretty much never went out at all. With the dark mornings I never felt like I had to let them out early, like I do in the summer; failing that prompt I pretty much kept them shut up all the time. With nine of them sharing the space now, though, I feel like I want them to get as much time in the open as they can, at least when there's grass showing—as there was this morning. With snow in the afternoon's forecast I was extra motivated to get them their pecking time before all the good pecking was buried. Only, the snow came a little early, and it fell fast.
I was distracted by moving around all the furniture in the house—a perfect snow day activity!—so I didn't think of the hens at all until nap time (2:30 these days, at our house). When I went out to check on them I found four inches of snow on the ground, two hens in their run, and seven cuddled up under the shed. It's dry and cozy under there, with just a chicken's-height of head-room, so it's their favorite place to hang out in inclement weather. Except, as I knew and they did not, the weather was going to get worse before it got better and I was worried they'd get stuck for the rest of the winter! So I had to get them out.
It wasn't easy; there's no way I can drive them out from under, even with a long stick (I did try), and they showed absolutely no inclination to put even a single claw out into the snow. So I trampled down a pretty good area out in front of the shed—the snow was so light I could get right down to grass pretty easily, and tossed out some scratch. Slowly, slowly a couple of the braver young hens poked their heads out. I threw a little more scratch a little farther away and waited. It took maybe five minutes, but eventually they were all out from under and far enough away from the shed that I could dart in behind them. Then I mercilessly drove them through the snow back to their coop.
Actually, I didn't need to drive them far: once they were actually in the snow they knew that home, where their food and water and nesting boxes are, was a better bet then back under the shed. But it was slow going. They ignored the path I'd tried to make for them and picked their way along the fence, as pictured above; with each step they hesitated, clearly reluctant to put a foot back down into the cold and wet. The older hens, who lived through the terrible winter a couple years ago, were the most indignant about it.
Oh well, sorry girls: the rest of the inhabitants of this household love snow, so we'll be wishing for lots more of it this winter!
After a busy day yesterday we were ready for some downtime today, and the weather very kindly obliged.
Unlike last time the boys weren't particularly excited—understandable given the demands on their energy yesterday. But there's still plenty to enjoy on a snowy day without going outside: it's awful pretty, for one!
I've noticed that not everyone appreciates snow. On a rainy day last week I heard a someone remark how glad she was it wasn't snow, and folks in the grocery store this evening were talking about how they weren't ready for snow and cold yet. And, sure, it can complicate things: it kept us from seeing our friends today, which was a bit of drag. But we'll survive.
It seems to me that by December we should be ready for snow—emotionally and materially. Or at least incrementally more ready as we see the forecast temperature dropping. Our neighbors across the street weren't ready, lawn-wise—or rather their landscaping company wasn't. It was really something to watch ten men with leaf blowers trying to clear a quarter-acre lawn of wet leaves as snow fell pretty heavily. They did it, but it took a couple hours! I don't feel particularly superior; never mind the unraked leaves (deliberate, but still), I still have hoses out. However! With an eye on the forecast, I spent some time over the weekend finally getting some kind of waterproof material to cover the plywood roof of the shed. I don't get very much accomplished, so that was satisfying.
It only took a year after the shed went up for me to get to it! Luckily it didn't snow that much last winter. Well, we're ready now!
It snowed Sunday night. After we put the boys to bed Leah asked me about the forecast for the day to come; checking the forecast I saw that the "current conditions" said snow. And so it was! (I did check). Not the most romantic way to notice the first snow of the season, but we'll take it. I was sad the boys couldn't see it falling—but on the other hand the surprise only intensified their joy in the morning.
Zion and Lijah made some time to play in it before breakfast. Harvey, being older and more heavily burdened with responsibilities, had to make due with bringing a snowball in along with the eggs as he did his chores. (Don't worry, they all got to have fun in it when we went out to the bus stop—we still do that).
When the sun got going at 11:00 or so the snow melted right away, but not before marking our morning with delight. On the other hand, it was pretty cold in the house all day, which we might have to do something about... but that's a topic for another blog post.
Remember when it snowed back in March? That was delightful and exciting and it melted quick and we all had a laugh. Then in April we had another snowstorm. Two more, actually.
That's the afternoon of the second storm. The first one was Sunday, when we woke up to heavy snow starting to fall; two inches accumulated in less that two hours, making for a pretty tricky drive to church. But then the sun came out and it all melted before mid afternoon. The second one, yesterday, wasn't as speedy—but it snowed pretty steadily all day and never got warm. So there was still plenty of snow around this morning. Just like winter!
In March the boys were excited for one last chance to romp in the snow, but apparently they meant last chance. We stayed inside all day Monday (we were also all a little sick). Maybe it's just the wrongness of snow in April that put us off.
But today was bright and sunny—though wintery cold—and we managed to venture outside a bit.
Even though it was barely above freezing all day, that April sun is strong. There's still snow hanging around, but nevertheless you don't have to look far to see that spring has some power behind it yet!
Happy first week of April!