posts tagged with 'local food'
Our home school day Tuesday concluded away from home, at the last regular farmers market of the year. Overall, we did well this year: we didn't miss a single market, and we saved enough food stamp coupons to come away the last few weeks with two gallons of maple syrup and five pounds of honey (that should be enough Leah-grade sweetener to last us through a long winter!). And we enjoyed lots of delicious fresh veggies and fruits, along with a fair amount of ground beef and bacon.
Of course, there's always room for improvement. We bought lots of kale, because rabbits, caterpillars, and our own chickens did such a number on ours. Beets, because I didn't manage to plant any. Carrots, because... well, we eat a lot of carrots. My dream is to be able to grow much of our own vegetables and fruits, leaving us with money to stock up on meat for the freezer, honey, and maybe even some cheese. That didn't happen this year. I can assign some blame to Lijah—or really to having three kids!—but I still have to take most of it myself. That we were spending money on tomatoes this September is entirely my fault, and nearly unforgivable.
Still, those are high level worries. All in all the market was great, and we'll be sad to see it go—we'll especially miss chatting with the fine folks from Charlton Orchards, and not only because they responded to our faithful patronage by letting us have the funny-looking donuts from the end of the batch for free! We're looking forward to the special Thanksgiving market on November 24; after that it'll really be winter!
Today was the opening day of the Lexington Farmers Market, and we were all happy to be there!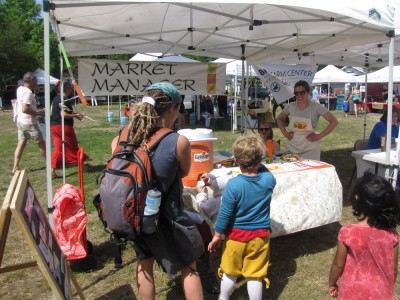 Especially happy after a long hot bike ride (the boys were wearing their designed-in-winter Tintin and Snowy costumes on the bikes so they were especially hot), and happy despite the absence, this year, of lemonade for the boys and ice coffee for Mama. There's not a lot coming from local farms this time of year, but we picked up some greens, a couple greenhouse tomatoes, and a pound of bacon—and, more importantly, a chocolate croissant and some apple cider donuts.
The boys were happier still after that. Hey, no pictures!
The fields at Parlee finally opened after a cold spring, so we took our first picking trip of the year this morning. Well, most of us did; Leah and Lijah stayed home. She says she has too many bad memories of trying to do pick-your-own with an infant, which is more then fair. But the bigger boys were excited for the adventure!
They brought their backpacks so they could carry their own lunches, water, and, in one case, diapers. Harvey showed his seriousness by getting right down to picking berries, not all of which ended up in his mouth.
Zion was only serious about eating. The only berry he put in his basket was almost entirely white; a little of it was green. But he enjoyed himself!
We met the Stevenses there, and I was very impressed at how well elementary-aged children can contribute to the family welfare through their labor. The younger boys, working together, chipped in a tiny bit.
But the best part of the whole trip was that Grandma Judy came along. After she picked her own four quarts and helped Harvey with some of his one, she gave the little ones something else to do while we finished up the harvest.
Between all of us we ended up with 32 overflowing quarts: besides Grandma's we took home 12 and Bridget and co. had 16. It was a true team effort, and we were all proud and tired.
Now I suppose I have to make some jam!
We make a lot of things from scratch around here, like bread and deodorant (two projects from yesterday). The ones we do over an over again aren't hard for us (though they are sometimes tedious), but I totally recognize that they might be hard to approach for the first time. But some homemade projects are so easy that I really don't know why everyone doesn't do them, and probably the easiest one is mint tea.
There's actually one bit of the process that's a little tough for me, and it's the reason that "MINT TEA" features prominently on my part of the to-do chalkboard: to make mint tea my way you have to start the day before. But once you remember to start, you've got it made, because all you have to do is boil a pot of water and turn off the heat, then put some stems from your mint plant in there—preferably washed, unless you like a more buggy or dirt-infused flavor. Then in the morning strain the tea into a pitcher or jar and stick it in the fridge, and drink it when it's cold. That's it!
Of course, you may be protesting that you don't tend to have mint lying around, which is fair. But you'll be happy to know that, as mint tea is the easiest thing to make, mint itself is the easiest plant to grow. It's actually pretty much a weed, so if you don't want it to take over everything you should grow it in a pot, where it'll do fine with no more water than it gets from the rain. As an easy rule of thumb, I'd estimate you need one five-gallon-sized pot of mint for each day of the week you'd like to make your tea (and I should mention that I make it a gallon at a time). Or if you have the space, let it roam: when it starts to spread too far outside its bounds pull up the plants you want for your tea instead of clipping off just the top half of each stem with scissors, as you should in cases when you want more mint to grow.
As you may have guessed from the paragraph above, we have plenty of healthy mint plants to give away, so if any of this sounds good stop by next time you're in the neighborhood and I'll hook you up. Or just come in for the tea; I try to always have some in the fridge this time of year.
It's spring, and there's things to eat outside. I always like it when the garden starts to produce edibles, since it helps to justify my hobby to the world. Two and a half pounds of asparagus so far, over the first three days of the harvest, and it's still as exciting as the first time lo these many years ago now. Asparagus is definitely one of the embodiments of spring, culinarily speaking, so it pairs well with that other symbol of the season, the egg.
Something is going right when we can enjoy, as we did Saturday supper, eggs a few hours old and asparagus picked 20 minutes before it hits the plate. Plus leftover cornbread, but that doesn't signify anything.
And it's not just asparagus around here either. The woods are full of garlic mustard, a tiny bit of which I made into pesto on Friday (with almonds, cheap parmesan, and olive oil). And today's couscous (made to accompany more asparagus) was livened up with a generous handful of chopped spring onions.
The best thing about all these delicious ingredients is that I barely have to do any work for them. Sure the asparagus was a bit of work to set up, and I suppose I must have planted the first bunching onions at some point, but now the food just rolls in every spring with no added work from any of us besides bending down to pick it. Since there's plenty to do in the garden otherwise this time of year, some easy payback is very well appreciated.
Do you think we'll get tired of asparagus?
As much as I love the food pantry, it isn't always the best thing for us health-wise much of the year. We do generally give back the store-brand canned ravioli and chunky soup, but I'm unable to resist the allure of the white bread and Ritz crackers, to say nothing of the occasional Panera cookies. This time of year, though, the situation is totally different. Thanks to the fine folks at Gaining Ground Farm in Concord, we get to go home every week with a very respectable selection of local organic vegetables. Just this past week out take included swiss chard, beets, potatoes, basil, parsley, two kinds of summer squash, beefstake and cherry tomatoes, and a whole watermelon. Not too shabby!
Just like with a CSA, we don't have much idea what we're going to get from week to week, but that's no problem: this time of year we're more than happy to build menus around whatever fresh veggies we have in the house. And between the food pantry, the Lexington farmers market, and our own garden, we have plenty of veggies. Eggplant and tomato sandwiches, curry, beet greens and beans... summer time and the eating is easy!
I enjoyed an afternoon snack today of toast with goat cheese and honey. Delicious and wonderfully local, thanks to the newest piece of the Bedford agricultural community: Bedford Blueberry Goat Farm. There's not a lot of farming going in town, but with great source of eggs (for when our hen's aren't laying) and now a dairy I think we're doing alright! Not that I plan on switching to goat milk—we're well-served by the cows over at Shaw Farm, sixteen and a half miles away by road—but as soon as I saw the cheese at Chip-In I knew I had to buy some. Never mind that it was expensive and not on the list: I want to vote with my dollars for Blueberry to keep making it and Chip-In to keep carrying it!
My honey wasn't super-local—it's from all the way out in Athol, wherever that is (we got it at the Lexington Farmers Market). But it could have been! Bedford also has a honey producer, Townsend Family Honey, whose product is also carried at Chip-In (and which has nearly zero web presence). Now all we need is somebody in town to start growing wheat for my bread and we'll be all set for the New Localization, or whatever we're calling the next step after globalization.
We've long been looking forward to the bounty of summer, food-wise; the garden makes big promises. Now it's here. The problem is, however, that to be enjoyed to the fullest the bounty must be consumed immediately. So a few weeks ago we were eating a great many snap peas and strawberries (not to mention the lettuce), and then it was the turn of the raspberries—and now we've entered cucumber season. So cucumbers for dinner three nights in a row, but at least I vary the presentation a little bit. Tonight it was couscous with cucumber and artichoke hearts and basil, plus some cucumbers with hummus; last night rice and bean salad with cucumber.
The latter was actually so delicious I want to record it here—not as a recipe I suppose, since I didn't bother to make a note of the proportions, but as a general idea. It was short-grain brown rice, black beans, cucumber, purslane, early onions, cilantro, lime juice, cumin, and salt.
As well as the cucumbers we're also getting as much basil as ever we could want, so pesto is involved in many dinners and most lunches. The only problem with pesto—and I could have sworn I had written this before but I can't find it in the archives, so you'll forgive me if this is an old complaint—is that, while the basil is cheap or free, the other ingredients are pretty pricy. Extra virgin olive oil? Parmesan? Pine nuts?! But now that I have a moderate handle on the recipe I can go heavier or lighter on those various things depending on how my wallet feels, and sometimes almonds or even walnuts will do just as well standing in for pignolias. Also, I confess that we buy the cheap grated parmesan in the jar—not the Kraft kind, true, but no parmagiano reggiano or whatever either. But that's alright: the rest of our ingredients are top notch, this time of year.
The Lexington Farmers Market opened today. It was a great scene, though I didn't buy too much: a lettuce, a tomato, and a jalapeno plant to replace one that I lost to varmints. The most interesting part was seeing how much things cost and being able to value my own efforts accordingly.
So far I think our radishes are a bust: we probably harvested not more than $2 worth. Salad greens aren't so bad: I'd say we've gotten $8-$10 value out of our sub-$1 investment in lettuce and arugula. But the real winners so far are the things that were free this year: rhubarb, asparagus, and strawberries. Say maybe $15 of rhubarb, $10 of asparagus (although I wasn't really counting—we just ate five spears each every other day for a couple weeks). The strawberries are bizarrely early, starting way back on the 18th, and we're getting maybe a pint a day now; but their value is incalculable at this point, since there weren't any at the market by the time I got there.
Of course, I shouldn't try and put a monetary value on the fruits of the earth, but I'm poor enough that I just can't help it. But I won't work too hard at quantifying. We talked briefly about weighing and recording our harvests like the hard-core urban homesteaders do, but we decided that would be a little stressful. Plus, how would we account for everything we eat right there in the garden!
One other exciting thing about the Lexington market is that they take our food stamp dollars, and, even better, double them! ("while funding is available"). Unfortunately we're out of government money for this month, but next week we'll be there for sure—maybe even checking out some delicious locally- and humanely-raised and therefore startlingly expensive meat! Ah, summer eating is good eating.
It's been a strange fall around here, what with the snow storm and then a few weeks of really warm weather, but things are starting to look genuinely seasonal around here just in time for Thanksgiving. Admittedly, on Sunday when the picture above was snapped Harvey and I were barefoot—but close enough. It's cooled down nicely now.
The special Thanksgiving farmers market in Lexington this afternoon was another nice sign of the season. We picked up some potatoes, onions, winter squashes, and beets—nowhere near enough to take us all the way through the winter, sure, but symbolic of the year's last harvest. After that I suppose it's the grocery store again. Some day we'll get the root cellar working. We also picked up a tomato, at Harvey's request. Who am I to deny the not-entirely-seasonal desires of my offspring (although I do draw the line at taking the seeds out of it for him when we eat it—where on earth did he get that idea?!).
We also started out Thanksgiving eating this evening, or Leah and I did: Harvey was asleep, worn out from the market, and Zion's dinner was limited to mashed bananas, neither Thanksgiving-related nor particularly seasonal. We have nearly a week of Thanksgiving feasting planned, which is very much in the spirit of 1621 and also in the spirit of my instinctive desire to fatten up for the cold weather. Yet another important sign of fall.