posts tagged with 'social distancing'
As I said the other day, we didn't let social distancing stop us from celebrating Zion's birthday!
We all made him presents; we were going to give them to him at breakfast, but we couldn't wait that long and gift-giving happened first thing. The bunny that Lijah (and Mama) made for him is the softest thing ever, and it was well appreciated.
Then the sun came up properly so we could have breakfast. The kids have the choice of whatever they want for their birthday breakfast, but they always pick pancakes. They're easy to put a candle in.
The birthday party—via Zoom—was right after lunch, which meant that we could share the moment of singing Happy Birthday and blowing out the candles, as pictured above (Harvey is showing the meeting participants the optimal view of the action from the iPad's better camera). The cake was just a yellow cake with buttercream frosting, but it came out great; I think I appreciated the lower pressure environment that came with just baking for my own family. I do that all the time! It does mean we had some leftovers, though.
After Zion finished his piece, the kids all played online for an hour and a half or so. They would have gone longer but I cut them off: even on birthdays there are still things to do! But that wasn't the end of our celebrations, because I made sure to make the most birthdayish dinner possible, all to Zion's specifications: hamburgers and hot dogs, potato chips, and lemonade. We were going to do smores for dessert but it started raining. Oh well, more cake was good too.
Happy Birthday Zion!
The pandemic has changed many things about our lives, and one thing that has pretty much dropped out has been playing Pokemon. With events cancelled there's no reason to practice, we quickly get bored of playing each other with the same decks (and building decks with physical cards is such a pain we never want to do it unless we have to), and it's hard to play online when we're spending so much time on screens for other reasons. But we still love the game, which is why we were so happy yesterday to be able to organize a prerelease tournament for us and some friends.
Prereleases are semi-competitive events that take place every three months to introduce a new set of cards—or they did, before everything was cancelled. We haven't missed a set since Harvey started playing, so I was glad to be able to pick up a few prerelease kits online. Then we set up some Zoom meetings and some cameras—lots of cameras, since to play over Zoom with full human interaction each player needs two: a face cam and a downward facing one to show the cards. I built some stands to hold the cameras.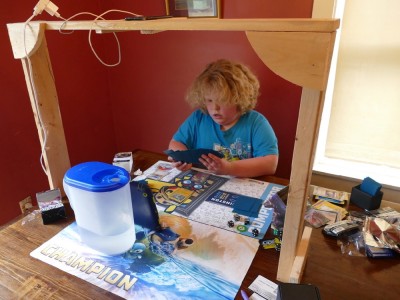 There were only two things to mar the fun of the day. The Archibalds didn't do so well—Harvey, Zion, and I only managed to win one game each (out of three). Oh well, more joy to father and son Bongiovanni who took home second and first place! And the recording of the event that we took through Zoom defaulted to speaker view, which means that the actual action of the games isn't ever visible in the recording. So sad. It would have been so fun to have that video record, which I was planning on cutting into a shorter video to share. I guess we'll just have to remember things in our minds like cave people. Well, our minds, and all these words I just wrote.
Here's hoping that the next time a new set drops we'll be able to play in a real card shop. But if not, I think we've got this virtual tournament thing pretty well figured out!
We've had some improvisational stay-at-home Patriots Days before, but nothing like yesterday! To be honest, it was hard to even remember that it was Patriots Day, what with the snow yesterday and the general lack of public signs of the festivities. Luckily, I happened to see somewhere that Lexington Public Television was broadcasting a replay of last year's early-morning reenactment, the one that starts at 5:30, plus lots of other content from Patriots Days past. We've actually never seen that particular reenactment, so we made plans to get up early to check it out. Many of us managed it.
Of course, there was some grumbling and some drama—just as if we were really there! Zion didn't wake up in time and was unhappy about that. He blamed me—fairly, I suppose, since when he told me that no, he didn't want to get out of his bed he actually wasn't really awake and I should have kept shaking him. And just like in real life it was very hard to make out what the announcer in the recording was saying, so even though we were in our (relatively) warm house, watching minutemen standing around for a quarter of an hour got a little old for the boys. They did enjoy it when things finally happened. Then immediately following we read Sam the Minuteman so Zion could hear a textual version of what he missed, and we could talk some about the context of the battle. Then the boys played minutemen and redcoats while I prepared our very own home-grown pancake breakfast. The complete Patriots Day experience!
Well, not entirely complete. Lexington TV had a full schedule of events that included a parade and a fife and drum muster, but by mid morning the stream was having all sorts of problems—we were getting just a couple frames per minute, which is not really enough to make out what's happening. But that was fine, because while it was lovely to have a little taste of the holiday, it's not really Patriots Day when you're stuck at home. And we did have some other things to do. Here's to better luck next year!
As I mentioned, we had a lovely Easter day Sunday. It was sad not getting to church, but it also meant the morning was a whole lot less stressful. The kids didn't need to get dressed up, and planning for dinner was much easier when I knew I could keep cooking during church! And of course, we also missed having friends over to join in the egg hunt and share dinner. But we're getting used to this social distancing thing, and the boys made the best of it.
To be honest, the part about missing church that bothered them the most was missing out on the spread of donuts and pastries we've come to expect. So since I had some extra time—and wanted to make the day extra special, despite all the restrictions—I made some myself. They came out good.
I got them done just in time to start up the computer for my online Kids Church program. Unlike us, a few of the kids did dress up and I was glad to give them a chance to show off their finery! I showed off my donuts. Harvey and Zion joined me for worship for the first time—we sang Matt Maher's "Christ Is Risen", and they gave it all their energy and volume to make our rendition way better than the original. More punk for sure. When that was done we tuned in to the adult service (as mentioned, as I listened I worked on the scalloped potatoes). The boys were done with church and played Minecraft.
When church finished up we headed outside for the egg hunt. We own a whole grocery bag of plastic eggs, and we put them all out; and knowing the capacity of my offspring I actually hid them all this time. So the hunters were occupied for a good while (and needed a few hints from their parents to stay focused towards the end). We didn't have much candy in the house, but Leah ordered a bunch of little collectible eraser animals and they were a big hit.
Then it was time for dinner. After some debate we ended up getting a big ham; it was on sale (the little ones weren't) and besides, we're supposed to be stocking up to reduce the number of trips to the store. The boys were suitably impressed when they came to the table.
We ate maybe a tenth of it; we froze two pounds of the leftovers, and what we kept out gave us four or five meals over the last three days. The donuts didn't last that long.
When we first entered this shelter-in-place season, Easter seemed far away—and it was the day we initially let ourselves we'd be able to see a return to normalcy. Now the end of the quarantine seems farther away than ever, and our social distancing life is starting to feel like a new normal. So it was good to have a beautiful, celebratory, socially distant Easter celebration to show us that things can still be fun and exciting.
This morning I had to head out into the world, to pick up more chicken food at the feed store and do a picture book swap with a friend who lives out that way (we can't wait til our books clear quarantine and we can see what we got!). I wanted to do it in the morning and then be home in time to start the Kids Coop Zoom call at 9:30, and of course I couldn't leave before we did our morning work. Poetry is important! It seemed pretty doable until I got in the car at twenty of nine and realized that traveling in physical space actually takes time. Really! I had kind of forgotten. One of the reasons we got so busy last week—we're dialing it down now—was that, when you're only scheduling virtual gatherings, you can really cram em in. Friends want to play Pokemon online at 10:45? No problem, my work meeting that starts at 10 should be wrapping up right about then! This morning at 9:00 I was just reaching the feed store and had many miles to go before I could get home again. In the event, I made it—with one minute to spare!—but it was sure funny to me how unaccustomed I am now to, you know, actually going places.
This morning Leah sewed up masks for all the family—or, as the boys like to call them, templates (the templates were a couple days ago, but the name has stuck). Only they're wondering how much chance they'll have to wear them, because they're not allowed in stores or anything anyway. I've been hinting that before too long they might need them every time they go outside past our fence. Because yes, they are getting out—even seeing friends from the neighborhood from an appropriate six-foot distance. How can you not, especially on days as beautiful as today? Today some of their time was spent sitting some distance apart on the street and chatting, but Harvey, Zion, and Jack also did some cycling.
That's my favorite, because it means they have to stay safely apart from each other and their hands are busy and likely away from their faces. There's not really anywhere to go, but they didn't let that stop them. Harvey and Jack went around the block seven times, which by my calculations is over five miles of riding. Not bad! Harvey tells me he spent much of the time working on riding with no hands. I'm proud of him, but I kind of hope he doesn't get comfortable enough with it to be able to, I don't know, pick his nose while riding. See, those masks may get some use yet.
It's been rainy the last couple days and we're coming up on the end of three solid weeks of relative isolation, and there have been few moments of testiness. Like yesterday, when Zion and Elijah were playing at trading imaginary Minecraft items. Lijah was trying to get some tridents from Zion, who kept raising the price beyond Lijah's offers of uncountable stacks of emeralds. Eventually Lijah got mad and started yelling, and Zion protested huffily that he was just trying to do a fair trade. I was pretty unhappy, and told them so—with Lijah for going into a violent rage instead of walking away, and with Zion for provoking him. "I don't know how we're going to get along as a household," I told him, "if you can't even be generous with imaginary things that don't even exist!" It's safe to say that we're all feeling some stress.
Of course, there are also many lovely moments. Prior to that unpleasant exchange—which happened right around dinner time—the boys had been playing super well together. Their game with their stuffed animals was so harmonious that I silently cancelled some scheduled home education stuff to let it continue, and then I lost track of time and failed to tell them to get on Zoom for their daily group read-aloud (they made it a couple minutes late, when Leah noticed the time and alerted us). So we'll survive. But we do need to keep working at it.
Just like last Friday, we had an overwhelming online day today. This time I hosted three meetings! Besides that I spent a while working on recording a video. Suffice it to say that I spent more time looking at my own face today than I have any other day of my entire life. And videos isn't all we're doing! When the quarantine started Leah and I thought we had all the time in the world, so we ordered a dumpster; it's going to be picked up Monday so we have to finish filling it before then. The dumpster situation is emblematic of how life is going: how can it possibly have been in our driveway for two weeks already?! (Strangely, while weeks are speeding by each day seems to last a very long time. I don't know how that works.) All that is to say, I thought that being stuck at home would mean I would have time for all sorts of things that I don't usually manage. And that's not happening. Or maybe it is, actually—it's just that the extra time is for Zoom meetings and making videos. Oh well.
We tend to do our fair share of socializing. Before the end of the world we had dinner with friends two evenings a week (not counting weekly dinner with my parents), took part in homeschool gatherings twice a week, and hosted Harvey's friend Jack every Thursday... and that's just the scheduled things! Last weekend it all lurched to a stop and we found ourselves with more private time at home than we've had in years. It was... kind of nice! But we did miss our friends, so we've been enjoying the gradual transition of all those meetings to the digital realm. Today we might have gone a bit overboard, though.
We kicked things off at 10:00 with homeschool Book Club party. We just finished reading The Rise and Fall of Mount Majestic—we heard the epilogue this morning—and while we couldn't stick to our pattern of making food from the book we were definitely able to dress up like characters from the book. Zion was King Lucas the Loftier and Lijah was Theodore, the potter. Harvey didn't dress up but he did memorize a 16-line poem from the last chapter (this morning!) which is probably more impressive. We also played a rousing game of Mount Majestic Jeopardy. We finished up at 11:30.
Then we were off until 2:00, when we joined the Jacksons' read-aloud to hear more of Adventures With Waffles. That lasted for an hour, then as soon as it finished up the boys had a date for a video call and pokemon battle with our closest Pokemon-card-playing friends. I had to cut them off at 4:00 before they were quite finished because I was hosting my very first Zoom meeting, for the parents in our homeschool coop. It was supposed to just be a half hour but went almost until 5:00 (happily, the bonus time in the oven made the squash that was going into the squash soup even better!).
As we finished up dinner I had just a few minutes to set up a second computer with Zoom so that the boys could join the Kids meeting of our church-related community group, as Leah and I hosted the Adult portion upstairs from the other machine. The adults had a civilized conversation for an hour and a half while the digital native young people discovered that you can draw on Zoom and had a great time doodling, as well as—apparently—playing hide and seek. Well, most of them had a great time: Lijah suffered a complete breakdown and says he never wants to use Zoom again. To be honest, I get where he's coming from. Maybe a screen-free day tomorrow?
Last night we started a new bedtime chapter book, Secret Water by Arthur Ransome. With plenty of time in our schedule we read some this morning, too: chapter two, which includes a discussion over a breakfast of porridge. I had planned waffles for our own breakfast, but once they heard the word the lure of porridge was too much for the kids to resist. So we did that instead. Then a little while later they listened to a Zoom read-aloud from our good friends at Team Moosiverse. After finishing Neil Gaiman's Fortunately, the Milk yesterday, today the hosts started Adventures With Waffles by Maria Parr. We read it ourselves a couple months ago—and pushed on everyone we know—but that doesn't mean they didn't want to hear it again. I don't think they actually got to the part where waffles come into the story, but it didn't matter: just hearing the title was enough for Lijah to need one for a snack. Who knew my children were so impressionable! It's a good thing we're not reading Charlie and the Chocolate Factory...