posts tagged with 'vacation'
Our Cape trip last week was mostly about playing in the waves. With Hurricane Larry somewhere in the mid-Atlantic we expected some heavy surf; in the event I don't think it made much of an impact, but there was plenty of wave action for everybody anyway.
As I mentioned our first stop on the trip was Coast Guard Beach in Eastham. We parked in the visitor center lot and the boys and I rode our favorite bike path in to the beach—and this time Elijah made it the whole way without needing to push up any hills! Leah doesn't bicycle these days so she walked, and very much enjoyed the rare opportunity to be out by herself without the dogs. We got to the beach at right about high tide, and the waves were big enough to be fun without being at all threatening. Best of all, they were pushing right up the beach without a lot of rolling chaos, so all the boys were able to body surf without a problem. As the tide went out it got a little more challenging, but no one was seriously injured and all would have been happy to stay even longer than we did. But dinner in Truro awaited!
The beach on the Bay side in Truro is usually pretty sedate, but on Wednesday a steady wind out of the southwest was pushing some pretty good swells against the sand at a 45 degree angle. Expecting calmer waters the boys had the inflatable boats with them, and we spent an exciting couple hours launching them into the surf, riding the swells, then being pummeled back to shore. So fun!
There were so many waves packed into those two days that we didn't even mind when Thursday was cool and rainy. We needed a break! Of course, even on the beach it's not all action: we know how to do a vacation right.
We're on vacation in Truro again. We made the most of our first day away from home, stopping at the beach in Eastham for an afternoon of play in the surf... and the best part of it is that, since the puppies stayed back home, Leah could join us! Of course, we're missing them, but we're also relishing the unaccustomed freedom and have high hopes for the rest of the vacation. Lots more beaching to come!
Basically what we did on vacation was go to the beach. As on past visits, we divided our swimming time between two beaches: one on the Bay side in Truro within easy walking distance of the house, and the other at the National Seashore in Eastham. Each had their appeal!
The Bay side beach is easy to get to: a seven-minute walk away or, new this year, a two-minute bike ride (though none of us dared to stair-ride the giant multiflight wooden staircase down to the sand). It tends to be calm, and pretty empty since the only people who can access it are the ones who have houses in the neighborhoods above the bluff. This year there was actually a little chop the first day we were there, which was fun. When it's calm it's great for swimming, and it's always great for walking in the morning or evening.
Our other favorite, Coast Guard Beach in Eastham, is far away. In fact, there are accessible ocean beaches much nearer to hand, especially in early June before the sticker parking restrictions kick in. But those beaches aren't accessed via the world's most fun bike path, the Nauset Path, that runs over the dunes for a little over a mile from the free parking at the visitors center to the beach. This year, on his geared bike, Lijah was able to ride the whole thing!
The main attraction of the beaches on the ocean side is the waves. This year they weren't particularly big, especially when we arrived a bit after 10:00, but that was alright: we had some intense experiences last year that may have soured one of us on even talking about waves for the past ten months. They were enough to be interesting to the boys! We were also not deterred by the cold water; I overheard someone saying that it was 57°F, but it felt at least 65° and Harvey and Zion at least spent two solid hours mostly submerged. Lijah and I had to take breaks, but we still had lots of fun.
The only bad part about the outing, in fact, was how hard it was to find ice cream afterwards! The first three places we visited were closed (that's not counting Ben & Jerry's, which was too expensive to contemplate). We were saved by PJ's Family Restaurant who had reasonably priced cones and awesome flavors (campfire s'mores!); everything we could want, in fact, except shade. So we ate in the cemetery across the street.
That was an outing. Lots of fun, but also tiring. So that evening we were glad to make another visit to the quieter beach. And then again the next morning, and...
We were only away for three days—two nights—so I have no excuse for ignoring the blog all last week. There's even proof that I'm even able to blog from the road! But vacationing is tiring, and it took me the rest of the week to recover from all that fun. Now we're trying to get back to normal, so here's the tale of what we got up to on our delightful escape.
We left early on Monday morning. Not as early as the boys wanted, but it wasn't so easy to get everything ready and packed as a single parent (Leah was already on the Cape for her conference; we were going to join her). It was especially stressful because I was worried how all the plants would do: the extreme heat that made a trip to the seaside look extra appealing was also a threat to my poor seedlings. But we got everything squared away in time to hit the road before 9, which I think is pretty respectable. And with lunches packed, we had plenty of time to stop along the way!
Our first side trip was just after the bridge over the canal. All the years we've been visiting the Cape we've gone over it—and noticed the bike paths running on each side—but never stopped for a visit. No more! On the spur of the moment I took the exit after the canal and then followed the signs to the Canal Visitor Center. Which, it turns out, was both closed and not contiguous to the bike path, but it did have a parking lot and a gravelly path along the last little bit of canal to a beach, which is probably even better. I didn't let the boys get too wet, since we had a ways to go yet and no way to easily access the dry clothes in the car, but we still managed to have a good bit of beachy fun exploring, skipping rocks, and collecting shells.
At the canal it was still too early for lunch, so we got back on the road aiming to hit the National Seashore visitor center at lunchtime. We pulled in a couple minutes before noon; when the boys objected I reminded them that it *would take a little time to get the lunches out of the car and find a spot to eat and all. After lunch we took a walk on the trails around the salt pond. There's a short guided path stuffed with informative signs telling us about some of the plants and the history of the area, but what I mostly noticed was the proliferation of invasive species that were battling it out for control of the area.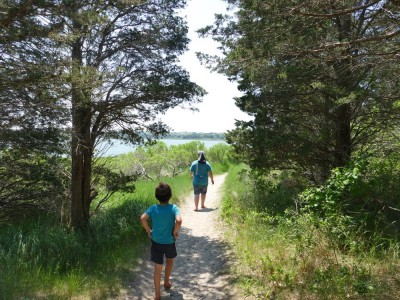 The walk was a little more than a mile, which felt too long for boys who were eager to get to Truro and the beach there. But they endured it, which I appreciated because I was really enjoying the chance to wander and explore. That's the best part of traveling! Well, one of the best parts. The snacks and the audiobook are also pretty nice, and the boys appreciated those unreservedly. There was also an unexpected treat: drinking fountains are open again! We really missed them last summer, and it was thrilling to be able to get a drink on the road again. And necessary in the 90°F heat!
That was just the drive there—after that we actually had a few days of vacation. But it was enough adventure enough for a post of its own. The rest will have to wait... maybe I can milk the trip to fill a whole week of blogging!
It turns out that going away is hard for me now! Like Sophie in Howl's Moving Castle I found myself coming up with all kinds of reasons why I shouldn't leave home, and despite the boys' excitement I maybe didn't hurry all that I could have this morning. Still, we got out at a very reasonable time, and after a couple delightful adventurous stops we arrived here in Truro a little after lunch, in plenty of time for a long and relaxed vacation afternoon. And while I didn't do everything I had hoped for at home, I did manage a lot of it. One glaring failure was forgetting to pick the strawberries: I kept putting it off as I ran around doing other things, then it slipped my mind before the end. It's disappointing, because they're doing really well and some of them will definitely go bad before we get home again. Is the time on the beach worth it? I'm not sure! As I say, leaving home is feeling hard! Two more days of the trip; we'll see how I do.
We spent four days on the Cape last week and, while we didn't do everything we hoped to, we certainly hit the high points! The main things we were looking forward to in a vacation was going to the beach and spending lots of time sitting around reading and playing games, and the weather cooperated perfectly, with two rainy afternoons for curling up and warm enough weather that we could swim any time we wanted to. Including once in the rain!
We left home right on time on Tuesday before lunch, and had a quick and easy drive all the way to Truro. On the way we listened to Diana Wynne Jones' The Year of the Griffin, our current vacation audiobook; it was little hard to remember what was happening since last time we heard the story, on the way home from camping more than a year ago, but we put it together somehow. When we arrived it wasn't long before everyone was in the water!
Well, almost everyone: it took the dogs a little while to get used to the idea of waves, even the little waves on the bay side beach that we could walk to from where we were staying at Leah's parents' house. They had it figured out by the end of the day when we took an evening walk on the beach, as pictured at the end of this post. It was hard for everyone to go to sleep in a new place, but eventually we managed it; one of the boys even fell asleep in the bed assigned to him!
The next day dawned cooler and overcast, and with rain forecast for the afternoon we scheduled some essential outdoor activities for the morning hours. The boys went to play tennis with Leah and Grandpa—he's an skilled player, and provided both slightly-larger kid model tennis balls and mostly patient expert instruction. I took a bike ride.
In the afternoon the rain seemed to be holding off, so everybody except me went out for a walk on the beach. Of course, it started raining mere moments after they left, but that didn't faze them. In fact, Harvey and Zion took the opportunity for a rainy day dip in the ocean, never mind that they were wearing their clothes. One advantage of this sort of vacation over camping is that laundry facilities are easily accessible! When they got back (and put their clothes in the dryer) we settled down to some card-playing and reading.
The next day was warmer but just as overcast, with the addition of fog and possible thunderstorms. Leah and I are limited in our ability to sit still in a place where we don't have chores to do, so soon after breakfast we packed the boys up for a hike. We went to Great Island in Welfleet, which, as the most promising hike within range of Truro, we've attempted before. The last two times we defeated—or at least kept from doing any "hiking"—by hot sun, gnats, and sandy trails that are just about like walking on a beach, so we figured a day where the fog was coming in ever-thicker would be perfect for another try.
We did get farther than we ever have, but once again detoured to the beach before we reached Great Island proper. It's just as well; not only do I learn that dogs aren't allowed on the island, the beach was empty and beautiful. The humans collected lots of rocks and shells, the dogs collected gross dead birds, and the boys and dogs enjoyed the water (one of those groups wished they had brought their swimsuits).
After we had enough (and conveniently just as other people started to fill in) we headed just down the road to Welfleet Harbor. Leah and the dogs took a rest in the car while the boys and I played on the playground, walked on the town beach, and ordered some take-out fried food for lunch, which we brought back to the house. We were disappointed of our thunderstorms, but it did start raining right on time just after noon, so we settled in for another round of games. "Code Names" was very engaging for everyone but Elijah.
We originally planned to stay through Saturday morning, but we missed our house and decided to leave Friday evening. Before we took off, though, the boys and I needed to do the most important adventure of the vacation: the bike ride to the ocean beach with the big waves! They did not disappoint.
After the beach we stopped for ice cream on the way back to the house. Now that's vacation! Grandpa very kindly prepared us a take-out order of hamburgers and hot dogs on the grill, so as we made our weary way home even our dinner on the road was still vacationy. It was all lovely. We'll be ready to do it again in a year or so.
We spent the most of the past week on vacation in Truro on Cape Cod. It was fun and exhausting in equal measure, which I think means it was a good vacation. We missed our Maine camping vacation this year, for the first time in like fifteen years—Maine didn't want us. That was sad, but Truro was a reasonable consolation. The only problem with it was it meant leaving the tomato plants. I don't know what it is, but our time away from home always seems to coincide with peak tomato season: we were away later, but the tomatoes were later too. I left five or six almost-ripe Pruden's Purple tomatoes on the vine, which made me pretty nervous; happily, nothing happened to them while we were away and a tomato sandwich on new bread was just the thing to make coming back home feel worthwhile. Yay for vacation... now bring on September!
The boys are just coming to terms with the idea that we won't be going camping in Maine this summer. Leah and I haven't missed a year in Acadia since we've got married, which of course means none of the kids have missed at least two nights camping in Bar Harbor every year of their lives. So that's kind of tough. As Zion has said more than once, "stupid Covid." But that isn't to say that everything is terrible. Sure, we're stuck at home. But with everything the way it is, home is actually feeling pretty vacationy!
At least for Leah and me, the thing that does the most to make every day feel like vacation is getting to eat outside at least two meals every day. Breakfast outside in Bedford isn't much less special that breakfast outside on the Cape, and our fire is just as good at suppertime as any we've ever had at a campsite. Sure, we're missing out on all the delightful attractions of those locations—but we have our own kitchen! (Young people: when you get old you come to appreciate kitchens at least as much as beaches.) And of course we have some serious flexibility in our work hours that's letting us take as many exciting outings at the pandemic allows. The dogs have walked in every woods inside a 30-mile radius, and we've done plenty of cycling and even some swimming. Only one boat trip so far this year, but we've got that leak patched up now so more of that will be coming. So while Covid is indeed stupid and we're really going to miss camping with our friends, things aren't entirely terrible around here. At least we'll always have smores.
We started off July with a trip to Grandma and Grandpa's beach house. It's a pretty sweet deal; this is the third season they've owned it, and we're starting to get used to visiting. It's nice to know what to expect on a vacation (check out the similarities between the picture above and this one from last year). Of course, we also try and work in some novelty. This trip we stopped for dinner on the way at Friendly's in Plymouth.
I promised the boys I'd take them to Friendly's when I got word that the last one around here would be closing; then we didn't make it before they actually did close. Happily they're still hanging on in a few locations, one of which was just moments out of our way off the highway. My turkey club supermelt and Reeces sundae tasted exactly the same as when I had the same meal the last time I ate at Friendly's, ten years ago. Consistency is a selling point. We reached the house just in time to walk down to the beach for the sunset.
We spent most of the next day on that same beach—splashing in the water, lazing in the shade of the umbrella, and paddling the inflatable. The sun was super hot, and I was a little nervous after getting a sunburn at the pond a couple days previous, so I didn't have quite as much fun as I might have otherwise. Just enough to get a little sunburn.
The next day Harvey and I started the morning by cycling into Welfleet to get some bread so we could make a picnic lunch. We tried to take an off-road path, but within a dozen feet of the entrance we were swarmed by masses of deer flies. The road it was. I enjoy the riding in Truro and Welfleet: the roads over the rolling dunes feel like downhill both ways. To me, at least. To Harvey the way home felt pretty uphill. He didn't die, though!
Picnic in hand, we loaded three bikes in the car and headed to the other side of the Cape to see some ocean waves. Coast Guard Beach is the best place for free beach parking; Harvey, Zion, and I could bike from the visitor center, and Mama and Lijah took the bus (which Lijah enjoyed for its own sake!). The waves were pretty small when we hit the beach at around 10:30, but as we swam and played they gradually ramped up. Never huge, but definitely big enough to play in!
One was so big it knocked Lijah over, so he retreated to the blanket, where he promptly fell asleep. Vacationing is hard work!
On the way back to the house we stopped for ice cream, then managed to stay awake to enjoy a lovely cookout and a peaceful evening drive home. We got in the door at around ten; I think I'm still tired from all that fun. I should have taken a nap too.
The recent holiday season was not our finest. All of us were sick off and on, with varying degrees of seriousness; for my part, I was pretty much knocked out with illness two separate times over the ten day span. And leading up to Christmas I did a bad job focusing on what Leah wanted, so my presents for her were not what she was hoping for. The boys had plenty to unwrap. Harvey made some sweet gifts for his brothers, including the stuffed blue triangle with eyes and a smiley face that Lijah desperately wanted (plus a house for it to live in!). I made Zion his bow and arrow. And there were lots of legos. We opened some here at home, then headed for my parents' house for the rest, and for the assembly phase.
There was also a fire to sit by and plenty of delicious food, starting with brunch and going continuously from there through supper. We sang some songs to work off the calories.
My brother and his family came up on the 27th, so on Friday we had a second Christmas celebration with them: more of the same, only even more relaxed. Thankfully there weren't too many more presents to open, since Harvey and Zion at least felt by the afternoon of the 25th that they'd gotten more than they ever wanted. It can be a little overwhelming. All they really wanted was to play with their cousin Nisia—and meet their baby cousin Esther! We did those things.
I had thought of having a New Years Day brunch, but then we got an invitation to spend the day with my cousins, who we barely ever see. So I figured we could do a New Years Eve brunch instead. There was plenty of food and plenty of board games.
When everyone got tired of our house we all moved on to the next event, a pot-luck supper at our friends' house. There was more food and more board games, plus Super Smash Bros for the kids. All was perfect except that I was too worried my fever would come back to be able to have a drink. Never mind, that meant I was sharp enough to completely dominate a game of Stone Age. The competition was all-consuming, so I was pretty surprised when we finished up and I noticed it was already 9:30. Yikes! More than late enough for us, so we went home and went to bed.
New Years Day the cousins cancelled on us, after hearing about the plagues we were suffering (Nisia came down with a fever New Years Eve). Since she already had all the food, my mom invited us to come anyways; since I had already made two quiches, I said sure. At least this time we took a walk. The kids had fun, even if they chose not to show it in pictures.
All in all we had a pretty good time, but we're also glad to see the tree come down and the schedule go back up on the chalkboard. All that eating and relaxing is hard work!