posts tagged with 'adventure'
It's cooled down now, but the end of last week through the weekend it was terrible hot. Monday too, so for our first day of summer school (camp? not-school? what do we call it when we celebrate the end of school but then keep meeting on the same schedule?) the kids came prepared to get wet. But how much fun could we have with just the hose? Quite a lot, it turns out.
It was a bit of a process to come up with that setup, and really the kids should get all the credit. I resisted the ladder on safety grounds, and I resisted the tarp because I thought it would be a pain to dry and put away after. But both worked fantastic, as long as we had at least one person holding up the ladder. Zion and Elijah even tried a few runs head-first, despite the kind of tough drop at the bottom of the slide. And nobody died!
As cool as that was, it wasn't even the best waterslide experience of the past couple days. As I hinted at yesterday, the boys and their friends—or, to be precise, Zion and his friend—discovered that the algae on the spillway at Estabrook Town Forest makes it very slippery indeed. At first they were just sliding down on their bare feet, but that was of course kind of risky: even though the water over the spillway was only a couple inches deep and the pool at the bottom not more than 18 it was inevitable that before too long they'd fall and get wet. So they made sure that wasn't an issue by just jumping right in!
(That also reduced the risk of head injuries from falling backwards, which I appreciated.)
The slide kept the kids entertained for well over half an hour, and they would have stayed even longer if we had let them. And it was hot enough that they didn't mind being wet for the rest of the walk and the car ride home. Who needs to pay big money to a waterpark to have all kinds of wet slidey fun?!
As well as all the other excitement last week we went on a couple outings close to home and discovered some fun surprises in areas I thought we new pretty well! The first one was last Wednesday, when we brought bikes to Walden Pond so we could ride and get hot before we went in the water. Instead of going on the road (the idea of which made the boys nervous) we took to the paths behind the parking lot, aiming for a spot where OpenStreetMaps suggested that there might—possibly!—be a tunnel under the highway linking up with the Hapgood Wright Town Forest in Concord . After a few wrong turns and some fun short hills, we reached the road... and there it was!
Thrilling as it was, the tunnel wasn't the only exciting part of the outing. We've explored Hapgood Wright lots of times on foot, but bikes always let you see trails differently. This time we noticed lots of amazing downhill runs that we definitely want to go back to do some more! Of course, downhills require uphills, and there were certainly some doozies. Even before we got back to the pond to swim we were glad of a midway rest stop.
(If you want to explore the tunnel yourself, just follow our track as shown here.)
Thursday's adventure was a post-strawberry trip to Lowell-Dracut-Tyngsboro State Forest, but that one didn't go as well. Elijah was tired out from the picking, and the other boys have bad memories of riding that woods from when, the last time we tried it, they were feeling a little sick. So their energy wasn't high to start with. The only new discovery we made there was that the paths on the ground are difficult to reconcile with the map—and not knowing where we were or where we were going didn't make Lijah feel any better about the outing! Even though the older two boys had recovered and were having fun, we cut the trip short after just a couple miles.
Then on Friday we were back in Concord for a hike with friends in Estabrook Town Forest. We know it well too, though I will say every time we walk up Punkatasset Hill (88m) I'm surprised at how steep that trail is! Being there with other people let us notice some things more—like stick houses—and some things less, because lots of the time we were deep in conversation. But by far the outstanding discovery of the trip was that they spillway where the pond drains into Sawmill Brook makes a fantastic natural waterslide... but that's a story for another post!
We were only away for three days—two nights—so I have no excuse for ignoring the blog all last week. There's even proof that I'm even able to blog from the road! But vacationing is tiring, and it took me the rest of the week to recover from all that fun. Now we're trying to get back to normal, so here's the tale of what we got up to on our delightful escape.
We left early on Monday morning. Not as early as the boys wanted, but it wasn't so easy to get everything ready and packed as a single parent (Leah was already on the Cape for her conference; we were going to join her). It was especially stressful because I was worried how all the plants would do: the extreme heat that made a trip to the seaside look extra appealing was also a threat to my poor seedlings. But we got everything squared away in time to hit the road before 9, which I think is pretty respectable. And with lunches packed, we had plenty of time to stop along the way!
Our first side trip was just after the bridge over the canal. All the years we've been visiting the Cape we've gone over it—and noticed the bike paths running on each side—but never stopped for a visit. No more! On the spur of the moment I took the exit after the canal and then followed the signs to the Canal Visitor Center. Which, it turns out, was both closed and not contiguous to the bike path, but it did have a parking lot and a gravelly path along the last little bit of canal to a beach, which is probably even better. I didn't let the boys get too wet, since we had a ways to go yet and no way to easily access the dry clothes in the car, but we still managed to have a good bit of beachy fun exploring, skipping rocks, and collecting shells.
At the canal it was still too early for lunch, so we got back on the road aiming to hit the National Seashore visitor center at lunchtime. We pulled in a couple minutes before noon; when the boys objected I reminded them that it *would take a little time to get the lunches out of the car and find a spot to eat and all. After lunch we took a walk on the trails around the salt pond. There's a short guided path stuffed with informative signs telling us about some of the plants and the history of the area, but what I mostly noticed was the proliferation of invasive species that were battling it out for control of the area.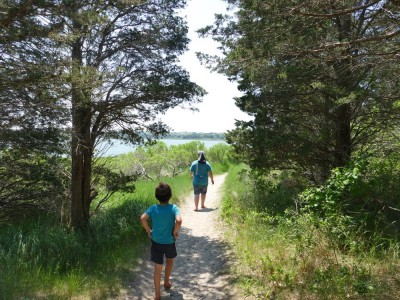 The walk was a little more than a mile, which felt too long for boys who were eager to get to Truro and the beach there. But they endured it, which I appreciated because I was really enjoying the chance to wander and explore. That's the best part of traveling! Well, one of the best parts. The snacks and the audiobook are also pretty nice, and the boys appreciated those unreservedly. There was also an unexpected treat: drinking fountains are open again! We really missed them last summer, and it was thrilling to be able to get a drink on the road again. And necessary in the 90°F heat!
That was just the drive there—after that we actually had a few days of vacation. But it was enough adventure enough for a post of its own. The rest will have to wait... maybe I can milk the trip to fill a whole week of blogging!
As I mentioned, last week we got to go on a couple hikes with friends. First up was the Fells in Stoneham. I admit that, when I heard the invitation, I wondered why we should be driving 25 minutes—on the highway!—to walk in the woods, when we have plenty of woods around here. But just a couple minutes into the hike I understood. They have rocks! (I guess that's why they call it Stoneham...) We all had a great time mountaineering on the various crags.
It was also lots of fun not to be in charge of operation. Andrew, a veteran of many Fells walks and runs, led us to all the best spots. The coolest was maybe this gorge, which at some point in the early 19th century had been dammed for mills, which as some point in the early 20th century were repurposed into decorative features. It was just like one of those decorative streams in a garden, but 20 times bigger!
The outing was also made even more exciting by the weather. I'd been out to walk the dogs before we left so I was able to tell the boys to prepare for wintery conditions—and "wintery" wasn't an exaggeration! It wasn't that much above freezing, and with the considerable wind felt well below. Of course the boys complained when they were working hard in sheltered spots and got warm, but we sure wanted those coats and mittens when we got up into the wind! There was even a little snow on the last leg of the expedition.
It was considerably milder, though still breezy, on Friday when we visited Greenough Land in Carlisle with different friends. Unfortunately not quite mild enough to want to go into the water—which otherwise was very inviting!
Our friends had been there before but hadn't explored exhaustively, so they let me push on to the next fun spot and the next until we were all the way around the sizeable pond (not what they had anticipated maybe). But there's so much to see! Besides the amazing old barn—amazing for it's suburban teenage graffiti as well as it's size, complexity, and slate roof—we enjoyed the pond at several spots. The best was the dam outlet where the pond drains down towards the Concord River. We've never been there in the spring before; there was some water running!
All in all, it was a lovely two days of expeditions with many miles walked. Good thing we got a weekend to recover!
We had plans yesterday to meet up with friends and go exploring on bikes, which seemed like just the thing with the forecast calling for sunny skies and temperatures touching the 70s. So we were surprised to wake up to cool drizzle (especially since I had left the car open!). The unexpected gloom and wet was too much for our friends, who preferred to stay cozy at home. But we get plenty of coziness and laziness, so we pushed on with the expedition—and we were glad we did!
Our target was the Estabrook Woods in Concord. We've been there before, but on foot we can only get so far so there was lots we hadn't been able to see. Of course, there's some question how much faster the four of us can move on bikes on a wet spring day over some serious hills! There were certainly some spots where Elijah at least was pushing his bike up a hill because it was too steep to make progress, and then back down the other side because it was too scary a descent. But we was working hard and trying his best, and he got some great practice in! And then of course there were spots where we all needed to walk our bikes. The four serious water crossings we had to do, for example.
Of course, it wasn't all riding and pushing: we took our time and made plenty of stops. There were big rocks to climb and vistas to admire, and we found a great spot to have lunch by the side of a giant shallow pond (pictured above). The most exciting part of our lunch spot was the goose drama that played out on the pond as we watched, with one pair harrying another all around on the water and in the air, with plenty of noise and dramatic take-offs and landings. But the best wildlife sighting belonged to Elijah: he was the only one to notice a tiny newt clinging to the side of a tree. When he called us all back to look the little guy very obligingly held still for a picture.
Even though we only went about four miles, it was a challenging ride and the boys were plenty tired when we made it back to the car. But we didn't see all of the woods, so we'll have to go back soon! Though maybe when it's a little less wet...
Ever since the ice started melting and the rivers rising, we've been wanting to get out on the water. And this year we've got navigable water closer to home than ever: this past fall the town had our local pond, Fawn Lake, dredged out, so now where there used to be mats of tangled water lilies there's beautiful open water. That's where we went today. We've spent lots of times at Fawn Lake over the years, and it was lovely to be able to finally see everything we know so well around the shore from the water!
Of course, while it's called a lake, it really isn't; maybe the grand name comes from its being the largest non-swamp body of water in town. So it only took us about four minutes to get from one side to the other. Never mind: we weren't there to get places, we were there to have fun! We visited the island that has always intrigued us by being just out of reach, even for a determined wader (though out of respect for the beavers who live in the two lodges on the island—lodges that take up more than half of it's total area—we didn't land). We climbed on the cliffs and played tag on the field. And we marooned Zion on a rock that was barely awash (he volunteered).
Best of all, the two bigger boys had a chance to take the boat our on their own. Harvey's done plenty of that sort of thing already—he knows he wants a boat of his own so he doesn't have to put up with the rest of us, and he's made sure to get lots of practice. But it was newer for Zion. He had a great time!
Of course, as much as I enjoyed being on the water, when we landed I couldn't help looking at some of the paths and rocks and wishing I had my bike there to try and ride them. Never mind—that's tomorrow's adventure!
At the end of last week we took three bike rides in three days, covering a total of more than 15 miles. Saturday saw us journeying up the bike path to Lexington, where we played on a skate park and a playground and a mountain and bought some Pokemon cards. On Friday two sevenths of our school population was absent, so after lunch we took off for an easy ride through the woods up to the center of town where we rode some stairs and ramps and then played at the playground (the kids took part in a fantastic tag game that deserves its own post). But it was our Thursday off-road adventure that was the most epic! Not for mileage—we went twice as far on the smooth pavement Saturday—but certainly for difficulty. And it's always thrilling to penetrate into the wilderness to reach the remote waters of Fairhaven Bay!
At the beginning of the week Thursday's forecast called for warm weather, so we gleefully scheduled our first mountain bike exploration trip of the year—and Elijah's first ever on his new bike. As the week passed, we only got more excited, and it was with lots of enthusiasm and supplies that we set off at mid morning (you have to time these trips for the optimal picnic lunch experience). We got off to a good start when, with his brand-new gears, Elijah was able to surmount the steep paved hill that leads from the parking lot to the trailhead. But then, when we reached the woods, we were dismayed to see that the trail was still a sheet of ice with snow stretching as far as the eye could see on either side. I'd like to say we pressed on undaunted, but a certain member of the party was very daunted indeed. (It's because he fell first that Zion had such a hard time; that, and the fact that Elijah didn't fall.)
But I refused to turn around and go home, and riding over the slightly slushy ice—and the kids actually did wonderfully well!—we soon came to a stretch of clear, dry trail. What a delight! Then more ice, but at least we knew that the ride wouldn't be all slow and terrifying. It was interesting: on the way in we were heading south, so all the uphills—north-facing slopes—were icy, but the downhills mostly clear. Of course on the way home it was the reverse. There was also some just plain snow, which was almost impossible to ride on even on the flat. Certainly Elijah also got lots of practice pushing his new bike too.
What that picture doesn't show is how warm it was. At the beginning of the ride it was actually a little chillier than we anticipated, under cloudy skies, but after lunch the sun came out in it was soon positively spring-like. Perfect weather for adventuring, and adventure we did: besides the riding we got to explore the marsh around the boathouse, play hide-and-seek and tag, and climb dangerously high in trees.
With the sunshine we hoped the snow would go quickly and ease our way home; when I said that, in the heat, it was melting "as we speak" Elijah made sure to do lots of talking to hurry it along. But there was still enough left to make the homeward leg (on a different path around Fairhaven Hill because of course we like to do loops) pretty tiring. Especially for Elijah. And when the road through the woods, hoped and dreamed of as an easy mile, proved to be muddy and slow he was almost undone. He actually revived a little bit when we got back on the snow and ice and did some really fantastic riding. But when took a spill into a puddle about a quarter mile from the car and got actually soaked, he was done, and it was with great difficulty that I persuaded him to get back on the bike at all. Then he abandoned it in the snow about 100 yards short of the parking lot, but that was find. I got it for him; he had done enough!
It was tiring for everyone: Strava says I put in 6.1 miles, which includes some running around and also the extra riding I had to do when I realized I'd left my water bottle behind at the lunch spot, so the boys must have done about 5. And they were hard miles! But despite all that, I think we might be game for another big ride soon. These kids are fine cyclists. And at least the snow should be gone by the end of the week!
As I mentioned, the boys and I ventured out yesterday afternoon for some backwoods sledding. We love sledding, but even after 16 years in Bedford I never located a favorite local sledding spot. The two places we know in Lexington are so good, to say nothing of our friends' hill in Chelmsford. But there's definitely something to be said about being able to hit the slopes without 40 minutes of driving, round trip. What if we were to exchange that driving for a little bit of walking in the woods?
That was my thought early this winter, when the first snowfall made me see a hill by the airport in a different light. Unlike most of Bedford's hills, which are forested, this one is kept clear by the airport folks because it's just in line with the runway. It's not super long, but it does have one steep drop and when I saw it with snow on it I figured right away that it would be worth a try. Of course, right after that the snow melted and we didn't get any more for all of January. But it's back now!
Just like the day before, we were faced with deep snow on unbroken trail. Even worse for morale, someone else had started in from where we parked and then given up after 25 yards and turned back. But we're made of sterner stuff, and even with the deep snow even Elijah marched on strongly into the woods.
It was maybe longer than we remembered getting up to the hill—last time having been under somewhat easier conditions—but moving as slow as we were let us notice opportunities along the way for some warm-up runs. It's not often we get to try glade sledding!
Despite the beautiful spot the snow was actually pretty disappointing, being both deep and sticky, and there was a little grumbling and unhappiness among the party. But we pushed on, and eventually came to the open space atop the hill, where we traversed across like explorers crossing High Greenland. And when we reached the steep part I'd been looking forward to trying since December our long journey felt well worth it! After just a couple runs we had a smooth trail laid down, and could take our fill of thrilling, if short, plunges down the steep side of the hill. And it was fine that they were short, because otherwise getting back up the hill would have been too much work!
Besides the sledding, there were also snowcovered rocks to climb up and jump off of, and planes to watch, and we spent a happy hour enjoying all those things. Then suddenly we were done—wet, and cold, and tired—and we were glad it was mostly downhill on the way home. That made pulling Elijah on the sled almost easy! We're looking forward to going back for more soon, and especially to knowing that next time will be even better: I expect never to see snow this sticky ever again.
Yesterday afternoon I took the dogs out for a walk in my favorite woods. It was maybe a little ambitious, given that it had snowed 18 inches the day before, but I figured—to the extent that I thought about it at all—somebody probably would have broken a trail in the more than 24 hours since the snow had stopped. That was not the case. Climbing over the pile left by the plow to get into the woods I sank up to my waist, which set the tone for the next hour.
It was strange snow we got in this storm. It has some fluff to it—it must have to accumulate so high just overnight!—but it's also super wet. The shoveling was easy where the snow was undisturbed, but where it had been stepped on or even brushed off somewhere else and fallen in a pile it was practically solid. And walking on it on the trail was kind of like I imagine it would feel to wade through not-quite-set concrete.
As I made my slow and laborious way, it occurred to me that one feature I like about the woods by the airport is the length of the loops. So the shortest one we could take would still be longer than I would have really liked. But of course I would never dream of turning back. It's loop or nothing! So on we trudged (or I trudged; the dogs bounded). At least it was very pretty!
(That's from one brief section of trail broken by a skier... the only place I had the energy to take out my phone for a picture.)
In trying to stick to the shortest way around I ventured onto a trail that I don't often take, and after a little ways found that it had disappeared. With the snow bending all the trees over everything looked so different! There was no going back, though, so since I knew the direction of the main trail we just pushed ahead between the trees. I could play up the drama, but really the woods aren't that big and I knew I'd come to a landmark I recognized before long; sure enough, after only five minutes or so of bushwhacking we were back on a recognizable trail—unbroken trail, of course, but at least I knew exactly where I was.
Only where I was was a section of the trail that's been ruined by 4-wheelers and is nothing but a series of muddy holes that in the spring resembles nothing so much as a World War I battlefield. It was warm enough that I had a moment of concern for the ice over all those holes (some of which held up to 18 inches of water less than a month ago...), but I was so tired I couldn't do anything but push ahead on the shortest path. The dogs shared my concern, or maybe they were just tired of breaking trail, because they waited for me to go first.
I did fall in once or twice, but it hardly mattered since I was so wet already from the snow and from sweat. And at the end of the treacherous holes I came across a section of trail that had been broken by someone on snowshoes, and soon after that passed two actual other humans. Civilization was near! In another few minutes we were back at the car, where we all collapsed. I had to catch my breath for a bit before I felt safe to drive.
It was exercise the likes of which I hadn't got for a long time, and today my body didn't let me forget it: my calves especially are absolutely killing me. Of course it didn't help that I went back to the same woods this afternoon with the boys to explore some new sledding hills... but that's a story for another day.
We've done lots of hiking this year—or walking in the woods, at least—but we haven't gone up any mountains. We usually save mountain climbing for our annual Maine vacation, but of course that didn't happen this summer. And anyways those are kind of mini-mountains: some fun and challenging climbs and impressive views, but not too much actual altitude (of course, when you're starting from sea level it all counts, but still). So when I heard from a neighbor that his fourth- and first-graders were climbing local mountains this fall I thought right away that it was something we might try too. Last week we started with the littlest closest one, Mount Wachusett.
Not having done anything like this before, I spent hours pouring over maps and guidebooks—or the online version, at least. I love OpenStreetMaps, but it doesn't have any context for the trails it shows, and it's terrible at locating parking. So I also used the official Massachusetts State Parks page, plus some guidance from other websites with details about particular trails. Nobody writes that kind of thing about places like the October Farm Riverfront (they should! I should!) but it turns out that lots of people like talking about climbing mountains. It made me much more confident in setting out last Thursday morning bright and early for the hour-long trip to the base of the mighty peak.
We got a new audiobook for the drive—The House of Many Ways, by Diana Wynne Jones—so the trip went quickly. When we reached it we marveled at the ski slopes as we drove by, then stopped briefly at the visitor center to pick up a trail map in case I didn't have cell service for at any point on the trip. It would have been less brief but the visitor center was closed—even the portapotties!—so we piled back in the car for the two minute drive to the parking lot at the trailhead where we wanted to go up.
My thought was to go up the steepest trail on the mountain, because Lijah likes mountain climbing quite a bit more than hiking, at least when he's primed with the expectation of being on an actual mountain. But I wanted to do a loop down (especially since that steepest way is only half a mile to the top!), and I didn't want to get up to the top right away and then have a long walk to finish off. So even through there's a lot at the bottom of the steep trail, we parked about a mile away and started off with a walk on a trail parallel to the road. Judging by the map I had thought it would be pretty flat, but it actually went up a fair grade, in addition to being made of boulders for much of the route. It felt delightfully mountainy! After that, though, the turn onto the steep path up was something of a disappointment when we saw that it was all stairs. At least for the second half the woods thinned out a bit and we could chose to walk on the bare rocks beside the stairs—which of course we did.
There was some disappointment at the summit too: even though I'd told them what to expect, the boys were a little dismayed to see the parking lot and the observation tower and all the people—yes, even on a weekday morning the top of Wachusett was a little crowded. But when we started to pay attention to the views I finally got the kids to understand that they were actually up higher than they had ever been before in their lives. That was cool in its own right, and it also meant that we could see pretty far (even though it was frustratingly hazy for October). There were four signs around the observation deck with labeled pictures of the landmarks you could see in each direction; spotting the tall buildings way off in Boston was pretty cool, but the massing mountains of Vermont were the most exciting. We could see Vermont! A magical place that they'd barely ever thought about before! Then we found a quiet spot to have lunch. Quiet in that is was out of the way of people, that is; the wind was plenty loud! Oh yeah, I forgot to say that whatever other ways it was lacking as a mountaintop Wachusett certainly provided an appropriate amount of summit wind.
The way down was longer than the way up, and more interesting. If I were to do the mountain again—which frankly I can't imagine doing, unless friends want to go with us—I'd definitely go up that way and down yet another way. We passed through different types of woods and one small meadow orchard, and took a little detour to visit the grandly named Echo Lake (pretty, but smaller than most ponds we know). Then it was an easy walk back to the car. The whole thing was far from the longest hike we've ever done, even outside of camping, and when after looking at the clearing haze I jokingly suggested going back up to take another look at the distant hills Harvey was ready to go for it. Really, we all could have made it back to the summit pretty easily a second time. But we did have obligations for later in the afternoon, and the audiobook was calling, so we were all happy enough to head for home... thinking about the next mountain we might climb. "How much higher is Mount Washington?" Harvey wanted to know.