posts tagged with 'hiking'
Yesterday and today there's a high heat warning out. The Bedford Citizen tells us that the heat index will be 104° and warns that we should stay inside, in air conditioning. Well, we don't have air conditioning, so instead yesterday afternoon we went for a hike. It was very hot.
But amazingly enough, we survived! And we even had fun... a certain kind of fun, anyway. We found some places to put our feet in the water, and the dogs went swimming. The boys played in the root cellar cave we passed along the way. We got plenty of time to talk to each other as we moved along. And when we got home, our house felt pretty cool in comparison! I think sometimes our culture tries to define "hard" as the opposite of "fun"—or maybe the other way around. But that's silly: just about everything that's fun is actually hard too. Certainly exercise is always challenging. I'm not much of a gamer, but I understand that video games involve a fair amount of grinding. Sitting on the couch watching TV? Maybe that's not hard. But that's not an option for us, so I guess we have to hike!
I've been feeling pretty lonely lately. My family is wonderful and I'm super grateful to get to spend so much time with them, but they've got their own stuff going on and and it's not fair to ask them to fulfill all my emotional needs. So while I admit it does make me a little nervous, I'm happy that we're starting to be able to get out and do things with other people. Yesterday we took a hike with some homeschool co-op friends who we'd missed so much over the past three months, and it was delightful!
We walked in the Nashoba Brook Conservation Area; we'd never been there before but will definitely be going back. The river itself is the best part, with bridges and rocky pools and marshy segments making the walk along it endlessly interesting. But it had some competition in a man-made cave. I would have guessed it was a root cellar, except it was a little more complicated than you would really need for that; I understand that it has a mysterious reputation in local lore. In any case we had fun exploring it.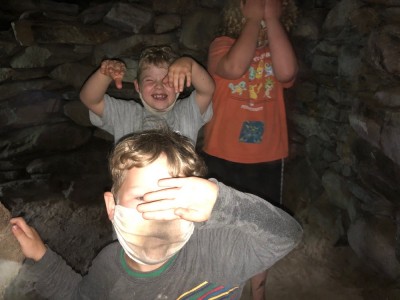 The whole family came along—a pandemic bonus! Leah enjoyed talking with Kelley, but not as much as Scout and Blue liked playing with our friends' dog. We walked two miles; the three dogs must have covered five or six.
The kids got plenty of exercise too: when he has friends to run with, even Lijah can cover some distance without complaining! And I exercised my socialization muscles. A great morning all around.
We learned this evening that the equinox was actually a couple days ago; never mind, we celebrated it today. The 19th was rainy, anyway! Today was beautiful, if chilly, and a Saturday without much in the way of obligations gave us lots of time to welcome the summer half of the year in the proper fashion: by getting outside!
To make the day extra special we took a trip in the car—the first in eight days!—to Concord's Estabrook Woods, which we last visited just under a year ago. It was a great choice—despite a startling number of cars at the trailhead the woods are big enough that we barely saw anyone, and we spent two and a half lovely hours exploring a very steep hill, vernal pools and a real pond, a couple of streams—one with a spillway waterfall. The best part was the sunny spot we found by the pond for our picnic lunch. We haven't been feeling particularly cabin-fevery, but still it is nice to get out a bit.
There was lots of playing outside in the afternoon, then towards evening we built a fire. After it had done its part cooking our supper it transitioned into a (very small) bonfire to greet the spring and roast us some marshmallows. We burned the wreath that adorned the front of our house for three months; more because we needed kindling than for ceremonial purposes, but it still seemed nicely symbolic.
Of course, the coming of astronomical summer doesn't mean the weather automatically turns lovely. There's cold rain in the forecast for much of the coming week—and you know we're not getting out of the house to any indoor activities. So it's a good thing we got as much outsiding as we did today!
Wednesdays are usually home days for us, but we can never say no to a walk in the woods, so when the invitation came yesterday we headed off to Carlisle for a hike with members of the Greater Lowell Homeschoolers facebook group (including a significant overlap with our own co-op). That we'd never been to the Towle Land town forest made it even more enticing! Because we're getting good at this we were the first ones there, but it wasn't long before everyone gathered—a pretty good group, with six or seven adults and uncountable numbers of kids. It was good there wasn't much of a wait, because it was hard to hold the kids back from the trail.
Towle Land is a lovely woods: there are plenty of ups and downs on the trail, but nothing too steep, a generously-flowing stream, and plenty of vernal pool hollows still filled with water and ice this strange wet winter. Plus some awesome rocks to climb on!
With all the fun terrain we didn't just hike on through. In fact, I don't think we ever went farther than a couple hundred yards before we stopped to play on something or other. That's the way to make a mile-long hike take two hours! Two hours for us, at least; the group had varied levels of woods experience, so other people were done sooner. Especially the ones who didn't bring any food (you know we never make that mistake!). Also the ones who fell in puddles playing on the ice.
I enjoyed interacting with the (slightly) wider homeschool community, and meeting some new people. The boys were fine with it, but they were happiest when everyone else had headed home and they were free to play with their good friends from co-op. They can never get enough time with them. "Why can't they come over to our house after?!" is the constant refrain. Because everybody has lives to live! But don't worry: we've got full days of co-op fun with them today and tomorrow. Living the homeschooling dream!
There are lots of places near us that are best explored in cold weather. Or only explored! One of our favorites is the abandoned cranberry bogs just around the corner from our house. The terrain back there is so swampy that even though I've gone back there lots of times I don't have a clear idea of how it all links up, so there are still surprises, and last week we discovered a quick way from our usual path into the bogs. Only the ice was terrible so we didn't risk it very far. After two or three real cold days, yesterday we were ready for another shot!
The ice was still a little nerve-racking, especially the stretches where the snow had melted into slush and then sort of refrozen atop the ice, leaving a strange textured surface where you'd be sliding for three steps and then suddenly sink ankle-deep. While we held onto the intellectual belief that there was strong ice under the weird snow, it was still startling to have the surface give way beneath our feet. But out in the middle of the bogs, the strong sun made the ice smooth and slippery and perfect for all sorts of fun.
Today we ventured out on a homeschool co-op hike. Despite some early interest it ended up just being us and the hosts, but that was ok: they were excited to show off their woods and the little group—just five kids and two adults—felt easy and relaxed. And their woods were worth showing off! There was little ice rink, where neighbors had dammed a stream to make a spot where you can skate around paths through the trees, with Christmas lights hung between them (I want to go back at night... it must look so magical!). There was a playground with fun climbing features made out of logs and tires. And there were big hills in between the marshy spots.
But the highlight of the outing was our last stop, on the shore of the Sudbury River. The river was frozen all the way across—and while we didn't venture out of the little cove where the path left us, there was plenty of good ice to play on. Because the river had been higher when it first froze by the bank there was even a pretty good slope of ice that the kids had fun penguin-sliding down, and when they got tired of that we played soccer with chunks of ice for way longer than I would have expected the kids to last (Lijah's breakdown came only after I said it was time to go home). And I managed to slide a piece of ice all the way across to the opposite bank.
And we still haven't fallen through once in the last two years!
It's been strangely warm around here lately. Very pleasant considered out of context, but hard for me to enjoy because of my existential dread around our changing climate. Also, I like cold and snow! And ice too. So before it warmed up last weekend we took a hike somewhere where I knew we could find ice to play on, and so we did.
Not all the ponds were frozen: even before it got warm it wasn't super cold. But the Old Reservoir in Bedford has just tiny inflow and outflow, and it's completely sheltered by hills and trees, so it freezes beautifully. Plus it's in the middle of a delightfully varied and hilly town forest, so getting to the pond is almost as much fun as playing on it. The boys were minutemen, and shot me about 800 times on the hike in (then I snuck around behind their last ambush and gave it to em good!). But when we got to the ice, martial valor was forgotten. We played some stick hockey, we drew in the thin layer of snow, and of course we slid. I prefer my feet for the sliding, but some of us can commit even more fully.
Because we expected that the ice would be going soon we made the most of it, and walked the whole length of the pond. That should hold our winter exploration longing for a little while... but I sure do hope it gets cold again soon!
The last week in July we took our annual Bar Harbor camping vacation. It went well. We climbed some mountains.
We headed out on a Saturday morning—a little later than we have in years past because Leah had a meeting to go to before we left. That was fine, since it meant we had plenty of time for the best packing job ever; but we did have to deal with a little bit of traffic before we even left Massachusetts. Strangely, then it wasn't so bad through New Hampshire and southern Maine. With big kids in the car and an audiobook running we didn't need to stop hardly at all: just once at a rest stop for a bathroom break and then at our favorite beach in Lincolnville, which we reached at around four. It wasn't too hot out that far north, and though the kids put on swimsuits they didn't jump right in the water this year.
We were almost the last ones to reach the campsite, but that didn't matter since we're pros at getting set up and also we weren't cooking dinner. As always, the boys were delighted to be camping with their friends and jumped right in to enjoying the outdoor lifestyle. Did they go to the pool before dinner? I can't remember. They certainly may have!
The next morning we were up bright and early to play Pokemon—Harvey needed to get some testing in for Worlds!—and start a fire for breakfast. I made bacon and eggs. When everyone was fed and lunches had been made we headed into town, from whence we planned to catch the bus to the hiking. One small hitch in the plan: the Town of Bar Harbor really stepped up parking enforcement since last summer, putting up meters on all the main roads and "no parking" signs on the side streets where we used to park all day. We found a broken meter where we could safely leave the car, but it was a little while before our friends got theirs stowed away. Never mind, the bus is a joy and well worth the wait.
Our goal for the day was Dorr Mountain. As soon as we hit the trail Lijah, who had been doing a good bit of climbing prep, expressed his disappointment that the hiking was "just walking". And this on a trail that was going up at at least a 30° angle! Luckily I had picked the most interesting path available, so pretty soon there was plenty to distract his easily-tired feet.
While I moved along slowly to encourage him, Leah was racing ahead with the big kids. It was hard work! When they saw a signpost on a rocky ledge they figured it was summit-like enough to stop at for lunch, and when we caught up—at least 15 minutes later!—we agreed, even though we soon learned the summit was actually a little ways away.
With the benefit of rest and food, we made it there not too long afterwards and posed for the usual celebratory photos.
The way down was at least as challenging as the ascent, if not more so. It was pretty steep with plenty of rolly stones that made every step an adventure. Everybody was tired when we reached the bottom (and some were pretty grumpy!).
Luckily it wasn't far to the icy cold spring-fed pool at Sieur de Monts, just the thing to sooth tired feet; then it wasn't much wait til we got on the bus; then there was the pool to swim in and the dinner I cooked on the fire with chicken, mac & cheese, and—I was so excited to do this—hand cut french fries.
And then after supper, the kids got to take in a magic show. It happens every week at the campground, and it's been happening every week for years, so we could have watched it before... but we were never interested. It took Andrew having a 5-year-old to galvanize anyone to go. I think he regretted it, but the kids had a fun time. Katie came in towards the end, just in time to get volunteered to be sawed in half with a power saw.
And that was only just the beginning of the vacation!
On Friday we had big plans to go swimming at Walden Pond with lots of friends. Even when the day dawned gray and chilly with rain threatening we weren't deterred. However, we were absolutely deterred when we reached the pond and found it closed. With five kids in the car and another three planning to meet us in a couple minutes, we had to find something else fun to do! Luckily Concord's Hapgood-Wright town forest, featuring Fairyland Pond, was just down the hill. So we went there instead.
Not, actually, to swim. Besides the cold weather and cold water, it was also pretty muddy and weedy. It would have been enough to walk around and explore, but as it happened there was even more fun to be had: the woods was the site of an "Art Ramble" organized by the Concord Umbrella Community Arts Center.
I love art, and I love it even more when it's integrated into the natural environment (like at the wonderful Old Frog Pond Orchard sculpture walk). And when you can play with it! Here are the kids climbing on a giant hand, and obeying my instructions for the picture: "give me the finger!".
We spent the most time at the Clootie Tree, a metal tree-like sculpture where the artist invited people to hang strips of cloth on which they had written their hopes and wishes. It was just about filled up already, though the younger kids found some space to add their own cloths. I enjoyed reading some of the wishes already up there. My least favorite was the guy who wished for a job where he could make "boatloads" of money doing something people would respect him for, and my most favorite was, "I wish I had a different snack." I guess I like realistic wishes. Lijah's was not realistic: he wished that he was the bunny from Sing.
Besides the art, we also did some fun hiking. The woods is small but very hilly, so even though we didn't go far we got to feel like we were climbing mountains. And some of the kids felt like we had gone far enough that we were lost, which is always exciting. Also there was deep mud to play in. And of course, at the end of the walk, the kids who hadn't changed out of their swimsuits after the disappointment of Walden went in the pond. All in all, I think we were quite satisfied with the alternate activity.
We're diving into planning for our annual camping vacation, which, as in years past, has led me to remember that I never finished writing about last year's trip. In fact, I thought I hadn't even started, but in looking back I found that I did describe the first day. Since we've got to get it out of the way before we have more stories to tell, here's the next chapter in the account.
We woke up to a cool misty morning, so I was very happy to get a fire going to warm things up and start piling up the food. Eggs, bacon, and bagels were fine; leftover roasted red peppers from the previous night's pizza made things extra special.
There was lots of excitement for hiking among members of the party both young and old, and it translated directly into productive energy for the 4-year-olds, who hit the steep and bouldery bottom section of the trail up Pemetic like there was candy waiting for them at the top. 4-year-olds can hike considerably better than 3-year-olds—like, way more than 25% better!
The Pemetic SW trail is super interesting, and delightful when you're going up. There's lots of fun scrambling, and the kids' favorite part is one section where the path divides and you can choose to come up through a gorge, or on a more open, dryer path above. The big kids picked the former, naturally!
Maybe there wasn't candy at the top, but besides the beautiful views the boys—and all of us—were rewarded at the top with a delicious lunch. I suppose it wasn't quite rewarding enough for Lijah though, because he couldn't manage any enthusiasm for the summit photo.
The way down the south ridge of the mountain is totally different that the trail up the northwest side. Going down the granite rocks we could walk with almost a normal gate, as we took in the views of the islands off of Northwest Harbor. I would not recommend doing this hike the other direction.
We didn't have the quickest start in the morning, so by the time we finished up the hike we were ready to head back to the campsite. It was my turn to cook, and I cooked tortillas over the fire, which if I do say so myself was pretty amazing. I had the dry ingredients all mixed up ahead of time, which was great... but once I set everything up I realized I hadn't brought a rolling pin! Never mind; a few minutes work with a saw and my pocket knife gave me a perfectly good home-made roller. It worked so well I even brought it home when we packed up! Only I was too busy whittling and cooking to take a picture, sorry.
Naturally, the kids spent the late afternoon in the pool. Like you do! More uniquely, we also found time to play some Pokemon.
Then it was early to bed for the Archibalds, without even a peek at the stars. Camping vacations are hard work!
Even though we live in the suburbs, there are lots of wild places around to explore (wild enough for us, at least, despite the ubiquitousness of road noise and old stone walls), and the last two days we visited two new-to-us woods. Yesterday we went out to Concord to visit the south end of the Estabrook Forest, which I learned about at the coop meeting on Monday. We climbed Punkatasset Hill, which may be only 290 feet high but is steep enough to be exciting—especially when Zion and I took, oh, a 20-foot sliding fall down a portion of trail called the "ski hill". On the other side of the hill we found brooks, marshes, a deep pond, and a lovely meadow where we had lunch and played in the grass. The woods are much bigger, and paths reach all the way up across into Carlisle to reach Rt 225; I want to go back later and explore much further!
This morning we met up with some of our coop partners for a presentation at the Assabet River National Wildlife Refuge. I enjoyed hearing the ranger talk to the group about signs of spring in the woods, and specifically vernal pools; Harvey and Zion report that they didn't, but both of them raised their hands to offer answers or comments several times so it couldn't have been too horrible (Lijah just called out without raising his hand, especially after he got a big laugh from the crowd for his first comment). Following the lesson we were directed outside to look at a real vernal pool. Amusingly, the ranger had us drive the half mile—if that!—to the pool, which he told us was too far to walk. It's not entirely spring yet so the pool life wasn't in full swing, but we were able to net a few macro-invertebrates (a new term I learned!) and watch them swim around in tubs. The adults were interested at least.
All that took just an hour and a half, so when everyone else left we took to the trails to get some walking in. Unfortunately I hadn't prepared by reading that Wikipedia page I linked above, so I didn't know what the reserve had to offer and the trail we picked at random was pretty dull. By the time we realized where the pond was we were about done—tired out from all the direct instruction—so we didn't even get to check it out up close. If only we had headed straight there—and if only I had realized there were WWII bunkers hidden in the woods!—we may have had a longer and more adventurous visit. Oh well, next time.