posts tagged with 'hiking'
This week we visited two new-to-us forest areas (so far!). On Wednesday we went to Wilderness Park Conservation Area for a quick walk; it's right here in Bedford, adjacent to Fawn Lake, but somehow we've never been there before. It's a nice little woods, with lots of interesting glacial rocks and a good-sized stream, Fawn Brook (well, it would be good-sized in a regular year; this month it's dry like everything else). We walked a loop counterclockwise, which was a good call because the first third of the walk was closed in with marshy brush and not particularly interesting—until we came on a wasp nest right in the path and Harvey and the dogs got stung. We detoured around it and in a little while reached some more fun, varied trails over on the other side.
Then yesterday we traveled to Lincoln with the intention of exploring the Adams Woods Conservation Land. At the suggestion of the Lincoln Conservation website we parked at the Mount Misery parking lot on Route 117, which meant of course that we had to climb it before we left that bit of land! It was appropriately steep, at least the way we chose to ascend, and there was a delightful shelter of sticks on the summit.
Besides the Mount, the woods there also had their own delightful streams (dry) and bridges, along with a few ponds and some steep ridges (all apparently part of the glacier-created kettle landscape, which we learned some about this morning). Half of the woods was remarkably open, with nothing but white pines every 20 feet or so but with canopies big enough to touch and leave the pine needly forest floor in shadow. It made us want to build some bike trails in there.
Like I said, my hope was to walk through the Mount Misery area to access Adams Woods, but that turns out to have been overly ambitious. It's actually kind of a trek. Even worse, the dogs had to be leashed for lots of the way, and that's no fun for anyone. So we turned back short of the goal. That was ok, because on the way back we went a different way that passed by the biggest kettle hole, and we also had time for a short detour to the Sudbury River. Three of us were too tired to engage much with it, but the dogs are always game for a swim; their example encouraged Zion to take off enough clothes to really get in and enjoy the water.
Then on the short walk back to the car we talked about what, besides towels, would be useful to include in an emergency pack that we could bring everywhere with us. It was an exciting enough discussion that we're all ready to tackle another new woods soon... with better supplies!
We spent four days on the Cape last week and, while we didn't do everything we hoped to, we certainly hit the high points! The main things we were looking forward to in a vacation was going to the beach and spending lots of time sitting around reading and playing games, and the weather cooperated perfectly, with two rainy afternoons for curling up and warm enough weather that we could swim any time we wanted to. Including once in the rain!
We left home right on time on Tuesday before lunch, and had a quick and easy drive all the way to Truro. On the way we listened to Diana Wynne Jones' The Year of the Griffin, our current vacation audiobook; it was little hard to remember what was happening since last time we heard the story, on the way home from camping more than a year ago, but we put it together somehow. When we arrived it wasn't long before everyone was in the water!
Well, almost everyone: it took the dogs a little while to get used to the idea of waves, even the little waves on the bay side beach that we could walk to from where we were staying at Leah's parents' house. They had it figured out by the end of the day when we took an evening walk on the beach, as pictured at the end of this post. It was hard for everyone to go to sleep in a new place, but eventually we managed it; one of the boys even fell asleep in the bed assigned to him!
The next day dawned cooler and overcast, and with rain forecast for the afternoon we scheduled some essential outdoor activities for the morning hours. The boys went to play tennis with Leah and Grandpa—he's an skilled player, and provided both slightly-larger kid model tennis balls and mostly patient expert instruction. I took a bike ride.
In the afternoon the rain seemed to be holding off, so everybody except me went out for a walk on the beach. Of course, it started raining mere moments after they left, but that didn't faze them. In fact, Harvey and Zion took the opportunity for a rainy day dip in the ocean, never mind that they were wearing their clothes. One advantage of this sort of vacation over camping is that laundry facilities are easily accessible! When they got back (and put their clothes in the dryer) we settled down to some card-playing and reading.
The next day was warmer but just as overcast, with the addition of fog and possible thunderstorms. Leah and I are limited in our ability to sit still in a place where we don't have chores to do, so soon after breakfast we packed the boys up for a hike. We went to Great Island in Welfleet, which, as the most promising hike within range of Truro, we've attempted before. The last two times we defeated—or at least kept from doing any "hiking"—by hot sun, gnats, and sandy trails that are just about like walking on a beach, so we figured a day where the fog was coming in ever-thicker would be perfect for another try.
We did get farther than we ever have, but once again detoured to the beach before we reached Great Island proper. It's just as well; not only do I learn that dogs aren't allowed on the island, the beach was empty and beautiful. The humans collected lots of rocks and shells, the dogs collected gross dead birds, and the boys and dogs enjoyed the water (one of those groups wished they had brought their swimsuits).
After we had enough (and conveniently just as other people started to fill in) we headed just down the road to Welfleet Harbor. Leah and the dogs took a rest in the car while the boys and I played on the playground, walked on the town beach, and ordered some take-out fried food for lunch, which we brought back to the house. We were disappointed of our thunderstorms, but it did start raining right on time just after noon, so we settled in for another round of games. "Code Names" was very engaging for everyone but Elijah.
We originally planned to stay through Saturday morning, but we missed our house and decided to leave Friday evening. Before we took off, though, the boys and I needed to do the most important adventure of the vacation: the bike ride to the ocean beach with the big waves! They did not disappoint.
After the beach we stopped for ice cream on the way back to the house. Now that's vacation! Grandpa very kindly prepared us a take-out order of hamburgers and hot dogs on the grill, so as we made our weary way home even our dinner on the road was still vacationy. It was all lovely. We'll be ready to do it again in a year or so.
Without scheduled Zoom activities this week the boys and I have had more time for outings, and we've taken some good ones! On Tuesday we took the dogs to woods between the airport and the Reformatory Branch trail (which go by many names; in less than two hours of walking we passed through three or possibly four conservation areas). We took a route we'd never explored before, and in fact passed through some areas that are usually so wet as to be impassible. The one upside of the drought—though even then there was still enough mud that Harvey got covered nearly up to his knees chasing frogs. We weren't even trying to do anything more than walk the dogs, but it ended up feeling pretty epic!
Then yesterday we set out to have a little bit more of an adventure in a new-to-us woods, the October Farm Riverfront in Concord: maybe half a mile as the crow flies from where we were the day before, but five or miles away by road. Because the river! We were delighted to find a varied landscape of steep hills, marshes, and vernal pools—and, of course, the river.
Actually, Lijah wasn't delighted at first—he was cold. The day was fall-like and he regretted his shorts and sandals. Running up and down the hills helped a little, and then it warmed up and he got distracted by fun things to explore and climb on, like this mysterious structure built into the side of the hill.
Plus there were all the things to notice and pick up: oak galls, mussel shells, blue jay feathers. Frogs—not that they had any luck with the river frogs, but they sure had fun trying! Toads are easier game, we find. The other day a friend who runs a leadership consulting business offered the idea of "forest bathing" in his weekly email; the idea is that the "sounds of the forest, the scent of the trees, the sunlight playing through the leaves, the fresh, clean air—these things give us a sense of comfort." I'm not sure if we were doing it right, but it sure did feel good to spend some hours and miles out in the woods!
We had a flexible morning yesterday. We woke up thinking we were going to meet friends at Walden Pond at 10, but we learned before breakfast that they weren't actually able to make it. Then a different friend invited us to Berry Pond, only to cancel at the last minute (with justification: she was going into labor!). At that point we were already in the car, so we headed off to the pond by ourselves. It wasn't easy to get there: the storm the day before hit the towns to the north of us pretty hard, and not only did we need to take a detour for a crew clearing a downed tree, there was another detour on our detour! But we got there eventually, to find that we had the place entirely to ourselves.
Because now we weren't meeting a nine-months pregnant mama with a kid in a stroller, we got warmed up for our beach time with a little hike. Berry Pond is in Harold Parker State Forest—tucked up at the edge of the sprawling preserve—and the forest is just packed with trails. We followed one pretty much at random, and while there was some nervousness from some of the party about just how long our loop would be, it ended up being a beautiful hike.
When we got back to the pond it was still empty, and we were hot and sweaty enough to appreciate the chilliness of the water. Berry Pond is smaller than Walden and the water isn't as clear, but despite being in a pretty regular suburban town it feels much more like a backwoods mountain swimming hole. If it weren't for the ropes restricting swimming to just a tiny area around the beach, it would be amazing. Just look at those rocks on the other side! No swimming there, sadly.
As we ate lunch the beach started to fill up—by which I mean three or four other groups arrived. No worries, there was still plenty of space for us to make an epic sand castle city. It was a good warm up for our planned trip to the Cape next week, because there were no waves or tide to threaten our city walls; except when someone splashed too close, that is. We lost the lighthouse on the point that way, but never mind, we quickly rebuilt it.
While we would have loved to spend some quality time swimming with friends, it was also nice to have an quiet outing just with us boys. We're trying to collect our thoughts as we get ready to head into the new "school year" and the way everything played out was just fine for an easy and relaxing outing. We'll take it.
Yesterday and today there's a high heat warning out. The Bedford Citizen tells us that the heat index will be 104° and warns that we should stay inside, in air conditioning. Well, we don't have air conditioning, so instead yesterday afternoon we went for a hike. It was very hot.
But amazingly enough, we survived! And we even had fun... a certain kind of fun, anyway. We found some places to put our feet in the water, and the dogs went swimming. The boys played in the root cellar cave we passed along the way. We got plenty of time to talk to each other as we moved along. And when we got home, our house felt pretty cool in comparison! I think sometimes our culture tries to define "hard" as the opposite of "fun"—or maybe the other way around. But that's silly: just about everything that's fun is actually hard too. Certainly exercise is always challenging. I'm not much of a gamer, but I understand that video games involve a fair amount of grinding. Sitting on the couch watching TV? Maybe that's not hard. But that's not an option for us, so I guess we have to hike!
I've been feeling pretty lonely lately. My family is wonderful and I'm super grateful to get to spend so much time with them, but they've got their own stuff going on and and it's not fair to ask them to fulfill all my emotional needs. So while I admit it does make me a little nervous, I'm happy that we're starting to be able to get out and do things with other people. Yesterday we took a hike with some homeschool co-op friends who we'd missed so much over the past three months, and it was delightful!
We walked in the Nashoba Brook Conservation Area; we'd never been there before but will definitely be going back. The river itself is the best part, with bridges and rocky pools and marshy segments making the walk along it endlessly interesting. But it had some competition in a man-made cave. I would have guessed it was a root cellar, except it was a little more complicated than you would really need for that; I understand that it has a mysterious reputation in local lore. In any case we had fun exploring it.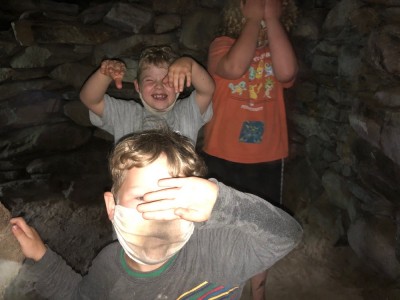 The whole family came along—a pandemic bonus! Leah enjoyed talking with Kelley, but not as much as Scout and Blue liked playing with our friends' dog. We walked two miles; the three dogs must have covered five or six.
The kids got plenty of exercise too: when he has friends to run with, even Lijah can cover some distance without complaining! And I exercised my socialization muscles. A great morning all around.
We learned this evening that the equinox was actually a couple days ago; never mind, we celebrated it today. The 19th was rainy, anyway! Today was beautiful, if chilly, and a Saturday without much in the way of obligations gave us lots of time to welcome the summer half of the year in the proper fashion: by getting outside!
To make the day extra special we took a trip in the car—the first in eight days!—to Concord's Estabrook Woods, which we last visited just under a year ago. It was a great choice—despite a startling number of cars at the trailhead the woods are big enough that we barely saw anyone, and we spent two and a half lovely hours exploring a very steep hill, vernal pools and a real pond, a couple of streams—one with a spillway waterfall. The best part was the sunny spot we found by the pond for our picnic lunch. We haven't been feeling particularly cabin-fevery, but still it is nice to get out a bit.
There was lots of playing outside in the afternoon, then towards evening we built a fire. After it had done its part cooking our supper it transitioned into a (very small) bonfire to greet the spring and roast us some marshmallows. We burned the wreath that adorned the front of our house for three months; more because we needed kindling than for ceremonial purposes, but it still seemed nicely symbolic.
Of course, the coming of astronomical summer doesn't mean the weather automatically turns lovely. There's cold rain in the forecast for much of the coming week—and you know we're not getting out of the house to any indoor activities. So it's a good thing we got as much outsiding as we did today!
Wednesdays are usually home days for us, but we can never say no to a walk in the woods, so when the invitation came yesterday we headed off to Carlisle for a hike with members of the Greater Lowell Homeschoolers facebook group (including a significant overlap with our own co-op). That we'd never been to the Towle Land town forest made it even more enticing! Because we're getting good at this we were the first ones there, but it wasn't long before everyone gathered—a pretty good group, with six or seven adults and uncountable numbers of kids. It was good there wasn't much of a wait, because it was hard to hold the kids back from the trail.
Towle Land is a lovely woods: there are plenty of ups and downs on the trail, but nothing too steep, a generously-flowing stream, and plenty of vernal pool hollows still filled with water and ice this strange wet winter. Plus some awesome rocks to climb on!
With all the fun terrain we didn't just hike on through. In fact, I don't think we ever went farther than a couple hundred yards before we stopped to play on something or other. That's the way to make a mile-long hike take two hours! Two hours for us, at least; the group had varied levels of woods experience, so other people were done sooner. Especially the ones who didn't bring any food (you know we never make that mistake!). Also the ones who fell in puddles playing on the ice.
I enjoyed interacting with the (slightly) wider homeschool community, and meeting some new people. The boys were fine with it, but they were happiest when everyone else had headed home and they were free to play with their good friends from co-op. They can never get enough time with them. "Why can't they come over to our house after?!" is the constant refrain. Because everybody has lives to live! But don't worry: we've got full days of co-op fun with them today and tomorrow. Living the homeschooling dream!
There are lots of places near us that are best explored in cold weather. Or only explored! One of our favorites is the abandoned cranberry bogs just around the corner from our house. The terrain back there is so swampy that even though I've gone back there lots of times I don't have a clear idea of how it all links up, so there are still surprises, and last week we discovered a quick way from our usual path into the bogs. Only the ice was terrible so we didn't risk it very far. After two or three real cold days, yesterday we were ready for another shot!
The ice was still a little nerve-racking, especially the stretches where the snow had melted into slush and then sort of refrozen atop the ice, leaving a strange textured surface where you'd be sliding for three steps and then suddenly sink ankle-deep. While we held onto the intellectual belief that there was strong ice under the weird snow, it was still startling to have the surface give way beneath our feet. But out in the middle of the bogs, the strong sun made the ice smooth and slippery and perfect for all sorts of fun.
Today we ventured out on a homeschool co-op hike. Despite some early interest it ended up just being us and the hosts, but that was ok: they were excited to show off their woods and the little group—just five kids and two adults—felt easy and relaxed. And their woods were worth showing off! There was little ice rink, where neighbors had dammed a stream to make a spot where you can skate around paths through the trees, with Christmas lights hung between them (I want to go back at night... it must look so magical!). There was a playground with fun climbing features made out of logs and tires. And there were big hills in between the marshy spots.
But the highlight of the outing was our last stop, on the shore of the Sudbury River. The river was frozen all the way across—and while we didn't venture out of the little cove where the path left us, there was plenty of good ice to play on. Because the river had been higher when it first froze by the bank there was even a pretty good slope of ice that the kids had fun penguin-sliding down, and when they got tired of that we played soccer with chunks of ice for way longer than I would have expected the kids to last (Lijah's breakdown came only after I said it was time to go home). And I managed to slide a piece of ice all the way across to the opposite bank.
And we still haven't fallen through once in the last two years!
It's been strangely warm around here lately. Very pleasant considered out of context, but hard for me to enjoy because of my existential dread around our changing climate. Also, I like cold and snow! And ice too. So before it warmed up last weekend we took a hike somewhere where I knew we could find ice to play on, and so we did.
Not all the ponds were frozen: even before it got warm it wasn't super cold. But the Old Reservoir in Bedford has just tiny inflow and outflow, and it's completely sheltered by hills and trees, so it freezes beautifully. Plus it's in the middle of a delightfully varied and hilly town forest, so getting to the pond is almost as much fun as playing on it. The boys were minutemen, and shot me about 800 times on the hike in (then I snuck around behind their last ambush and gave it to em good!). But when we got to the ice, martial valor was forgotten. We played some stick hockey, we drew in the thin layer of snow, and of course we slid. I prefer my feet for the sliding, but some of us can commit even more fully.
Because we expected that the ice would be going soon we made the most of it, and walked the whole length of the pond. That should hold our winter exploration longing for a little while... but I sure do hope it gets cold again soon!