We had a busy day yesterday. Indoor in-person Kids Church started up again—for the first time since March 2020!—and the boys and I left the house at 8:00 so I could be sure to be ready for the 9:15 start time. It went wonderfully, and it was so lovely to be there with the kids doing fuze beads again, but it was a little more involved schedule-wise than turning on the computer for a 45-minute like I was used to for the last year and a half. Then straight from church we headed to a mini-golf course for a birthday party—well, the first part of a birthday party, because after a mostly successful 17 holes (one of them was closed) we headed to the birthday boy's house for a couple hours of backyard socializing. By the time we got home at 5:30 I was wiped out!
I guess we've been doing plenty all summer, so it's not a total departure. But being inside again for church, and the fact that the party was with friends who we've seen much less over the past year and a half than we always used to, made the day feel like one from before the pandemic times. Of course, we were wearing masks all the time we were inside, and there weren't many people at either Kids Church or the party. So maybe we're just getting used to this life?
Moments from the past week.
We had to cancel school today because of illness. Our Friday school group is three families: last night one family's kids were feeling sick with sore throat and runny nose so they decided they'd stay home today; then the other family decided that it'd be safer to stay away too; and that turns out to have been a wise plan because in the middle of the night Zion woke up with a little fever and sore throat. Now, in pre-pandemic days none of these symptoms would have stopped us from doing anything—with such a fun day ahead of us we would have needed to be dying to call it off—but the coronavirus is a whole nother thing. Never mind not wanting to get it: that goes without saying. But almost as bad would be having to tell your friends that you had it and exposed them. How embarrassing!
It's probably nothing. Everybody will probably be all better tomorrow. But I don't mind missing a day. In the old days we probably used to all get each other sick all the time! At least today we spared giving one other family a cold, and that seems worthwhile. And just in case, we have Covid tests to take before church on Sunday!
There was so much else to report when I was writing about Bedford Day that I wasn't able to give Elijah's face paint the attention that it deserved. I need to remedy that because, just like every time, he went all in with it and looked amazing.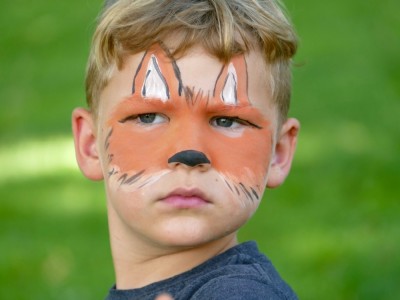 I can't remember either of the other boys being so into face paint at seven, or any other age. I think they lack his commitment to personal ornamentation, and also his willingness to communicate with strangers. Which you need to do if you want someone to give you that kind of attention! He's also really patient: there wasn't much of a line for the face-painting booth, but he still needed to wait at least ten minutes before he got his turn, and then the painting itself took close to that.
Totally worth it though! I only wish the paint job itelf lasted a little longer... it was already smudged by the time we headed home an hour or two later, and after 24 hours all that was left was the white triangles above his eyes and a lingering spray-tan looking orange cast to his cheeks. He tells me we have our own face paint set somewhere in the basement though, and he's already planning his next look.
We're never quite sure where exactly the equinox falls. On the calendar we marked it down for today, but does that mean that tonight is the same length as today, or was it last night? In any case, we figured that yesterday was the last day of astronomical summer and we determined to celebrate it appropriately. Which, never mind that it was actually kind of chilly, meant taking the boats to the pond!
We actually haven't gotten them out all that much the last couple months, so it was extra exciting to hit the water. The sun came and went as we paddled around looking for a good spot to set up camp, but by the time we found one, ate our lunch, and got ready to swim, it was solidly hidden by low gray clouds. So while the water was probably warmer than just about every time we've swum this summer, it was a bit of an effort to take the plunge. Of course we all did eventually, and after a while the clouds parted again for a time. Elijah had to take the most breaks to warm up, but there were rocks to jump on (and lie on when the sun was shining) and he and I even took a little mini hike up the hill above the pond. Harvey and Zion just swam and swam, and played with the boat and paddles.
With peaches from the farmers market on the way home it felt like a perfect way to see off the summer. Then at supper time we made a fire, and, though we were a little too busy playing and chatting with the friends who came over—and toasting marshmallows—to do any real reflection on the change of seasons, I think it did the job of marking the equinox the way it deserves to be marked. Now bring on the fall!