posts tagged with 'local color'
This evening the boys and I took in a band concert at the high school in town. Well, most of it; we ducked out a little early, 8:00 being pumpkin hour for some of us. The show featured all the wind band performers Bedford Public Schools have to offer, from 5th graders to high school. It's impressive how far the kids progress over that span! Unfortunately we missed the high school wind band, the organizers having decided to save the best for last (and/or reward folks for sitting through the performances of less-accomplished players). But we did get to hear the big kids playing in the marching band and the jazz band. Surprisingly, the marching band was much better. Not more technically proficient, maybe, but they sure sold their Buckjump a lot more convincingly than the jazz kids did with Blue Train. Learning to swing is hard.
If only the concert had started at 5:00 instead of 7:00, we would have loved the whole thing! It's hard being out of step with the wider scheduling of our culture...
Last Wednesday was Fourth of July, and we went to Concord for the Picnic in the Park. Like we do. It was super hot, which kept lots of people away; the crowd was noticeably smaller than usual. But we weren't bothered at all, because we have tents!
The little one there is ours.. the big one belongs to our friends. They also brought along a hammock. Luxury! There was a bit of a breeze so sitting in the shade we were totally comfortable as we ate lunch and listened to music.
Of course, with so much going on around us we couldn't sit still forever. When we heard the announcement that the field games were starting we headed right over to compete in the sack race, three-legged race, and sponge toss. None of us won anything, but we had fun trying!
All that competition was hard work, so we were glad that the fire department was their with their hoses to cool us down. After we all got wet enough Lijah and Zion took their turn at the spraying.
There was lots more fun after that: listening to music, riding the train around the field, jumping in the bounce house, playing on the playground, and just relaxing in the shade. There were also balloons to collect and play with.
It took us five hours to start to feel done—just as well, because that's when things started to wrap up. So we rolled up our tents and hopped on bikes for the ride home. When you do things every year you notice how the kids are growing up: Zion able to ride the whole way himself and, unlike last year, Lijah even wore shorts for the occasion!
Saturday was the pole capping here in town, marking the beginning of the Patriots Day season. The holiday starts early in Bedford. We biked up to take in the festivities.
We paid special attention to the reenactors' outfits because we're just beginning our unit on Colonial times (I told the boys that morning that we would start in on Monday; Harvey asked, "why not today?!"). I took more photos of people's backs than I usually do.
It's interesting to see the different styles—the balance between historical accuracy, individualism, and comfort. I noticed comfortable walking shoes—black, but definitely 21st century—on the feet of some of the older reenactors. This morning we looked at the pictures and talked about why people were wore the things they did, and how they might have made different parts of the outfits. I do always think that studying clothes is a great way to get into any historical period. There may have also been an extended discussion about firearm technology.
We didn't talk much about the music we heard, though that would be a fun thing to explore too. Harvey was the videographer for the expedition, and captured nearly the whole parade; we'll take a look at that tomorrow and see what we can come up with in the way of a band.
And we're looking forward to lots more Patriots Day fun to come this weekend!
On Saturday the boys and I biked up to town to watch Bedford's Patriots Day offering, the parade and pole capping. Our town likes to steal a march on the rest of the events next weekend. It's a good idea, since we get to see all the Militia companies in the area: they don't have anything better to do, and it's probably a good warm-up for the real thing. So from Sudbury to Groton, they were all there on our little town green.
Besides the town companies, there were also four fife-and-drum corps: the regular three—Middlesex, William Diamond, and Middlesex 4H—and, new this year, the Piscataqua Rangers down from Portsmouth. The reenactment is great, but I do think the music is my favorite part. Not that it's one or the other—they're all wearing tricorn hats, and some of the towns turn out very respectable bands along with their musketeers. Lincoln is good; Sudbury, though small, is very music-heavy and my favorite of the companies.
But it's the reenactment that gets most people there, and I agree it's fun to see all the outfits as the everybody mingles on the green before the parade steps off. Folks work hard to make their outfits look good; seeing one reenactor taking snaps with his phone I wondered if his attractive brown leather case was chosen specifically to make the phone fit in with the rest of his attire, or just because he appreciated fine workmanship. Even the tobacco usage was historically appropriate.
That particular gentlemen took well over a minute to get his pipe lit; I'd make a comment about that doesn't reflect well on his general ability to be ready quickly, but I think that's just how pipes work.
The chilly weather sapped the boys' energy—that, and a late night Friday—so they were more than ready when the parade finally got going. My camera ran out of batteries before then, but Harvey—the official parade photographer of the day—was willing to settle on shooting with my phone. Here's a picture he took of the British Regulars bringing up the rear of the parade.
They were on their way to break up the pole capping, which they apparently did in delightfully non-traditional fashion. We didn't see it—all the days crowds are down at the pole end of the parade, and with the cold wind the boys were about done with being outside. So we headed in to the library for the other focus of the day's festivities, the library book sale. I picked up maybe a dozen books; I count it a success that when we got home I found there were only three of them I already owned.
There's more Patriots Day coming next week. We've warmed up—we'll be ready.
To redeem myself from my failure earlier in the day, Saturday evening I walked the boys up to the center of town to take in the tree-lighting festivities. There was a lot of advertising leading up to the event, which may have resulted in larger-than-usual crowds; I don't know, since I'd never been before. It was certainly joyfully well-attended!
In all that dark throng I was a little nervous about losing one of the boys as we waited for the lights to come on, but we managed to stay together; huddling on the church steps (huddling against the crowds, not the weather—it was quite warm) we sipped free hot chocolate and listened to snatches of music coming through the very insufficient sound system. At some point Citizen-of-the-Year Peter Grey must have arrived to push the button, since without warning all the trees were illuminated. I think everyone was surprised, but cheerfully so!
Moments later Santa pulled up riding a fire truck, and spotting him early we were able to position ourselves perfectly for an up-close look as he disembarked. Even better, as the crowd streamed away after him we were able to enjoy an even closer look at the fire truck, which frankly had more appeal to the boys than a guy in a red suit. (We didn't yet know that his elves—surprisingly tall elves—were giving out candy-canes.)
Somehow we managed to run across some friends, and together we explored a few of the local businesses that were opened for the festivities. Suzanne and Co. had a man in a Frosty the Snowman suit (which captivated and terrified Lijah in equal measure) and a lovely bubble-snow machine (since when do we need simulated snow in New England?!); the Old Town Hall offered chili from the new restaurant in town and balloons and worksheets from the tutoring place. There were other vendors there too, but all boring stuff, and the boys and I agreed that it was a pretty poor show. At least there was room to run around and play with their balloons; and after a little while a quartet arrived and started to sing in the stairwell.
Maybe a strange spot, but the acoustics were lovely and we very much enjoyed several Christmas tunes with not a syllable of English between them.
True happiness escaped us, however—escaped Zion especially—because many other people had candy-canes and we did not. I told the boys that candy-canes are plentiful this time of year, but they wouldn't be satisfied with anything but a candy-cane right then, from Santa. Julen had one. Then as we were crossing back to the common we saw him: nearly all alone in the darkness, accompanied only by his elves and a man with a dog. After the dog got his picture taken on Santa's lap it was our turn, and I'm sure the peppermint was all the sweeter for the wait.
Of course the boys didn't want anything at all to do with Santa once they had their candy, but Julen is made of sterner stuff and actually sat on the bearded one's lap. Unfortunately, it was quite dark, and I wasn't prepared, so the photo I took... isn't really that good.
But we were there! We did the thing. And back home, as Leah was going to bed, Lijah needed to spend quite a while telling Mama about his experiences. "Santa? Santa? Snowman?" It was pretty intense for the little guy.
The lights look very nice; we admired them again this evening. It's definitely starting to feel Christmas-y around here... maybe I should start thinking about what I'm going to do for presents?
I don't know how we missed it the last four years, but it's not since Harvey was one that we made it to the Fall Fair at the Congregational Church. If I'd been paying attention we would've made more of an effort to get there, because we went yesterday and I stand by my 2010 assessment: it's fantastic!
Unlike that last time, we had no advance notice that the fair was happening; I didn't notice the signs for it—on congregants' lawns all over town—until we were biking up to the playground yesterday morning. As suddenly cold as it was, so the playgrounding didn't last long, and after the library we were glad to have somewhere else inside to go. In theory, anyways; in fact the outdoor attractions caught our attention for quite a while. I didn't manage to photograph the petting zoo, but there was plenty of time for pictures at the bouncy house and the bean bag toss.
Inside we perused the white elephant sale, where Lijah charmed the old ladies at the check-out table with his careful examination of the merchandise. We only had two dollars, so it took a good half-hour to decide on our purchases: a little car, a box of dice, a sword, and a silicone pan for baking donut holes. Well worth it.
Elsewhere, there was food—which sadly we couldn't afford—and more free activities for kids. Harvey and Zion were delighted to find a Battleships game: not really life-size, but certainly quite a bit bigger than anything we've seen before. They were still happy about it even after I beat them, and I was happy that, with a board of only 49 squares instead of 81, the game was well quicker than we're used to!
Before we left we had to check out the Christmas wing, four rooms full of lights and beautiful handmade crafts and baked goods. Once again we wished we had more money: for a tiny sleigh, and a loaf of english-muffin bread, and...
Next year's fair is on the calendar, and I've made a note to budget $20 dollars for it. Do you think that'll be enough?
After counting down the days, we four boys were super excited when the morning of Bedford Day arrived. Which is good, because the excitement of the younger three made Mama's absence—she was out all day running a big mountain race—a little more bearable. So did pancakes.
We were up at the parade route in plenty of time to get a prime spot. As usual the kids all crept steadily forward to improve their chances of grabbing some of the candy thrown by nearly all the units in this particular parade; but this time Harvey and Zion were right up there with them.
They were brave in the scramble, too. Don't tell Mama how close Zion got to the wheels of some of those trucks! Even before the parade was over they got to enjoy some of the sweet reward.
Before the parade we'd scouted out the booth with the cheapest hot dogs ($2 instead of $3 each!) so we knew right where to go when there was nothing more to watch out on the street.
Low camera batteries prevented me from getting a shot of the karate demonstration, the highlight of the day for Zion, but when we made our way to the 4H area I remembered my phone in time to capture Lijah's delight.
Next up was the fire trucks, including the new ladder unit (of which the department is very proud). Here's Zion taking it for a drive.
There was also a mobile EMT training facility, with a practice dummy that was oddly fascinating to the kids...
After all the excitement and heat—it was baking in the sun—we were happy to head over to the library to buy some books at the sale and just relax. It's nice to see the whole town out and enjoying themselves; but I think I'm also glad that most people stay home the rest of the time.
Happy Bedford Day!
This morning the boys and I headed up to town to take in Bedford's Patriot's Day observances, which conveniently happen the weekend before Lexington's. The last couple years we weren't ready a week ahead and missed the chance to take in a bonus parade, but this year we were poised and excited and took off up the hill on our bicycles as soon as we heard the drummers start to warm up.
Because we rushed so much we were pretty early, which was great since it let us watch the crowds of reenactors gather on the town green.
It was awesome to see so many people dedicated to history and pageantry. The quality of the outfits varied a bit, but the occasional off-the-rack shirt or robber-soled shoes didn't detract a whit from the experience of being surrounded by figures from another age. And some of the folks had everything right.
The parade is just the precursor to one of the twin highlights of Bedford's civic culture, the pole-capping (the other, of course, being Bedford Day (2, 3, 4)). Near as I can tell—crowds have kept me from getting a really good view the three years I've been—the Bedford Minutemen put up a Liberty Pole, and some British regulars come and make them take it down. But besides that there are lots of speeches by politicians and local notables, and this year those speeches were long and inaudible enough that we gave up early and headed back to the library for the book sale. So as far as I know the pole stayed up this year.
Never mind, though, the parade alone was well worth the trip out, and inspired us all to ask Mama to make us our own colonial costumes for next year. Although Lijah, come to think of it, was already pretty well-attired for the day: we missed seeing the red cap on top of the pole but we got to look at this one all morning!
Saturday was Bedford Day, and we were as excited as ever to take in the parade and fair. The big local news this year was that the famous Bedford Flag is being shorn of its apparently unhistorical white fringe, as shown in float form above. To the extent that you can see it through the crowds, that is; we were sitting right on the curb but still found ourselves blocked by several rows of young people who moved in to gather the candy that nearly every unit throws out to the audience. Not that we minded too much, since at the boys' age they appreciate a bit of buffer between themselves and anything too novel.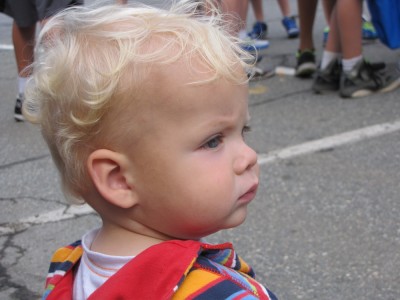 It certainly helped that the parade was much quieter than in years past. While it was still well full of fire trucks and DPW machinery they were much more gentle on the sirens and horns than we've come to expect, something that we appreciated as much as the kids. Besides all the heavy equipment we also got to see Boy and Girl Scouts, corvettes, soccer players and karate trainees, and local politicians. Great small-town fun!
Just as wonderful was the fair, where we filled up on hot dogs and fried dough (on top of the parade candy; it was a tough day for my stomach), bought a few books at the library sale, and donated three dollars to our neighbor's basketball fundraiser. Harvey got to play a bean-bag toss for that last one, and got one of his four tosses in—his first-ever carnival success, and better than I ever did! Zion reached into the prize bucket too, with less justification, but since he's so cute he got away with it. I believe both prizes were lost before we even thought about heading for home.
Harvey and I lasted a little longer than Mama and Zion, but we mostly spent the extra time playing in the playground—well, he did, while I sat outside the fence and read a book—which isn't so different from a regular day. The playground was a whole lot more crowded, I suppose. Good times all around; the day could only have been improved if the people of Bedford were the sort to want to see craft tables and livestock, neither of which put in any kind of appearance this year. Oh well, we have both of those at home.
This morning we biked up to town to for the special purpose of attending the long-awaited and well-publicized Fall Fair at the Congregational Church, and it would've been worth the trip even if we didn't also have to take some books back to the library. There's nothing like a classic church fair on a warm and sunny fall day to make you think that maybe there might be something to this USA business after all.
There was a bouncy-house just the right size for Harvey to want to get in himself and hop around (they had a regular one for big kids, too), a white elephant sale where he could pick up a bucket of Mardi Gras beads and a pinwheel for only 25¢, crafts, Christmas decorations, and a bake sale. And what a bake sale! There were the traditional individually wrapped brownies and cookies, but also for sale were entire pies, cakes, and tins of goodies. Soup and premade entrees too, but who wants that stuff?! Our eyes were drawn to the lemon cheesecake bars, and while we were initially disappointed to notice that they weren't for sale in single-serving portions it didn't take us long to decide that buying the whole lot—which came in an attractive and reusable Cadbury-themed tin—would be a very reasonable investment at $4.50. Throw in a peanut butter chip brownie to bring the whole thing to an even five dollars.
Now, some folks might be discommoded to suddenly find themselves in possession of an entire tray of lemon cheesecake bars, but fortunately we had the presence of mind to realize that we'd better eat the whole lot as quickly as possible before they could go bad. Harvey enjoyed playing with his beads as we reclined on the couch trying to recover.
Perhaps I wouldn't enjoy old-fashioned church fairs so much if I lived someplace where they were more common—Wisconsin? Ohio?—but in cynical Massachusetts we need all the good old innocent fun we can muster up. And it's even better when I manage to come away without any decorative glassware or lightly used sporting equipment! I'm pretty sure you won't find anywhere else with prices like that for mid-70s-era cross-country skis...