posts tagged with 'parade'
Saturday was the pole capping here in town, marking the beginning of the Patriots Day season. The holiday starts early in Bedford. We biked up to take in the festivities.
We paid special attention to the reenactors' outfits because we're just beginning our unit on Colonial times (I told the boys that morning that we would start in on Monday; Harvey asked, "why not today?!"). I took more photos of people's backs than I usually do.
It's interesting to see the different styles—the balance between historical accuracy, individualism, and comfort. I noticed comfortable walking shoes—black, but definitely 21st century—on the feet of some of the older reenactors. This morning we looked at the pictures and talked about why people were wore the things they did, and how they might have made different parts of the outfits. I do always think that studying clothes is a great way to get into any historical period. There may have also been an extended discussion about firearm technology.
We didn't talk much about the music we heard, though that would be a fun thing to explore too. Harvey was the videographer for the expedition, and captured nearly the whole parade; we'll take a look at that tomorrow and see what we can come up with in the way of a band.
And we're looking forward to lots more Patriots Day fun to come this weekend!
Last weekend—I mean, the one before last—was the Honk Festival in Somerville. As promised after last year, I didn't try and take the boys to the Saturday part of the affair, and that was a great decision. Operating alone, I was able to bike the whole way there after lunch and fully enjoy several hours of wonderful loud music and anarchist culture.
I managed to take in two whole hour-long sets: the Party Band, who were the best, and What Cheer Marching Band, who were the unremittingly loudest. Also 45 minutes of New Creations Brass Band, 15 of Emperor Norton's, and assorted fleeting moments of other groups. And when the music was good I was dancing the whole time—except when I needed to take breaks due to exhaustion or to give my bleeding ears a break.
Then I made the long ride home in the dark. All that anarchism and band music put me in a great mood to begin with, and it was only improved by a perfect ride: from just beyond Davis Square all the way to our front walk without so much as a toe touching the ground. I was so delighted I removed all restrictions on the boys' screen time at the neighbors' house; the kids can make their own good decisions, man!
Then on Sunday torrential rain beginning at 9:30 made the noon parade look a little doubtful, but things cleared up wonderfully at about twenty of, so all five of us made the short drive from church towards Harvard Square, where we set up camp at the Kemp Playground to wait for the music. And it was well worth the wait!
Besides the bands, the kids loved the stilts, the puppets, and the bicycles... and there was even one group handing out candy! (And really handing it out, not tossing it to the ravening crowds like at Bedford Day; it was a lovely experience of personal connection.) Even better than candy, one group of marchers was even distributing free hot dogs to the parade audience, complete with ketchup and mustard to order! Let's hear it for music and anarchy.
Saturday was Bedford Day, and we celebrated it with more friends than ever before! The allure of our wonderful town is hard to resist; people we already know and love keep moving here. So naturally we got together to celebrate all Bedford has to offer.
Which turns out to be mostly lots of candy and kids desperate to get their hands on it. Last year I recall being a little calmer, but on Saturday everyone was full of energy and ready to charge into the scrum.
It was a little overwhelming, actually; there were some tears. I'm afraid it didn't show the town in its best light: no one could see the little ball players for all the chaos around them. At least no one got run over, though there were nervous moments in front of us. And with all the competition our candy haul was disappointing to at least two members of the family (I'm inclined to see that as one small silver lining).
Of course, the parade wasn't all bad. The trucks were as loud as ever you could want, and Lijah's friend Henry seemed to be completely satisfied. For his part, Lijah endured the little bit of gunfire from the Bedford Minutemen with greater-than-usual stoicism (though he didn't like it). And the Party Band was there to give us a few moments of good music.
Then after the parade we spent a delightful three or four hours at the fair. We watched the karate demonstrations—Zion is ready to sign up right now, especially after he broke three boards at the recruitment booth—and the fitness dancing. We bought books at the book sale and got balloons and bubbles for free. We ate our lunch from home, then supplemented it with brownies and cupcakes from the Episcopal bake sale. And the boys got to go in the fire truck. Zion enjoyed one special reward of fair-going with friends: another dad took pity on the middle-sized children's desperate need to play mini golf at $2/person, and funded them one round. Now that's generous!
We all had a great time. Even the great heat didn't deter us a bit (most of us; Lijah may have been slightly deterred in his fleece pajamas). We were so content that it wasn't even very upsetting to lose Harvey on the way out and spend ten minutes looking for him, only to hear from Leah that he made his way home on his own. All's well that ends well!
The Bedford parade and pole capping feels like months ago now: we've been through like two seasons since then. But it was really only a couple weeks, so I'm not too late in posting this collection of images that the Bedford Citizen collected. Or only a little bit too late: I had the link open in a tab for a couple days before I managed to actually look at it this evening, mainly to see if the boys and I made it into any photos. Sure enough, there we are on page 8, top right-hand corner. There are lots of very pretty photos to see in that document; ours, sadly, is not one of them. But at least it shows we were there!
As it happens, so were a great many other people, many of them kids. Why did they pick us to single out—with a not-technically-accomplished photograph, no less?! Is it just because we're locally famous for getting around town on a ridiculous bicycle? Was it Lijah's tiger pajamas? Realistically, it was probably Zion's musket that did it; nobody else thought to bring their guns to town this year. On the next page the only kid in attendance wearing ear protection also gets a photo, so it could be they were looking for uniqueness rather than beauty. And there's no denying we're unique! Sometimes even more than I'd like... but mostly I'm just proud. There are worse things than having people pay attention to you as a result of your strange life choices.
Hot on the heels of Easter, Monday was Patriots Day. We hardly had time to recover—didn't have time, in fact, but we couldn't stop and rest: there was a parade to go to! Unlike last year we didn't make a big thing of inviting lots of folks to join us in biking and picnicking and watching, but we did mention it in passing; and such was the success of last years event that we had plenty of company again this year. Including Lijah, enjoying his first Patriots Day parade since his first one!
Our ride up was almost a perfect success, with the children 7 and up leading out at a blistering pace and two new riders—kindergarten and pre-K—making their longest effort to date. Unfortunately one of them (it was Julen) wrecked mere yards from our destination and busted his lip, but his enthusiasm was only dimmed for half an hour or so. It did kind of spoil his appreciation of our picnic lunch though! There was lots of food to delight the rest of us, and he did manage a popsicle.
After some energetic freeze tag—why do I always have to be it?!—we headed over to our traditional viewing spot. I don't think we were ever all there at the same time, but if you total us all up there were 23 people associated with our party, spanning three generations (six of the kids had grandparents present!). Never mind the giant picnic, we needed slush to ease our wait (Nathan needed fried dough).
Then we watched the parade. It's a big one. I've long realized that all my parade photos over the years look pretty much the same, so I eased up considerably on the photography. Still, there are some sights I just had to capture.
Last year's parade friends were more peripherally interested in the proceedings—this year I was sitting next to friends who enjoy parades as much as I do (and who were attending in Lexington for the first time) so we watched and commented with keen attention. It was lovely. And long... we were all sated with excitement and ready to head home when the last tank finally rolled past.
The ride home went just as well as the ride up. Julen, recovered in body but not in spirit, chose to join Zion and Lijah in the blue bike; it made a heavy load, but I could manage it downhill. More serious was the heavy crowd of walkers on the bike path through Lexington Center, but our kids only hit one elderly pedestrian hard enough for anyone to notice. Then the crowds thinned out and we were rolling free.
Leah, who had stayed home working, was ready to greet us on our arrival with veggie straws and ice water. Just the thing—the kids were hungry despite eating constantly for the past four hours, and we were all hot and tired. The weather wasn't actually that warm, but shepherding—not to mention carrying—all those kids is hot and thirsty work!
Then some of the crowd headed home, one additional child joined us for a sleep over with Harvey, and we all had dinner together.
It was a tiring day, on top of another tiring day, capping off a tiring week. No wonder Lijah fell asleep before he could finish his dinner.
I was pretty wiped out too—yesterday I couldn't hold my head up to type by evening, so this story went unwritten. But I couldn't leave it too long. I'm sure there's lots more adventure coming this vacation week, and I don't want to get backlogged!
On Saturday the boys and I biked up to town to watch Bedford's Patriots Day offering, the parade and pole capping. Our town likes to steal a march on the rest of the events next weekend. It's a good idea, since we get to see all the Militia companies in the area: they don't have anything better to do, and it's probably a good warm-up for the real thing. So from Sudbury to Groton, they were all there on our little town green.
Besides the town companies, there were also four fife-and-drum corps: the regular three—Middlesex, William Diamond, and Middlesex 4H—and, new this year, the Piscataqua Rangers down from Portsmouth. The reenactment is great, but I do think the music is my favorite part. Not that it's one or the other—they're all wearing tricorn hats, and some of the towns turn out very respectable bands along with their musketeers. Lincoln is good; Sudbury, though small, is very music-heavy and my favorite of the companies.
But it's the reenactment that gets most people there, and I agree it's fun to see all the outfits as the everybody mingles on the green before the parade steps off. Folks work hard to make their outfits look good; seeing one reenactor taking snaps with his phone I wondered if his attractive brown leather case was chosen specifically to make the phone fit in with the rest of his attire, or just because he appreciated fine workmanship. Even the tobacco usage was historically appropriate.
That particular gentlemen took well over a minute to get his pipe lit; I'd make a comment about that doesn't reflect well on his general ability to be ready quickly, but I think that's just how pipes work.
The chilly weather sapped the boys' energy—that, and a late night Friday—so they were more than ready when the parade finally got going. My camera ran out of batteries before then, but Harvey—the official parade photographer of the day—was willing to settle on shooting with my phone. Here's a picture he took of the British Regulars bringing up the rear of the parade.
They were on their way to break up the pole capping, which they apparently did in delightfully non-traditional fashion. We didn't see it—all the days crowds are down at the pole end of the parade, and with the cold wind the boys were about done with being outside. So we headed in to the library for the other focus of the day's festivities, the library book sale. I picked up maybe a dozen books; I count it a success that when we got home I found there were only three of them I already owned.
There's more Patriots Day coming next week. We've warmed up—we'll be ready.
It's been two years since we got to attend a Patriots Day parade, so we were determined to enjoy this one to the fullest—those of us who didn't have more important concerns to take care of, at least. In Leah and Lijah's absence we made sure to invite lots of friends along.
I came up with the idea of inviting friends to park at our house and bike up to Lexington for the festivities last year, but in the event rain forced a change of plans. This year the scheme was back bigger and better than even, so we had five families all together at the parade route—six if you count Grandma and Grandpa as distinct from us Bedford Archibalds. Having so many friends to talk to was interesting, since it served to abstract me a little from the direct experience of the parade... in the best of all possible ways. Harvey and Zion were insulated by their friends too, and additionally their focus on ingesting as much parade-grade sugar as possible.
The biking part of the trip—with the best part of three families—was lovely; the four kids on their own bikes did a fantastic job, and I had fun hauling a couple more in the blue bike. Having it makes packing for an outing a lot easier. Bring a soccer ball? Why not?!
We managed the 4.5 mile trip up in about 40 minutes, plenty of time for a relaxing lunch—and a little soccer!—before the parade.
Other folks joined us by auto and foot, including some little guys, who weren't sure what to make of all the excitement. But parents knew how to enter into the spirit of it all!
For their part Harvey and Zion are parade pros, and even distracted by friends and food they enjoyed it all to the fullest.
So that was that—then those of us with bikes went back to our house and kept the party going with beer and Indian food—and mac and cheese for the kids—for another three hours, but that's another story. Let's do it again next year!
After counting down the days, we four boys were super excited when the morning of Bedford Day arrived. Which is good, because the excitement of the younger three made Mama's absence—she was out all day running a big mountain race—a little more bearable. So did pancakes.
We were up at the parade route in plenty of time to get a prime spot. As usual the kids all crept steadily forward to improve their chances of grabbing some of the candy thrown by nearly all the units in this particular parade; but this time Harvey and Zion were right up there with them.
They were brave in the scramble, too. Don't tell Mama how close Zion got to the wheels of some of those trucks! Even before the parade was over they got to enjoy some of the sweet reward.
Before the parade we'd scouted out the booth with the cheapest hot dogs ($2 instead of $3 each!) so we knew right where to go when there was nothing more to watch out on the street.
Low camera batteries prevented me from getting a shot of the karate demonstration, the highlight of the day for Zion, but when we made our way to the 4H area I remembered my phone in time to capture Lijah's delight.
Next up was the fire trucks, including the new ladder unit (of which the department is very proud). Here's Zion taking it for a drive.
There was also a mobile EMT training facility, with a practice dummy that was oddly fascinating to the kids...
After all the excitement and heat—it was baking in the sun—we were happy to head over to the library to buy some books at the sale and just relax. It's nice to see the whole town out and enjoying themselves; but I think I'm also glad that most people stay home the rest of the time.
Happy Bedford Day!
This morning the boys and I headed up to town to take in Bedford's Patriot's Day observances, which conveniently happen the weekend before Lexington's. The last couple years we weren't ready a week ahead and missed the chance to take in a bonus parade, but this year we were poised and excited and took off up the hill on our bicycles as soon as we heard the drummers start to warm up.
Because we rushed so much we were pretty early, which was great since it let us watch the crowds of reenactors gather on the town green.
It was awesome to see so many people dedicated to history and pageantry. The quality of the outfits varied a bit, but the occasional off-the-rack shirt or robber-soled shoes didn't detract a whit from the experience of being surrounded by figures from another age. And some of the folks had everything right.
The parade is just the precursor to one of the twin highlights of Bedford's civic culture, the pole-capping (the other, of course, being Bedford Day (2, 3, 4)). Near as I can tell—crowds have kept me from getting a really good view the three years I've been—the Bedford Minutemen put up a Liberty Pole, and some British regulars come and make them take it down. But besides that there are lots of speeches by politicians and local notables, and this year those speeches were long and inaudible enough that we gave up early and headed back to the library for the book sale. So as far as I know the pole stayed up this year.
Never mind, though, the parade alone was well worth the trip out, and inspired us all to ask Mama to make us our own colonial costumes for next year. Although Lijah, come to think of it, was already pretty well-attired for the day: we missed seeing the red cap on top of the pole but we got to look at this one all morning!
This past Sunday we headed into the urban jungle for another year's edition of the Honk! parade. We got there plenty early—by design, because for the boys the wonderful playground on Cambridge Common is as much of a draw as the music and anarchy. And they made the most of it, playing so independently that I didn't even manage to take a good picture: they were too far away! Of course, the parade was awesome too.
Besides the bands there were puppets, protest groups, adults and kids on stilts, and of course tall bikes. It was everything a parade should be, and totally unlike the Bedford Day parade, which is also everything a parade should be. (That statement could stand to be examined further in another blog post.) Actually, there were a couple commonalities: both parades have a big kid component, and new this year Honk had a unit throwing out candy. Just a bit, but it was enough to cement the boys' understanding that all parades everywhere should give them candy.
After the parade we headed into Harvard Square, where we had lunch with some friends sitting on the thin end of the traffic island splitting the two lanes of Mass Ave in front of Harvard Yard. Car-free streets are great! Of course, while they were car-free the streets were totally and all-encompassingly choked with people, so Leah was quickly overwhelmed; and, truth be told, it was even a little bit much for me. But I wanted to take more music, and so, surprisingly, did Zion. And since he could go on my shoulders he was the only one of us who could actually see the musicians the first couple bands we found.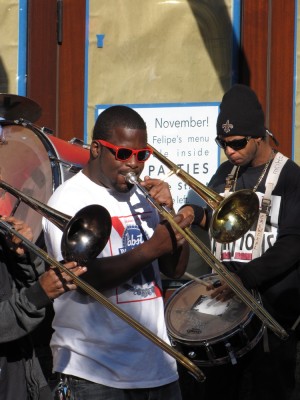 There are a lot of fun and interesting bands involved in the festival, but I wanted to hear some real good music so I was happy to find the New Creation band playing an un-advertized set on the sidewalk. The boys and I were even able to find a spot where we could see, and we happily enjoyed a couple great examples of modern New Orleans brass band music. Leah indulged us and waited patiently. I could have sat there listing for as long as the band kept playing, but let no one say I lack consideration entirely! I also found a back way out of the festival throng so we didn't have to struggle through the crowd again, and a quiet bathroom in a Harvard library (though Zion preferred to pee outside, on the library's bushes), so I'm not totally useless as a provider either.
All in all it was an experience, and we're already looking forward to doing it again next year! Just maybe slightly differently.