Moments from the past week.
This past week we spent some time practicing music for a patriotic singalong that they recorded Thursday with Grandpa. He wrote an arrangement and sent us the accompaniment track, and the boys worked hard fitting the songs they knew into the medley and learning some new ones. It was fun, but it also felt a little strange—inappropriate, even—to be belting out "Colombia the Gem of the Ocean" just a week after celebrating the fall of the Colombus statue in Boston. Overall Independence Day has a strange feel this year: the red, white, and blue has maybe a little bit of a different meaning.
To be honest, I'd be happier to fly a black flag, or a red one, or rainbow. Right now at least when I someone displays an American flag I can't help but see it as possibly a statement against Black lives or LGBT rights. Those "thin blue line" flags that are all over sure don't help. Which is too bad! Because while I'm not really into the idea of the United States as a national identity, I do happen to have a lot of neighbors who live in the US... and theoretically it's nice to signal that we've all got something in common and can care about each other. As we celebrate the Fourth of July this year—socially distanced, of course—that's what I'll be thinking about as I sing about the red, white and blue.
Yesterday morning we noticed a striking bird on the top of the apple tree in our front yard. It was smooth and sleek and light brown, with a little crest on its head and black markings around its eyes that looked like super cool 80s wrap-around shades. It was the shades that made me want to look it up, and without a go-to birding resource we looked on the internet and found the All About Birds guide from the Cornell Lab of Ornithology. It took just a very few questions before our bird's identity was revealed: cedar waxwing. I still don't know very much about birds despite them begin all around us, so I was glad to find a resource for telling them apart. Of course then I wanted to go back and ID some other birds I've noticed over the last couple months, but I guess I didn't remember enough details because I wasn't able to pin them down. Also I had to register in order to do more searches, and then once I did the tool would load so I had to do the other searches in a private browsing window. I'll keep trying, but we could also always go back to the methods we've used in the past: texting our friends who own birding books.
When I started gardening I scoffed at the stakes offered for sale at the hardware store. Close to ten dollars for a length of wood? Ridiculous! I just used all kinds of things I scavenged here and there: branches, broken tool handles, marking stakes picked up from parking lots in the spring, old hockey sticks... Then later I came into possession of a bundle of proper garden stakes and I realized that they were actually pretty good. They're cedar, so they last, and they're cut with attention to the grain so they stay straight year after year. I had eight—so I've been using them by choice for all my staking needs. For the tomatoes especially. This spring one of them broke for the first time, from rot, and at the same time garden expansion meant I needed more, so I was forced to consider if I needed to actually buy some for myself.
Maybe I will one day. But for now I've found another solution, one that I can't believe I never used before. See, I have some power tools, and also lots of old lumber, and it takes maybe 45 seconds to turn six feet of old pressure-treated decking into two or three top-quality professional-looking stakes. A run through the circular saw to strip a one-by-one length, then zip zip on the miter saw at a 45° angle for a little point. I made some yesterday to stake up the corn which, unexpectedly, mostly blew down in a violent thunderstorm the other night. Not all the stalks broke. I don't know how long my new homemade stakes will last, but they look pretty nice now and even if they do fail to go the distance I've got plenty of wood to make some new ones next season!
I've been feeling pretty lonely lately. My family is wonderful and I'm super grateful to get to spend so much time with them, but they've got their own stuff going on and and it's not fair to ask them to fulfill all my emotional needs. So while I admit it does make me a little nervous, I'm happy that we're starting to be able to get out and do things with other people. Yesterday we took a hike with some homeschool co-op friends who we'd missed so much over the past three months, and it was delightful!
We walked in the Nashoba Brook Conservation Area; we'd never been there before but will definitely be going back. The river itself is the best part, with bridges and rocky pools and marshy segments making the walk along it endlessly interesting. But it had some competition in a man-made cave. I would have guessed it was a root cellar, except it was a little more complicated than you would really need for that; I understand that it has a mysterious reputation in local lore. In any case we had fun exploring it.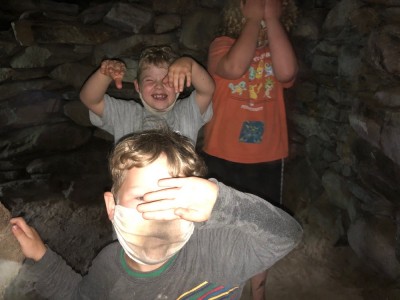 The whole family came along—a pandemic bonus! Leah enjoyed talking with Kelley, but not as much as Scout and Blue liked playing with our friends' dog. We walked two miles; the three dogs must have covered five or six.
The kids got plenty of exercise too: when he has friends to run with, even Lijah can cover some distance without complaining! And I exercised my socialization muscles. A great morning all around.