I don't pay the closest attention, but as I understand it the federal and state governments have abruptly removed most or all of the Covid restrictions we've been living under for the past many months. Which is great! Especially since lots of our friends have birthdays this time of year. But there's also some uncertainty in the air—not to say downright anxiety! For example, while I'm totally fine with wearing a mask I don't love it, especially as it's been getting so warm. Now that I don't have to, outside at least, I'm back to feeling like I did way back at the beginning of this plague: what do I need to do to make the people around me feel comfortable? Like when someone's approaching on the sidewalk: should I put my mask up? Or will that make them think I'm afraid of them and want them to have a mask? Can we just all carry signs indicating our preference?
The kids, of course, aren't vaccinated, nor do they have any immediate prospect of so being. At schools they're now letting the elementary kids have mask-free outdoor recesses, but most of our friends are still more cautious and we're mostly staying masked up for playdates. Which makes sense, since there's a lot more wrestling at homeschoolers' play dates than at your typical school recess. But bike rides are now unmasked. You may have noticed Zion unmasked in the photo heading Sunday's post; as soon as I took it I told him to put his back on. As hard as that is in a water fight. Confusing times.
After all my talk about how much we missed the library, you can imagine my delight last week when, stapled to our paper bag of remote-pickup books was a flyer announcing that we would be able to visit and browse again beginning June 2 at 10:00! The boys had an online book group meeting until 11—many pandemic features are still hanging on—but as soon as that finished up we made a picnic lunch and headed up to the library and playground. Just like old times! Only not quite. After we greeted Ms Bethany and Murphy the Turtle and told them how glad we were to be back, the boys settled in to read the vast selection of graphic novels that had been denied to them for so long (I browsed picture books; joy!). We hadn't managed to leave the house until after 11:30, so I figured our lunch would be a little late... but 12:30 passed without a murmur, then 12:45, and then finally at 1:00 I told them eating could wait no longer. That's not something I ever would have had to say back when we were taking library time for granted!
The other difference is that I forgot that carrying thirty or so books is hard work. Last time we did this I had the cargo bike! I didn't even think about how much has changed in our family cycling setup in the last 15 months, and I just brought my backpack like I always do now. Well, it didn't really matter: the boys had their doubts, but I managed to get all of mine and Elijah's checkouts in the bag, plus our lunch tupperwares (Harvey and Zion brought their own backpacks). Well, they weren't actually all in the bag: four ended up strapped to the outside. It worked.
Of course, before we packed everything up we had lunch at the playground, and we all read right through lunch. Then I dragged them away from books for a little climbing, but when we got home Harvey and Zion read straight through til 5:00. Some of the time in the hammock! Life is good.
Leah is on the Cape now to keep clear of us while she attends and works on a virtual conference thingy. And she brought the dogs with her. We miss her, of course, but she's been gone before; this is the first time since we got them over a year ago that the dogs haven't been here while we are! Leah left yesterday afternoon, and last night going to bed I really felt their absence. The house was so quiet! Zion had already been missing them, since he's accustomed to spending lots of time snuggling with them when he can't think of anything else to do. Of course, no everybody regrets having them gone: the chickens were able to spend the whole afternoon and evening out in the yard, and today they'll have a full day of unmolested foraging, something they never get when they have to split time with a couple of rambunctious pups. And of course, I'm sure the dogs themselves are having a grand old time down at the beach! We're going to be joining them on Monday; excitement is running high for the journey.
Moments from the past week.
It turns out that going away is hard for me now! Like Sophie in Howl's Moving Castle I found myself coming up with all kinds of reasons why I shouldn't leave home, and despite the boys' excitement I maybe didn't hurry all that I could have this morning. Still, we got out at a very reasonable time, and after a couple delightful adventurous stops we arrived here in Truro a little after lunch, in plenty of time for a long and relaxed vacation afternoon. And while I didn't do everything I had hoped for at home, I did manage a lot of it. One glaring failure was forgetting to pick the strawberries: I kept putting it off as I ran around doing other things, then it slipped my mind before the end. It's disappointing, because they're doing really well and some of them will definitely go bad before we get home again. Is the time on the beach worth it? I'm not sure! As I say, leaving home is feeling hard! Two more days of the trip; we'll see how I do.
Moments from the past week.
We were only away for three days—two nights—so I have no excuse for ignoring the blog all last week. There's even proof that I'm even able to blog from the road! But vacationing is tiring, and it took me the rest of the week to recover from all that fun. Now we're trying to get back to normal, so here's the tale of what we got up to on our delightful escape.
We left early on Monday morning. Not as early as the boys wanted, but it wasn't so easy to get everything ready and packed as a single parent (Leah was already on the Cape for her conference; we were going to join her). It was especially stressful because I was worried how all the plants would do: the extreme heat that made a trip to the seaside look extra appealing was also a threat to my poor seedlings. But we got everything squared away in time to hit the road before 9, which I think is pretty respectable. And with lunches packed, we had plenty of time to stop along the way!
Our first side trip was just after the bridge over the canal. All the years we've been visiting the Cape we've gone over it—and noticed the bike paths running on each side—but never stopped for a visit. No more! On the spur of the moment I took the exit after the canal and then followed the signs to the Canal Visitor Center. Which, it turns out, was both closed and not contiguous to the bike path, but it did have a parking lot and a gravelly path along the last little bit of canal to a beach, which is probably even better. I didn't let the boys get too wet, since we had a ways to go yet and no way to easily access the dry clothes in the car, but we still managed to have a good bit of beachy fun exploring, skipping rocks, and collecting shells.
At the canal it was still too early for lunch, so we got back on the road aiming to hit the National Seashore visitor center at lunchtime. We pulled in a couple minutes before noon; when the boys objected I reminded them that it *would take a little time to get the lunches out of the car and find a spot to eat and all. After lunch we took a walk on the trails around the salt pond. There's a short guided path stuffed with informative signs telling us about some of the plants and the history of the area, but what I mostly noticed was the proliferation of invasive species that were battling it out for control of the area.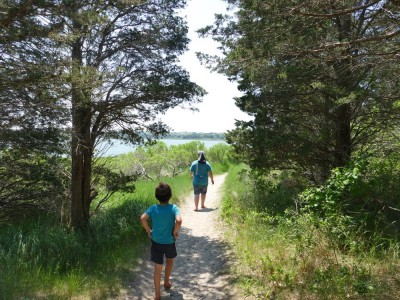 The walk was a little more than a mile, which felt too long for boys who were eager to get to Truro and the beach there. But they endured it, which I appreciated because I was really enjoying the chance to wander and explore. That's the best part of traveling! Well, one of the best parts. The snacks and the audiobook are also pretty nice, and the boys appreciated those unreservedly. There was also an unexpected treat: drinking fountains are open again! We really missed them last summer, and it was thrilling to be able to get a drink on the road again. And necessary in the 90°F heat!
That was just the drive there—after that we actually had a few days of vacation. But it was enough adventure enough for a post of its own. The rest will have to wait... maybe I can milk the trip to fill a whole week of blogging!
Basically what we did on vacation was go to the beach. As on past visits, we divided our swimming time between two beaches: one on the Bay side in Truro within easy walking distance of the house, and the other at the National Seashore in Eastham. Each had their appeal!
The Bay side beach is easy to get to: a seven-minute walk away or, new this year, a two-minute bike ride (though none of us dared to stair-ride the giant multiflight wooden staircase down to the sand). It tends to be calm, and pretty empty since the only people who can access it are the ones who have houses in the neighborhoods above the bluff. This year there was actually a little chop the first day we were there, which was fun. When it's calm it's great for swimming, and it's always great for walking in the morning or evening.
Our other favorite, Coast Guard Beach in Eastham, is far away. In fact, there are accessible ocean beaches much nearer to hand, especially in early June before the sticker parking restrictions kick in. But those beaches aren't accessed via the world's most fun bike path, the Nauset Path, that runs over the dunes for a little over a mile from the free parking at the visitors center to the beach. This year, on his geared bike, Lijah was able to ride the whole thing!
The main attraction of the beaches on the ocean side is the waves. This year they weren't particularly big, especially when we arrived a bit after 10:00, but that was alright: we had some intense experiences last year that may have soured one of us on even talking about waves for the past ten months. They were enough to be interesting to the boys! We were also not deterred by the cold water; I overheard someone saying that it was 57°F, but it felt at least 65° and Harvey and Zion at least spent two solid hours mostly submerged. Lijah and I had to take breaks, but we still had lots of fun.
The only bad part about the outing, in fact, was how hard it was to find ice cream afterwards! The first three places we visited were closed (that's not counting Ben & Jerry's, which was too expensive to contemplate). We were saved by PJ's Family Restaurant who had reasonably priced cones and awesome flavors (campfire s'mores!); everything we could want, in fact, except shade. So we ate in the cemetery across the street.
That was an outing. Lots of fun, but also tiring. So that evening we were glad to make another visit to the quieter beach. And then again the next morning, and...
One thing that made me a little nervous about our vacation was how we were going to get back. See, on the drive there it was only the boys and me; Leah had gone down earlier in a friend's car with the dogs and all the luggage she needed for a six-day trip where she also had to bring several computers and microphones. The boys and I packed light when it came to clothes and toiletries—that was easy—but we did bring a big bag of books and a big bag of games and snacks and a cooler... and all four bikes. So how were we to arrange everything for the return trip? I worried about it. In the end, though, it wasn't even that hard!
I did the packing while everybody else took one last trip to the beach. I knew the bikes were the main sticking point: two can go on the rack, but more than that is a little sketchy on the highway. But with the pedals and front wheel off Zion's strapped down beautifully on the roof, and with both wheels off Elijah's tucked very nicely agains the wall. I secured the wheels and everything else with tie-downs so nothing would fall on the dogs, and they had all kinds of space to lie down. Minivans are awesome.
It all went so well, I think we need to take another trip!
We celebrated the end of our school year today with a trip to Berry Pond, the gem of Harold Parker State Forest. The plan was to meet our friends there at 10:30, but we were ferociously late getting going. Never mind, so were they! We pulled into the parking lot at 10:50 only a little after them, and after that everything was pure relaxation.
The best part of Berry Pond is that you can be on the beach and in the shade. You can even swim in the shade! Though it wasn't that warm a day, so we parents were happy to stay out of the water completely. Not the kids though: they were in it all day.
Or not quite all day: there were two exceptions. First was for food—befitting our celebratory gathering we had quite a spread, including chips, popcorn, crackers, veggies and dip, strawberries, brownies, cupcakes, and two kinds of lemonade. And then everybody had their own packed lunch, too, not that those lunches got much attention.
The kids also took some time off from swimming to walk halfway around the pond to a beautiful rocky spot opposite the maintained beach. It's a perfect place for getting in the water, except for one thing: it's absolutely covered with "no swimming" signs. That's so unfair that I did have to let the kids go in for a little bit, but couldn't hold out against the pressure of the rules for as long as they wanted to swim. So sad.
But never mind, the beach was good too—good for well over two hours of swimming and relaxing and being together to mark the end of this strangest of school years. Not that too much will change: our same group is getting together next Monday. Call it summer camp?
June is rushing on in quite a surprising fashion, and a few days ago it suddenly occurred to me that if we wanted to go pick strawberries we'd have to act fast! We've been getting plenty from our garden—the netting is working this year, mostly—but it's just plenty to eat... not enough to make jam. So we needed a trip to the farm. With school over, we had time this morning and we made it happen.
The expedition was not everything that we could hope for. Parlee Farms, where we've long picked all our berries, is every year becoming more and more of a PYO theme park. Continuing in that theme, they've now switched the strawberry pricing from by the pound to a flat rate: you buy a box before you head out to the field and get to bring home as many berries as you can fit in it. The prices were never outstanding, but now they're much worse. $11 for a quart box that you have to fill yourself?! We paid $35 for a box that was said to hold six pounds, and we went in determined to fill it to the absolute brim!
For all my gripes about the farm, the picking itself is fantastic. And this year all three boys were awesome helpers, so we got our box filled in no time at all. More than filled: we carefully stacked the berries well above the rim. We had to get our money's worth—and it's so hard to leave berries behind! The strawberries are at a far end of the ever-growing farm property, so the tractor wagon ride to get there (can't call it a hayride anymore: all hay has been replaced with wooden benches) took a considerable time. In fact, after we'd picked all our berries and walked back to the tractor stop we had a couple minutes wait before the arrival of the same tractor we'd ridden out to the field, one of three doing the round trip. I guess part of what we were paying for was that ride, since it was the longest part of the visit!
Well, that and the animals too; we happily spent some time admiring the goats and, especially, the bunnies. We would've had to pay extra to feed them though, so we didn't do that. We did pay a little extra to feed ourselves some donuts and chocolate milk as a reward for our hard work, but there was one final disappointment: they don't make strawberry donuts any more. No blueberry donuts in blueberry season, no strawberry ones now... just boring apple cider. It's too bad. We've been regulars for a long time, but it's about time to find a new place to pick. That and keep working on our own strawberry beds!
That trip was disappointing, but at least we could look back at one purely wonderful strawberry-related event this week: the return, yesterday evening, of the Strawberry Festival at the Congregational Church. It was cancelled last year, obviously, but things are looking up enough that it happened this year. Outside, which made it even better! It was so wonderful to be out among people, and eating even! Sure, five dollars is a lot to pay for strawberry shortcake, but it felt totally worth it under the circumstances. Especially since Lijah's bowl of only chocolate sauce (they offer chocolate and ice cream as well as the traditional components of shortcake; he cares only for one component) was free: it should've been five dollars too, but he's so cute and it's such a fun thing to ask for that they didn't charge us, even after I insisted. It was a lot of chocolate too!
Moments from the past week.
Harvey turned 12 yesterday on Fathers Day. How appropriate for the boy who made me a father! We had a full weekend of celebrating, with the centerpiece being an in-person party with his friends on Sunday.
Folks came over before lunch with their bikes, and we rode the oft-traveled route down to Fawn Lake for a picnic (we've done it before; everybody is much quicker now!). Everybody brought their own lunches, but we provided a variety pack of little bags of chips. Very festive! Then I made everybody ride around the pond, forgetting that normal people find bikes a hindrance on twisty, rooted trails. Oh well, their riding on the bike path was so easy it totally made up for it. In fact, they're so good I don't think they even noticed the ride: their bodies were on their bikes, but their minds were in Minecraft. At lunch too.
When we got home we had cake and ice cream on the lawn; it was too hot to be on the deck. Harvey conceptualized the cake and helped me construct it, and we were both quite pleased with how it came out.
Of course, that wasn't the only party! Celebrations kicked off Saturday at lunch time with a cookout with my parents, who graciously shifted from from our previously planned dinner cookout to let the boys attend a movie night in a friend's garage. Lunch was hotter than it would have been in the evening, and I may have sweated onto the burgers, but that didn't bother anybody. We did head inside for dessert, which wasn't a cake but a strawberry-rhubarb pie.
On Sunday we celebrated Harvey at breakfast time with a candle in french toast. Then in the evening, after he had a little bit of time to rest after the excitement of the early afternoon, it was time for a party with the other grandparents and another chocolate cake. I skipped that one: after a full weekend of party prep, my Fathers Day present was to get some rest!
Happy Birthday Harvey! I trust he feels well celebrated.
If you read this blog via an RSS feed or check in regularly—not likely, I know!—you will have noticed that recent posts have been showing up late. The fact is, I'm behind in my writing. I have lots of things I want to write about, but I keep failing to finish posts on time. The last couple nights I stayed up late to catch up from last week—that is, when I wasn't staying up late to get ready for a birthday party. I was delighted to get all that stuff about the end of school and Harvey's birthday down, dated retroactively... but now, after a full day, I find myself behind again! And so very, very tired. So instead of staying up past ten for a fourth night in a row, I'm leaving this note here—low content, but on time!—and I'll try and use tomorrow's writing time for the story about our trip under the highway, or the two waterslides the boys have experienced in the last week. As long as I don't have to take all of it helping the younger writers, that is. We've got a lot going on over here!