posts tagged with 'fair'
We can count the fair at church two weekends ago as a warm-up, because this past Saturday we jumped head-on into a bigger event: the Middlesex County 4H Spring Extravaganza. And not just as participants, either—we were there to work! But don't worry, there was plenty of time to play and enjoy as well, because the volunteer assignments were so ad-hoc and disorganized that, beyond setting up and cleaning up, there wasn't really anything for them to do. Except do fair things, and spend money!
Besides the food—hamburgers, grilled cheese, chips, brownies, popcorn, Hawaiian shaved ice—they bought raffle tickets, stuffed animals, and books. Which was almost everything they could have spent money on. Some of their friends also paid for henna tattoos, but that didn't interest them. The stuffed animals were delight enough!
And of course, it wouldn't be a proper old-fashioned fair without some field games. Besides the tug-of-war pictured here (Zion and Elijah's team won that contest, I was on the losing side every time I participated), there were sack races. They provided all the excitement anyone could hope for.
The event was pretty well attended, and it was a cheery sunshiny atmosphere all over the grounds. I didn't take any pictures of the animals, but they were the main attraction: you could visit and pet cattle, sheep, and goats—including a few adorable tiny baby goats. And the horse girls were riding in the ring, showing off their skills. And when the boys needed some time away from the crowd, the fairground has space for that too.
This was the first ever Spring Extravaganza; usually Middlesex 4H is content with just the one fair in August. But I guess they've been missing inviting the public to the fairground over the last two years! Of course, the end-of-summer fair is still on the calendar, and promises to be a whole lot bigger and better. We're looking forward to it!
Friday evening Harvey reminded me that there was a fair happening at church on Saturday and he'd maybe like to go. I was doubtful... it seemed like a lot of work. Where would we park?! But then his brothers got ahold of the idea and it seemed unkind to deny them just because I'm a lazy homebody. So I came up with the plan of leaving the car in Arlington and biking the rest of the way on the bike path. Which worked great! We got to the fair maybe half an hour after it started, and stayed until closing time. And we did all the things... except win one of the big raffle prizes.
Besides the bounce houses—the heart and soul of any fair—there were all kinds of very simple games to play. Some of them gave you raffle tickets when you completed them, but I wasn't sure how many times we were meant to play in a row. It was less stressful to just play on the things we could do ourselves, like the cornhole courts.
There was also unlimited free cotton candy, and pizza, salad, fruit, and juice boxes (not unlimited, to the boys' dismay); a painting table; and a fun photo booth. Harvey didn't have the best time after all—he was maybe a little old for the games, and he couldn't help thinking he could have been home playing Minecraft—but the other boys and I had a fantastic time.
As delightful as the fair was, though, the bike ride to and from was even more fun. It's been a couple years since we ventured down to that end of the Minuteman bike path, and there was lots to see and enjoy. Like playgrounds! Even the crowds on the path between Arlington and Cambridge were exciting—we never get half that many people on our end of the Minuteman. Best of all was Spy Pond, at its finest on a beautiful April day.
There was so much else to report when I was writing about Bedford Day that I wasn't able to give Elijah's face paint the attention that it deserved. I need to remedy that because, just like every time, he went all in with it and looked amazing.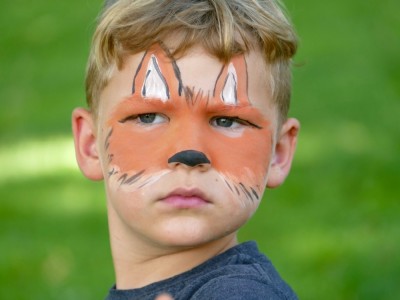 I can't remember either of the other boys being so into face paint at seven, or any other age. I think they lack his commitment to personal ornamentation, and also his willingness to communicate with strangers. Which you need to do if you want someone to give you that kind of attention! He's also really patient: there wasn't much of a line for the face-painting booth, but he still needed to wait at least ten minutes before he got his turn, and then the painting itself took close to that.
Totally worth it though! I only wish the paint job itelf lasted a little longer... it was already smudged by the time we headed home an hour or two later, and after 24 hours all that was left was the white triangles above his eyes and a lingering spray-tan looking orange cast to his cheeks. He tells me we have our own face paint set somewhere in the basement though, and he's already planning his next look.
Bedford Day was cancelled in 2020 thanks to the pandemic. So was Pole Capping, Fourth of July, and Halloween. Then we also missed Pole Capping and Fourth of July in 2021. So let me tell you, there was some excitement for Bedford Day 2021! It happened this past weekend, and it was spectacular.
I don't know if there were more people out than the last time we celebrated as a town, but enthusiasm certainly felt higher as we arrived at the center of town for the parade Saturday morning. We met the same friends as last time—well, mostly, since in the intervening years all the kids have gotten older so some of them are now marching with karate or soccer. So we waved at them. There was a little less candy-throwing than past years but still plenty, lots of which—again—failed to reach the barricades along the side of the street. We didn't let our kids crawl under, but they still managed to get enough to kick off their sugar rush.
Not that they needed much parade candy, because the fair following the parade was full of sugary treats. Elijah was possessed by the idea of cotton candy so the first thing we did was wait in a long line to get some at $3 a shot (Zion too; Harvey chose a much shorter line for pumpkin pie with vanilla ice cream). We felt a little sheepish later when we found another booth with free cotton candy, but that just meant the kids got another hit. We also enjoyed snow cones (free), popcorn ($2), and homemade chocolate chip blondies ($1: much the best deal). Plus we even found time to eat the lunches we brought!
Zion's two best friends were in the karate demonstration this year, so it was extra fun to watch. And there were balloons to play with, and fire trucks to tour, and the library book sale. Elijah got face paint. Then everything started closing down and we went home.
But unlike past years, that wasn't the end of the festivities! In Bedford we have Fourth of July fireworks only every five years, and we missed our shot in 2020. Never mind, leftover fireworks are much better in September, when the show can start at 7:30! We rejoined our friends—they brought glow sticks!—and the kids ran and played until the sky lit up with the most amazing fireworks display I've seen for at least two years.
June is rushing on in quite a surprising fashion, and a few days ago it suddenly occurred to me that if we wanted to go pick strawberries we'd have to act fast! We've been getting plenty from our garden—the netting is working this year, mostly—but it's just plenty to eat... not enough to make jam. So we needed a trip to the farm. With school over, we had time this morning and we made it happen.
The expedition was not everything that we could hope for. Parlee Farms, where we've long picked all our berries, is every year becoming more and more of a PYO theme park. Continuing in that theme, they've now switched the strawberry pricing from by the pound to a flat rate: you buy a box before you head out to the field and get to bring home as many berries as you can fit in it. The prices were never outstanding, but now they're much worse. $11 for a quart box that you have to fill yourself?! We paid $35 for a box that was said to hold six pounds, and we went in determined to fill it to the absolute brim!
For all my gripes about the farm, the picking itself is fantastic. And this year all three boys were awesome helpers, so we got our box filled in no time at all. More than filled: we carefully stacked the berries well above the rim. We had to get our money's worth—and it's so hard to leave berries behind! The strawberries are at a far end of the ever-growing farm property, so the tractor wagon ride to get there (can't call it a hayride anymore: all hay has been replaced with wooden benches) took a considerable time. In fact, after we'd picked all our berries and walked back to the tractor stop we had a couple minutes wait before the arrival of the same tractor we'd ridden out to the field, one of three doing the round trip. I guess part of what we were paying for was that ride, since it was the longest part of the visit!
Well, that and the animals too; we happily spent some time admiring the goats and, especially, the bunnies. We would've had to pay extra to feed them though, so we didn't do that. We did pay a little extra to feed ourselves some donuts and chocolate milk as a reward for our hard work, but there was one final disappointment: they don't make strawberry donuts any more. No blueberry donuts in blueberry season, no strawberry ones now... just boring apple cider. It's too bad. We've been regulars for a long time, but it's about time to find a new place to pick. That and keep working on our own strawberry beds!
That trip was disappointing, but at least we could look back at one purely wonderful strawberry-related event this week: the return, yesterday evening, of the Strawberry Festival at the Congregational Church. It was cancelled last year, obviously, but things are looking up enough that it happened this year. Outside, which made it even better! It was so wonderful to be out among people, and eating even! Sure, five dollars is a lot to pay for strawberry shortcake, but it felt totally worth it under the circumstances. Especially since Lijah's bowl of only chocolate sauce (they offer chocolate and ice cream as well as the traditional components of shortcake; he cares only for one component) was free: it should've been five dollars too, but he's so cute and it's such a fun thing to ask for that they didn't charge us, even after I insisted. It was a lot of chocolate too!
Last Thursday was the first of four summer concerts here in town. When they published the schedule I was pretty underwhelmed, but when Thursday afternoon rolled around we headed up anyway... it's hard to pass up a party! And I'm glad we did, because it ended up being a fantastic time.
Besides the big slide and another bounce house (well, bounce obstacle course really) there were big Connect Four games and corn hole, and lots folks to hang out with: it seemed like almost everyone we know in town was there! And then of course there was the music too, which was surprisingly better than I had expected. I don't always trust the quality of "Caribbean music", but The Kolors Band had enough bass in the mix and plenty of energy to make things fun. I wanted to dance, of course, and the band wanted everyone up and dancing... sadly, in Bedford people don't, generally. But you can always count on kids, and once the band realized that nobody else but the kids was actually going to interact with the music they gave up on the rest of the crowd and had a little dance party for under-tens (and me). Here's Lijah getting down; you can also see us for a couple seconds in this video!
The show closed with a full 15 minutes of limbo madness, as pictured here. Amazing! There's no way tomorrow's show can possibly be as good. We'll probably still go anyways. Yay for summer music.
Yesterday we went to the Picnic in the Park to celebrate Independence Day in style. It was maybe our tenth straight year going or something; maybe more. Once we find something good, we stick with it! Most of us, anyway: Leah was even more wiped out than the rest of us by our adventures on Cape Cod the first half of the week and our late-night return on Wednesday, so she stayed home. Plus, cotton candy doesn't have the same appeal for her as for some others of us.
And not only cotton candy: pie and ice cream too!
Also popcorn and candy, plus all the food we brought from home for our lunch picnic. So it was a good thing that we had some active pursuits in the bounce house and the field games. Here's Zion taking a fall trying to catch up with the bigger kids in his second sack race heat (he still finished first among the smaller ones).
There was music too, which I enjoyed more than the boys. They're big now, and I appreciated that when they wanted to play on the playground during the Concord Band set they could do it without me there! Lijah is especially impressive. When he wanted a balloon animal, he was able to wait in line by himself for like half and hour, which I never would have been able to stand.
The only downside of the day was that water to play in was in short supply. The fountain was turned off, and the fire department with their hose—usually a highlight—packed up early for some reason. But there was plenty of drinking water for us to quench our thirst after our bike ride to the fair, and refill once again for the trip home.
Harvey's friend Jack came with us, which was super fun, and we met up with a whole bunch of other friends there. It all contributed to a great celebratory day: even without fireworks, it was just what Fourth of July should be.
The solstice this year was busy with celebrations: our community group's little party Harvey on Friday evening, two big parties for friends Saturday, and an end-of-the-year picnic at Church mid-day Sunday. Luckily, the Town of Concord scheduled solstice festivities for Sunday afternoon starting at one, so by hurrying we were able to get to the Old North Bridge in time to see mid-summer greeted in style!
Besides the solstice, we were also celebrating the Concord River and its tributaries, so the party was called Riverfest. It's happened for a few years now, but this is the first time we managed to make it—and now that we did, I'm sorry to have missed it before! So many fun things there. We started off making some art; Harvey was feeling grumpy, but the woman running the art table was so energetic and encouraging she drew him out of his funk, and once launched he worked on his project for quite a while. Lijah doesn't have patience for long-term projects, and after a few minutes he decided he wanted to get his face painted. I was amazed and proud to see him handle the whole thing, from standing in line to telling the young woman what he wanted to be (a white bunny) all by himself! The transformation was startling.
Next we listened to (and participated in!) some river-themed kids music. When that wrapped up we went for a little canoe trip downstream... but not very far downstream, because the current was running fast and we didn't want to work too hard on the way back! It felt very companionable with dozens of boats out on the river. Most of them weren't even taking any part in Riverfest, but that didn't mean they were enjoying the river any less! When we got back to the bridge the boys all went for a swim—even Harvey, who chose not to bring a swimsuit along on the trip. Never mind, the sun was hot!
Then it was time for the most exciting part of the afternoon, the cardboard boat race. As tempted as I was to sign us up as participants, I though it would be more prudent to watch one year before jumping right in. So we spent a relaxing hour wandering among the busy teams of cardboard crafters and eating snacks. I think we learned some things about what it takes to get cardboard to float. As the race itself kicked off, we certainly witnessed plenty of examples of what not to do!
As we talked about the festival in the days leading up to the solstice Mama decided that, all in all, it sounded like a little much to her. But as dinner time approached things were pretty calm, so I invited her to join us for dinner (plus, she could bring Harvey some dry clothes!). Some friends showed up just a little later, so the nine of us shared a peaceful picnic while listening to some lovely bluegrass/country/oldies played by an acoustic trio. Well, it was peaceful for the adults and Harvey... the four smaller boys entered into some freewheeling—and occasionally violent!—play with the other young picnickers.
As it started to get dark, the festival organizers started up a fire. While it wasn't totally the solstice bonfire I'd been anticipating, it was plenty big enough to toast the marshmallows they'd thoughtfully provided for smores. The boys wished there was enough to have more than one, but it was a pretty good-sized crowd.
The day concluded with a solstice singalong on the Old North Bridge, while those of us with boats paddled around beneath with candle lanterns glowing. Plus the bubble guy was there to make the atmosphere even more magical. What do you sing at a solstice singalong in Concord, MA? Some Beatles, a couple tunes from Hair, "This Land is Your Land"... stuff like that. As it got dark at last you could even start to see the lanterns.
Then we turned for home. The boys have fallen asleep in the car lots of times; this was the first time they ever did in the boat. We celebrated the heck out of that solstice!
Last Wednesday was Fourth of July, and we went to Concord for the Picnic in the Park. Like we do. It was super hot, which kept lots of people away; the crowd was noticeably smaller than usual. But we weren't bothered at all, because we have tents!
The little one there is ours.. the big one belongs to our friends. They also brought along a hammock. Luxury! There was a bit of a breeze so sitting in the shade we were totally comfortable as we ate lunch and listened to music.
Of course, with so much going on around us we couldn't sit still forever. When we heard the announcement that the field games were starting we headed right over to compete in the sack race, three-legged race, and sponge toss. None of us won anything, but we had fun trying!
All that competition was hard work, so we were glad that the fire department was their with their hoses to cool us down. After we all got wet enough Lijah and Zion took their turn at the spraying.
There was lots more fun after that: listening to music, riding the train around the field, jumping in the bounce house, playing on the playground, and just relaxing in the shade. There were also balloons to collect and play with.
It took us five hours to start to feel done—just as well, because that's when things started to wrap up. So we rolled up our tents and hopped on bikes for the ride home. When you do things every year you notice how the kids are growing up: Zion able to ride the whole way himself and, unlike last year, Lijah even wore shorts for the occasion!
Saturday was Bedford Day, and we celebrated it with more friends than ever before! The allure of our wonderful town is hard to resist; people we already know and love keep moving here. So naturally we got together to celebrate all Bedford has to offer.
Which turns out to be mostly lots of candy and kids desperate to get their hands on it. Last year I recall being a little calmer, but on Saturday everyone was full of energy and ready to charge into the scrum.
It was a little overwhelming, actually; there were some tears. I'm afraid it didn't show the town in its best light: no one could see the little ball players for all the chaos around them. At least no one got run over, though there were nervous moments in front of us. And with all the competition our candy haul was disappointing to at least two members of the family (I'm inclined to see that as one small silver lining).
Of course, the parade wasn't all bad. The trucks were as loud as ever you could want, and Lijah's friend Henry seemed to be completely satisfied. For his part, Lijah endured the little bit of gunfire from the Bedford Minutemen with greater-than-usual stoicism (though he didn't like it). And the Party Band was there to give us a few moments of good music.
Then after the parade we spent a delightful three or four hours at the fair. We watched the karate demonstrations—Zion is ready to sign up right now, especially after he broke three boards at the recruitment booth—and the fitness dancing. We bought books at the book sale and got balloons and bubbles for free. We ate our lunch from home, then supplemented it with brownies and cupcakes from the Episcopal bake sale. And the boys got to go in the fire truck. Zion enjoyed one special reward of fair-going with friends: another dad took pity on the middle-sized children's desperate need to play mini golf at $2/person, and funded them one round. Now that's generous!
We all had a great time. Even the great heat didn't deter us a bit (most of us; Lijah may have been slightly deterred in his fleece pajamas). We were so content that it wasn't even very upsetting to lose Harvey on the way out and spend ten minutes looking for him, only to hear from Leah that he made his way home on his own. All's well that ends well!