posts tagged with 'outing'
On Tuesday I wanted to get out for a ride in the morning before the forecast rain. I was thinking MTB but, as we talked about it, all three boys requested a bike path trip (I think they were thinking fondly of Saturday's excursion). I was worried that would be a little tedious, but they were convincing so after a little bit of farm work we set off up the Minuteman Commuter Bikeway towards Lexington. It was fun: we went at a reasonable pace, we got to talk, and when I got bored I rode over things along the side of the path. But when we stopped by a stream for a rest and some playing, I had an idea. Some years ago we had explored part of the "ACROSS Lexington" trail system, and had a great time... maybe we could do that again? We did, and it was delightful.
As I wrote in that long-ago post, the ACROSS Lexington trails connect sidewalks, paved paths, and woods segments all over town. Back in 2018 they went up to "H"—it's all the way to "N" now, but we still stuck with the original "A" route. Because besides a good ride, we also wanted to relive past glories! And see how much more impressive we are now. For example, compare Elijah in that old post to what he's up to now:
(We tried to reproduce the original as much as we could, but April instead of July made it hard!)
Zion was seven the first time, and had been riding for less than a year. Elijah is eight and an experienced cyclist, so he never told us he hated trail A except in jesting imitation. He did have to push up some hills, though; we haven't been riding that much lately and the seven or eight miles felt like a fair lot. Still, we made it in fine form, and quite a bit faster than last time too. Home in time for lunch, even with a stop at the Battle Green visitors center thrown in at the end. Good times. I wonder if there'll be any interest in trying out any of the other thirteen routes?
Friday evening Harvey reminded me that there was a fair happening at church on Saturday and he'd maybe like to go. I was doubtful... it seemed like a lot of work. Where would we park?! But then his brothers got ahold of the idea and it seemed unkind to deny them just because I'm a lazy homebody. So I came up with the plan of leaving the car in Arlington and biking the rest of the way on the bike path. Which worked great! We got to the fair maybe half an hour after it started, and stayed until closing time. And we did all the things... except win one of the big raffle prizes.
Besides the bounce houses—the heart and soul of any fair—there were all kinds of very simple games to play. Some of them gave you raffle tickets when you completed them, but I wasn't sure how many times we were meant to play in a row. It was less stressful to just play on the things we could do ourselves, like the cornhole courts.
There was also unlimited free cotton candy, and pizza, salad, fruit, and juice boxes (not unlimited, to the boys' dismay); a painting table; and a fun photo booth. Harvey didn't have the best time after all—he was maybe a little old for the games, and he couldn't help thinking he could have been home playing Minecraft—but the other boys and I had a fantastic time.
As delightful as the fair was, though, the bike ride to and from was even more fun. It's been a couple years since we ventured down to that end of the Minuteman bike path, and there was lots to see and enjoy. Like playgrounds! Even the crowds on the path between Arlington and Cambridge were exciting—we never get half that many people on our end of the Minuteman. Best of all was Spy Pond, at its finest on a beautiful April day.
My favorite thing about this time of year is watching the kids walk on snow in their bare feet. Not that there's lots of snow left, but certainly pockets. And you know it's warm enough that they're having a hard time bothering with shoes. On Tuesday we went for a walk at October Farm and I'm not even sure if Elijah brought any. He reports that, even where there wasn't snow, the mud was pretty chilly. But the air was charmingly mild, so much so that he and Zion didn't even feel that they needed to keep their shirts on.
We brought a lunch, and the hardest part of the whole trip was waiting until almost 12:00 to eat it. Picnics are still so exciting! There was ice to try—not at all safe—and water to wade in—pretty cold—but most of all we just walked and talked and enjoyed the mild air. It was so lovely being outside that when we got back to the car we did a little tailgating to soak up as much early spring joy as we could.
Then on the way home we stopped for a minute at the boat launch to wade in the river. But only for a minute. The Concord is still cold!
Yesterday we spent some time with friends and as we adults sat around talking we did some reminiscing about how much we used to enjoy little outings with our little kids. Expectations were so reasonable! Everything was so delightful to experience! Well, the boys may have been listening and feeling the same way, because when Harvey, Elijah and I took a walk in the afternoon we found ourselves bushwhacking along Elm Brook where, I recalled, there used to be a path many years ago. Only a short bushwhack, though, and before long we reached the bridge where the bike path crosses the brook, a spot where Harvey at least had spent many delightful hours exploring and playing when he was well younger than Elijah is now.
What do you do at a stream? Throw sticks, climb on the retaining walls, test how cold the water is, see if you can wade all the way across (no), find secret homes on the bank... Besides the water, there was also some ice on the bridge that Elijah and I enjoyed sliding on. Then we walked a little further—but not too far! We climbed on some stumps and loading docks, visited the Budd Rail Diesel Car, and pushed the tiny rail cart thing up and down the narrow gauge tracks. Then we headed for home since it was time for Harvey to play Minecraft. We were out for an hour and a quarter, and we didn't get farther than half a mile from home. And it was a highlight of the day! Not bad for entertaining an almost-teenager.
We fully embraced the solstice today. We talked about it, and read about it, and later this evening we're having a big solstice party—the fire is already laid and the backyard decorated with boughs of spruce and holly. But our first big solstice moment was a lantern walk at sunset.
It was organized by the moderator of the Greater Lowell Homeschoolers Facebook group, who also brought supplies to make paper bag lanterns. Some of our good friends were there, and also some folks we hadn't met before. It was a short walk—it was already getting dark when we started and most of the group wasn't hardy outdoorsmen like us—but still delightful.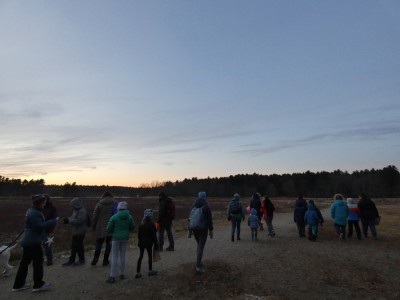 Best of all was that the ice on the pond was about an inch thick, even after barely 24 hours of good freezing weather. Parents were nervous, but the brave kids had a grand time slipping and sliding close to the shore, and nobody got any worse than wet hands and feet. Much fun; and I consider the Yule to have been properly Welcomed. Now let's party!
This morning we took a walk by the airport, where we haven't been for months because it gets so wet. It's still wet, but somehow it seems a little easier to deal with when it's winter. The mud was challenging at times, but there were lots of dry spots and it was wonderful to see the boys getting to run and play. One of the hardest parts about homeschooling is that they don't get a recess to play tag or whatever with a bunch of other energetic kids; their tired old dad isn't nearly as much fun. So we like to get together with other families with the hope that the kids can encourage each other. Sometimes that works! Today though, they didn't even need it. They were running right out of the car, being pets along with the dogs, and then when we reached the field where the high grass was irresistible they spent half an hour as tigers and hunters. Then the last part of the walk they slowed down and got back to talking about Minecraft, but that's fine too. It's still fresh air!
We took a bike ride in the woods yesterday, and I turned on the Strava because it's actually the best way to navigate on trails where you're not sure where you're going or where you want to go. And because I like recording things! When we finished up after a couple hours of fun exploring I was maybe a little disappointed to see that our ride came in at under four and a half miles. Is that all we could manage?! But then I thought about it a little more and started to wonder if it wasn't actually reasonable. After all, some kids don't even regularly do five miles on roads! And this ride wasn't on roads.
Well, not paved roads at least. We were in the Estabrook Woods in Concord, and one of the cool things there is the old Colonial-era roadways that still run through the woods: Estabrook Road and Two-Rod Road, straight between the stone walls at either side. As we rode along we tried to imagine what the landscaped looked like when instead of trees it was all fields and pastures, but we couldn't really. It's a big woods, and though we've been there before there are still lots of parts we haven't explored. The big find this time was an old limestone quarry: a gorge eight or ten feet deep and not much wider, with a cave at one end and a cool Pride Rock outcropping overhanging in the middle. Just right for a little chorus of "Nants ingonyama".
We also stopped a few times so the boys could climb glacial erratics, and to have snacks and water, and to consider the world from the heights of Hubbard Hill. And of course in Estabrook woods there are lots of streams and ponds to check out. Sure it was too cold to want to fall in but not cold enough for ice, but that doesn't stop us being fascinated by the water.
No, they're good riders and hikers, and I'm lucky to have them as company for such delightful jaunts in the woods. Not every kid would go for it! And if I want someone to do a ten-mile ride with me, there's always Harvey. And probably Zion next year. And Lijah not far behind? We'll keep practicing!
Tuesday is our outing day. So yesterday, after some work time and recorder practice, we packed up and headed out for a big one to Rockport, where we hadn't been since August. And our main goal was somewhere we've never been before: Halibut Point State Park, which came highly recommended by a good friend in our Friday evening group. While we're usually pretty smooth at getting out the door, there were some hiccups in the planning process. Zion made his lunch and packed it up in his backpack, but when we arrived (after a drive of close to an hour) he found that he never managed to get his backpack into the car. Also, the clothes he had chosen to wear weren't quite up to the rigors of the weather, which was pretty cold and windy. As it was already past noon when we got there, we ate lunch at the first semi-suitable spot we found, which was only... semi-suitable. It was pretty cold. On the other hand, we had a great view over the deep cliffs of the quarry pond!
It turns out Halibut Point is a pretty cool spot. It's the site of a former granite quarry, which means there's the big pond that would be the best place ever to swim if there weren't 400 "no swimming" signs (ah, the sadness of living in 21st century Massachusetts), and also an immense looming headland which seems to have been made made by piling up mined-out gravel boulders and filling the spaces in between with dirt and gravel. But before we went up there we had to go make our acquaintance with the ocean, and play on some naturally occurring rock features.
The ocean was as fascinating as it always is, and the rocks near it as fun to explore. Zion took the camera for a while, but the only disappointing thing about rocky shores is how hard it is to capture photographically the power of the waves. Still, he did his best!
Moving on after a bit we found a spot where, on a giant flat rock just like a table, people had built up dozens of piles of rocks large and small. As I looked at it I saw a crazy walled city, ancient or cyberpunk, and I told the boys about it. They totally agreed and we spent the next ten minutes adding to the city. Especially bridges. Finally turning our back on the epic creation we headed back up the hill to the headland, where besides a dizzying view over the edge of a cliff we found another stone table with a hole in it just right for recreating that scene from The Lion, the Witch, and the Wardrobe.
By that point we were running out of State Park energy, but we had enough left to finish our loop around the quarry pond (stopping at a couple amazing "no swimming" swimming spots) and find the way to the visitor center building, which was closed. The whole place was very accessible—I bet it's mobbed in the summer.
Back in the car we decided that we actually weren't done with the adventure: we needed to visit the playground by Front Beach that we missed out on last time we were there. And the beach too, of course. The water there wasn't too cold for wading, and, even more exciting, there was actual sea-glass to find! Only very small pieces, but still thrilling. And then we had all the time we wanted to play on the playground and explore the rest of the park. By then we weren't even so cold any more! It was a fine day.
It's interesting being a parent. As soon as you think you're starting to have things figured out, they change. Not that I in any way feel like I've got anything figured out! But this past Saturday I did have notice how much the experience of going on outings has changed with big kids, as I got the boys—well, some of them—out the door for a bike ride to the Old North Bridge.
On the one hand, they're all much more capable than they used to be. It's a little under five miles along the unpaved bike path to get out to the river, a distance that used to feel like a major expedition. Saturday we took it at a pretty relaxed pace and made some stops to see the sights—especially the bird sanctuary tower again—and we still did the whole trail in well under an hour. That surprised both boys, who remembered it as being much more arduous.
Wait, "both boys"?! Yes, there were only two. Zion declined to join us, which points to the other difference: going out and doing things doesn't have the appeal it used to. It's easy to get preschoolers psyched up for an adventure—they trust you that it'll be fun, and they don't have the competing pull of preteen activities like sitting on the couch reading books or playing Minecraft.
Oh well, hopefully we had a fun enough time that he'll feel better about coming along on future outings! Certainly it seemed plenty fun to me. We floated bark boats in the river, which is flowing much higher and faster than is typical for fall; Elijah and I rode some stairs; and we enjoyed an early snacky lunch (slanch) at a table on the pavilion above the river. Then, best of all, we explored and played hide-and-seek among the crazy overgrown ornamental trees that cover the bank below the visitor center house.
Then we zipped home in plenty of time for Harvey to play Minecraft with his friends. See, it's possible to adventure AND be a preteen!
Sometimes the outings are little ones. Today after lunch we hopped in the car and headed out to the Great Meadows bird sanctuary in Concord. It's only a 25-minute bike ride away at an easy pace, but some days even that is more than we can handle. Plus we wanted all the time to explore the meadows! Well, maybe explore isn't the word: most of the preserve is water, so even if they were willing to disobey the signs and disturb the birds visitors are pretty much limited by topography to the paths. But, after an obligatory trip up the observation tower, we at least felt like we had time to choose the longest path.
It was lovely to be out in the warm sun, at least at first; pretty soon it actually got a little TOO warm! But in November we'll take it, and we strolled along happily talking and pretending to be in a video game. At least the water, when we were able to get into it, was cold! (at least this time all of us were able to successfully adjust to ambient temperatures, which hasn't always been the case). It was a good time; it's always nice to get out and about, even in a small way.